.
Garden Diary - April 2020
---
If you have any comments, observations, or questions about what you read here, remember you can always Contact Me
All content included on this site such as text, graphics and images is protected by U.S and international copyright law.
The compilation of all content on this site is the exclusive property of the site copyright holder.
---
April
---
Changes for Safety in the Days of Covid-19
With Updates
Thursday, 19 March A NEW LOOK AT A LOCAL POST OFFICE
I went to the post office in Baptisttown, New Jersey, to mail some packets of seeds to the county arboretum. They'll be sent, along with printed copies of the handouts, to students who had registered for Saturday's covid-19 cancelled class. This is such a tiny post office that it closes for an hour so the postmistress may eat her lunch. This is what I saw when I walked in.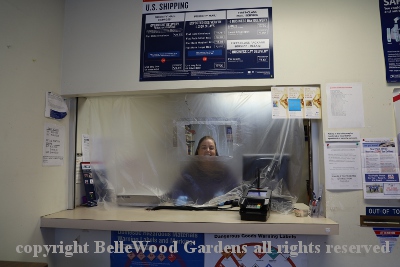 .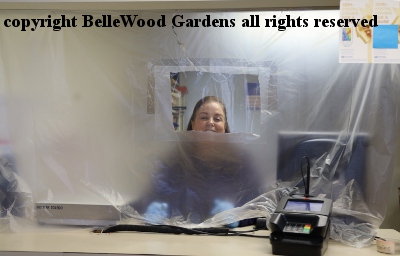 Someone had come in yesterday, and exhaled so forcefully that it blew the postmistress' hair around. After scolding the woman (who seemed confused and unaware of what might be the matter) the postmistress took a trash bag, opened it up, and taped it around the service window opening. To better see customers, and they her, she made a file folder size opening at the right height. Made a cut-out, and taped a clear plastic "window" insert. Very clever! Safety first, for both staff and customers. Better if the postal service (a non-government organization) had provided guidelines. But the site from which the postmistress is supposed to order gloves, wipes and other disposable sanitizing supplies is always out. Hoping for useful risk management information seems unlikely.
Thursday, 2 April A SIGN OUTSIDE THE PHARMACY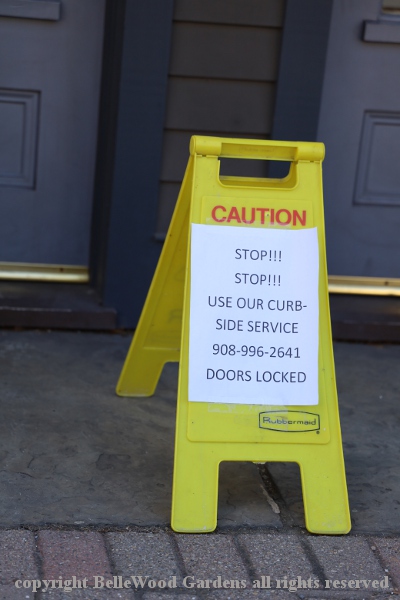 When you need to pick up a prescription or even over-the-counter items, just telephone the pharmacy. Arrange payment. Drive up and park at the dedicated spot on the street, just outside their door. Phone again to say you are there. An employee wearing a face mask will come out and hand your item(s) through an open car window.
Thursday, 9 April SIGNS OUTSIDE THE HUNTERDON HEALTHCARE CENTER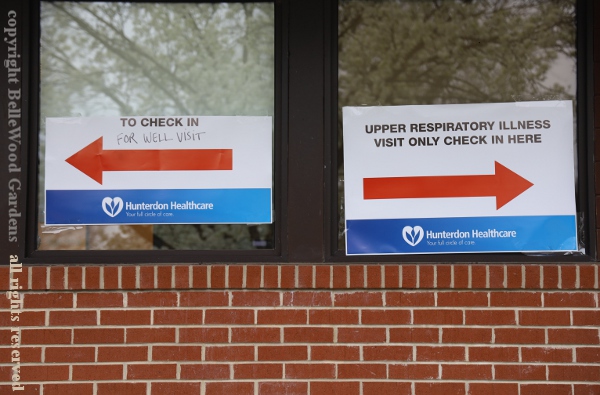 The Hunterdon Healthcare Center is handling as much as can be managed with telemedicine, through a phone call. Some things cannot be managed this way. Serious issues - people with upper respiratory problems - enter the building into the lobby through the door we all used to use to enter. All other patients who are coming for a wellness visit, such as a blood test for an ongoing issue, enter through a separate door at the rear of the building. Never the two shall meet.
Friday, 17 April PLAYGROUND at the FRENCHTOWN PARK
There is a park in Frenchtown at the end of Creek Road. Simple warnings were not adequate. Any basketball hoops were taken down, early on, over concern that it would encourage teenagers to gather for a game. The park itself was closed down as the extent of issues with contaminated surfaces became clear.

Orange plastic safety fencing was strung around and over the various climbing equipment.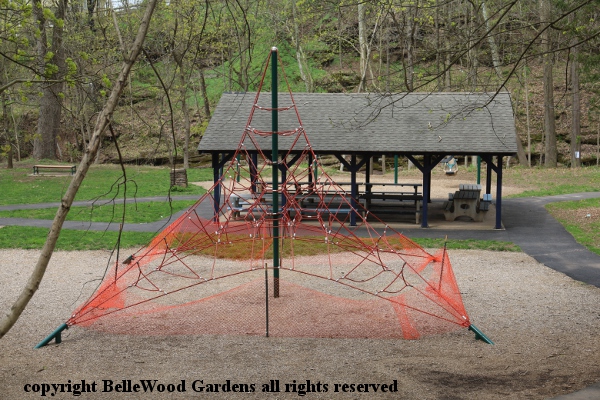 Swings are looped up and cabled, now immovable. Slides are barricaded at the bottom.
The sandbox and its fleet of small trucks is fenced off from any who might want to dig.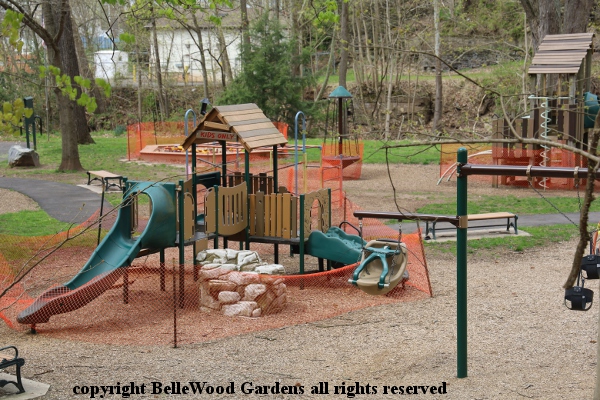 People may come and walk the paths. Family groups from the same house walk together.
Otherwise people should maintain the social distancing of six feet of separation.
---
Back to Top
---
Back to March
---
Back to April
---
Back to the main Diary Page