.
Garden Diary - July 2020
---
If you have any comments, observations, or questions about what you read here, remember you can always Contact Me
All content included on this site such as text, graphics and images is protected by U.S and international copyright law.
The compilation of all content on this site is the exclusive property of the site copyright holder.
---
July
---
Blueberry Summer: The Third Week
Cooking with Blueberries: Blueberry Cornmeal Pancakes
Sunday, 26 July 2020
---
Sunday, 26 July:
This afternoon: Blueberry Cornmeal Muffins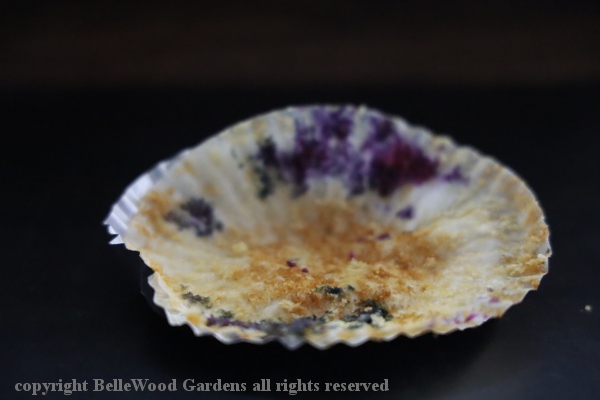 You can tell how good they are!

The ingredient list includes the eponymous blueberries and cornmeal.
Other familiar ingredients - flour, sugar, eggs, and butter. Buttermilk
is why there is baking soda in addition to baking powder for leavening.
Since I have buttermilk, that's what I'll use in this recipe. But you have options.
The most common is "clabbering" fresh whole milk with an acid such as fresh lemon juice or white vinegar. Add one tablespoon of lemon juice OR white vinegar to one cup of milk to thicken the milk. Cultured buttermilk is smoother, but the acid clabbered milk will react similarly in a recipe. Note that if you have cultured buttermilk and some time you can culture more buttermilk on your own. Add one part buttermilk to 7 parts whole milk and let sit at room temperature for around 24 hours. It's like making yogurt.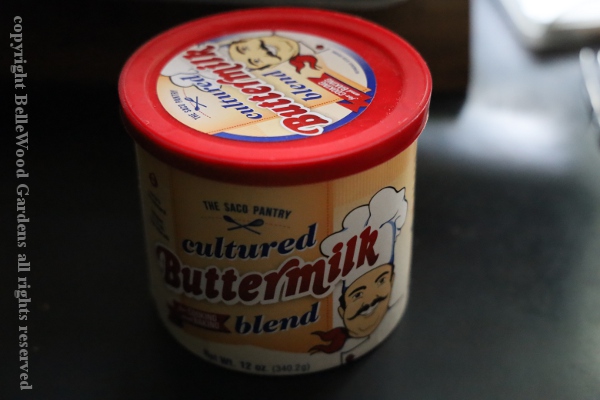 There is also a dehydrated powdered cultured buttermilk product which can be found
in the baking aisle of some supermarkets. It contains sweet cream, cultured buttermilk,
sweet dairy whey and lactic acid. Substitute 4 Tablespoons of the powder and 1 cup of
water for each cup of buttermilk called for in a recipe. Best to refrigerate once opened.
Back to the Blueberry Cornmeal Muffin recipe.
Preheat oven to 350° Fahrenheit. Prepare muffin tin with liners - recipe make 12 muffins.
Take one cup of blueberries, toss with one Tablespoon of all purpose flour.
Set aside. This keeps the berries from sinking to the bottom of the muffins.
1½ cup less 1 Tablespoon all purpose flour
½ cup yellow cornmeal
2 teaspoons baking powder
½ teaspoon baking soda
1 teaspoon salt
3/4 cup sugar
Whisk all dry ingredients together in a medium size bowl.
Prepare wet ingredients
2 large eggs
1 scant cup buttermilk OR clabbered milk
8 Tablespoons unsalted butter, melted
1½ teaspoons vanilla extract
Whisk eggs, add buttermilk, melted butter, and vanilla. Whisk again.
Use spatula to mix wet ingredients into dry ingredients. Do not overbeat.
Gently fold in blueberries.
Fill prepared muffin cups rather full. Sprinkle top of batter with Demarara sugar, for looks.
Bake 30 minutes until nicely browned.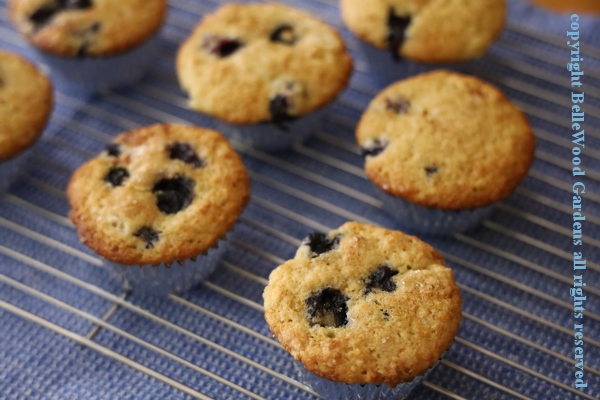 Enjoy! Extra (should you have any) may be frozen. Wrap individually.
To serve, allow muffin to thaw, unwrap, then warm in toaster oven.
---
Back to Top
---
Back to July
---
Back to the main Diary Page