.
Garden Diary - July 2020
---
If you have any comments, observations, or questions about what you read here, remember you can always Contact Me
All content included on this site such as text, graphics and images is protected by U.S and international copyright law.
The compilation of all content on this site is the exclusive property of the site copyright holder.
---
July
---
Blueberry Summer: The Third Week
Cooking with Blueberries: Sweet Preserves
Thursday, 16 July 2020
---
July is National Blueberry Month. We delight in fresh blueberries. Have them as a snack, use to top cereal or yogurt. And of course, cook with them too. Bake blueberries into desserts. Or save summer in a jar by making sweet preserves such as blueberry raspberry jam
Blueberries make wonderful jam and excellent conserves. But because they are low in both pectin and acid, blueberries do not easily make jelly. One solution is to use commercial pectin, either liquid Certo or powdered Sure-Jell. I prefer not to use either one. Instead I combine low pectin, low acid fruits with others that provide the missing ingredients. There are several options for blueberries - combine blueberries with cranberries, use citrus in the form of lemon or orange, or blend the blueberries with tart crabapples.
Blueberry Apple Jam
1) Rinse and peel about 4 tart apples / approximately 2 pounds. Quarter, remove cores, and cut into approximately blueberry-size dice.
2) Measure, put in saucepan, and add just enough water to barely cover.
3) Bring to a boil, then simmer for 10 minutes.
4) Add 3 cups blueberries, rinsed and picked over, together with 5 cups sugar, or to taste.
5) Cook until the jam thickens and the juice is clear, gently stirring all the time.
6) Pour into hot sterilized canning jars, and seal with two-piece metal lids. Process in boiling water bath for 10 minutes.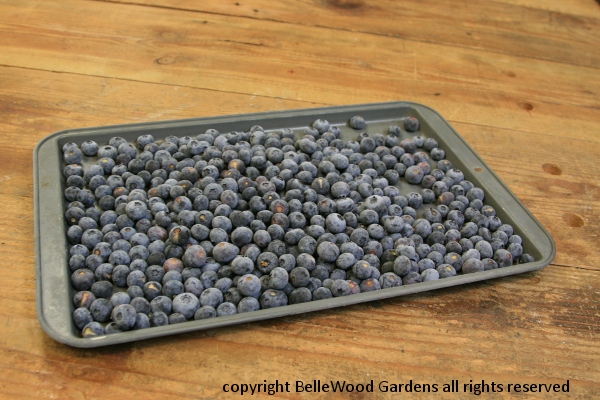 Can't decide? Then freeze some blueberries for later in the year. Rinse, dry, spread
on a rimmed cookie sheet and freeze. Pack in sturdy plastic bags. I find that 2 cup
portions are the most useful. Label, and place back into the freezer, to enjoy in the winter.
---
Back to Top
---
Back to July
---
Back to the main Diary Page