.
Garden Diary - July 2020
---
If you have any comments, observations, or questions about what you read here, remember you can always Contact Me
All content included on this site such as text, graphics and images is protected by U.S and international copyright law.
The compilation of all content on this site is the exclusive property of the site copyright holder.
---
July
---
Blueberry Summer: The Third Week
Cooking with Blueberries
Saturday, 18 July 2020
---
July is National Blueberry Month. We delight in fresh blueberries.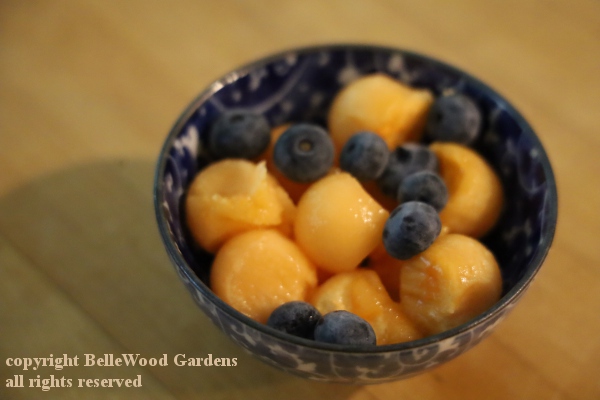 Have some cantaloupe, embellished with blueberries, as a snack.

Enjoy blueberries on top of granola with pourable yogurt.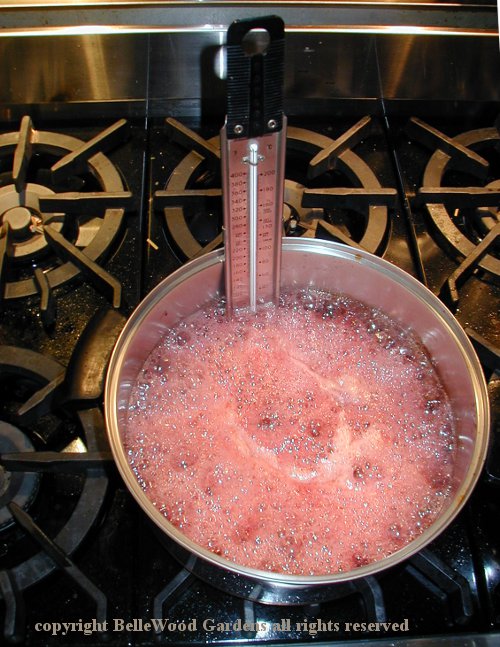 Make blueberries into sweet preserves or sauces.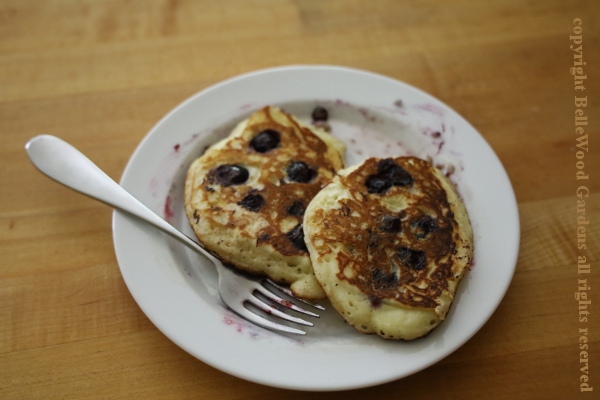 Blueberry Pancakes
And of course, cook with them too.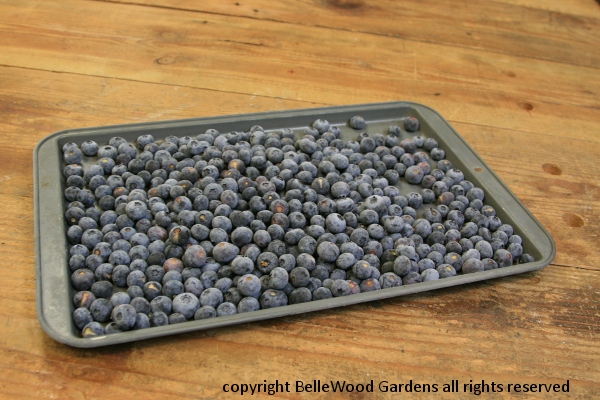 There will be new recipes added every now and then through to the end of July.
Blueberry Trifle
This was a leisurely, multi-day project. It could have
been done more expeditiously but I saw no need to rush.
Sunday, 19 July:
Today I made butterscotch pudding. It will be part of the baking project. Just wait.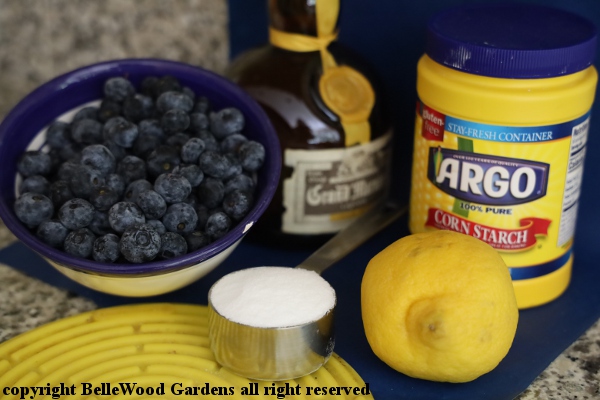 Monday, 20 July:
This afternoon I made blueberry sauce. It too will be part of the project. Ingredients of course include blueberries, a little sugar, lemon zest and juice, lemon liqueur, cornstarch, and water.
1/3 cup granulated white sugar
1½ teaspoon cornstarch
1/8 teaspoon salt
1/3 cup water
2 cups fresh blueberries
½ teaspoon freshly grated lemon zest
½ Tablespoon freshly squeezed lemon juice
2 Tablespoons lemon liqueur
Combine sugar, cornstarch, salt and water in saucepan and stir until smooth.
Add blueberries and place saucepan over medium heat.
Bring just to boil, reduce heat and simmer, stirring occasionally, until sauce thickens and becomes clear, about 10 minutes.
Remove from heat and stir in lemon zest, lemon juice, lemon liqueur. Let cool, cover and refrigerate.
Note: Also lovely over ice cream.
Also today I baked a 5 egg / 1 cup sugar / 1 cup cake flour 10" x 15" sponge cake that would normally become a jelly roll. This will be the foundation for my project.
Note: the only leavening is the stiffly beaten egg whites that are gently folded in, alternately with the flour, to the yolks that were beaten with sugar until thick and lemon colored.
Tuesday, 21 July:
Assembling an individual blueberry trifle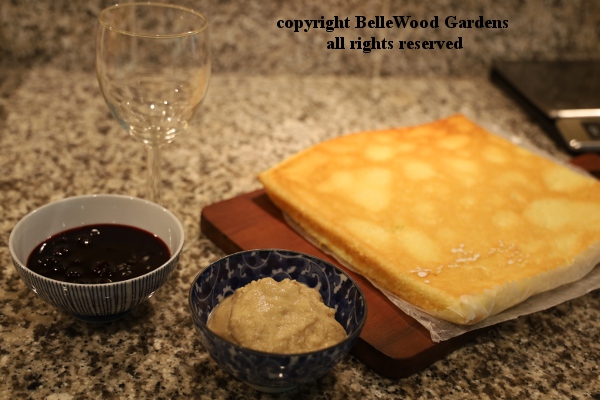 There is a (nearly invisible) wine glass at the back. Then from left:
blueberry sauce, butterscotch pudding, sponge cake.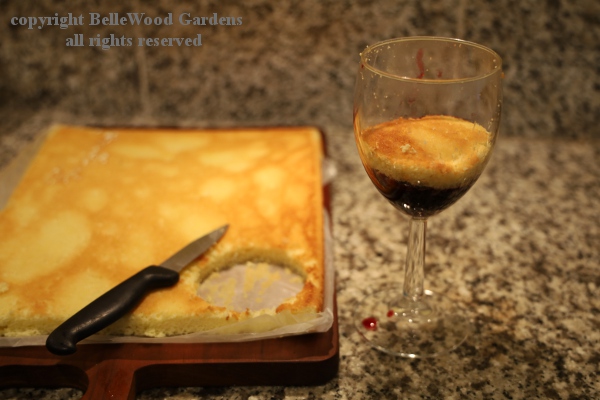 Cake base for blueberry trifle. I added some blueberry sauce first, because of taper in wine glass.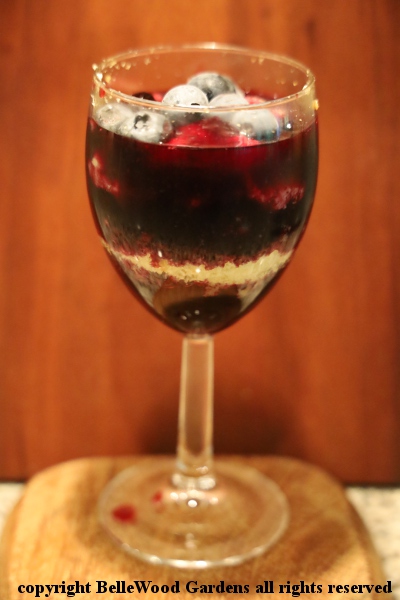 Add a dollop of blueberry sauce and a few blueberries, then dollop of butterscotch pudding.
Sauce is rather runny so it is disguising pudding. Top with blueberry sauce and blueberries.
Refrigerate anywhere from 4 to 24 hours so cake can soak up some of the delicious goodness.
Sunday, 26 July:
This afternoon: Blueberry Cornmeal Muffins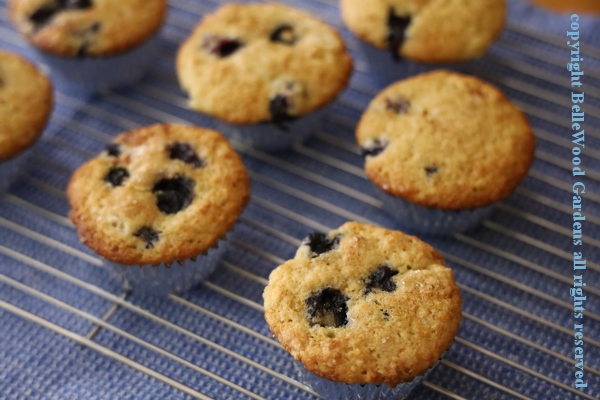 There is a plethora of blueberry recipes out there on the Internet, some sound intriguing. And some I'm not quite sure about, such as pickled blueberries.
On the positive side, my daughter-in-law recommends the Blueberry Corn Salsa recipe in Linda Greenlaw's Recipes from a Small Island cookbook. Modifying the recipe for one serving using ingredients on hand, she mixed grilled corn with blueberries, chopped red pepper, cilantro and tomato with a whisked mixture of cumin , lime juice, olive oil , red wine vinegar, salt and pepper. The result was a colorful, flavorful topping that didn't overpower the salmon and provided a more filling dinner.
You can read the fascinating story of how to cultivate blueberries
was discovered here and how to cultivate blueberries at home here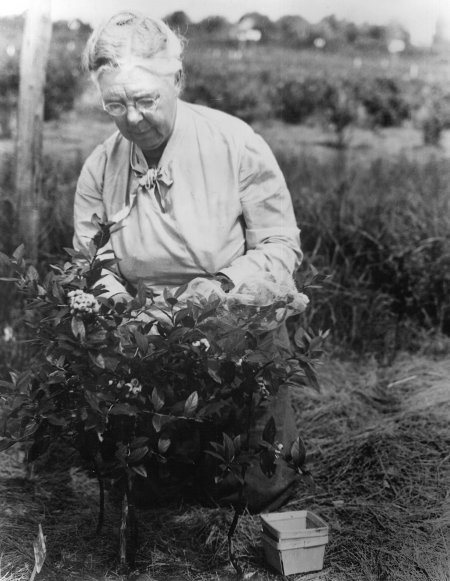 Elizabeth White picking some blueberries at Whitesbog
image provided courtesy New Jersey Conservation Foundation
all rights reserved, New Jersey Conservation Foundation
Wish I knew if Elizabeth enjoyed cooking with blueberries . . .
---
Back to Top
---
Back to July
---
Back to the main Diary Page