.
Garden Diary - January 2020
---
If you have any comments, observations, or questions about what you read here, remember you can always Contact Me
All content included on this site such as text, graphics and images is protected by U.S and international copyright law.
The compilation of all content on this site is the exclusive property of the site copyright holder.
---
January
---
Barbecue at the Quakertown Fire Company
Sunday, 19 January 2020
---
I saw this on the community Facebook page: The 7th Annual QFC Championship BBQ is happening this Sunday, January 19th from 12pm to 3pm. The menu again has all your favorites, Ribs, chargrilled wings, pulled pork and our homemade sides!! A Full rack of ribs is $25 while a half rack is $15 and wings are $11 a dozen with a party pack of wings for $42!
Fire companies raise money with food - pancake breakfasts, spaghetti dinners. The Quakertown Fire Company does barbecue. In previous years Paul and I have gone a couple of times to their summer event at Cervenka Farm. This fall we missed their October barbecue at the fire house, but for sure we will be going to today's event.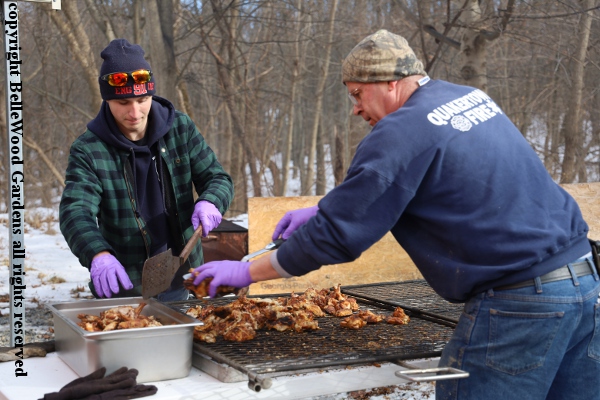 Drove to the fire station shortly after noon. Parked. Walked to the back
(following the smoke) and the grill master with his assistant were taking
the chicken wings off the grill, the ribs having been removed just before.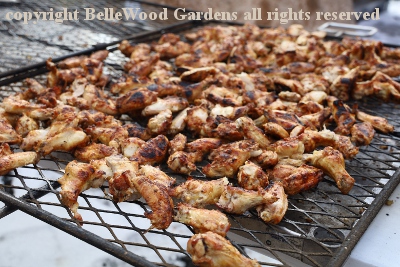 The social hall was closed for a party so we walked to the front entrance. Which is actually on the side of the building. I think most people do it as takeout as there was only one table set up, in the fire station, in among the fire engines, and racks of fire fighting gear, etc.

They were doing a presentation for parents and small children. Charming,
and when done each child was given a red plastic fireman's hat to take home.
The fire station barbecue was tasty. We shared a half rack of ribs and a pulled pork sandwich on a bun. Comes with sides of coleslaw (one container each, applesauce (ditto), and baked beans. A beverage each - bottle of water, canned tea, or soda. All for just $25 for the two of us.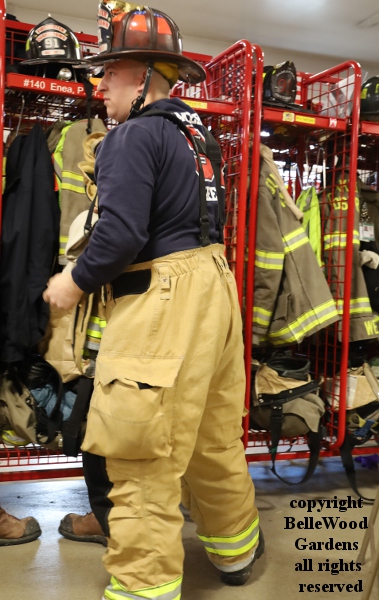 So we're eating. And whistles go off and men start climbing into gear. I'm trying
to wipe barbecue sauce off my fingers so I can grab the camera without saucing it.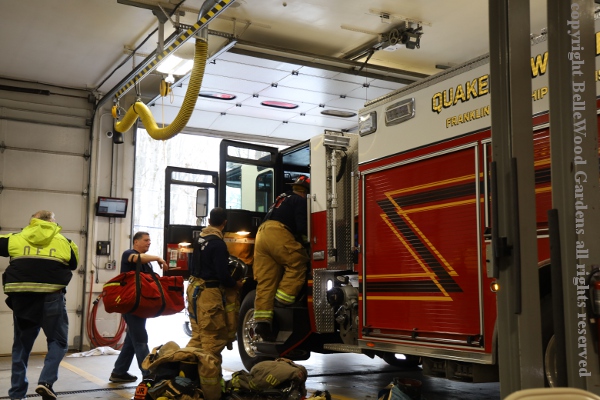 Door up, men climbing aboard, and the fire truck and a command car quickly
go off on call. They were back rather soon so it must have been just a minor
call-out. But how about that, we not only had delicious barbecue but it comes
with live entertainment. Not something to be counted on, and just as glad.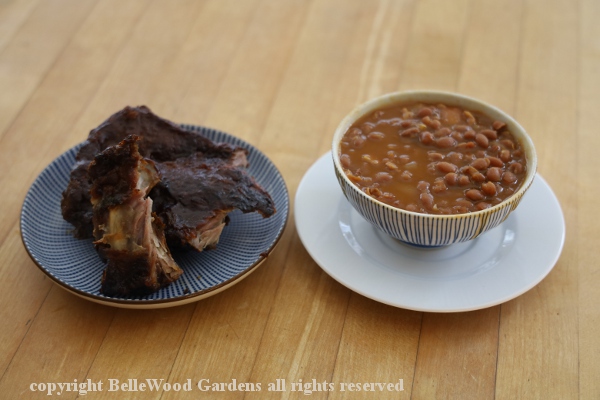 We brought home four small ribs and the baked beans. Which reheated very well for
Monday's lunch. Their next barbecue is Superbowl Sunday. I think we'll do takeout.
---
Back to Top
---
Back to January
---
Back to the main Diary Page