.
Garden Diary - March 2020
---
If you have any comments, observations, or questions about what you read here, remember you can always Contact Me
All content included on this site such as text, graphics and images is protected by U.S and international copyright law.
The compilation of all content on this site is the exclusive property of the site copyright holder.
---
March
---
A History of Zinnias, a book review
Monday, 30 March 2020
---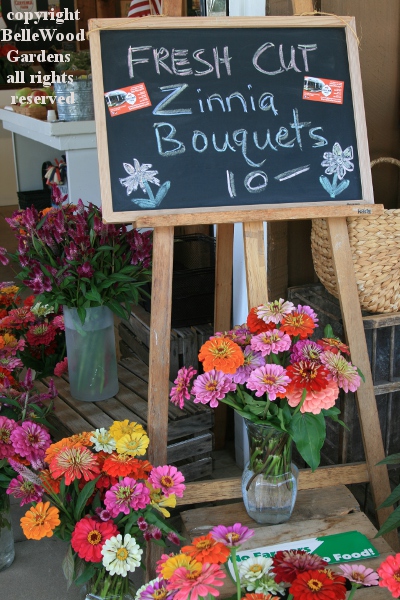 In season the farm stands around here sell corn and tomatoes, peaches and apples, and more. They also sell cut flowers to go along with the produce. Time is money, so they have to be plants that can be grown as a row crop, like the vegetables. Gladiolus, easy from corms, but they cost more than seeds and you only get one spike of flowers from each corm. Sunflowers - but their flowers are all yellow. Then there are zinnias, with flowers from white to yellow and orange, pink to red. And they produce multiple flowers on each plant, actually doing so better when the earlier flowers are cut. Two attributes making them a popular choice with both the farmers and shoppers.
But what are zinnias, where did they come from, when and why did they become such popular plants for our summer gardens? All this information and more is delightfully presented in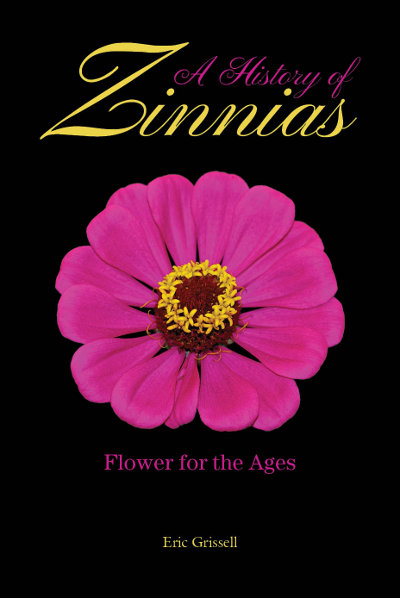 image courtesy of Purdue University Press
A History of Zinnias: Flower for the Ages, by Eric Grissell
In a few brief pages the preface explains how the author became interested in zinnias, where they might be found in nature, and a few tantalizing gossipy tidbits that suggest what fun this book will be to read. The first chapter opens with details of zinnias and society in the early 1900s - colors in interior design, flowers in civic beautification projects, and moves on to the production and distribution of zinnia seed by the government and various individuals commercial efforts. There are tidbits and snippets, amusing none the less, of zinnias in art, as an opera with a focus on a woman noted for her paintings (which often included zinnias), through the British corvette warships named for flowers which yes, did include one named Zinnia, and all the way up to 2016 when Scott Kelly succeeded in flowering an orange zinnia on the International Space Station.
In the next couple of chapters Grissell points out that zinnia (like rhododendron having the same name used for both common and Latin name) may have been named for Dr. Zinn but he never could have discovered it in Mexico in 1860, having died a century earlier. Nonetheless, Linnaeus did name the genus for him. And we're off! Spanish conquistadores, amateur botanists, and the quest for who first described a zinnia. Remarkably, some authors used the repetition of previous authorities, others had a remarkable ability to discover previously unknown manuscripts. These, and similar confusions, enabled the early writers of the history of zinnias in cultivation to mix fancy and fiction with a free hand. Grissell delves in a discussion of dahlias and marigolds which are, definitively, known to have been grown, in an attempt to decide if zinnias were, in fact, cultivated by Moctezuma.
Now, understand that I, myself, love getting lost in a good library. Curating an exhibition at the New York Botanical Garden's LuEsther T. Mertz library's gallery meant I got to spend day after day in the rare book room. This gives me an appreciation for the explorative links in this book, as zinnias traveled from their origins in Mexico and the southwestern United States, going first to Europe where they were adopted and cultivated well before they became garden plants in North America. But return they did.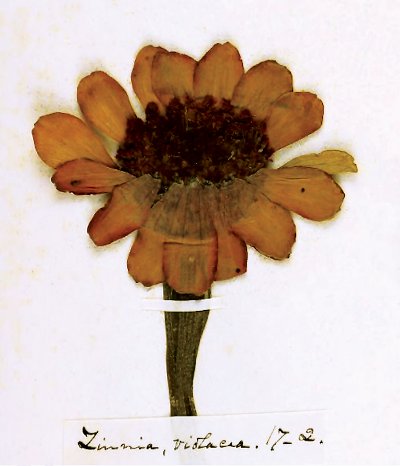 Elegant Zinnia blossom preserved in Emily Dickinson's (1830-1886) Herbarium, ca. 1839-1846.
Courtesy of the Houghton Library, Harvard University,
copyright President and Fellows of Harvard College (call number 171115)
Emily Dickinson, poetess and gardener, made
an herbarium page of zinnia in the mid 1800s.
Seed houses began competitively offering seeds of their new, improved zinnias.
Here we find familiar names of breeders such as Benary and Luther Burbank - their goal -
to produce giant, double flowered zinnias in a rainbow array of colors on tall, sturdy plants.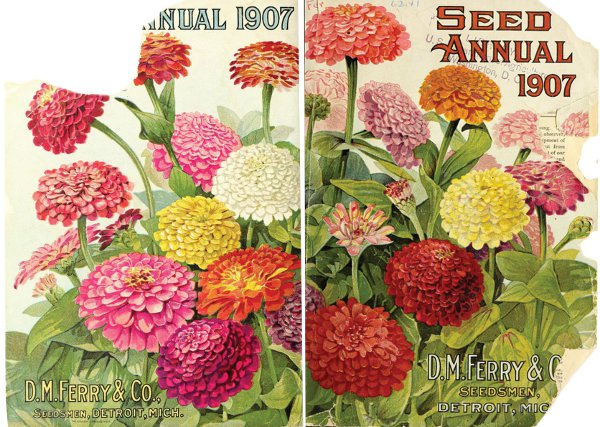 Front and back covers from D. M. Ferry & Co's Seed Annual 1907.
Courtesy of Special Collections, USDA National Agricultural Library
You may, by the way, still today purchase seed of Benary's Giant Zinnia from
various sources such as Harris Seeds, Park Seed, and Johnny's Selected Seeds.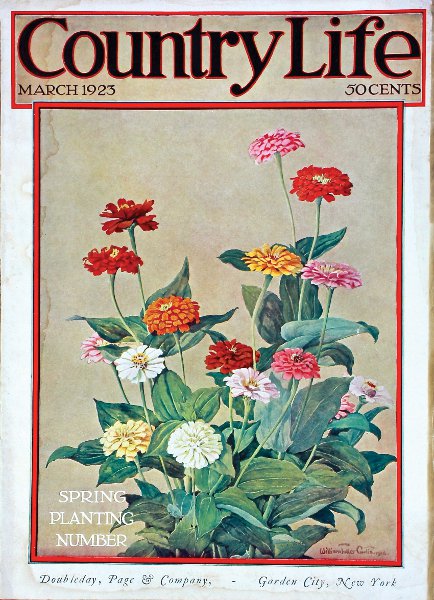 Untitled zinnia painting dated 1916 on the cover of Country Life magazine,
March 1923, by William Fuller Curtis (1873-1938)
Magazines such as Country Life found zinnias sufficiently attractive
and exotic as to feature them on the cover of the March 1923 issue.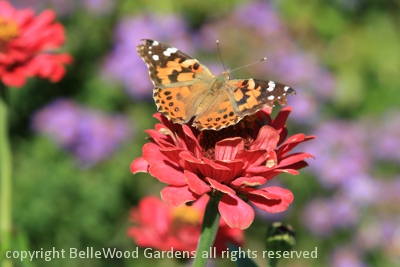 Grissell mentions their appeal to bees and butterflies.
There's more to zinnias than big and bold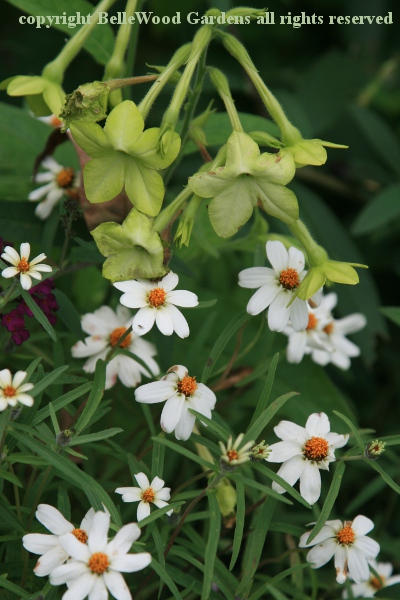 such as the narrow leaved Zinnia angustifolia. There's a
useful appendix listing and describing the recognized species.
Other appendices provide information on zinnia awards,
and the historical timeline of the development of garden zinnias
Erudite, interesting, and amusing, I could have wished for more illustrations.
Better the thorough information. For pictures, get yourself a seed catalog.
Or, enthused by A History of Zinnias, consider growing your own zinnias.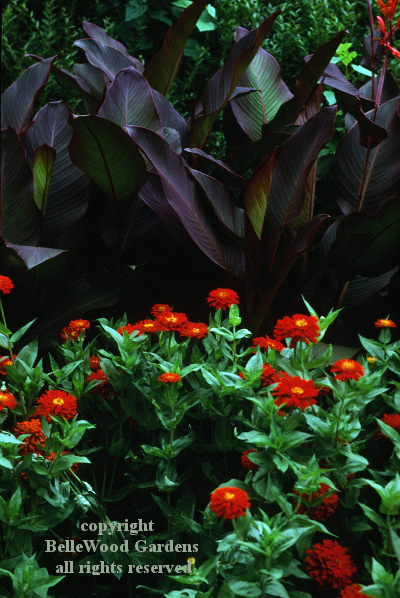 Scarlet red zinnias in company with dark purple leaved canna.
Gain a new appreciation of zinnias when you see them in a garden.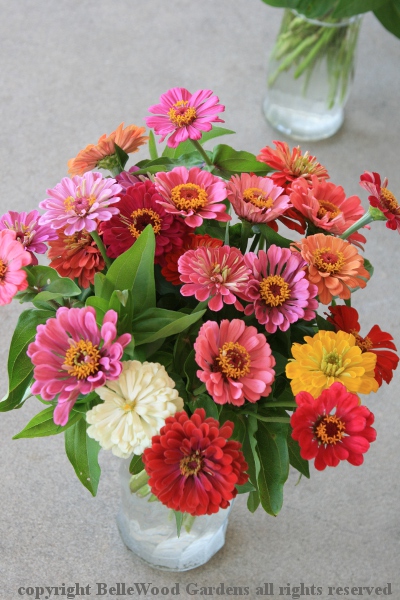 Have new delight in a farm stand's bouquet of zinnias for sale.
A History of Zinnias, Flower for the Ages
by Eric Grissell
published by Purdue University Press, West Lafayette, Indiana
Hardcover, ISBN: 9781557539069, $27.99, released 2020
A review copy of this book was provided by the publisher.
---
Back to Top
---
Back to March
---
Back to the main Diary Page