.
Garden Diary - September 2019
---
If you have any comments, observations, or questions about what you read here, remember you can always Contact Me
All content included on this site such as text, graphics and images is protected by U.S and international copyright law.
The compilation of all content on this site is the exclusive property of the site copyright holder.
---
September
---
An Afternoon at Willowwood Arboretum
Tuesday, 10 September 2019
I've been thinking of making a visit to Willowwood Arboretum. Question is, when to go. Then I found one of the arboretum's occasional e-mails in my inbox, encouraging a visit to see all the fabulously wonderful plants here and there throughout the grounds. So I checked the camera battery, made sure I had a spare, and went.
If you would also like to receive these updates, just send a request to: contactus@willowwoodarboretum.org And go to www.willowwoodarboretum.org for directions, current bloom reports, events, pictures, history and garden information
So what was I being told . . .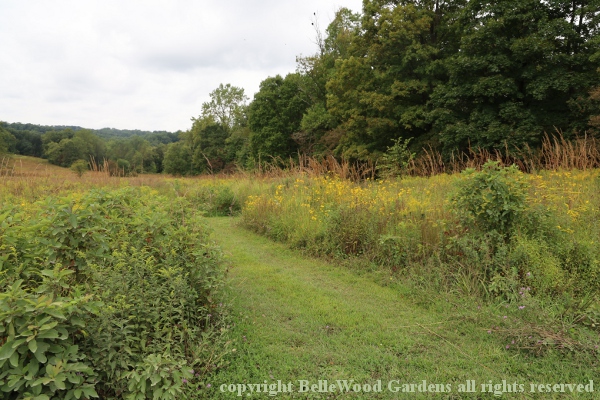 The meadows are entering their autumnal phase, with the richness of late season daisies.
"While each visitor to Willowwood who enters through the Main Gate passes through the meadows, we highly recommend walking through the meadows as well. The meadows are currently entering their second colorful phase . . . Now the bronze seedheads of the grasses in the meadow are emerging, adding height and an autumnal color to the meadows."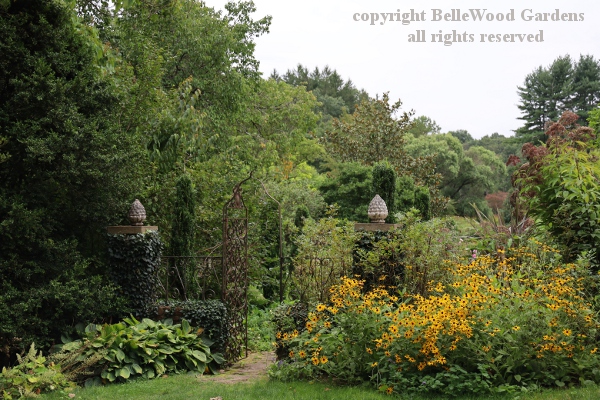 The Cottage Garden gate facing the Tubbs House is spilling over
with flowers, tall mauve Joe Pye weed and golden rudbeckia.
"The Cottage Garden is currently full of hot summer colors . . . The Dahlias are still going strong in the gardens as well, . . . The tubers of these Dahlias will be dug up at the end of the season and stored in the basement of the Tubbs House for use in future displays throughout the gardens."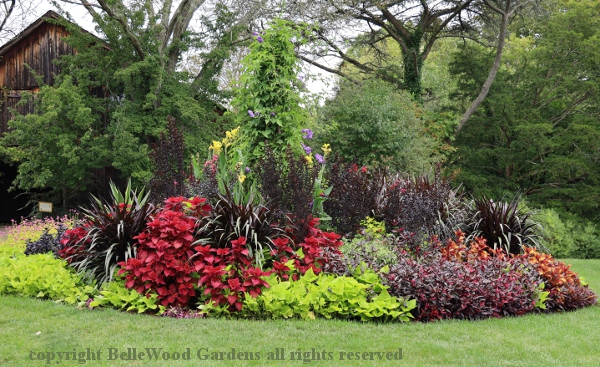 There's a tropical look to this lush bed of ornamentals. The fancy sweet potato vines
sprawl onto the grass rather than making a tidy edging, needing to be cut back on a
regular basis. The local rabbits that eat holes in the planting are not helpful. If only
they would dine more suitably on what's wanted cut back rather than damaging it.

Wonderful contrasts of color and texture, this black chile pepper
with berries so glossy that they look lacquered. No rabbit damage.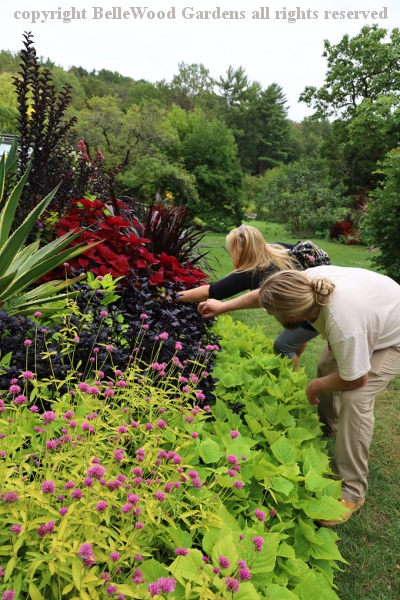 My friend John Beirne, Superintendent of Horticulture at Willowwood, is busily dead-heading Solenostemom scutellariodes 'Shiny Shoes'. This coleus has thick, crinkled, glossy black leaves, and while not given to heavily flowering it does produce some. So as we were walking by, and while it's not what they were planning on doing, John and Sandy, somehow became distracted by one of the never-ending garden tasks.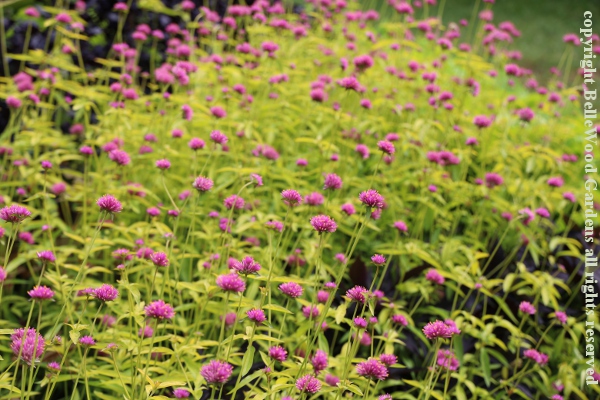 The chartreuse leaves and crushed raspberry pink flowers just adjacent to the
coleus belong to Gomphrena 'Fireworks'. Which sort of disappears into the
golden sweet potato at its feet. 'Shiny Shoes' makes a more vibrant partner.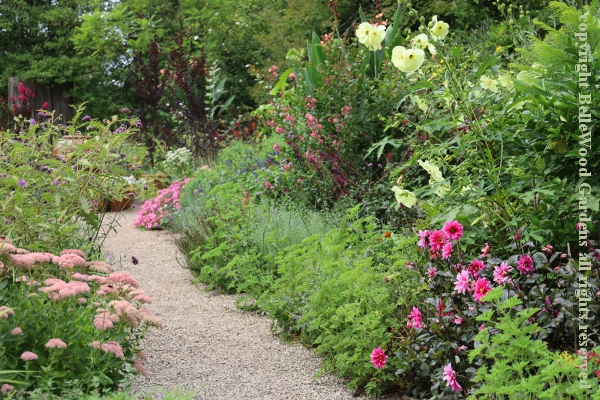 John had urged me to come, soon, so I could see how magnificently the Rosarie is doing.
"With only six or seven weeks until our first frost, now is a perfect time to enjoy the Rosarie, which is full of many cold-sensitive plants, for the summer. Some interesting annuals in the Rosarie are the Giant Castor Bean, Ricinus 'Zanzibar' . . . and Ornamental Okra, Abelmoschus moschatus, which has hibiscus-like pale yellow blossoms."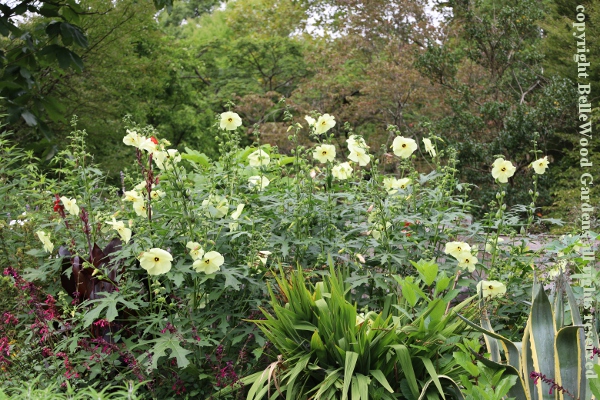 The ornamental okra is just stunning, flowers the color of Devonshire cream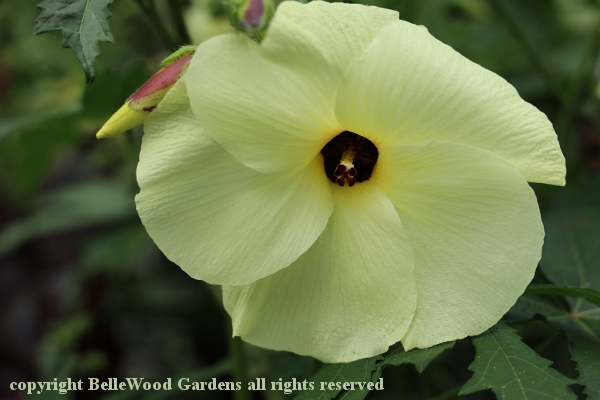 enhanced with a small, velvety black eye in each flower's center.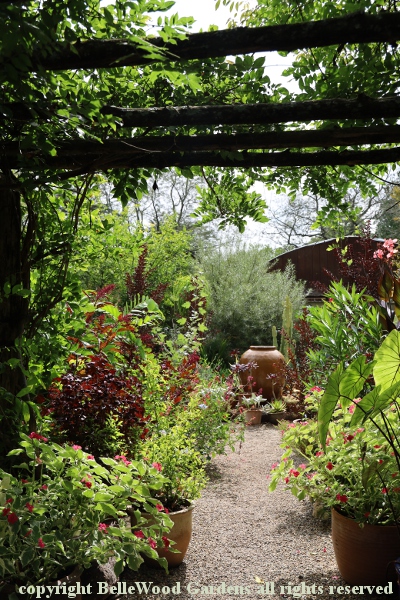 Standing under the arbor, on a side path,
with a view of the massive oil jar fountain.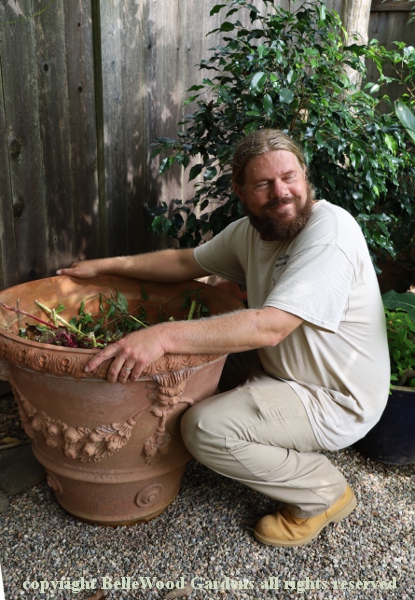 There is a large, very elegant flower pot. "Well," John tells me,
"there are always weeds that need to be pulled when you see
them. And then you need to have somewhere to get rid of them."
One of John's favorite trees are the magnolias. He has verified and photographed each of Willowwood's large, diverse, and varied magnolia collection, and has recommended many new plants to expand, embellish, and rejuvenate this collection.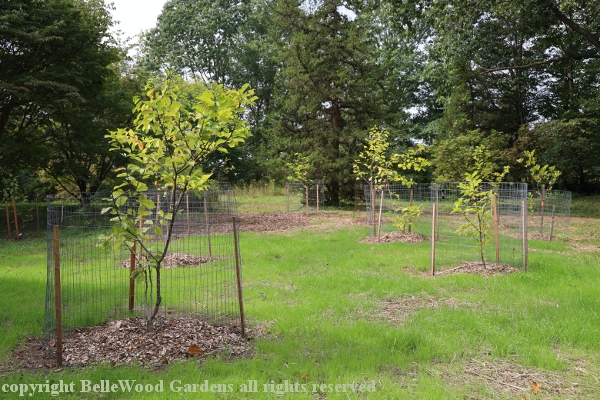 A new grove of primarily Magnolia soulangiana is the most recent development.
The site is somewhat sheltered, so with any luck the large blossoms of dark purple to
shades of pink and pure white will avoid spring frost damage. There are a few buds -
I must mark my calendar for next spring.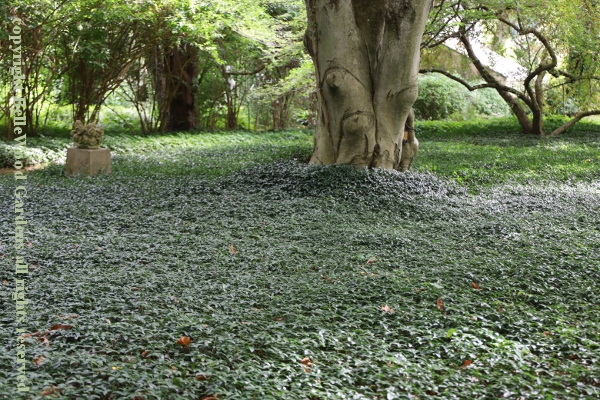 Trees are planted for the future. Robert Tubbs and his brother Henry purchased the 135 acre farm that would become Willowwood in 1908. Their parents and sister Carrie came for a visit the following year. And never left. Robert was interested in growing woody plants, especially unusual trees and shrubs. Some of the trees, such as the original Magnolia × loebneri 'Willowwood' which was selected and named by Dr. Blackburn around 1940 from a seedling he found in the Arboretum is now dead. It is fortunate that staff propagated several new plants from the original, three of which are now established on the grounds. And how wonderful that trees, including magnolias, are still being planted, because trees are planted for the future.
There will be a Willowwood Arboretum Open House on Sunday, September 22, Noon to 4 pm. $5 per car entrance fee.
---
Back to Top
---
Back to September 2019
---
Back to the main Diary Page