.
Garden Diary - September 2019
---
If you have any comments, observations, or questions about what you read here, remember you can always Contact Me
All content included on this site such as text, graphics and images is protected by U.S and international copyright law.
The compilation of all content on this site is the exclusive property of the site copyright holder.
---
September
---
Cream of Squash Blossom Soup from Tu Casa Mi Casa
Friday, 6 September 2019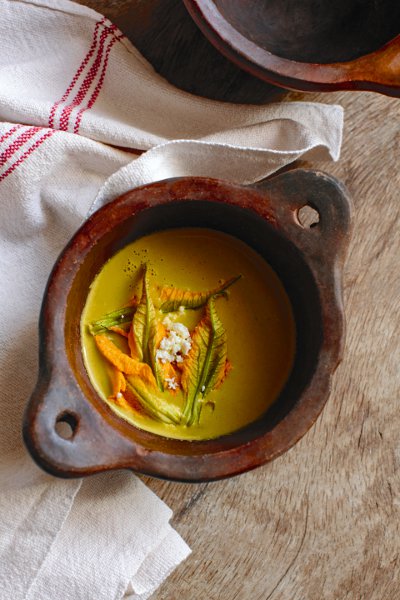 Weekday Meals: Cream of Squash Blossom Soup (Sopa de flor de calabaza).
Image courtesy Phaidon Publishing Limited, from Tu Casa Mi Casa, Photography: Araceli Paz
Squash blossoms are definitely a seasonal, summer time item. I've dipped them in batter and fried them, like tempura. Or stuffed the blossoms with ricotta and egg and fried them. So when paging through Tu Casa Mi Casa as I was working on the book review and came across a recipe for Cream of Squash Blossom Soup it really caught my attention. It's one of those lovely recipes that becomes more than its simple ingredients. IF you have access to squash blossoms, that is.
1 cup whole milk
1 cup stock or water
3 tablespoons butter
1 small white onion, sliced
2 small garlic cloves, sliced
2 zucchini, roughly chopped
2 pounds squash blossoms, stems removed
1/2 cup fresh epazote leaves (dried will also work)
1 teaspoon salt, or more to taste
4 tablespoons crumbled queso fresco, for serving
• Heat the milk and stock, then set aside, covered, to keep warm
• In a medium pot melt the butter over medium-high heat, add the sliced onion and garlic
• Cook until translucent, about 5 minutes
• Add the zucchini and cook until bright green, about 3 minutes
• Set aside a few squash blossoms for a garnish, add the rest to the pot with the epazote and stir until coated with butter and starting to wilt, about 30 seconds
• Add stock / milk mixture together with salt and bring just to a boil
• Remove from heat and transfer to a blender
• Blend until smooth, strain through a fine mesh sieve and serve immediately or let cool to room temperature
• Garnish with a few blossoms or their petals and sprinkle with queso fresco
Squash blossoms are not something I have ever seen in any local stores. A friend told me she saw small bunches at the Saturdays only Ft. Greene Park Greenmarket in Brooklyn last month. But if you have your own vegetable garden (or, as do I, have friends with a vegetable garden) squash blossoms are an easy option. The extremely productive plants have two kinds of flowers.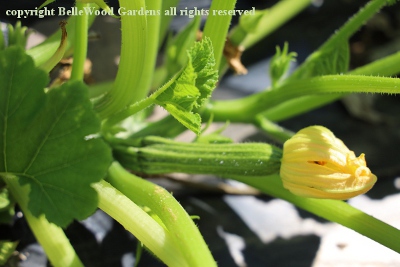 .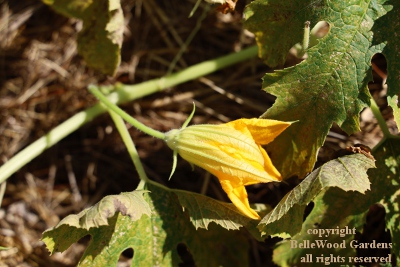 The female flowers, which will produce squash, have a small squash at the base of the flower. Also, they tend to appear towards the center of the plant. Male flowers have only a longish stem, no swelling, and usually grow further out on the vines. Obviously, in a having your cake and eating it too situation, use the male blossoms for soup while allowing the female flowers to develop into squashes.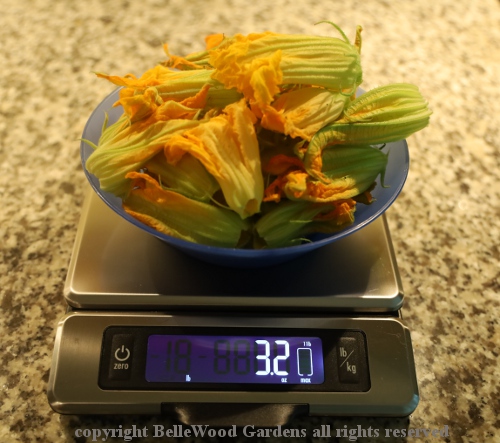 It took only minutes to pick a generous amount of (male only) flowers.
But I had nowhere near two pounds of blossoms. Rather, just ounces.
I reached out to staff at Phaidon Press Limited, the publishers. They in turn reached out to the chefs who said they weighed some blossoms in the kitchen and concluded it's probably regional differences in squash blossoms. When they weighed their blossoms, there were 58 in a pound which means they would use around 115 to get to 2 pounds for this recipe. Apparently squash blossoms are abundant and large in Mexico and they are sold by weight rather inexpensively - a kilo is $2 USD - and not by piece like they are in colder climates. Chefs' recommendation would be to scale down the recipe or to use more squash and less blossom if the blossom is too expensive in the region.
Here's what I did. I followed the recipe using the very reduced amount of squash blossoms I had, and using corn cob stock. Corn cob stock is so easy-peasy. Take the cobs after you eat the corn and break the cobs into thirds. Put them in a suitably sized pot and cover with water. Bring to a boil, turn down heat and simmer, covered, for about 2 hours. Then strain and use or refrigerate or freeze for chowder next winter.
And my soup was delicious! I had some hot, some warm,
and the last little bit chilled. It was all good.
---
Back to Top
---
Back to September 2019
---
Back to the main Diary Page