.
Garden Diary - September 2019
---
If you have any comments, observations, or questions about what you read here, remember you can always Contact Me
All content included on this site such as text, graphics and images is protected by U.S and international copyright law.
The compilation of all content on this site is the exclusive property of the site copyright holder.
---
September
---
Sheep and Things at the Garden State Sheep Breeders Festival
Saturday, 7 September 2019
It's the weekend of the 25th annual sheep and fiber festival, hosted by the Garden State Sheep Breeders at the Hunterdon County Fairgrounds in Ringoes, New Jersey. I've been before which is why I'm going again - it's fun with lots to see and yarn to buy. There are breed exhibits, sheep shows, fleece show and sale, sheep shearing demonstrations, sheep dog herding, fiber classes, fleece to scarf demonstration, vendors, and food. Maybe they need AirB&B accommodations in some of the stock trailers, so I could stay overnight and have time enough to take it all in. But I did my best in one day.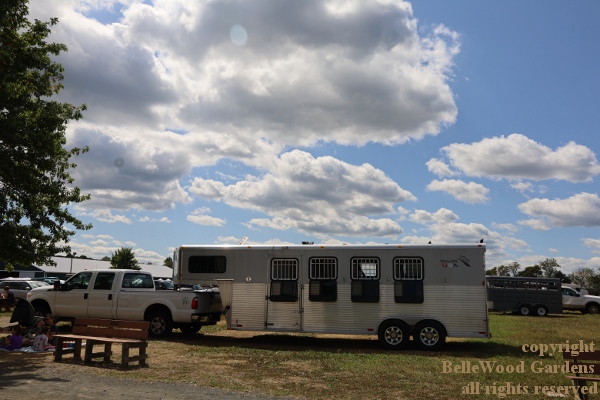 Sheep arrived in this palatial stock trailer. Given a quick sweep-out and perhaps
some air freshener, move in some futons . . . no, better to go home. I was told, as I
left, to have a good time. And to not come home with a sheep. Didn't say no yarn.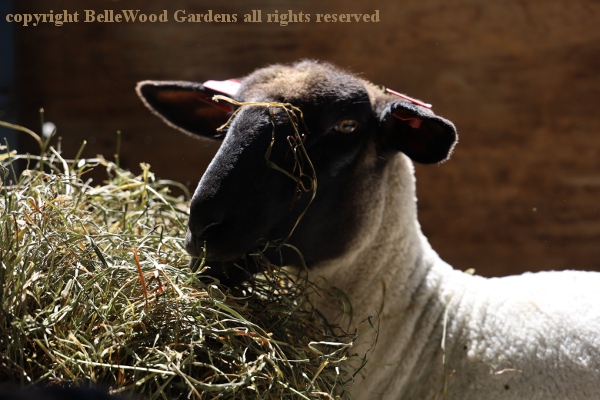 Sheep calmly wait in their pens for their turn in the show ring. This Suffolk is nibbling on
some hay. Some sheep were stretching their heads over into the next pen. I suppose that
if grass is always greener on the other side of the fence, the next hay net also looks tastier.

There is a double row of pens down the middle of the barn with generous aisles
and then a rows of pens along the two long outside barn walls. Good ventilation.
It's a coolish day, some clouds, light breezes. Sheep and people are comfortable.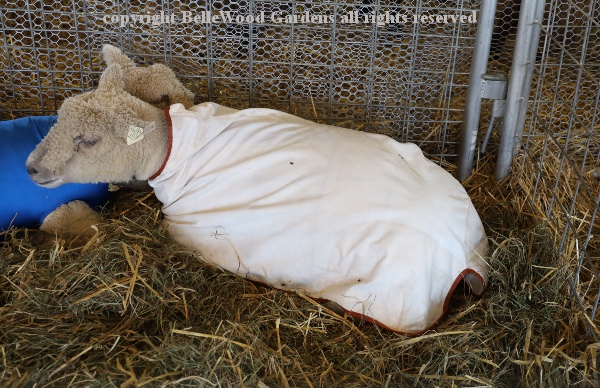 Some sheep are shown sheared, and some are shown in the fleece. The latter, once cleaned,
washed, combed and primped for the show, are put in jackets to keep them free of wisps of hay.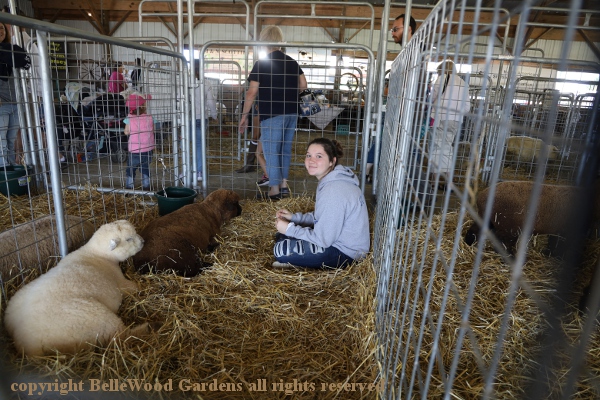 There are 4-H members with sheep that have been raised almost as members of the family.
This is a Valais Blacknose sheep, a rare breed. It's complicated. Valais sheep are not allowed
to be imported into the United States. Semen is. Foundation Scottish Blacknose ewes are
inseminated with Valais semen, each generation returning closer and closer to the genetics
of the Valais breed. This will take, Remi Melvin of Stone Manor Farm says, about 6 generations.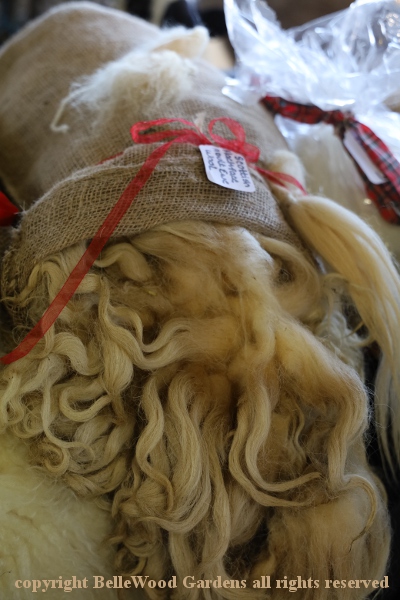 A sample of Scottish Blacknose fleece, displaying wonderful fiber length and crimp.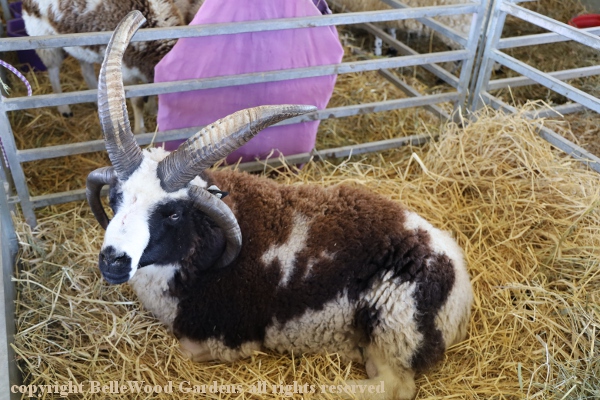 A Jacob sheep, a biblical breed with spotted coat and either two or four horns.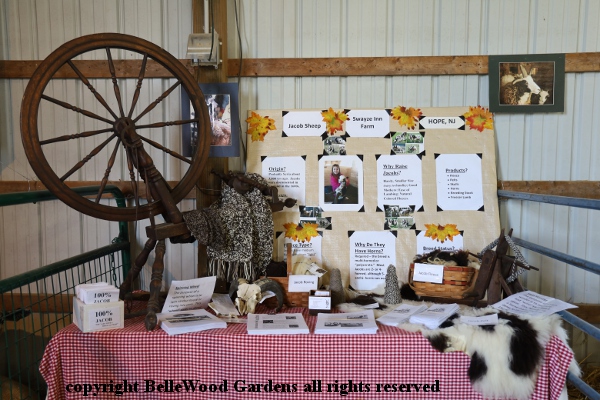 As well as the sheep there are also, adjacent to some pens on the outside wall, breed
display exhibits. These offer information about the breed, samples of their fleece, and
samples of yarn, Perhaps something knit from the yarn. This is the Jacob sheep display.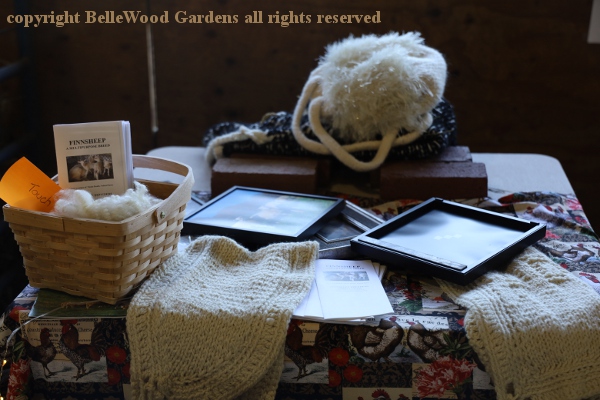 And this is the breed display for Finn sheep. Each exhibit is unique to the farm that creates it.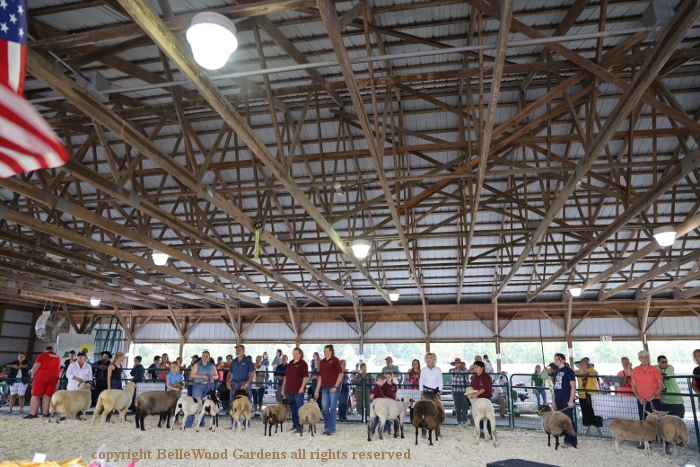 There's a non-competitive parade of breeds. As each breed is announced and led into the ring
an announcer names the breed, the farm it comes from, and salient details such as general size
and weight of that breed's rams and ewes, what they are bred for, and special characteristics.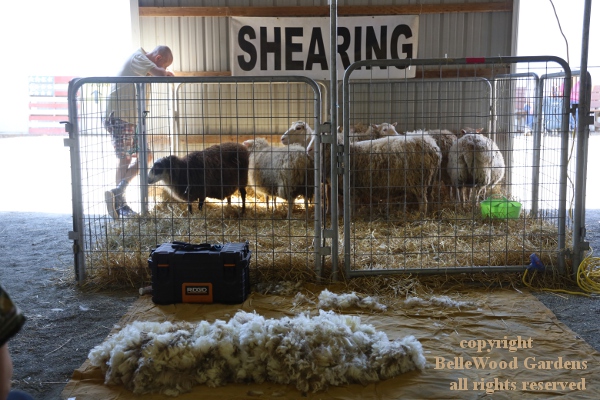 Hair sheep shed and have no use for fleece and yarn. Others must be sheared, as demonstrated.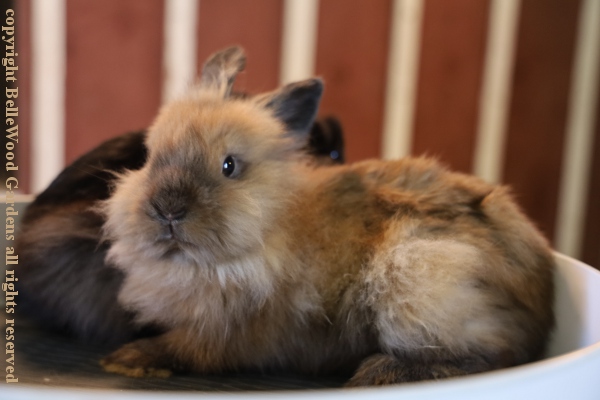 One vendor has angora - not goats, rabbits. Very large ones in cages, and
two adorable little ones that we may pet. I wasn't told not to bring a rabbit
home . . . But I didn't.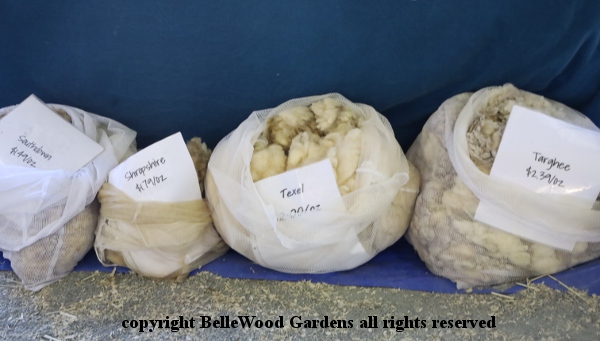 One vendor was selling an incredible diversity of fleece by the ounce. It is,
I suppose, a way for a spinner to test the characteristics of different breeds.

This vendor has both fleece and yarn from her sheep, and can tell you
which sheep in her small flock of Shetlands the yarn / fleece came from.
There are hour-long presentations for the novice or wanna be sheep keeper on topics such as small scale manure management (sheep poop out pellets which are easier than cow flops), small ruminant nutrition and grass choices, and livestock guardian dogs - the visible fence. Sheep 101 on both days discusses starting with sheep, picking a breed, startup and barn setup. Tomorrow, Sunday, will repeat the small scale manure management class as well as one titled "so you think you can show?" These are talks. There are also several workshops, 3 to 6 hours in length, on how to skirt a fleece, making felted beads, creating boho art yarn, and continuous strand weaving on a square loom. These require advance registration and fee paid.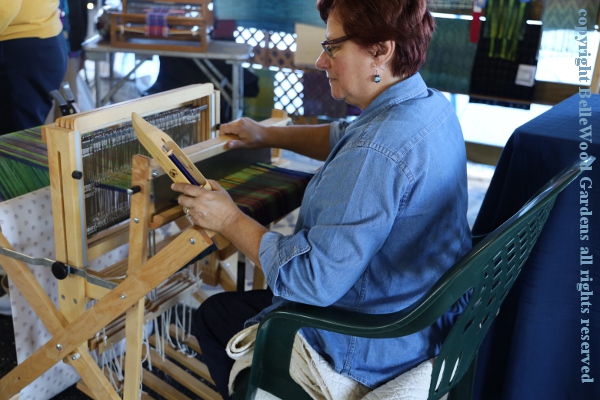 For those interested in the yarn and fleece end of things there are demonstrations
of weaving. Fascinating to watch the shuttle go, back and forth, and the fabric grow.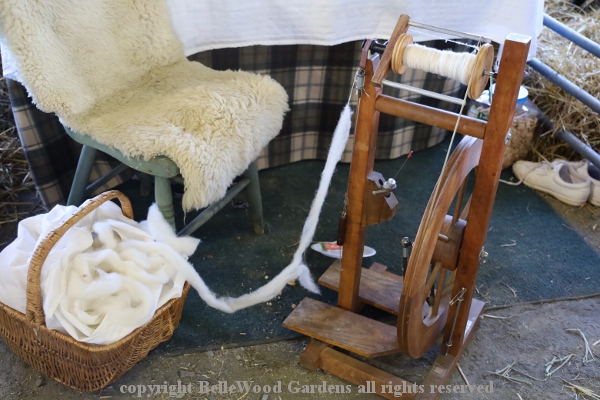 As well as people spinning fleece into fiber. Some with a drop spindle but
most with a spinning wheel. This spinster has stepped away for a minute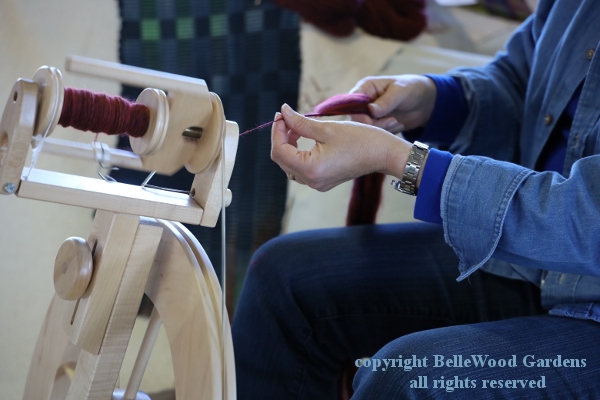 this one is drawing out a nice, fine, even thread.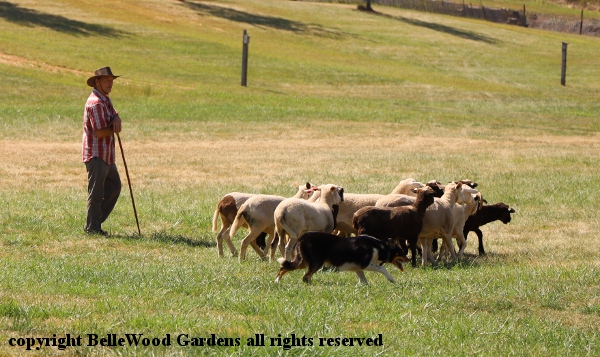 I always like to watch the sheep dog herding demonstrations. This year there's a flock
and the dogs I watched working would variously bunch and move the sheep, directed
by the shepherd's whistled commands. Or, cut some sheep out of the flock, and hold
them. As the shepherd said, sometimes out in the field you need to treat some, not all.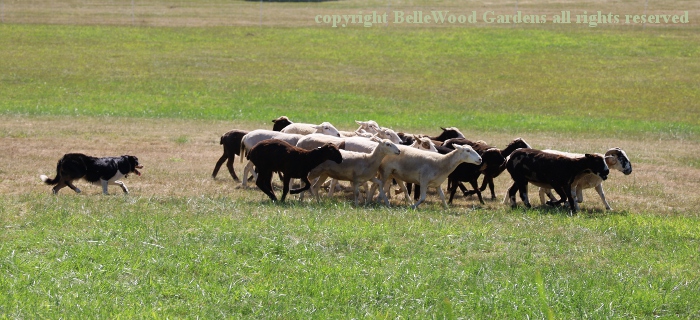 He had nine dogs in the truck, and I think all of them wanted out, to work with the sheep.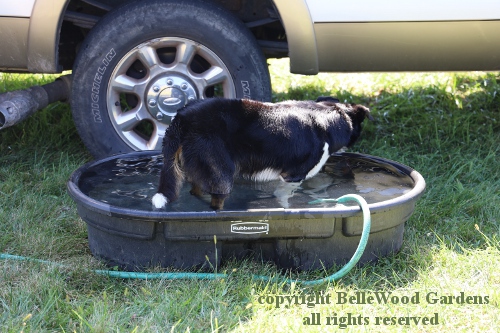 While temperatures are moderate and there's a breeze the dog is running, running,
covering ground. By the time they would be called off they'd be panting. To cool off
the shepherd would order them into their own little water tub, then into the truck.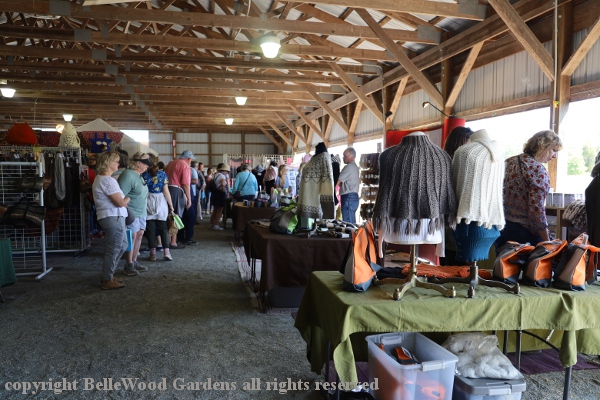 Barns full of vendors and shoppers, two barns full. Fleece, yarns, knitting needles, more.
Knitting kits, finished garments (mostly as demonstration / examples but who knows.)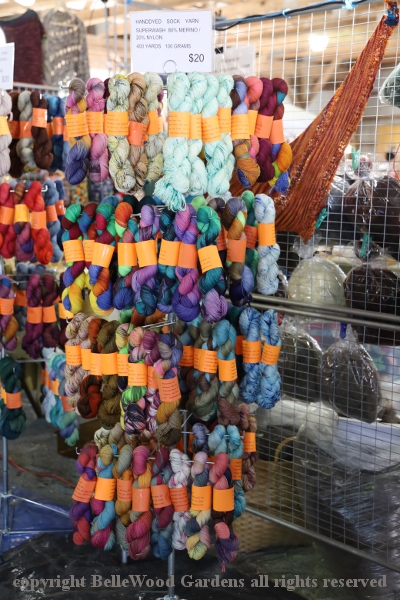 Yarn for sale in rainbows of colors. Single colors, multicolors, natural colors.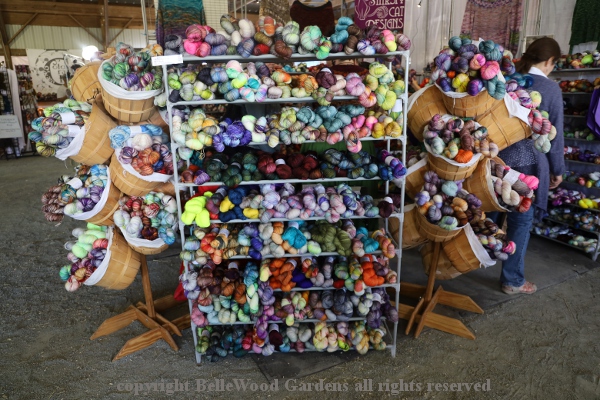 Racks and baskets and stalls filled with yarn. I know some of my Wednesday
stitch sisters walk right by the sheep and head straight for the yarns. Priority.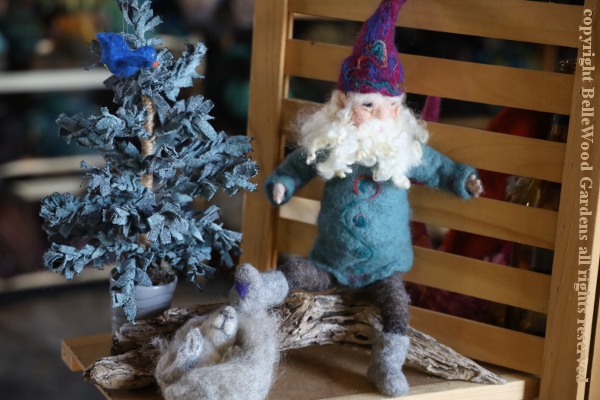 One booth had some charming needle felted creations, including gnomes.
Another lovely outing at sheep and fiber festival. Until next year.
---
Back to Top
---
Back to September 2019
---
Back to the main Diary Page