.
Garden Diary - March 2019
---
If you have any comments, observations, or questions about what you read here, remember you can always Contact Me
All content included on this site such as text, graphics and images is protected by U.S and international copyright law.
The compilation of all content on this site is the exclusive property of the site copyright holder.
---
March
---
At the Philadelphia Flower Show - Art and Arrangements
Tuesday, 5 March 2019
---
It's one of the sure signs of spring.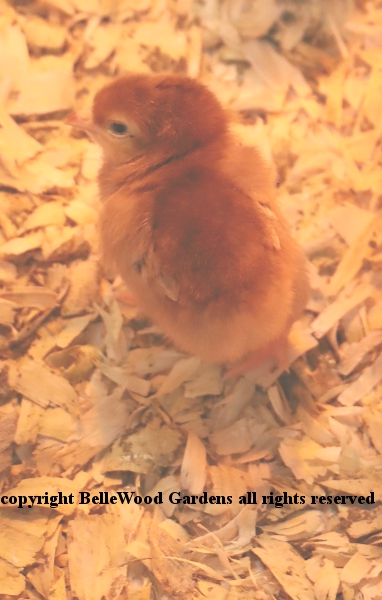 Tractor Supply has baby chicks for sale to farmers.
Another sure sign that spring is about to be sprung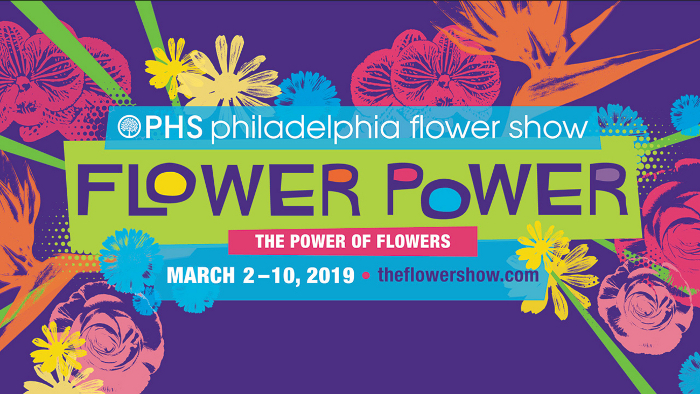 the Philadelphia Flower Show, with 9 days of Flower Power, regardless of the weather.
As you can see here there are gardens, flowers, and useful horticultural information. There are numerous classes, each with their own precise rules explicitly set forth in the 62 page exhibitor's guide for both horticultural and floristic entries. In the interests of full disclosure let me tell you that I am more of the "stuff things into a vase and hope they don't fall over" school of flower arranging. Doesn't mean I don't admire the efforts of those more skilled than am I. And where better to have the opportunity to see what they can do than at the flower show.
For the first time ever, the 2019 show will be hosting an international floral design competition - the Florists Transworld Delivery World Cup. Held only every 4 to 6 years, the event has not been held in the United States since 1985. The 23 competitors, each representing a different country, made four different floral designs, which are on display at the Flower Show itself.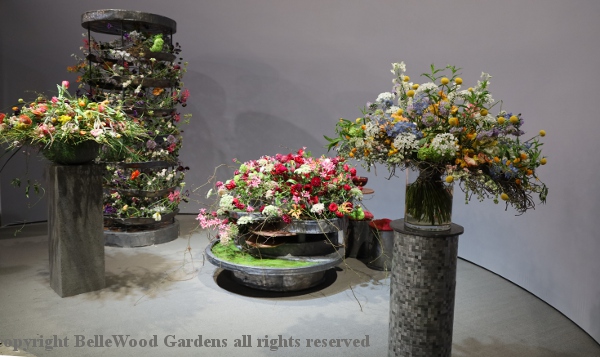 These are not dainty little from-the-farmers-market table top bouquets. And there were, of course, guidelines. Which seemed to me to be open to interpretation. For example: In this design, competitors are challenged to create an entire table setting for two that interprets this life-changing transformation through love and hope. They have to produce a unified composition where the power of love is featured through flowers. Additionally, the design should stimulate at least 4 out of 5 human senses."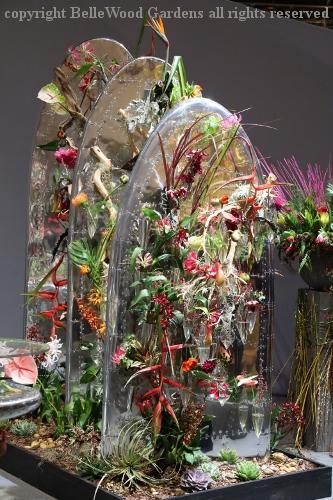 .

Here are three of the entries by Nam Bao, from Vietnam.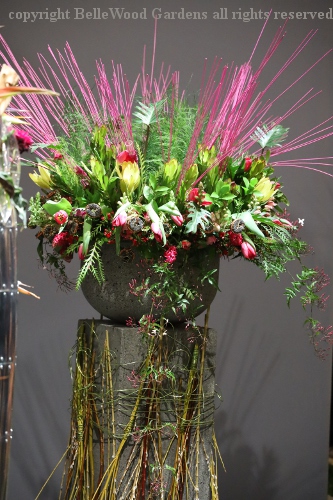 There's a challenge class where each competitor must make an arrangement based on a poster. Each competitor, a poster for a different rock musician.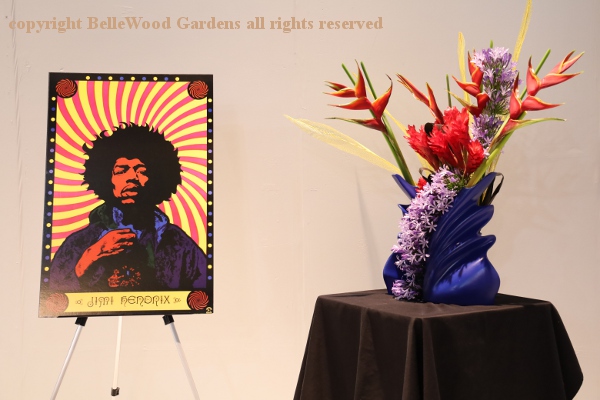 Jimi Hendrix. The judges liked the container, the colors, not the spill of lavender down the vase.
Going by the crowds I always see standing there, one class that in always popular are the pictures "painted" with pressed flowers. As the rules state: "All pressed material must be flat, well-pressed flowers, leaves, fruits, or vegetables without tears or blemishes." Amazing what can be achieved.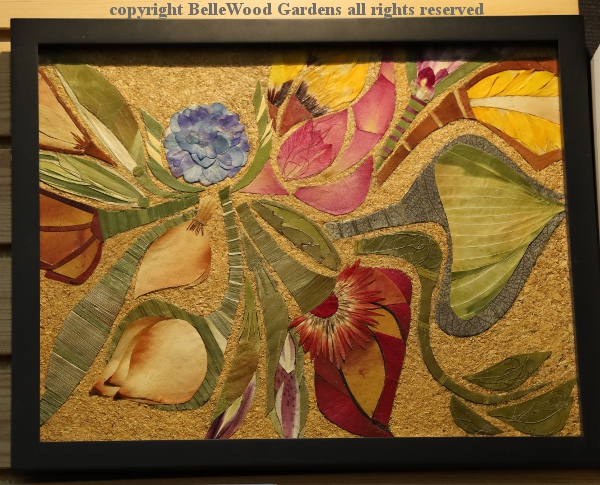 This interpretation of "Groovy Garden" won the blue ribbon for Class 142.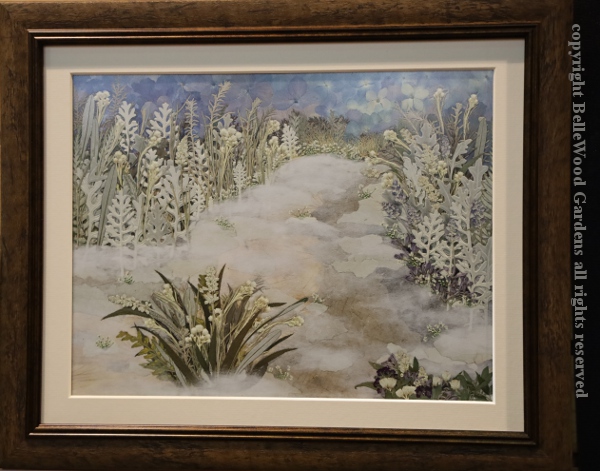 This take on "Long and Winding Road" failed to impress the judges.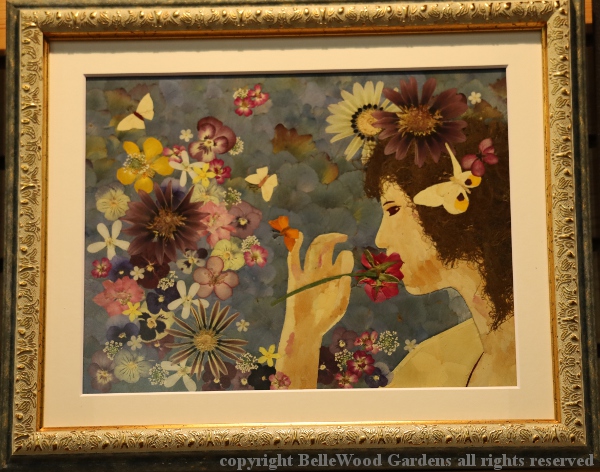 Class 145 was a Novice Class, on the theme Flower Child, an interpretation
of a "flower child" of the 60s. The judges awarded this entry the blue ribbon.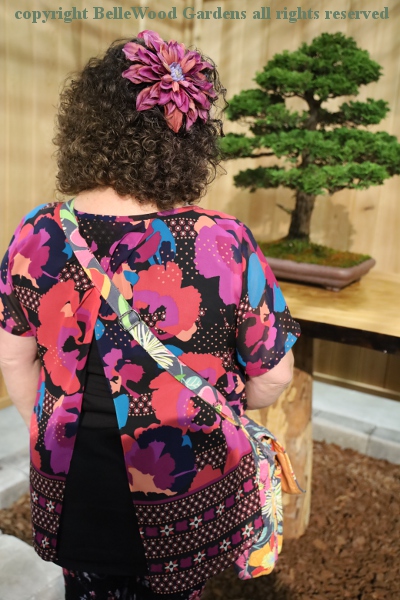 Flower Child. Indeed. Some flower show visitors really
got into things, dressing for the theme of the show.
Let's hear it for Flower Power.
There are a few days left for you to come and see the show for yourself.
It closes on Sunday, 10 March 2019. The Pennsylvania Convention Center
is located at 12th & Arch Streets, Philadelphia, Pennsylvania 19107.
Plans are already underway for next year's flower show.
Riviera Holiday, February 29 through March 8, 2020.
Make a note to mark your calendar! (When you get it.)
---
Back to Top
---
Back to March 2019
---
Back to the main Diary Page