.
Garden Diary - September 2019
---
If you have any comments, observations, or questions about what you read here, remember you can always Contact Me
All content included on this site such as text, graphics and images is protected by U.S and international copyright law.
The compilation of all content on this site is the exclusive property of the site copyright holder.
---
September
---
An Open Days Visit to Bird Haven Farm
Saturday, 14 September 2019
On my way to the third of today's open gardens. Bird Haven Farm is a hop and a skip, less than 3 miles from Jardin de Buis. Here is the Garden Conservancy's description.
"Bird Haven Farm is a celebration of the vision and collector's spirit of Janet Mavec and Wayne Nordberg. The barns, outbuildings, and original nineteenth-century stone house (home of Harriet Stratemeyer Adams, creator of the Nancy Drew mystery stories) have been joined by a contemporary house designed by Smith-Miller+Harkinson in the 1990s and more recently a guest house by Parsons+Fernandez-Casteleiro. The garden master plan was completed in 2002 by Fernando Caruncho lending visual clarity to the cluster of disparate elements. Hardscaping by Dale Booher added clean lines of strategically placed stone walls, evolving Caruncho's concept of a medieval village and a perfect haven for plants.
"The landscape includes hay meadows, a lush orchard of heirloom apples and other fruit trees, a boxwood bordered herb garden designed by Lisa Stamm, vegetable and flower gardens, and BRAND NEW features include a meandering woodland walk with cascading ponds and a mahonia and laurel glade accented by a mixed shrub border, as well as a grandchildren's oval garden with the four elements."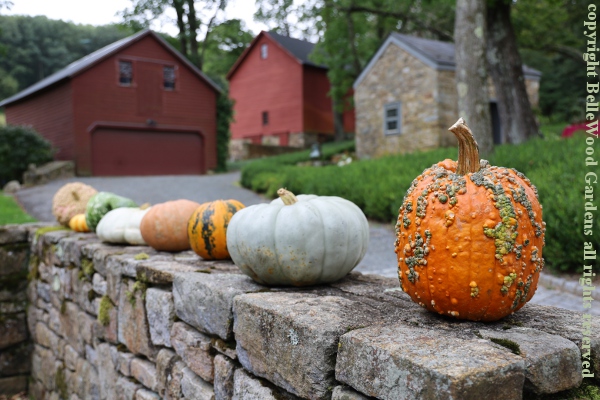 A varied collection of pumpkins displayed on a stone wall
are indication of a fine and productive vegetable garden.
There are actually two, a lower level flower and vegetable garden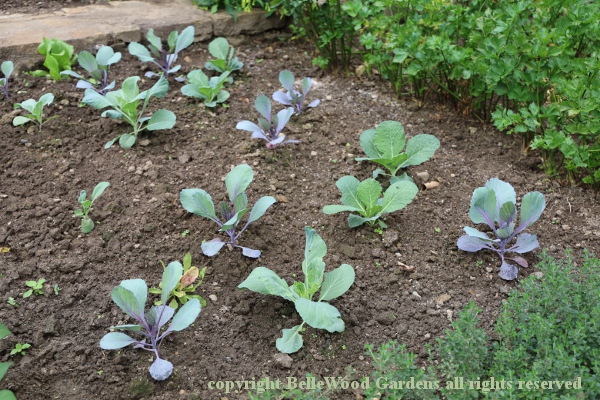 where a bed with young cabbages indicates the harvest season will continue.
Notice the artful arrangement of alternating red and green cabbages. And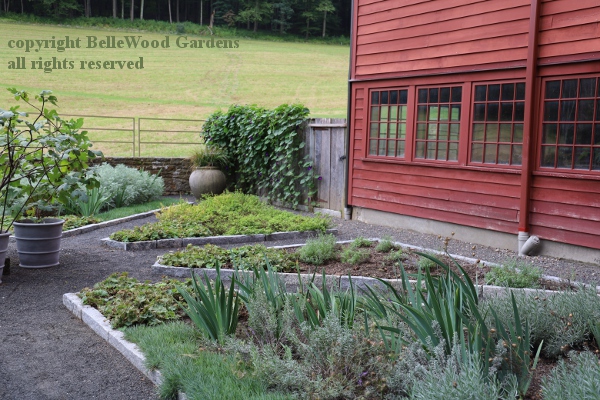 there is an upper garden of herbs, arranged in a classical goose foot design.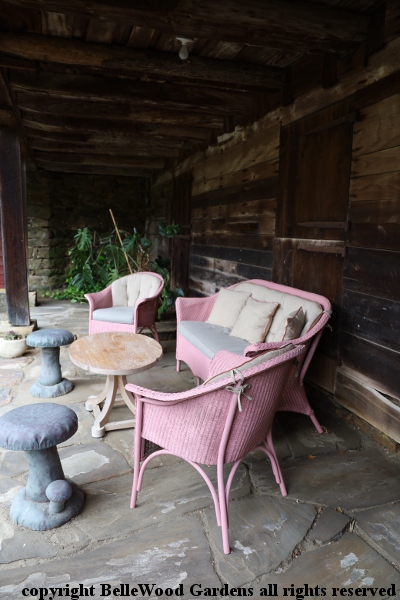 There is a sheltered sitting area which overlooks both
the herb garden and hay field beyond. And at day's end


sip a negroni, made with gin, sweet vermouth, and cynar,
the artichoke-derived Italian liqueur. Or familiar campari.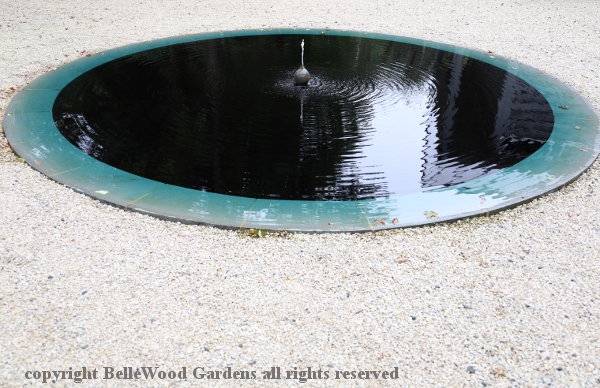 Back down at the house is a wonderful pool, its depth disguised by black
dyed water. The tiny jet is silent. Its purpose - making concentric ripples.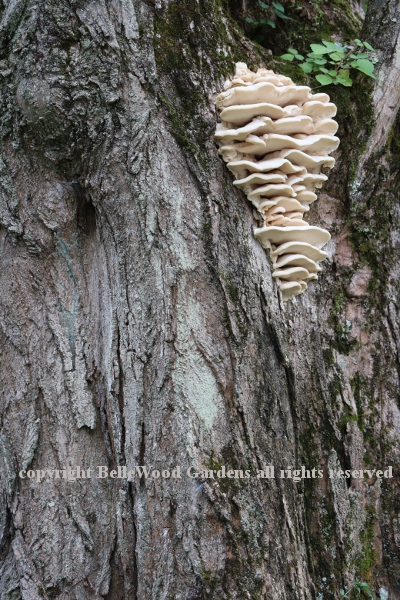 The massive sugar maple by the mirror pool has these brackets of the northern tooth fungus, Climacodon sepentrionalis, sometimes named as C. sepentrionale. Unfortunately the fungus is a plant pathogen that attacks the heartwood of maple and sugar maple trees, causing it to rot. There is no treatment. Sadly, the tree will, in time, die from the heart rot.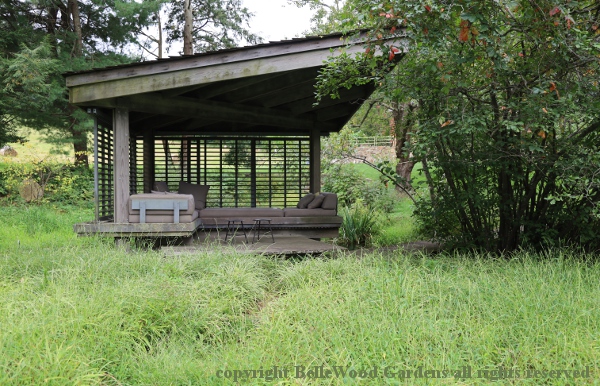 A wonderful sitting area by the pond, with a Japanese feel. Open on two sides, just
barely there on the other two. An angled roof . Two - shall we call them banquettes?
Just right for a meditative time-out, a reflective pause for one person. Or a couple.

But wait! It is not set in a meadow of tousled grass. Even better. You must
walk out over water, water so still and dark that its glassy surface becomes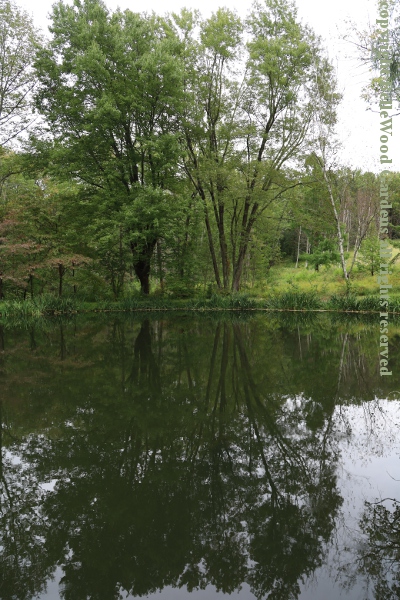 a mirror.
.
Bird Haven Farm has several extras, above and beyond the garden visit.
Atlock Farm will have topiaries and other choice plants for sale, plus
Janet Mavec will be selling her Orchard jewelry, inspired by Bird Haven Farm.
There is also an exclusive and site-specific Digging Deeper program
Apples & Orchards: A Cider Party. Sixteen people have pre-registered.
"For almost twenty years, Janet Mavec and Wayne Nordberg have been hosting a cider party on their farm to celebrate the bounty of the land and their ancient orchard. These heirloom varieties are so old that an apple expert from Rutgers University was unable to identify them, but the family knows they are indescribably delicious. To help care for these treasures, Janet and Wayne work with Steve Zaikowski, a master cider maker and Licensed Tree Care Expert with something akin to a cult following. Spend an unforgettable afternoon with Janet and Steve to learn how to properly site, grow, and prune apple trees, as well as the best varieties to use in cider (and all of the other amazing edibles Janet makes). Then learn by doing, for it will be all hands on deck to make cider! Each guest will take home some of the fruits of their labor."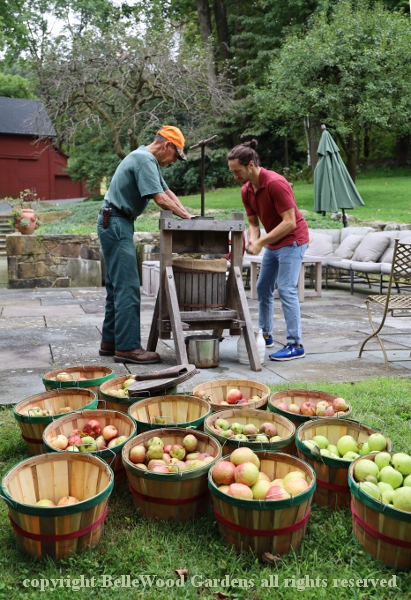 When I arrive, an hour before the cider party is to start, Steve Zaikowski,
and an assistant are grinding and pressing apples into cider. Observe the
diversity of apples which will become cider. Steve mentions that he wishes
he had a few pears to add to the mixture, to add just a hint of sweetness.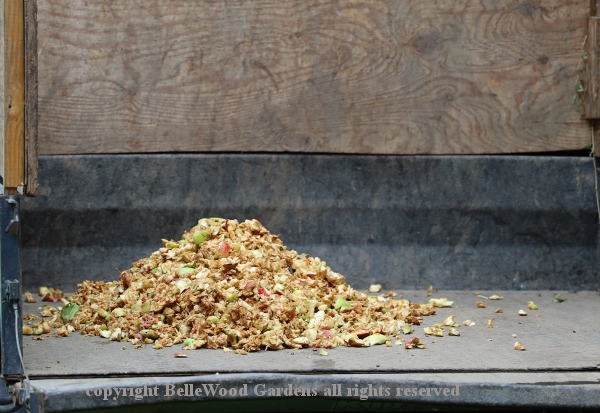 The pomace, the squeezed dry apple pulp residue, will be tossed onto the compost heap. Where, Steve mutters, the raccoons will no doubt have a good time. He agrees with me that if there were any livestock, it would be the pigs that would be fed the pomace.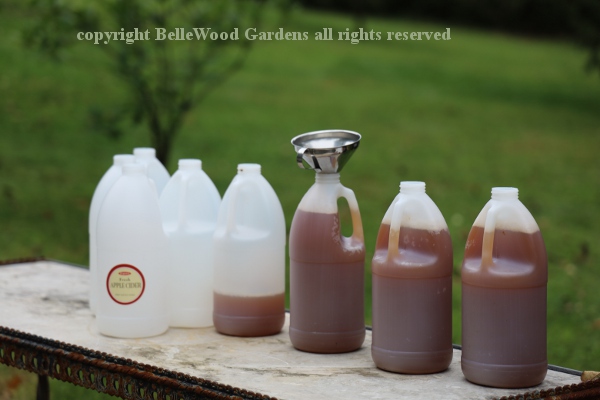 The rich cider is funneled into bottles. Alas, there is none for sale.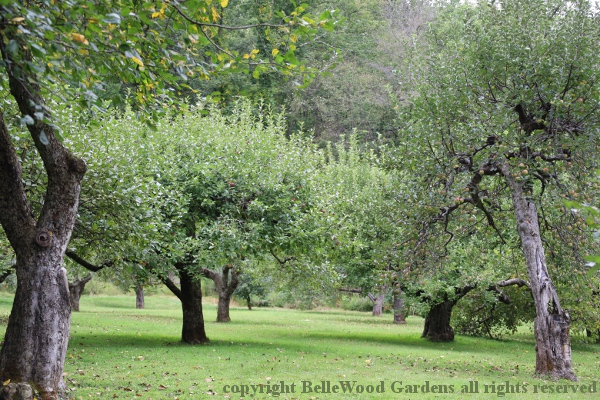 The apple trees in the orchard look like trees, none of this spindle trained,
supported on wires, quick into production and quickly used up, pulled out.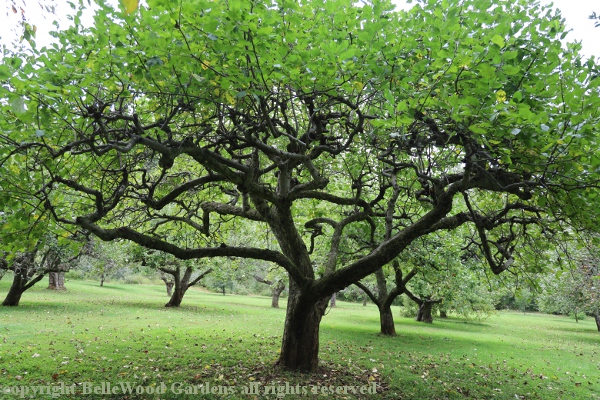 A tree that may in summer wear / A nest of robins in her hair;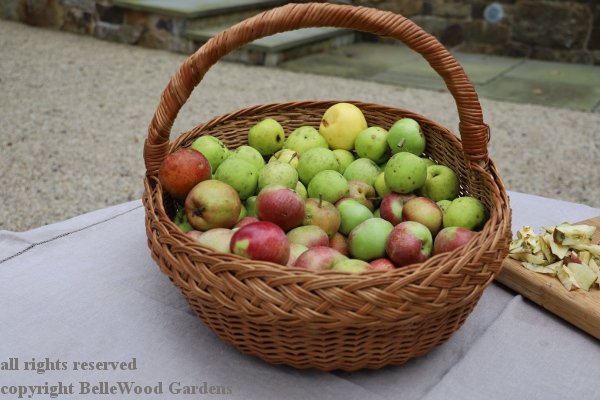 ---
Back to Top
---
Back to September 2019
---
Back to the main Diary Page