.
Garden Diary - September 2019
---
If you have any comments, observations, or questions about what you read here, remember you can always Contact Me
All content included on this site such as text, graphics and images is protected by U.S and international copyright law.
The compilation of all content on this site is the exclusive property of the site copyright holder.
---
September
---
Tohickon Garden Club Goes to the New York Botanical Garden
Wednesday, 25 September 2019
It has been on the schedule ever since autumn of 2018. The Tohickon Garden Club would make a September 2019 trip to the New York Botanical Garden. When you consider that we are a Pennsylvania garden club with meetings in the Ottsville fire department's social hall . . . renting a bus and driver seemed much more sensible than car pooling for a drive in to the city. So that's what we did. Plans made, we'd leave Ottsville at 8:30 a.m., arrive when we got there (one can never be certain about traffic on the George Washington Bridge) and start the return trip at 3:00 p.m. The majority of the cost was covered by the garden club with a modest portion paid by members. When, closer to the date, there were a few seats remaining the few non-member guests paid a surcharge. And we're off!
Forty-eight people on the bus, an approximately three hour drive. We arrive with a modicum of kerfuffle but the entry tickets / tram passes / special exhibit passes (all on one piece of paper) are handed out and we all skitter off in various directions. The only "must" is must be back at the meeting place for the bus ride home at 2:45 p.m.
Having been here for the press preview of Brazilian Modern, the Living Art of Roberto Burle Marx, this is where, first of all, I want to go. The exhibition has only a few more day, closing this Sunday, 29 September. There has been summer heat, summer rain. The palms and bananas, all the tropical perennials in this major, outdoor exhibition will have had four months of the year's most active growing season to put on stature.

It is outdoors because there is a major, year-long renovation of
the Enid Haupt Conservatory's palm dome and refurbishing of
two of the galleries. Scheduled completion date is May 31, 2020.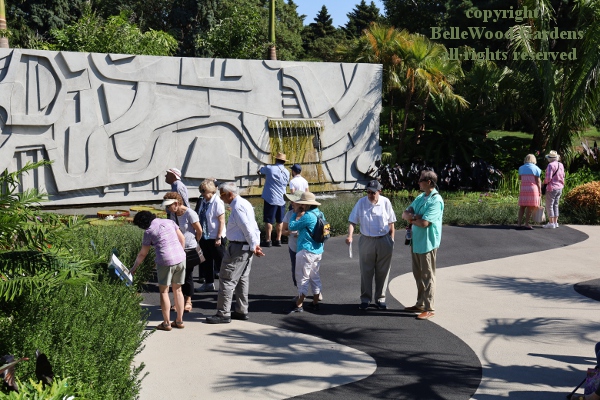 Today's weather is providing cloudless blue skies, soft breezes, and comfortable
temperatures. It would be easy for visitors to imagine they are on the Copacabana.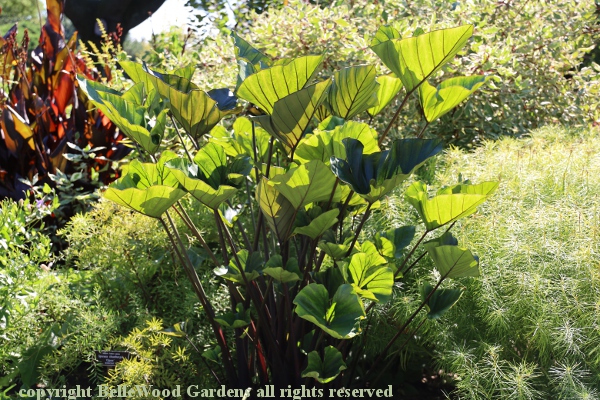 The plants are clearly thriving. Just look at this Colocasia 'Teacup' as an example.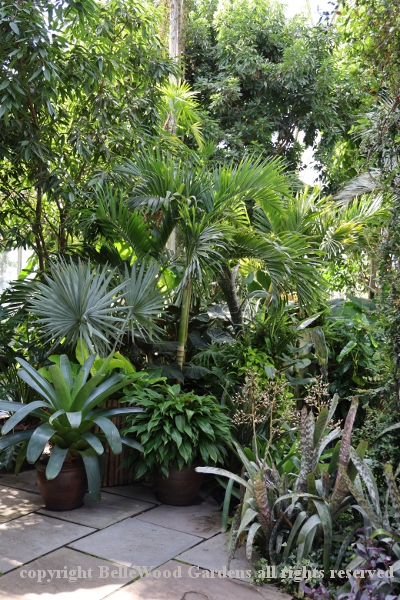 The small conservatory area that is open, as a way to access
the outdoor water lily pool continues with the jungle ambience.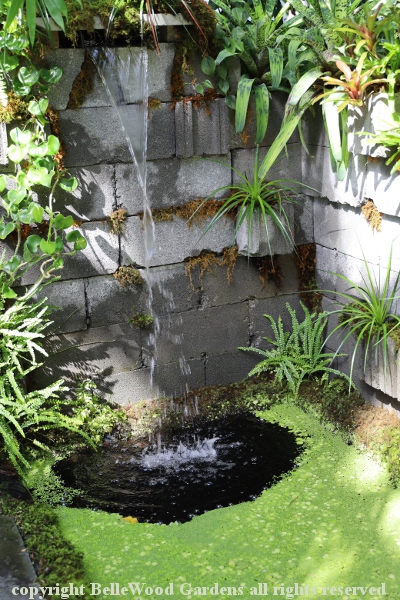 There are two small water features, with the falling water making music.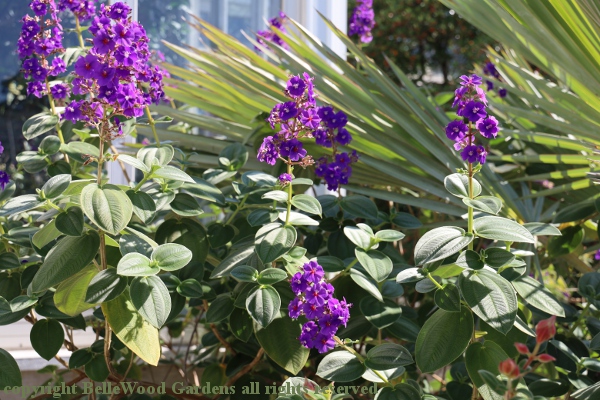 Of course there are water lilies, lotus, Victoria water lilies in the pool. As well,
there are luxurious foliage and flowering bedding plants in rich colors, such as
this gorgeous, velvety leaved purple flowered glory bush, Tibouchina grandifolia.
With 250 acres of gardens, grounds, and facilities there is really too much to see in one brief visit. Some garden club members take advantage of the tram that takes a 25 minute narrated garden tour with hop on / hop off convenience. For example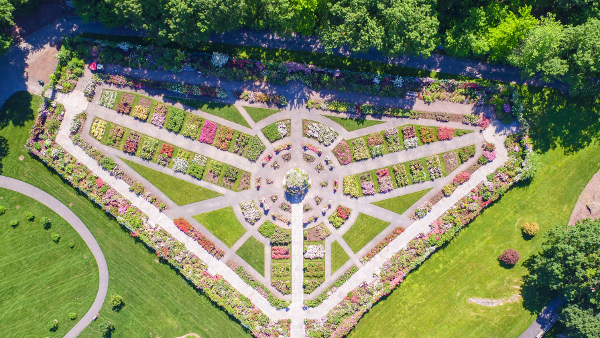 image courtesy of the New York Botanical Garden
the Peggy Rockefeller rose garden is somewhat isolated so taking the tram to
a nearby stop is really the only option if you want to enjoy the lavish displays.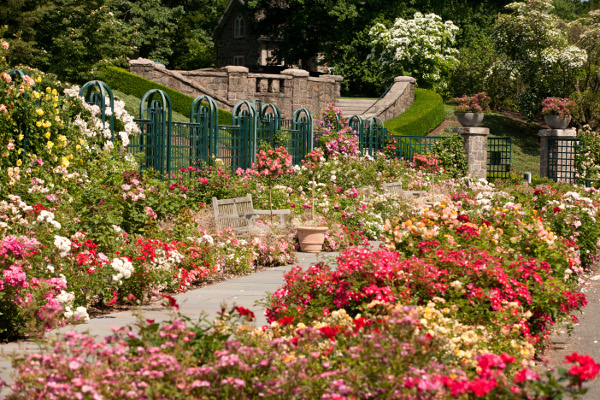 image courtesy of the New York Botanical Garden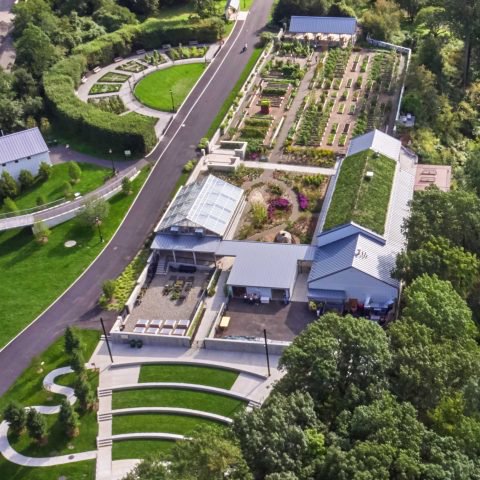 image courtesy of the New York Botanical Garden
Or, the Edible Academy with its 3 acre campus of outdoor and indoor facilities,
hands-on activities and innovative programs to teach children, families, and the
general public learn about growing and preparing vegetables, fruit, and herbs -
could easily be the focus of a visit unless, that is, you want to see more of NYBG.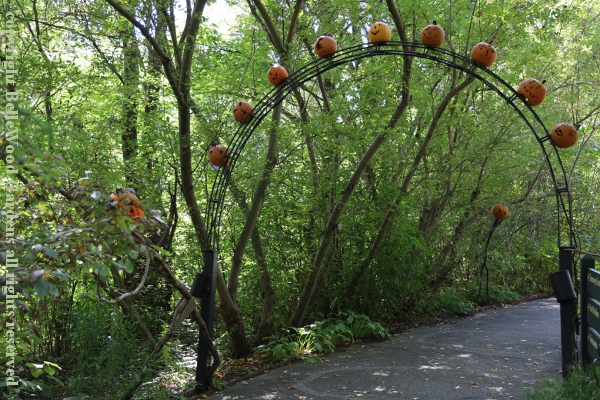 For example, the Children's Adventure Garden which is currently occupied with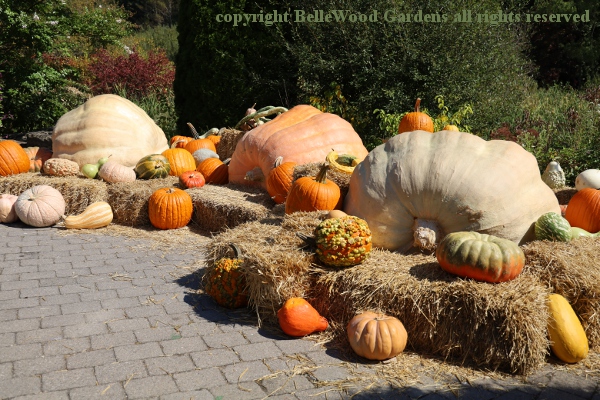 all sorts of pumpkins: familiar orange ones with which to make jack o'lanterns,
warty, long, green ones. Who knew there were so many different kinds. And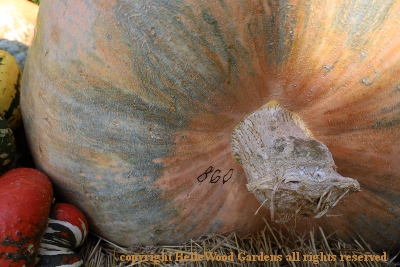 huge ones. The 860 scribbled near its stem?
That's how many pounds this pumpkin weighs.

There are spooky pumpkin figures balancing on the rocks, lurking in the bushes.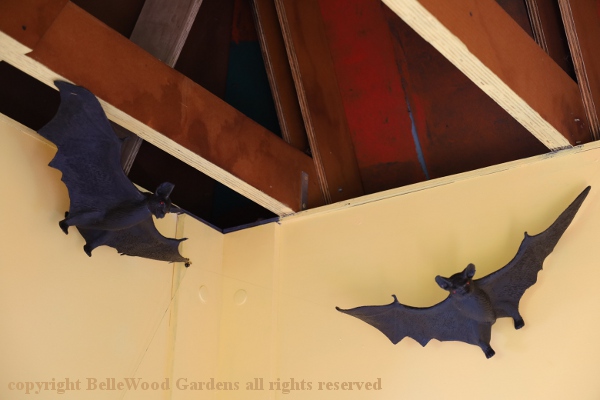 What's this! Halloween, spooks and haunts and bats. Not really. Bats are good guys.
They eat mosquitoes and other bugs, sleep all day and fly at night. There's a sign just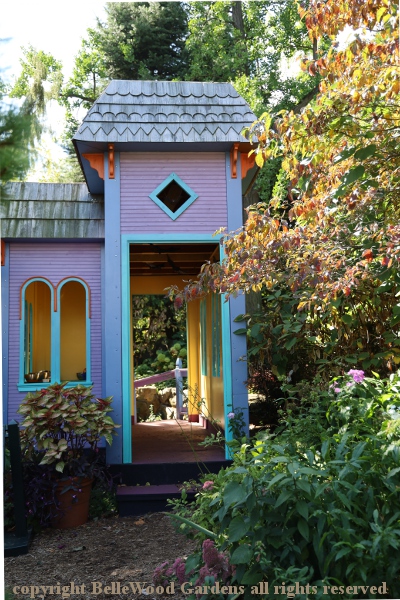 outside this Victorian playhouse where those bat figurines
are hanging from wires, the sign explaining about the five
different kinds of bats that have been found here at NYBG.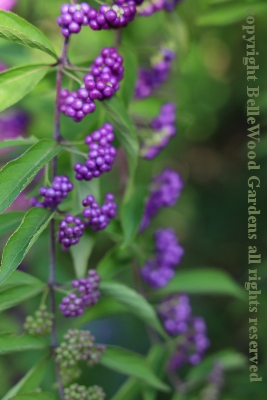 .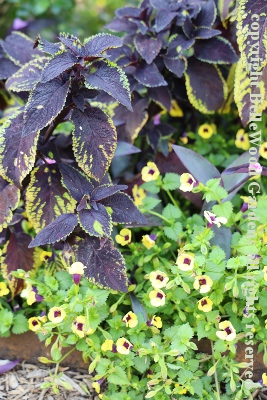 I enjoyed the careful color coordinated plantings near the playhouse, with
purple beauty berry, Callicarpa, and a well coordinated coleus and torenia.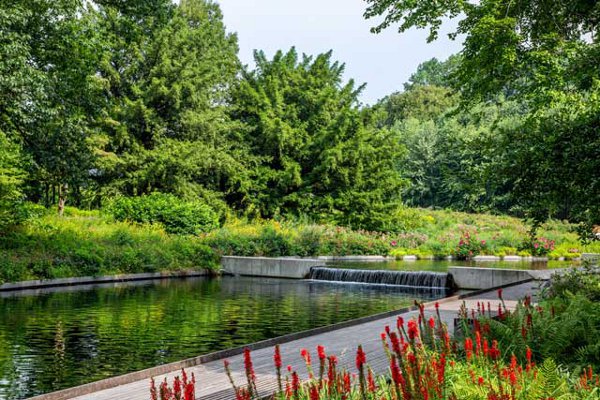 image courtesy of the New York Botanical Garden
Near the Children's Adventure Garden, just a short distance along the road and
across, on the other side, is the 3½ acre native plant garden. The garden club
members that found their way here mentioned enjoying the water feature that is
the center of the garden. Fed by recycled storm water, purified by aquatic plants
and a sophisticated filtration system, then recirculated over a series of stone weirs.
Plants, water, landscape, attract and sustain a diversity of birds and small mammals.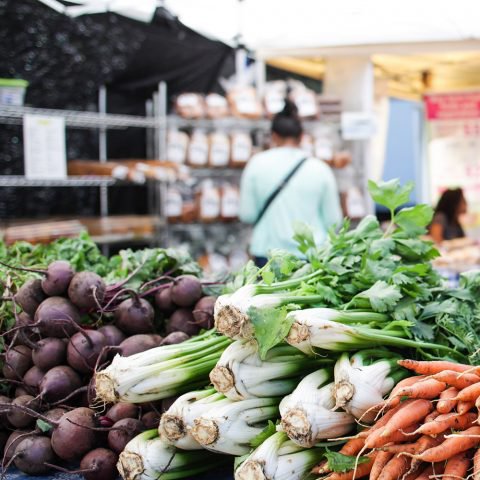 image courtesy of the New York Botanical Garden
In season, on Wednesdays, NYBG provides space for a farmers market
with seasonal fruit and vegetables, artisanal baked goods, locally roasted
coffee, and street food for lunch. I know some garden club members had
their lunch here, crepes made to order and other tasty options. I, instead,
met one of my friends on staff here, and we had a pleasant lunch at the
Pine Tree Cafe, with a rare opportunity to talk and catch up on things.
I finished today's visit with a saunter through the NYBG Shop, perusing books, gifts, plants, cards, stuff. Back outside, a couple of equally foot sore garden club members were sitting on a bench, waiting for bus departure gathering time. I joined them. Another showed up, and soon it was time for us all to get back on the bus and leave the driving to someone else. Lots of chatter about what we'd seen. A good time had by all.
---
Back to Top
---
Back to September 2019
---
Back to the main Diary Page