.
Garden Diary - June 2019
---
If you have any comments, observations, or questions about what you read here, remember you can always Contact Me
All content included on this site such as text, graphics and images is protected by U.S and international copyright law.
The compilation of all content on this site is the exclusive property of the site copyright holder.
---
June
---
Brazilian Modern: The Living Art of Roberto Burle Marx
at The New York Botanical Garden
Tuesday, 4 June 2019
---
Today is the press preview for The New York Botanical Garden's garden-wide exhibition for Brazilian Modern: The Living Art of Roberto Burle Marx. I've been getting: invitation to the press preview, breaking news about the event, public announcements of what's on and what will be happening. Of course I - metaphorically speaking - clear my desk, check that my plus one is available, fuel up my car for the 2 hour drive, and cross fingers for decent weather.
Apparently NYBG staff has an "in" with the weather gods.
Today is sunny, a little cool, somewhat breezy. Perfect.
Why am I so eager and anticipatory? Because this will be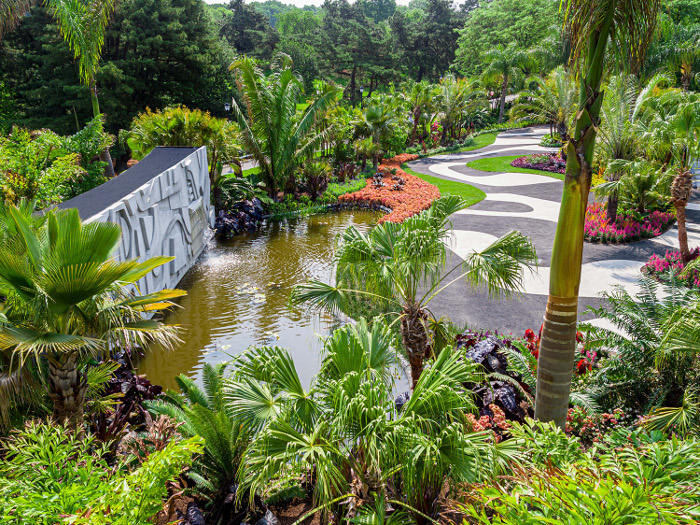 image courtesy of The New York Botanical Garden
the largest botanical exhibition ever at NYBG. The Enid A. Haupt Conservatory is undergoing
some renovations that may have been added impetus for this splendid event that will open to
the public on Saturday, 8 June, and continue through 29 September 2019. I am eager to see it.
And the above image? That's not Rio or São Paulo, Brazil. That's here, at NYBG, in the Bronx.

How did they do that? Well, it started with the football size lawn that fronts
the slope up to the conservatory. Oh, there have been previous exhibitions,
with art placed on the lawn, like the Manolo Valdes sculptures back in 2012.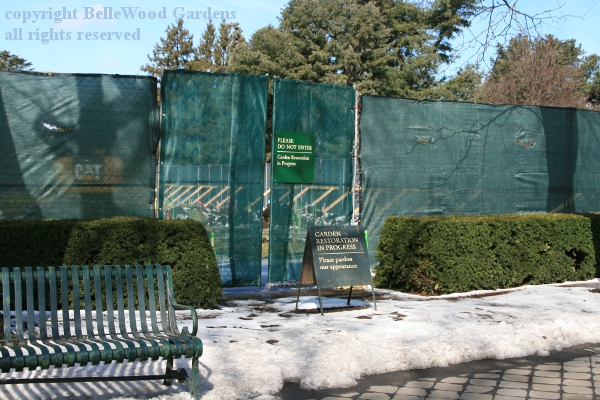 My visit to the orchid show last February indicated something more involved,
something far more theatrical than sculptures on the lawn, was in the works.

Look at this - tall palm trees brought up from Florida.
Pavement that makes us think of the famous curving
mosaic walkways at Copacabana Beach in Rio. Ahem.
Not mosaic. Todd Forrest had the clever idea to paint
the asphalt path white in patterns evoking the mosaics.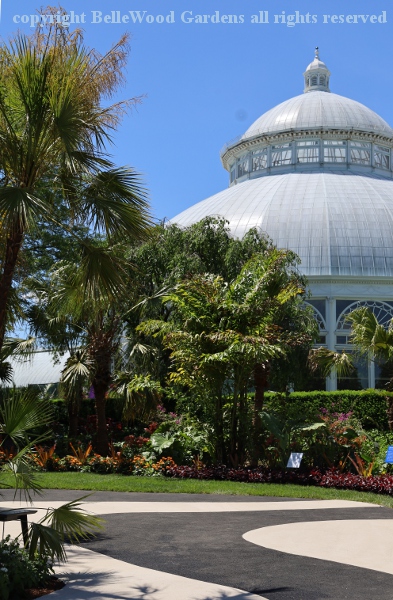 The dome of the conservatory (with its white paint for summer shading),
more palm trees, curved planting beds stuffed full of tropical plants and
the inviting flow of generous pathways encouraging us to stroll and enjoy.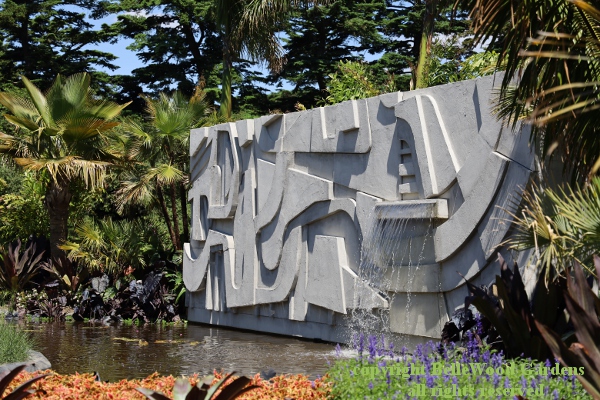 These patterned paths leading through the Modernist Garden bring us to an open plaza with a large pool. Marc Hachadourian spent 2 days in the pool making sure the water lilies would be in a quiet space without the waterfall's turbulence. The wall, carved in deep relief, creates a changing shadow play. Its creation was influenced by a Burle Marx installation in the Banco Safra headquarters in São Paulo.

The green jungle tapestry that Burle Marx so admired, with palms,
elephant ear, naturally Swiss cheese leaves of monstera, and the
masses of crossandra's orange flowers. He also loved hot colors.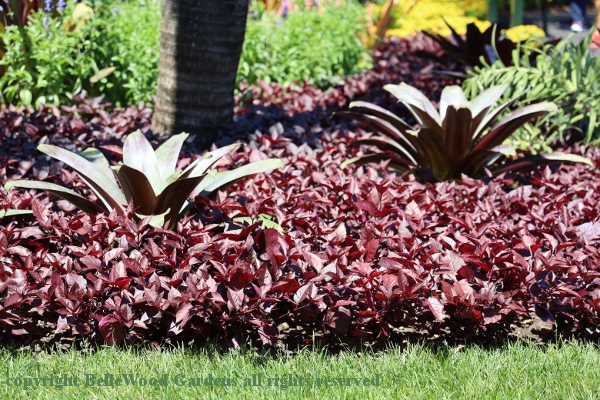 Mass bedding of plants we use as annuals, like deep purple alternathera that
seems to absorb the strong tropical sun, with some eruptions of bromeliads.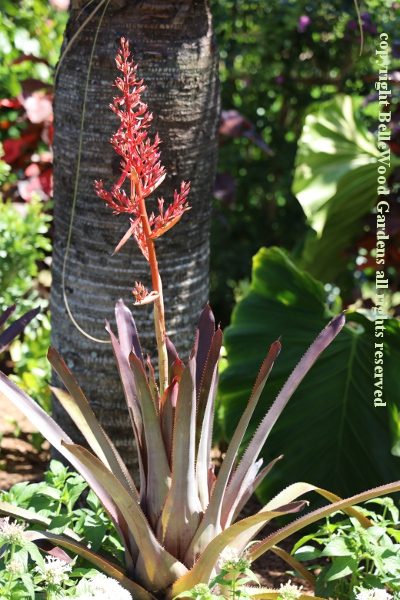 Bromeliads flower too, you know.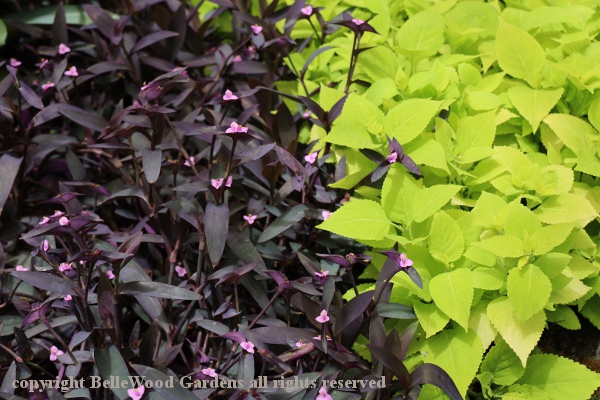 Taxonomists are at it again, I suspect. I learned the purple foliaged plant as
Setcresea pallida 'Purple Heart'. But apparently it is now a Tradescantia.
Whatever. Unlike most tradescantia it wants full sun, not shade. And the coleus
with vivid chartreuse foliage makes a powerful contrast. Color, color, colorful!
But wait! There's more. We're not done. While the Palms of the World,
the main dome of the conservatory and the two adjacent linear galleries
are closed for renovations until next spring there's still more to see.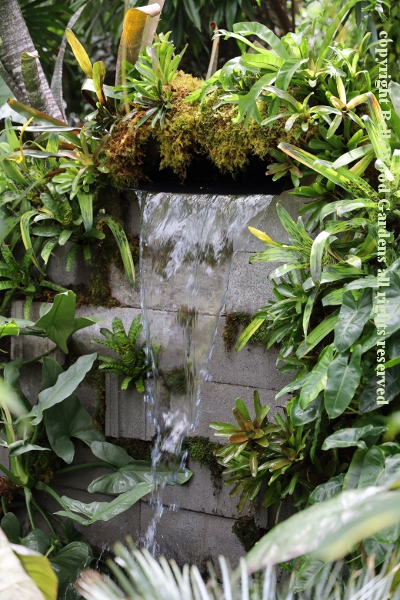 The Explorer's Garden in the smaller glasshouse dome is a more
intimate indoor installation, complete with a musical waterfall.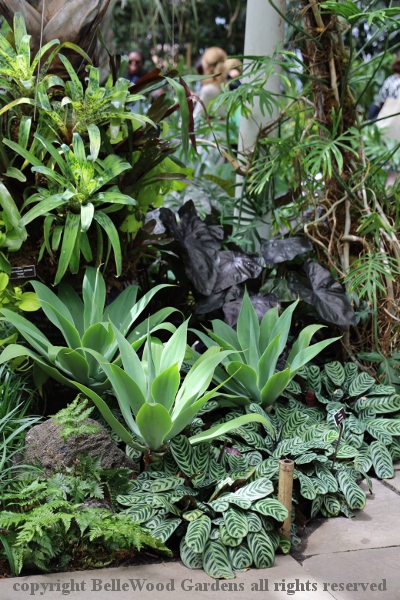 Perhaps you know prayer plant, Maranta, as a house plant,
grown for its patterned leaves. Roberto Burle Marx was fond of it
as a garden plant. And even discovered some that were unknown
to science while exploring in the forests of the Mata Atlântica.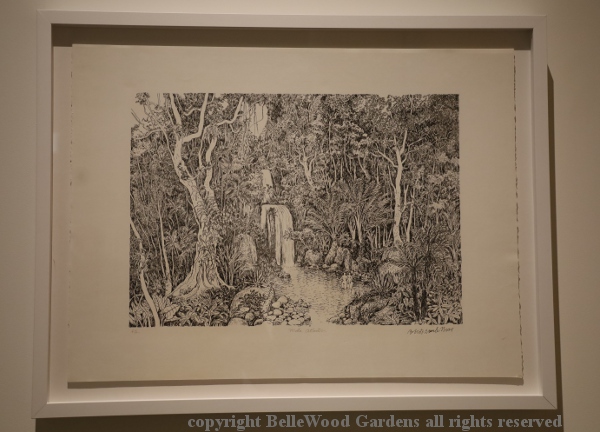 On loan from a private collection, Mata Atlântica is a lithograph by Roberto Burle Marx.
The Art of Roberto Burle Marx, and Miscellany at The New York Botanical Garden
On display in the LuEsther T. Mertz library gallery of the New York Botanical Garden.

One of the young participants in our group was creating art.
She, impressed with the palm trees. I was impressed by her art.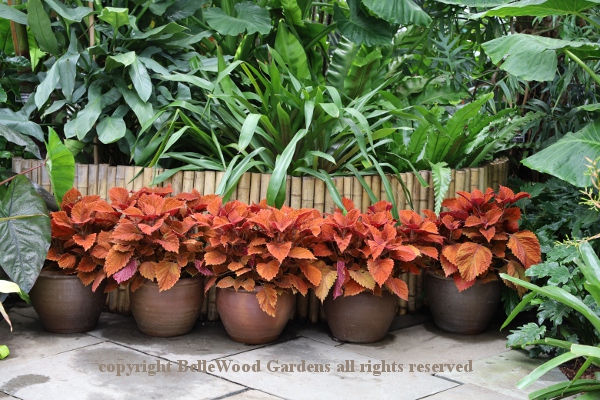 Lush plantings, tangles of foliage, low bamboo fence screening the plain pots.
Embellished with a display of hot coppery coleus in sturdy earth tone clay pots.

Some in our group are clearly forethoughtful,
coordinating their clothing with today's event.

There's a third exhibition area, in the hardy water lily courtyard
outside the conservatory. There are blue-painted planters filled
with tropical plants. Some palms, of course. Variegated agave.
More purple tradescantia / setcresea. A scarlet salvia. And more.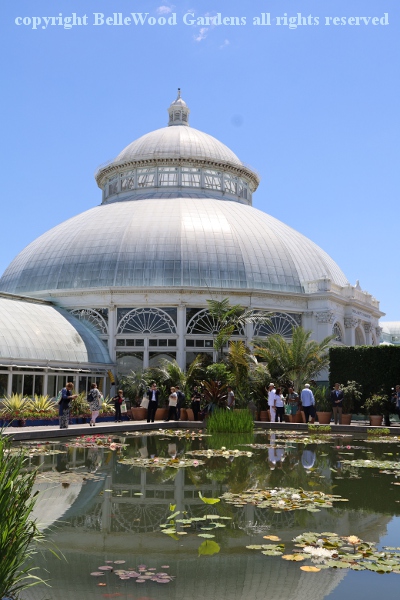 Our press pool group (I know, not very punny) gather across
the hardy water lily pool where the first few flowers are open.
Give the plants some summer time - long, warm, sunny days. The palms and bananas will send forth new leaves, making their adaptation from Florida to New York City. Water lilies will also appreciate the lazy, hazy days of summer. You should come soon, then again in mid-summer, perhaps once more before the Modernist Garden, Explorer's Garden, the Water Garden disappear on 29 September. And if you are worried about the plants - some will be accessioned into the Palms of the World collection. Some will actually go back to Florida. And anything not in those two categories will be used greenly, turned into compost to feed and nurture other plants at NYBG. But before then, come and nurture your soul, your thoughts, your mind with Brazilian Modern: The Living Art of Roberto Burle Marx.
You can easily come and visit the New York Botanical Garden. Open year-round, Tuesday to Sunday, and select holiday Mondays, hours are typically 10 a.m. to 6 p.m. Travel options include Metro-North and subway, or by car. Keep in mind that at peak visitation times, parking in and around the Garden may be at capacity. Admission price varies by age and date.
Plan your visit, then come to the New York Botanical Garden for
Brazilian Modern: The Living Art of Roberto Burle Marx
Saturday, June 8, 2019 through Sunday, September 29, 2019
---
Back to Top
---
Back to June 2019
---
Back to the main Diary Page