.
Garden Diary - February 2019
---
If you have any comments, observations, or questions about what you read here, remember you can always Contact Me
All content included on this site such as text, graphics and images is protected by U.S and international copyright law.
The compilation of all content on this site is the exclusive property of the site copyright holder.
---
February
---
Orchid Show at the New York Botanical Gardens
Thursday, 21 February 2019
---
Every year, just as winter seems never ending, there's a respite. The Orchid Show at the New York Botanical Gardens takes you to a tropical place filled with flowers. Each year has a different theme. This year we travel to Singapore, without a 19 hour flight time. Today is the press preview. The show opens to the public on Saturday, 23 February 2019 and runs through Sunday, April 28. Here's what to expect.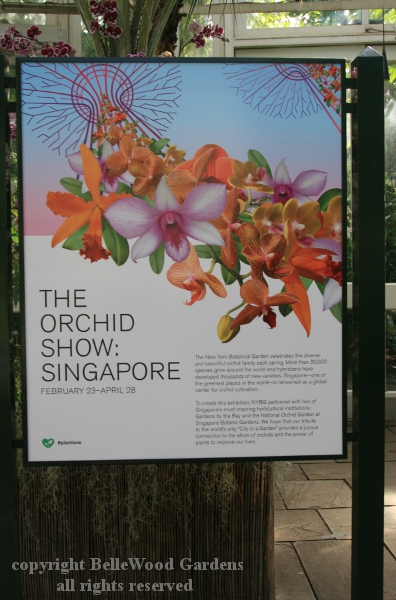 The Singapore Botanic Gardens is a 158-year-old tropical garden within which is the National Orchid Garden. Aided by the equatorial climate, it houses an orchid collection of 1,200 species and 2,000 hybrids. At the forefront of orchid studies and a pioneer in the cultivation of hybrids, it complements the nation's status as a major exporter of cut orchids.
In addition, there is a nature park, Gardens by the Bay, with a grove of Supertrees. Not some created-in-a-laboratory, genetic adaptation, these are Supertrees are structures with heights that range between 82 and 160 feet, vertical gardens that functions as environmental engines for the gardens.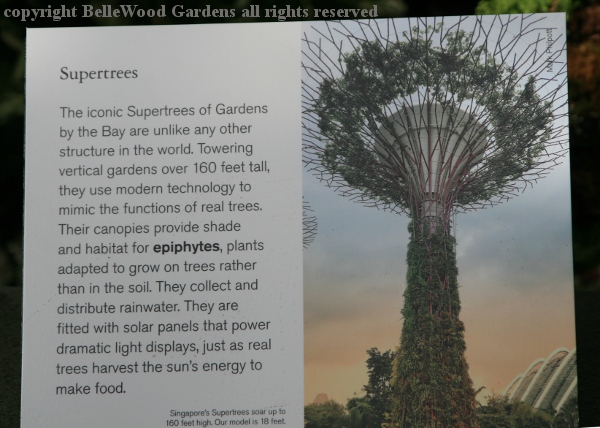 Home to orchids, bromeliads, ferns, and vines, the Supertrees are fitted with environmental technologies that mimic the ecological function of trees.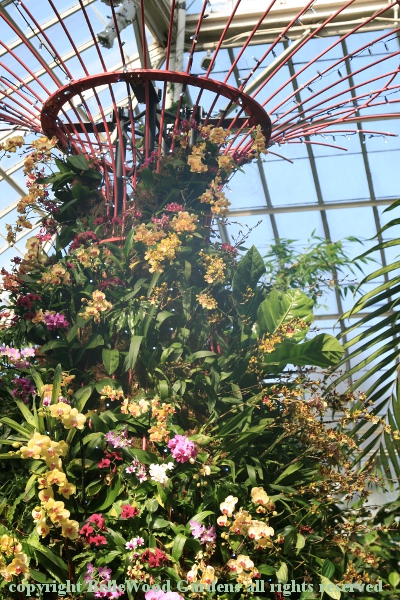 Cannot fit a Supertree into the conservatory but there are
two 18 foot tall models that offer visitors a very good idea.
One is in the entry Palm Court, the other in the show hall.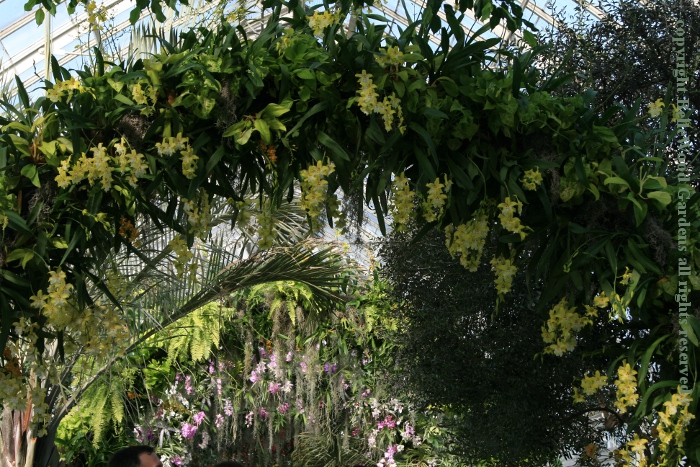 Walk into the special exhibition gallery under arches dripping with orchids.
It is a jungle in there, filled with the expected orchids, also bromeliads,
ferns, and foliage plants, all beautifully staged in color harmonies.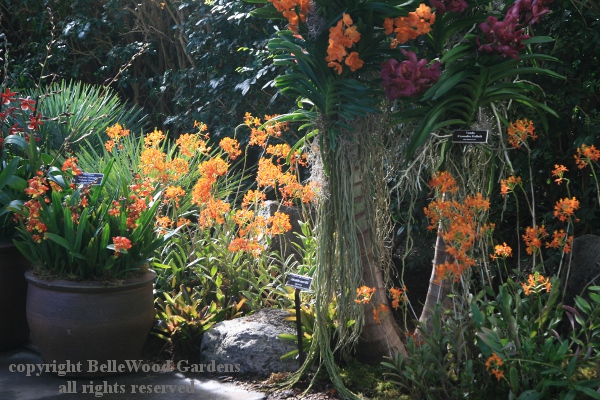 Different orchids in shades of orange, red, burgundy, glowing in the sunlight.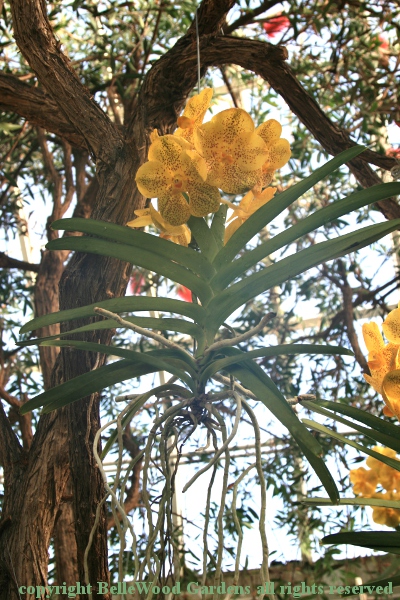 Vanda orchids with their speckled, freckled yellow flowers hang
from the trees, long roots happily dangle in the humid conditions
(which are fogging up my camera's lens as it adapts from outside.)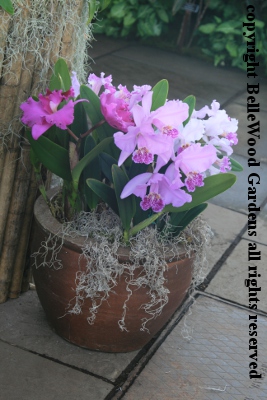 Pots of orchids, like these cattleya, add
ground level color to those up in the trees.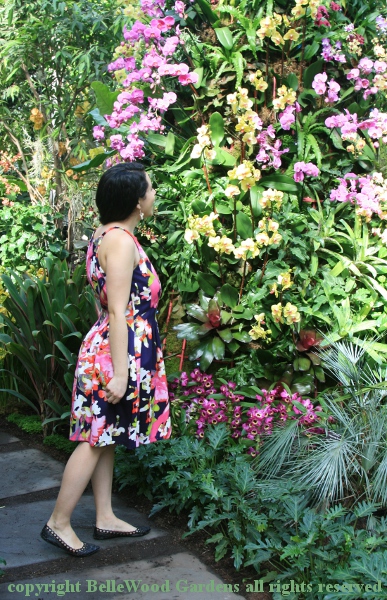 Here's one of the attendees who thoughtfully dressed
for success with an outfit that complements the orchids.
Many of the orchids in the show are those genera that are relatively easy to cultivate,
which have become popular house plants. Note: The Garden Shop has some for sale.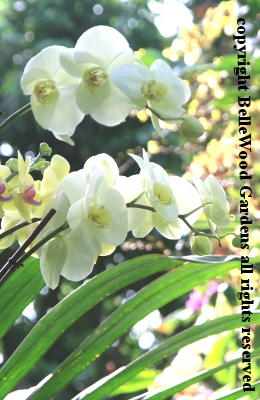 Moth orchid, Phalanopsis, are lovely.
The flowers last and last for a long time.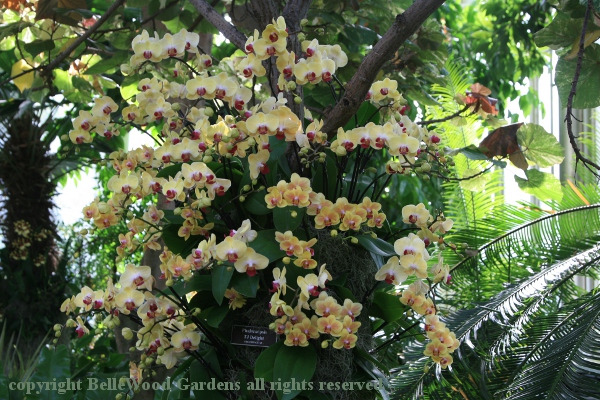 And are elegant enough for a mass display, as here, with T. J. Delight.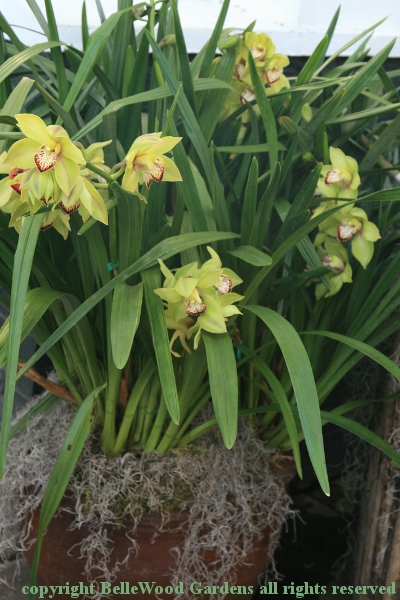 Popular as cut flowers, used for corsages, and also easy for home cultivation, cymbidium orchids are available in a wide range of colors, anything except blue and a true black. This chartreuse green with burgundy accent is very attractive.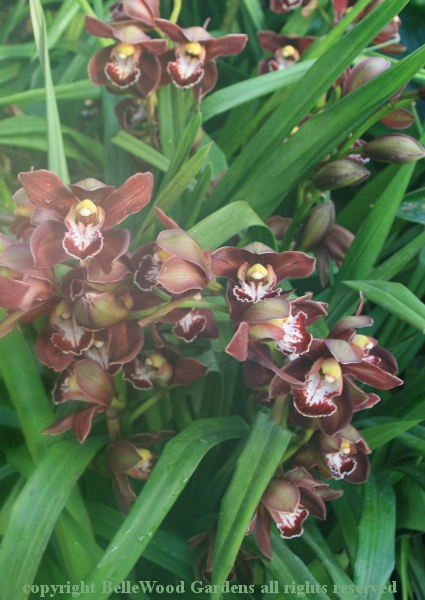 As is this chocolate brown Cymbidium Lupe's Coffee.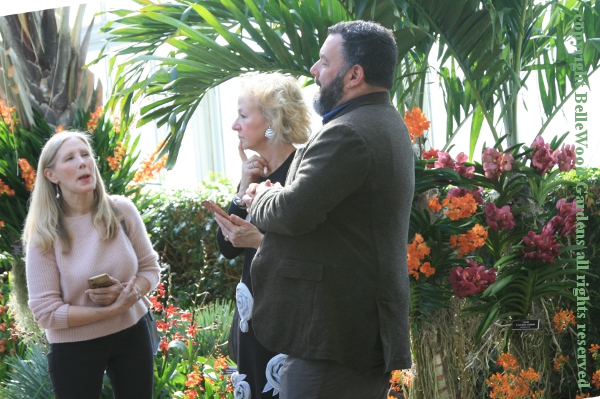 Marc Hachadorian, Senior Curator of Orchids and Director of Glasshouse Horticulture
answers a question. He's always so good about that, both knowledgeable, and patient.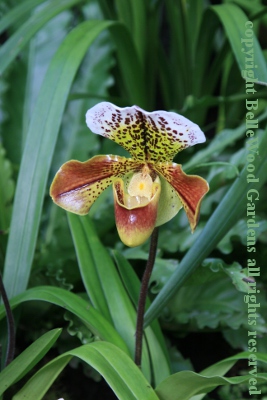 There are some funky orchids too. The ladyslippers, for example.
I'm not referring to our hardy natives but the tropical Paphiopedilum.
These Paphiopedilum hybrids look like there should be
zebras in their ancestry. Just being facetious here.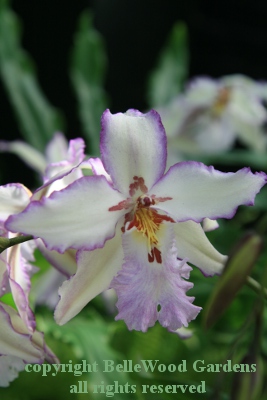 A lovely little orchid, Aliceara Donald Halliday 'Smile 'Eri'
is a three way hybrid between Brassia x Miltonia x Oncidium
Flowers open white, then the purple edging develops later.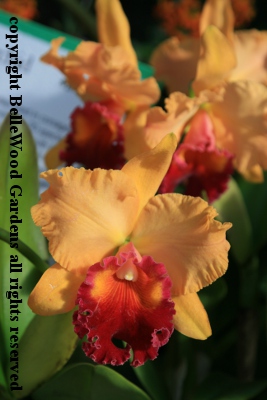 ×Rhyncholaeliocattleya Zauberflöte 'Palmer's Apricot'
With colors like the coals in a hot furnace.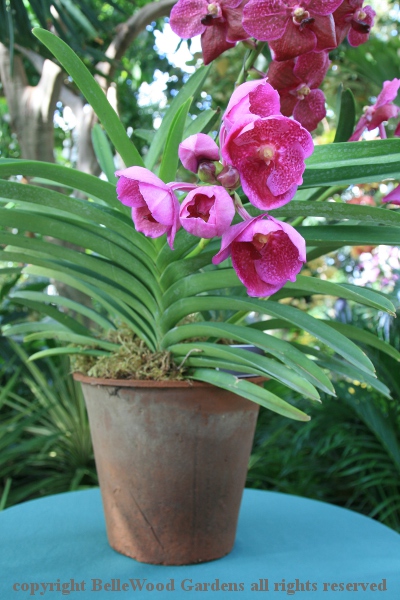 Today we were introduced to Vanda hybrid Awkwafina, the first orchid the New York Botanical Garden has ever named after a public figure. Registered with the International Orchid Register, this Singapore-native hybrid orchid has been named for Awkwafina, the stage name for an American rapper and actress.
You can easily come and visit the New York Botanical Garden. Open year-round, Tuesday to Sunday, and select holiday Mondays, hours are typically 10 a.m. to 6 p.m. Travel options include Metro-North and subway, or by car. Keep in mind that at peak visitation times, parking in and around the Garden may be at capacity. Admission price varies by age and date.
Plan your visit, order your tickets, then come for the Orchid Show, 23 February through 28 April, 2019.
Note that restorations to the 117-year-old, glass and steel, Enid A. Haupt Conservatory Palm Dome and the two adjacent galleries - one the special exhibitions gallery and also the lowland rain forest display - will take place on 29 April 2019 - 31 May 2020. During this time the majority of the 55,000 square foot Haupt Conservatory and the two waterlily courtyards will remain open.
---
Back to Top
---
Back to February 2019
---
Back to the main Diary Page