.
Garden Diary - May 2019
---
If you have any comments, observations, or questions about what you read here, remember you can always Contact Me
All content included on this site such as text, graphics and images is protected by U.S and international copyright law.
The compilation of all content on this site is the exclusive property of the site copyright holder.
---
May
---
Wednesday, 22 May 2019
A Visit to Skylands Manor and the New Jersey Botanical Garden
The Hunterdon County (New Jersey) Division of Parks & Recreation offers a diversity of programs on a range of topics. They also have van tours, accommodating a dozen participants on outings to interesting places. Such as
Date: Wednesday, May 22 Time: 8:15 AM to 6:00 PM Cost: $25, plus $11 tour fee
On this new trip, we will tour Ringwood Manor.
Next stop will tour Skylands Manor, and our third stop will be the New Jersey State Botanical Garden at Skylands.
Please dress appropriately for the weather, and wear proper footwear for taking short walks. Bring a bagged lunch.
The popularity of the trip meant that by the time I called in to register there was a second van. And a waiting list. Me, and several other people. On Tuesday I learned that one of the registrants had cancelled. I was the fortunate speedy respondent who got that space.
The 90 minute trip is mostly on highways. However the van is very comfortable with good seats, high roof, lots of glass (to look at the surrounding traffic.) We had each been given an information packet about the two manor houses and the botanical garden. Since there were two vans the trips had reverse stops: the van I was on would first go to Ringwood Manor, with the second van first going to Skylands Manor.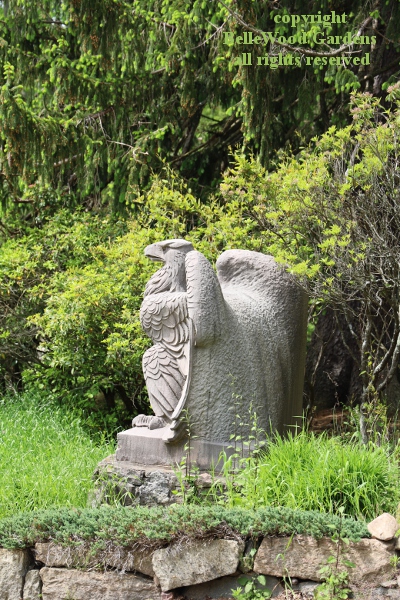 The entrance to Skylands is guarded by two massive, majestic granite eagles
salvaged from the destruction of Penn Station in New York City and brought
here in the late 1960s. Each one measures in imposing 56 inches by 64 inches.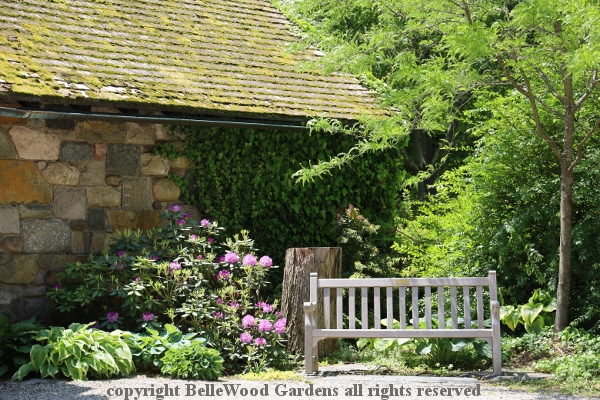 Our first stop is the Carriage House Visitor Center, where we ate our brown bag lunches.
Numerous small brochures about the botanical garden's different specialty collections.
Lunch consumed, the group heads off to Skylands Manor for their tour. I check at what time I need to be back at the van for our return and head off to investigate the grounds. It will be a simple, preview sort of ramble. I have a faint memory of a previous visit, maybe 30 years ago, when a Tri-State Chapter meeting of the North American Rock Garden Society was held here. Memories fade, gardens change. Any day spent in a garden is better than one somewhere else. Onward!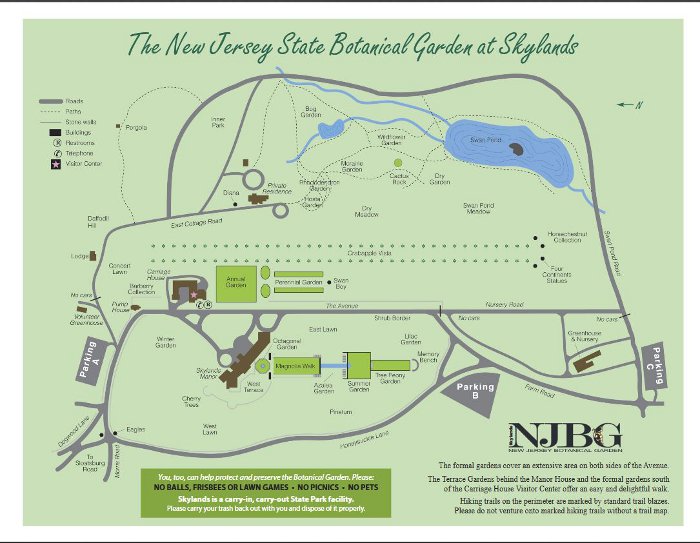 The New Jersey Botanical Garden includes 96 acres of specialty gardens.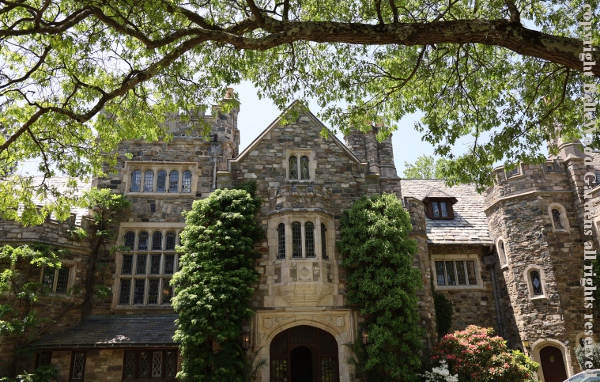 I walk towards the manor house. There's something going on off to the right of the building,
with a fenced off area to keep people away from two huge cherry pickers doing something.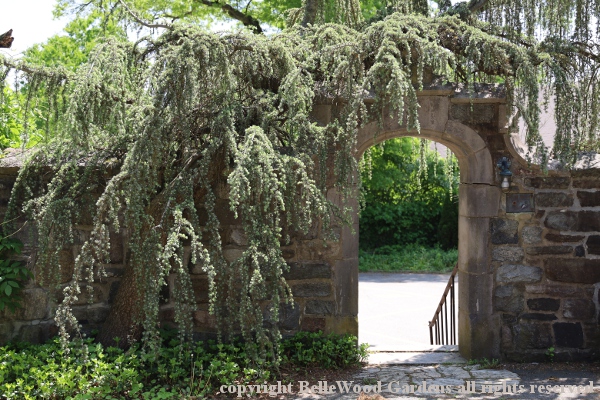 I go to the left. It's less ornate, with parking and dumpsters. But to get there
I walk through an archway framed with a Cedrus atlantica glaca pendula.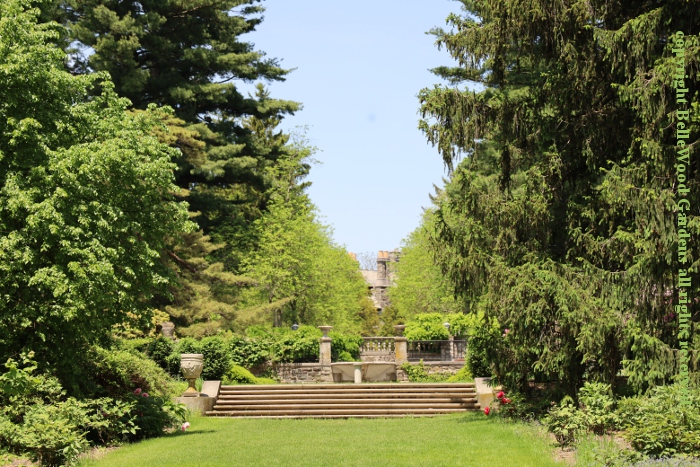 I walk by the Octagon Garden. There is a wall overlooking the gardens. I take the stairs down into the gardens. The Magnolia Walk is of course out of bloom. The Azalea Garden is in full bloom. Walk through the Summer Garden. Turn around . . . and look back. The trees have grown so much that Skylands Manor is barely visible beyond the steps and walls.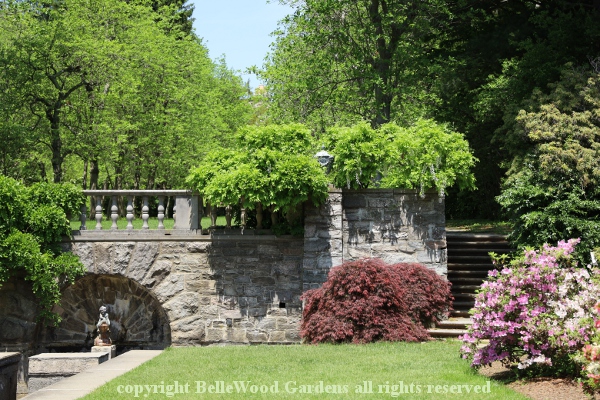 The fountain and water rills that cascade through the Azalea Garden are not flowing.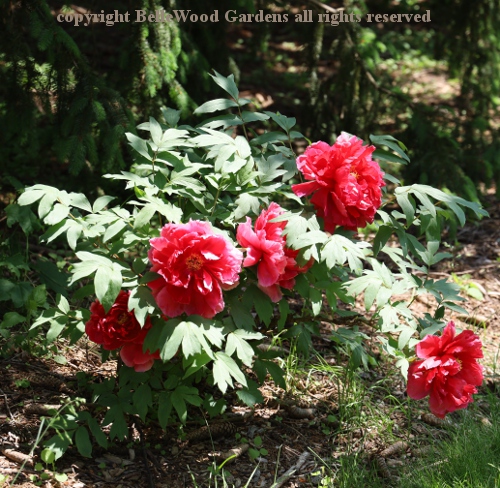 Beyond the Summer Garden is the Tree Peony Garden. There are not
very many, and I don't see any labels. They are magnificently in bloom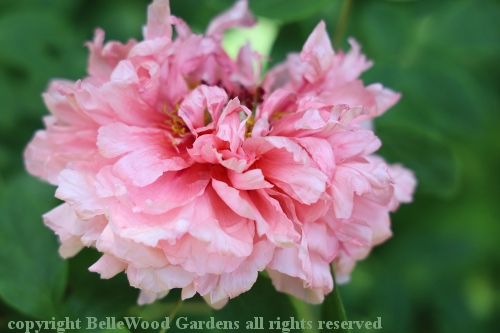 layer after layer after layer of petals, satin smooth, delicately shaded.
At the far end of the gardens is a curved Memory Bench. Some visitors
must not trust their memories. Sets of initials are scratched into the stone.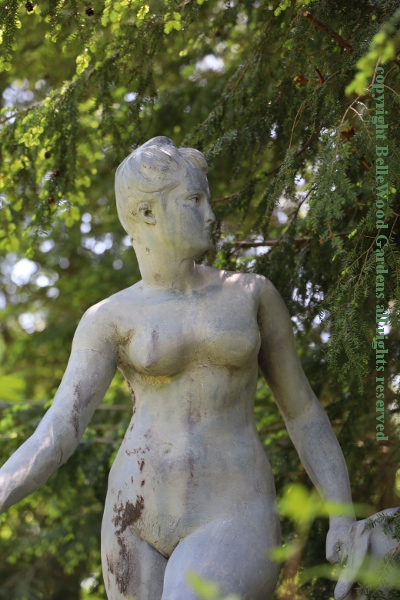 I'm sure Diana the huntress, accompanied by her whippet, is not amused.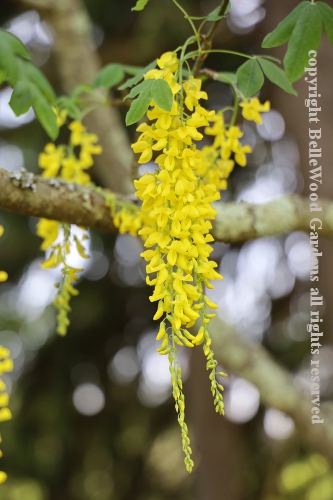 There are golden chain trees, Laburnum anagryoides, in magnificent bloom.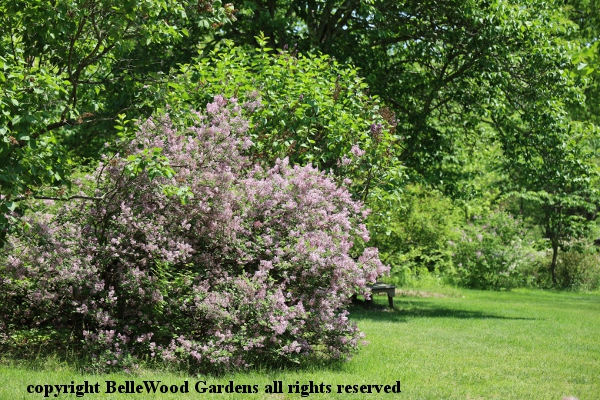 I pass to the left, onto the East Lawn and the far end of the Lilac Garden.
I wish I could photograph their fragrance. So often, today, lilacs are bred
for flower color. These, of several species, also many older cultivars, are
both beautiful to the eye and deliciously fragrant to the nose. Wonderful!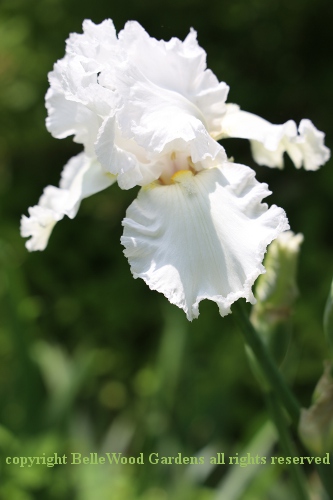 Continuing back towards the manor house there are some bearded iris on my left. The shrub border to the right has some very interesting shrubs but they appear to either be just going over (Texas buckeye, Aesculus arguta)or not yet in bloom (seven sons, Heptacodium miconoides.) I content myself with what I have seen.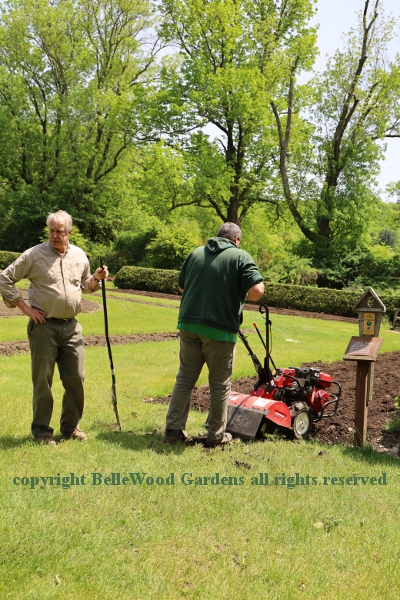 Behind the Carriage House visitor center is an annual garden
with several beds laid out in formal design. Groundkeepers
are prepping them, tilling and raking into smooth perfection
ready for planting. I'll have to come back to see the options.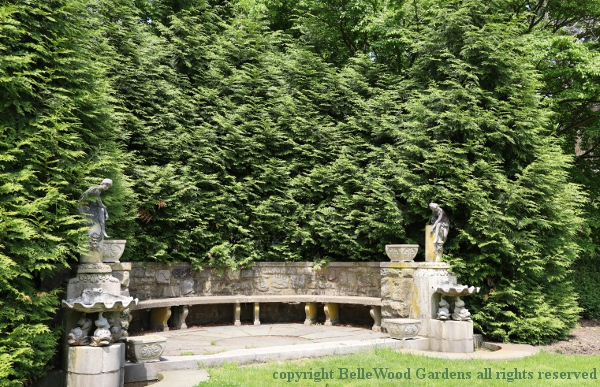 There are garden ornaments tucked into the grounds hither and thither.
This pair of statues, Greek in style, are reproductions. Nicknamed Adam
and Eve, the two water bearers are accompanied by dolphins and shells.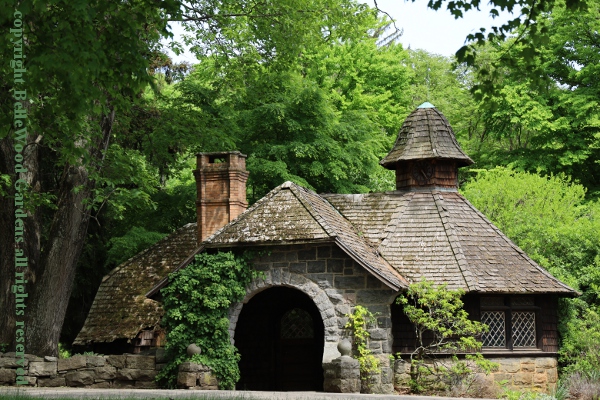 Even the Pump House is an elegant stone building with leaded glass windows,
a cupola, nice chimney. The cedar shake roof could use some serious repairs.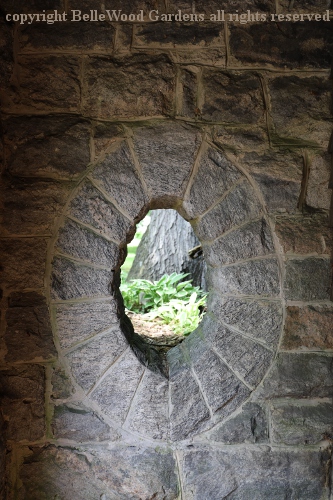 The details of the stone work in the side wall of the entrance. Very nice.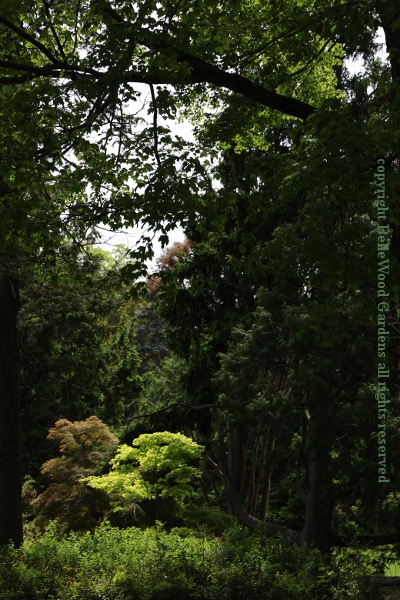 There are some wonderful Japanese maple cultivars, such as
this golden full moon maple, Acer shirasawanum 'Aureum' and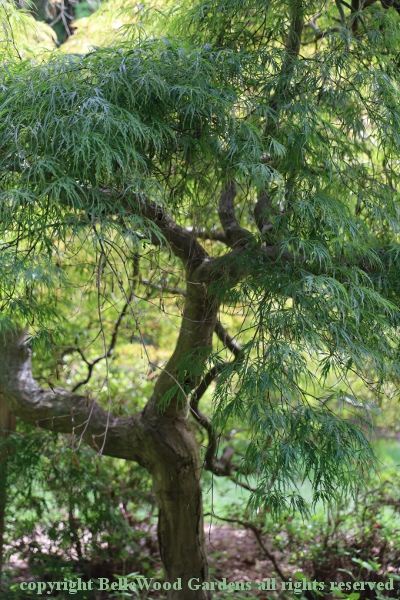 a thread-leaf, linearilobum type, Japanese maple, just two that I saw.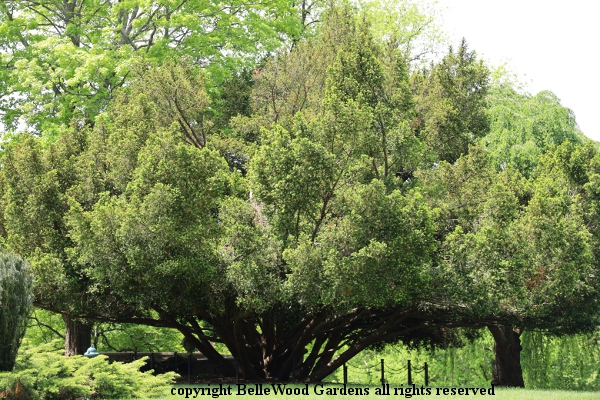 If you are familiar with deer-pruned yews of suburban New Jersey cast your eyes
on this magnificent English yew, Taxus baccata. It is the size of a cottage.
One of the grand specimens at Skylands Manor / New Jersey Botanical Garden.
---
Back to Top
---