.
Garden Diary - April 2019
---
If you have any comments, observations, or questions about what you read here, remember you can always Contact Me
All content included on this site such as text, graphics and images is protected by U.S and international copyright law.
The compilation of all content on this site is the exclusive property of the site copyright holder.
---
April
---
Made for the Shade, keynote lecture at the 2019 Gardener's Day
of the Cornell Cooperative Extention Rockland County Master Gardeners
Wednesday, 3 April 2019
---
A beautiful day with with clear skies and moderate temperatures. Wonderful weather . It would be a wonderful day to get out into the garden where there is so much to be done. But that's not to be - I have a long drive ahead of me, to Stony Point, New York where

I will give the keynote presentation for the Cornell Cooperative Association's
Master Gardener Volunteers of Rockland County's Gardener's Day event.
On the road. Traffic relatively light for the 90 mile drive. Good directions, and I arrive,
made welcome with a convenient reserved parking place and help carrying things in.

My topic is Made for the Shade. I have written a book on this very subject
but alas, it is long out of print. No copies lurking in the closet of my study

image courtesy Charlie Pane at CCE
but I did have some other titles to bring with me.
I prefer to arrive with time to settle in, check arrangements, mingle with
staff and audience. Today that means joining everyone for a casual lunch.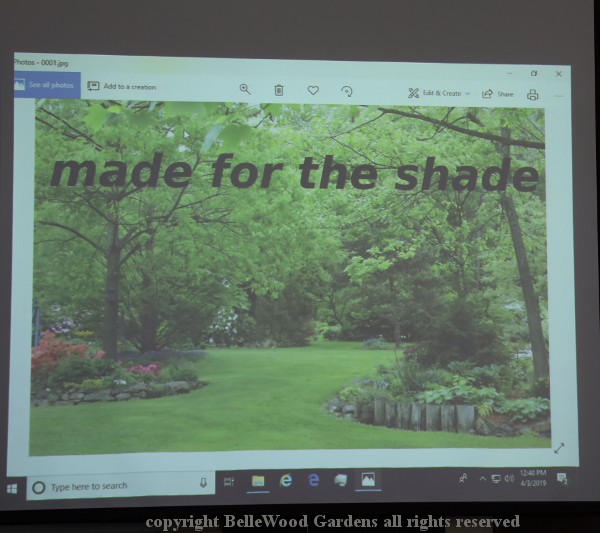 Time to set up before everyone settles in to their seats. Title slide up.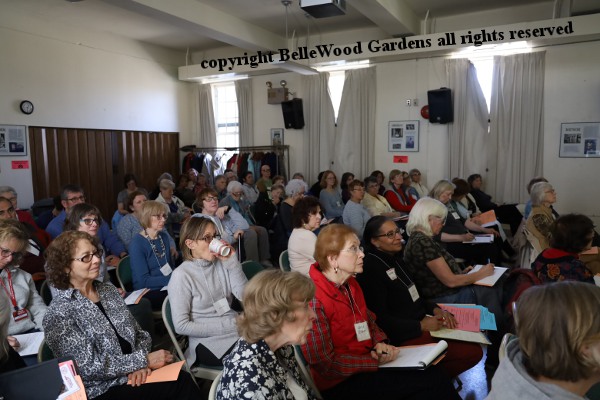 image courtesy Charlie Pane at CCE
And we're off. Great audience. They're interested, paying attention, taking notes.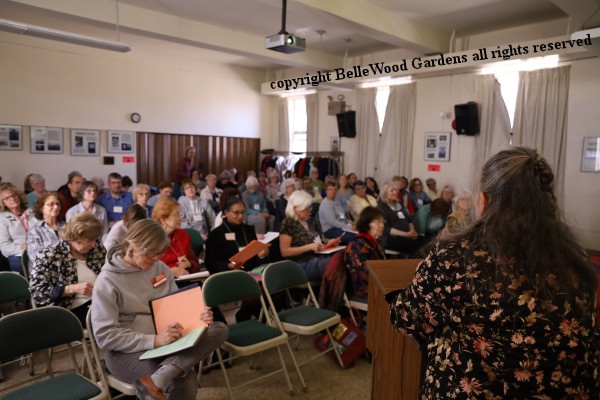 image courtesy Charlie Pane at CCE
I have an hour to tell them all about plants for the shade. I begin with
an explanation of different types of shade and the trees that create it.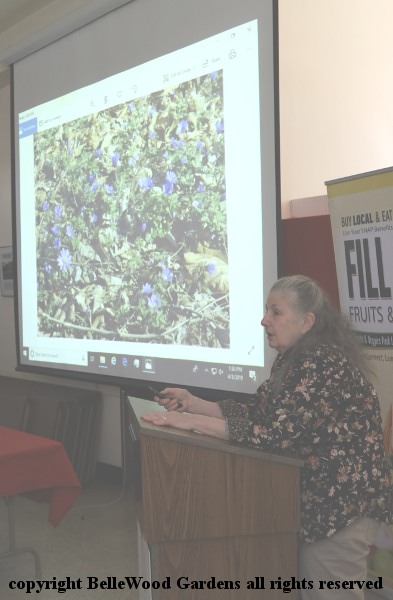 image courtesy Charlie Pane at CCE
Focus mostly on herbaceous plants, beginning with spring bulbs and
early perennials. Into summer, and focus on foliage. Autumn has a few
fall season flowers and some fruiting effects for late season interest.
My talk comes to its end. And then come the questions. Always welcome,
it means the audience is interested and wants to know more. Gardening is,
after all, the never ending story, with always more for all of us to learn.
Pack up my car, hugs all around, and back on the road to home.
Tomorrow, if the weather stays good, tomorrow I'll get into my garden.
---
Back to Top
---
Back to April 2019
---
Back to the main Diary Page