.
Garden Diary - April 2019
---
If you have any comments, observations, or questions about what you read here, remember you can always Contact Me
All content included on this site such as text, graphics and images is protected by U.S and international copyright law.
The compilation of all content on this site is the exclusive property of the site copyright holder.
---
April
---
Barbecue Rules and Perfect Homemade Ice Cream, two book reviews
Friday, 26 April 2019
---
After ten days away in Arizona I came home to a green world. Not merely the difference between desert and woodland. It's the season. Karl Foerster, the German horticulturist who gave us such wonderful perennials as Rudbeckia fulgida 'Goldsturm' claimed that spring was really two seasons, first spring and second spring. True enough, because first the trees were bare and early bulbs were blooming, now the trees are leafing out, veiling their branches with a mist of green and all sorts of perennials are surging into flower. And after spring comes summer. Time to think about what to put on the table and how you'll prepare it.
It's summer. It's hot. Can't stand the heat? Then let's get out of the kitchen and fire up the barbecue grill. There's a limit, though, to how often your family will eat hamburgers and hot dogs. Fortunately, there's a neat little book that offers options and possibilities. It's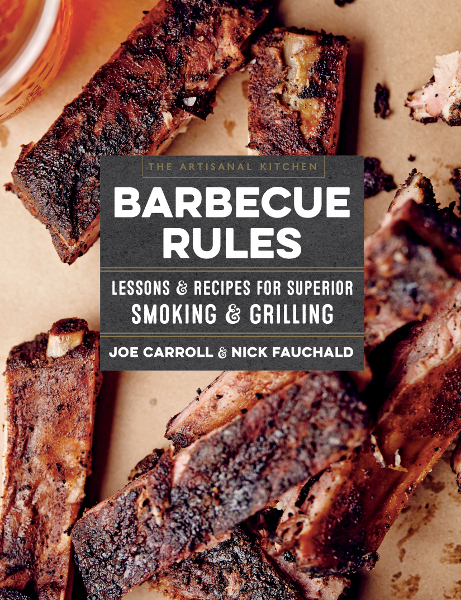 image courtesy Artisan, photograph copyright by William Hereford
Barbecue Rules, Lessons & Recipes for Superior Smoking & Grilling
by Joe Carroll and Nick Fauchald, to help step up your grilling game.
Barbecue Rules pack a lot of information into a little book of just over 100 pages. Concise information, no wasted verbiage. To begin, in one page the authors set out why they prefer charcoal to electric / propane / pellet smokers. Setup, times and temperature, smoking in a kettle grill or gas grill. And we're off to the first recipe, pulled pork shoulder.
Now, quick results is one thing using a smoker is not. The recipe for pulled pork takes 8 hours. But - you are preparing an 8-pound Boston butt shoulder roast, and there are directions for reheating. When I make pulled pork in a slow cooker it takes about the same amount of time and there's no bark, that hard, crust-like surface that forms on the outside of smoked meat.
Pork responds well to smoking, the fat melting, self-basting, and taking up wonderful flavor. There are recipes for pork belly, St. Louis-style spare ribs. And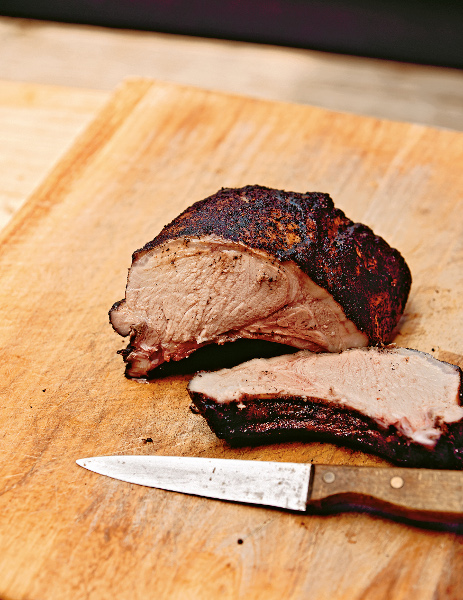 image courtesy Artisan, photograph copyright by William Hereford
pork loin roast. This lean cut (the equivalent of beef's prime rib) should be
smoked for 2 to perhaps up to 4 hours, to internal temperature of 140° F.
from pork the recipes move on to beef brisket and spare ribs, lamb spareribs, pulled leg of goat. A few pages of sauces. Then come grilling recipes. These start off with beef - several different cuts for steaks on the grill from rib eye, New York strip, hanger steak, and a couple more. Grill-smoked jerk chicken. Italian style spiedies (skewered cubes of chicken grilled for 8 to 10 minutes, then pulled off using a split soft Italian roll.)
But we don't live by meat alone. Contrast hot barbecue with cold or room-temperature sides such as broccoli salad, dilly coleslaw, potato salad. Or, sides from the grill: baked beans with burnt ends, scraps left over from the barbecue brisket. Charred corn on the cob with a compound cream cheese seasoned with za'atar and black pepper.
Smoking and grilling, time consuming all day to done in minutes, mostly pork and beef, sauces and sides - for a skinny little book Barbecue Rules offers more on the inside than its skinny little size suggests. Hurry summer!
Barbecue Rules by Joe Carroll & Nick Fauchald
published by Artisan, a division of Workman Publishing Co., Inc.
225 Varick Street, New York. first printing January 2019
ISBN 978-1-57965-868-7, hardcover, $12.95
Ice cream. There are the old-fashioned flavors of vanilla, chocolate, strawberry. In fact, you can buy Neapolitan ice cream which has all three in the same container. Then and now - today you can buy ice cream that's lactose-free, gluten-free, sugar-free. Ice cream with cookie or candy embellishments. Ice cream used to be simple: milk, cream, sugar, vanilla or other flavoring.
Ever make your own? I have. Make the custard. Chill it. Pack crushed ice and rock salt around the metal can. Crank away. Inveigle children into cranking the the promise of getting to lick the dasher at the end. The results were good but . . . laborious. And the ice cream softened up really fast. So I was intrigued by another little book in The Artisanal Kitchen series,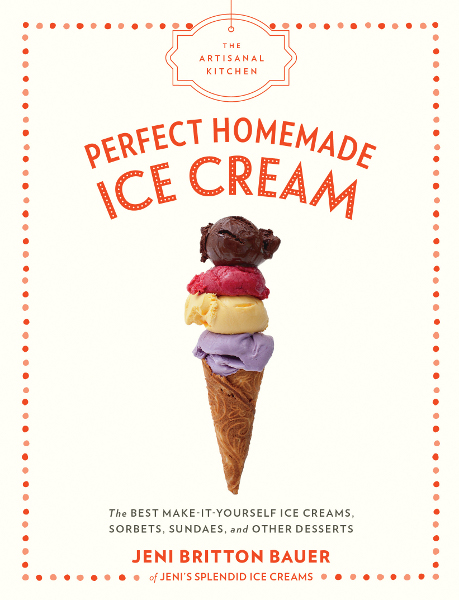 image courtesy Artisan, photograph copyright by Stacy Newgent, Kelsey McClellan
Perfect Homemade Ice Cream: The Best Make-It-Yourself Ice Creams,
Sorbets, Sundaes, and Other Desserts, by Jeni Britton Bauer.
A head's up: the recipes will make slightly more than a quart of ice cream (no, I don't see that as a problem) and are based on a Cuisinart ICE-21 1 1/2 quart machine, but any similar machine may be used. Traditional ice and rock salt machines are also great, Jeni notes, but may have a larger volume so recipes will have to be adjusted accordingly.
Ice cream is not something to make as the table is being set. Nothing especially difficult, just takes time. Advance planning includes chilled the ice cream machine's cannister for 24 hours. After the first use, wash, dry, and just store in the freezer. The basic ingredients include whole milk, heavy cream, sugar, corn syrup (but not overly sweet high-fructose corn syrup.)
Bring to a boil over medium-high heat for precisely 4 minutes. Add a slurry of milk and cornstarch. A bit at a time, whisk hot milk mixture into room temperature full-fat cream cheese. Pour into ziplock bag and submerge into ice bath until well chilled. Pour chilled base into ice cream machine and turn on. When finished, transfer to storage container and freeze until firm, about 4 hours.
After that, the sky's the limit. Add "variegates" which are flavorings such as blackberry jam, spoonfuls plopped on the bottom of the storage container, add ice cream, plop more jam in the nooks and crannies, more ice cream, continue, top with some jam and finish freezing.
Ever been disappointed by the flavorless red icy bits in strawberry ice cream? Jeni has a suggestion. Make your own roasted strawberry and buttermilk ice cream. Roast strawberries to reduce their water content, puree, and use them in an ice cream base made with the addition of a little buttermilk.
In October everything from coffee to beer seems flavored with pumpkin pie spice. How about ice cream, but with a Chinese twist - it uses real pumpkin with Chinese 5-spice powder. As well as spices, Jeni recommends using food-grade, single-origin essential oils for such yummy sounding ice creams as wild blueberry lavender.
There are directions for frozen yogurts, adding drained yogurt to the milk / cream / sugar / corn syrup base, then adding fruit. Mango lassi frozen yogurt, anyone? How about a summertime special of watermelon sorbet, made simply from watermelon, lemon juice, sugar, and light corn syrup. Or an elegant riesling poached pear sorbet.
Not content with merely the making of ice creams, Jeni has ideas for embellishing them in sundaes and parfaits, recipes for add-ons such as extra-bitter hot fudge sauce, mango jam, directions for whipping cream (after all, you don't really want to use Reddi-wip, do you now.)
Keep in mind that dessert is spelled with two letters S, because you can always ask for seconds.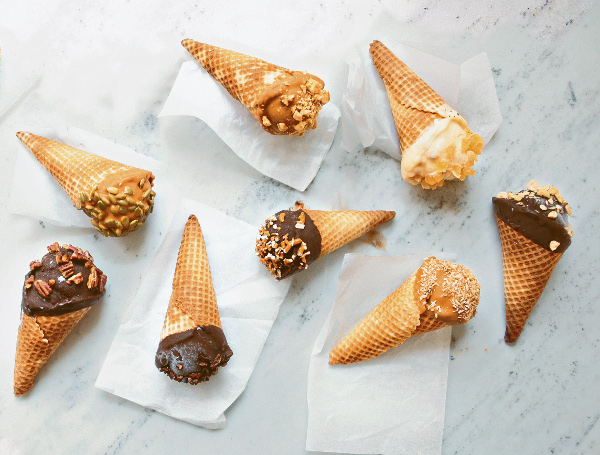 image courtesy Artisan, photograph copyright by Stacy Newgent, Kelsey McClellan
Perfect Homemade Ice Cream by Jeni Britton Bauer
published by Artisan, a division of Workman Publishing Co., Inc.
225 Varick Street, New York. first printing January 2019
ISBN 978-1-57965-867-0, hardcover, $12.95
It should be noted that there are ten other titles in
The Artisanal Kitchen series,
from Perfect Pizza at Home to Holiday Cocktails.
Review copies of these books were provided by the publisher
---
Back to Top
---
Back to April 2019
---
Back to the main Diary Page