.
Garden Diary - August 2019
---
If you have any comments, observations, or questions about what you read here, remember you can always Contact Me
All content included on this site such as text, graphics and images is protected by U.S and international copyright law.
The compilation of all content on this site is the exclusive property of the site copyright holder.
---
August
---
Potato Harvest Events at Howell Living History Farm
Saturday, 10 August 2019
---
Today is an excellent day of garden visits. It started off with a wonderful Garden Conservancy Open Days visit to Fordhook Farm. But, with typical excess of options, there's also a special event at Howell Living History Farm, a potato harvest. I plug the address into my GPS and off I go. This time I'm not slowed down by walking pilgrims but instead by a car show in New Hope, with numerous pedestrians criss-crossing the streets. But I get there.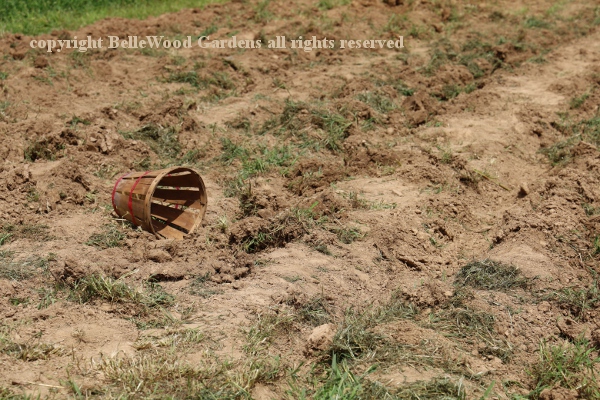 The field of potatoes has already been dug, but field hands (staff and interns)
are still there, finishing up the harvest of approximately 400 pounds of potatoes.

The potatoes are sorted, using a sturdy mesh screen on which to spread them out.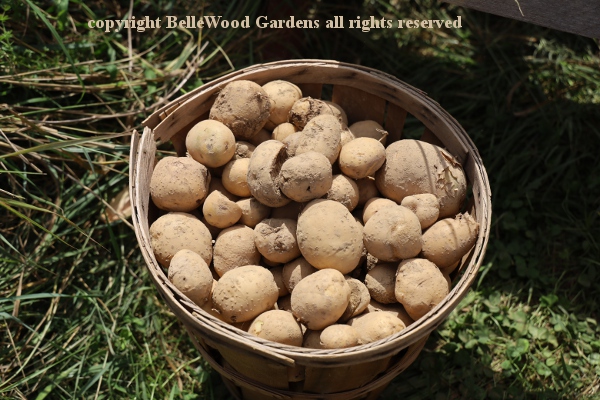 They are then piled into a bushel basket before placing in burlap sacks, maybe
80 pounds of potatoes to a sack. Makes the five pound bags I buy at the store
seem puny. Much of the potato harvest will be donated to a women's shelter.

Team of draft horses and their teamster stand down after digging the potatoes,
with Lucy, the farm dog, supervising and enthusiastically keeping up with things.

The spud digger has a shallow plow and several "fingers" that lift
the potatoes onto the soil surface for easier retrieval by the pickers.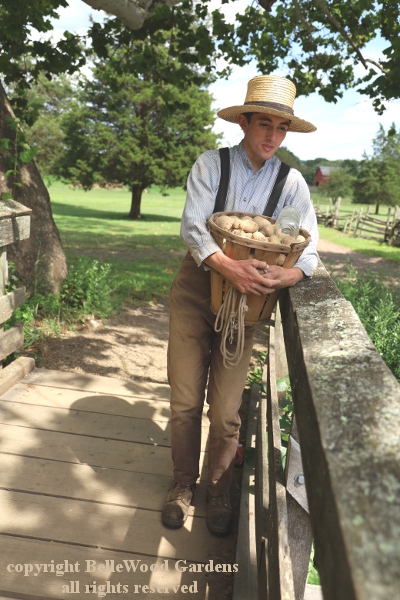 Thinking things over. It's all in a day's work.
Howell Living History Farm does a very nice job of coordinating events when practical.
Today's summertime potato harvest features the culinary aspects of using potatoes.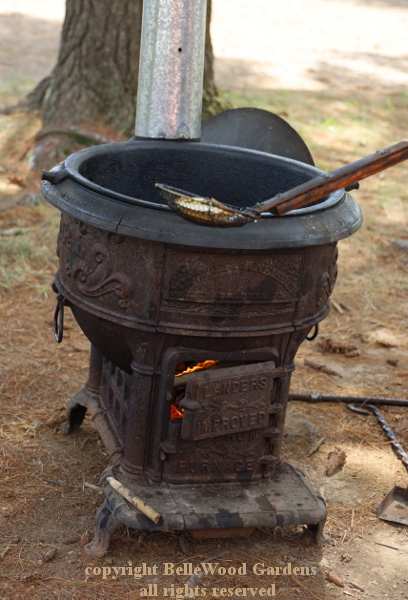 Potato chips, for example, are a year-round option. These will be
prepared in a kettle of hot oil heated over a wood fired cooker.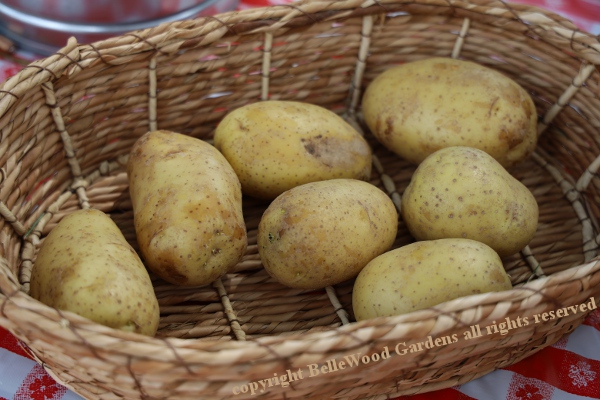 Potatoes ready to be turned into chips.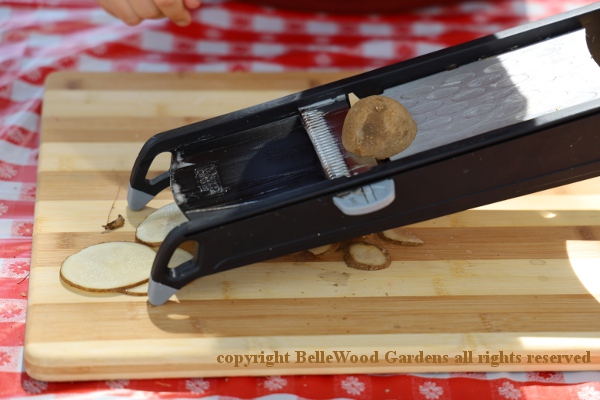 First, uniformly sliced on a mandoline.

Dump into water to wash off their starchy surface.
Then, in just a few minutes, lifted out and dried off.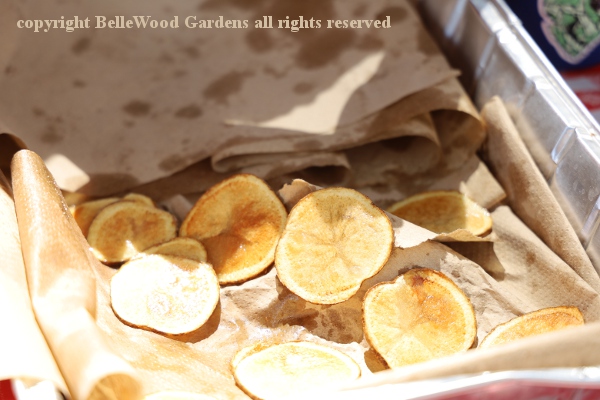 A quick dip into the seething oil and voilà! potato chips.
Blot and dry off the oil, sprinkle with salt, and enjoy. Good!
Potatoes are nutritious and versatile. Mashed, baked, boiled, fried . . .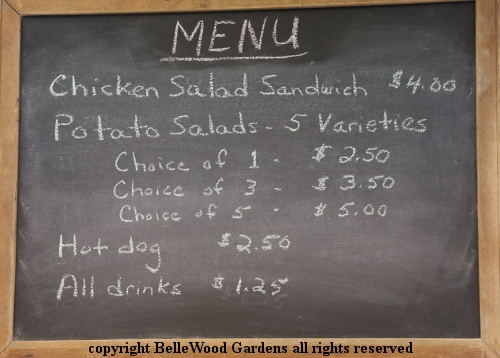 And in summer there is always popular potato salad. With options. Today
the little kitchen offers five different versions to try: traditional, of course,
with chicken, with black beans and corn, with beets, and a German style.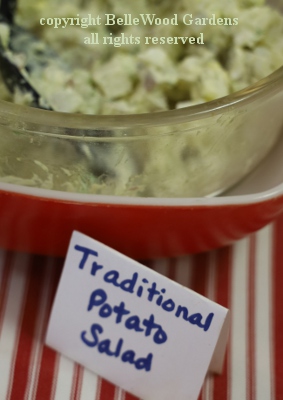 .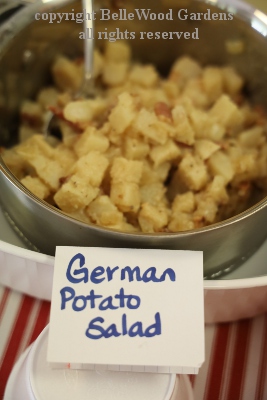 .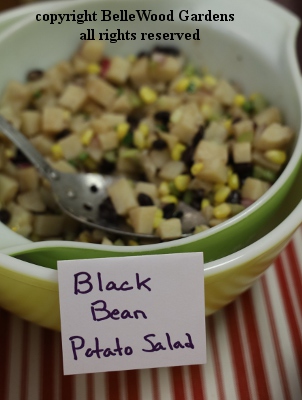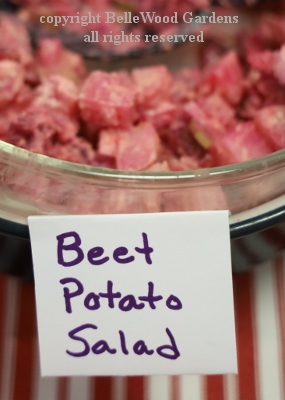 Of the 3 potato salads I tried I liked the German best. It includes onion and bacon.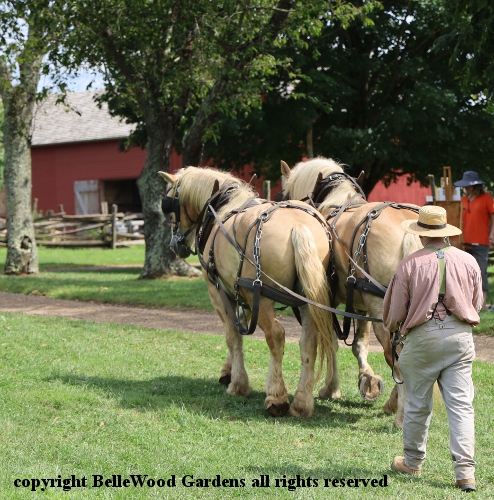 Their work finished for the day, the team of draft horses is heading back to the barn.
---
Back to Top
---
Back to August 2019
---
Back to the main Diary Page