.
Garden Diary - November 2019
---
If you have any comments, observations, or questions about what you read here, remember you can always Contact Me
All content included on this site such as text, graphics and images is protected by U.S and international copyright law.
The compilation of all content on this site is the exclusive property of the site copyright holder.
---
November
---
Logging with Horses at the Howell Living History Farm
Saturday, 23 November, 2019
Today's event to entertain the public at the Howell Living History Farm in Mercer County is logging with horses. But there's always work to do on a farm. There's sowing, and reaping. As I walked up to the farmhouse I passed a field of corn where some children were busily pulling cobs off the stalks and husking them. Grown primarily for livestock feed, field corn is allowed to mature fully before being shelled off the cob. These young workers were likely part of the FarmHands program, which introduces children to farm chores, crafts, and games and to seasonal activities which are part of the Farm's actual operation.
The cycle is endless, always on-going. I was talking with Pete Watson, director at the farm. He asked, didn't I agree how well the winter wheat looked, a carpet of green shoots sprouting in the field which had been used for the plowing match at the very end of August. "As long as the geese don't get into it."he said.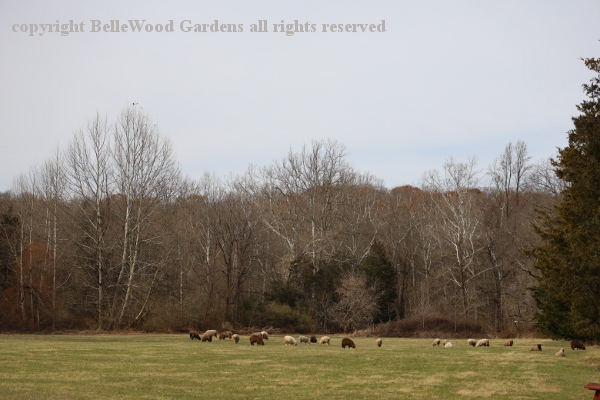 I asked him about the sheep, out in a field across the road from their fenced pasture. Were they supposed to be there? "They think they do." said Pete. He explained that the sheep are so used to visitors that even though they are livestock, not pets, there won't be any problems.

Up by the farmhouse I paused to watch a blacksmith and his assistant.
The young man is working the blower that forces more air into the forge.

The smith, his red beard the color of the hot coals, decides
the time is right and begins to fashion a small hinge piece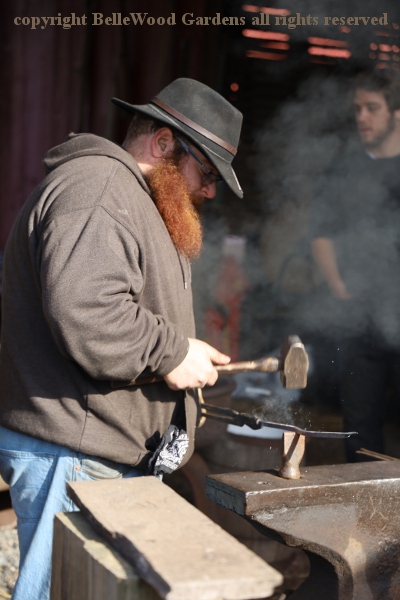 as he works explaining how and why he is doing things.

The Belgians are loafing today, looking quite furry in their winter coats.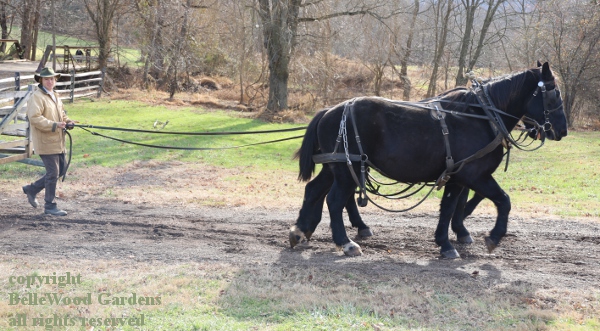 There's a new team at Howell, acquired just last summer from an Amish farmer.
Twelve years old, they are a good addition as the other teams are getting old.
Pete and Paul are being ground driven today, familiarizing them with the farm.

I step into the farmhouse kitchen to say hello to Kim. She's making pancakes
on the wood burning stove. She hands me a sample, complete with maple syrup
that was made right here. That's a February or March event, here on the farm.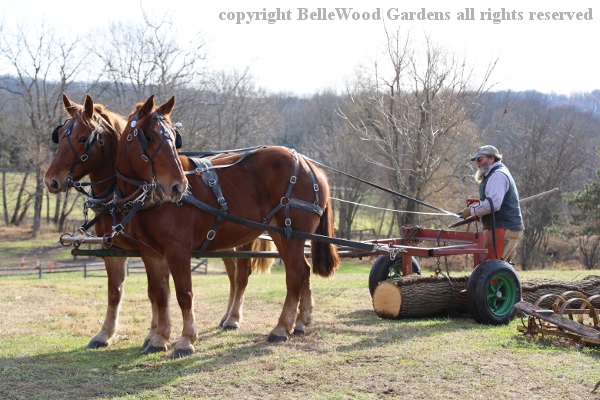 And here's Scott, of Stephens Sawmill and Horse Logging in Brodheadsville, Pennsylvania, with Maida and Cleo, a pair of eight year old Suffolk Punch mares. They've just brought down a log from the sugarbush. Not that Kim would burn green wood. Visitors are trying their hand at using a two man saw (one "man" is rather young but gives it a manful try.) And another, more of a teenager, is using an axe to split a length of wood. Not as easy as he thinks. But by the third piece he's doing better. And even small pieces are good for kindling.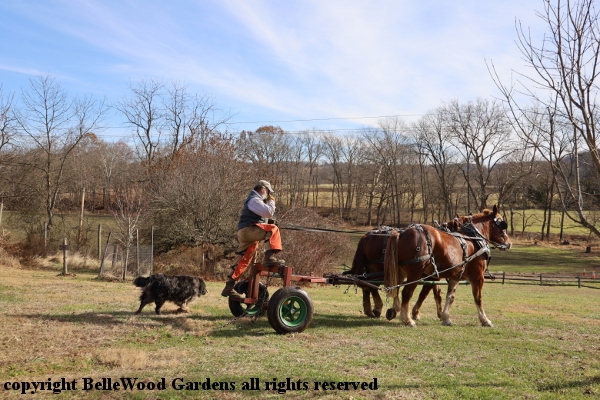 Having unchained the log and left it near the saw buck to be cut up, Scott,
the mares, and the dog head back up to get another one. He took a moment
to chat with me. Suffolk Punch are not as common as Belgians or Percheron.
"But we all know each other." Scott said. I learned he had bought the mares
as youngsters only four or five months old, from a dairy farmer in New Jersey.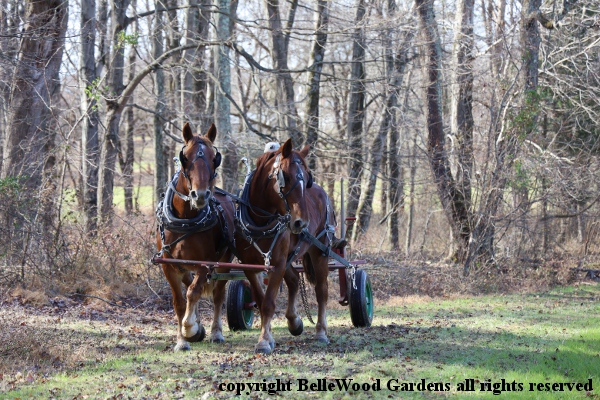 Logging with horses is kinder to the land, doesn't tear things up as a tractor can do.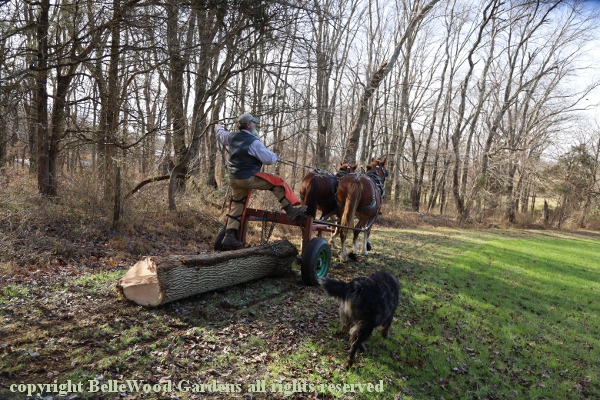 They may not be second rate race horses but horses do work for hay. Well, also oats.
And the easy way Maida and Cleo shift the logs from here to there - that's horsepower.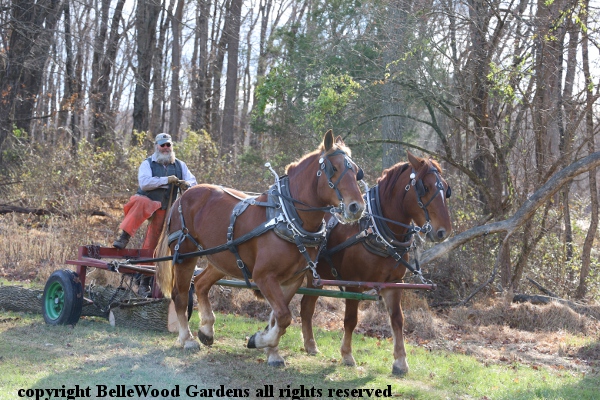 Peaceful. A lovely fall day, cool and comfortable. A little breeze. The horses are quiet, unlike engines. Easy to have a conversation, hear the children laughing up at the farmhouse, where there's an outdoor fire in a half-barrel, and marshmallows to toast. Another pleasant and informative day at the Howell Living History Farm. Next up, Christmas on the farm, on Saturday, December 7, from 10:00 a.m. to 4:00 p.m. Perhaps I'll see you there.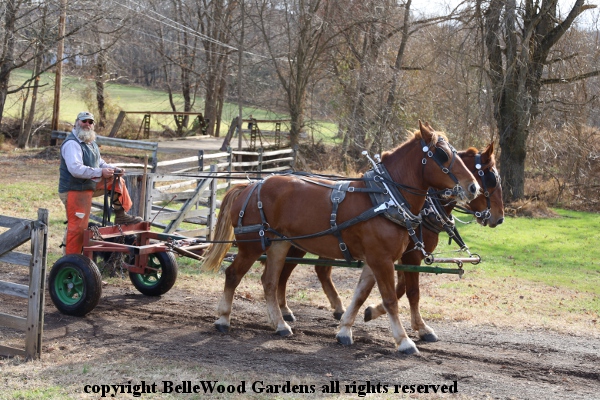 ---
Back to Top
---
Back to November 2019
---
Back to the main Diary Page