.
Garden Diary - November 2019
---
If you have any comments, observations, or questions about what you read here, remember you can always Contact Me
All content included on this site such as text, graphics and images is protected by U.S and international copyright law.
The compilation of all content on this site is the exclusive property of the site copyright holder.
---
November
---
All Aboard for the Holiday Train Show at The New York Botanical Garden
Friday, 22 November, 2019
Let the festivities begin! The holiday train show at The New York Botanical Garden opens to the public tomorrow, Saturday, 23 November 2019. This is an extra- special one too. Not only is it the 28th annual event. But, since the Enid Haupt Conservatory is undergoing renovation the holiday train show cannot be in its usual venue. If I said "In a tent." you'd never envision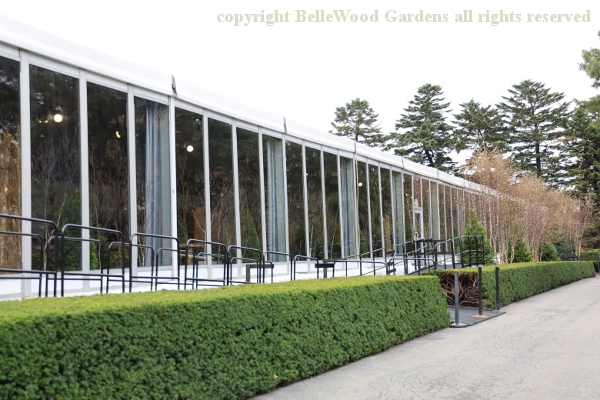 the veritable crystal palace that has been transformed into a winter wonderland.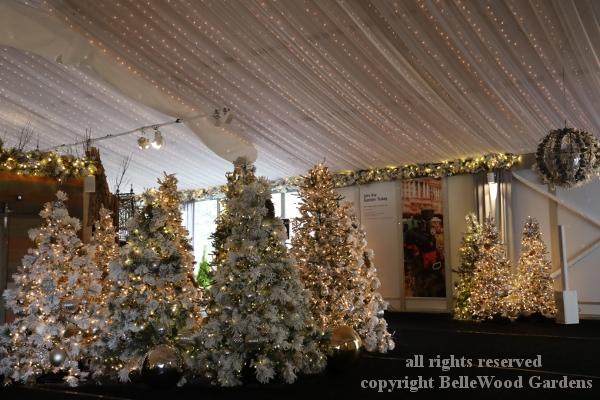 Look at the tent's ceiling, with those wonderful starry lights swathed in gauze.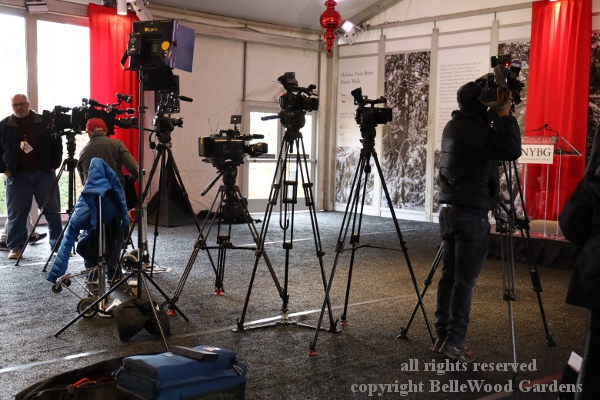 Last Tuesday was the media preview. Video cameras galore, ready to record.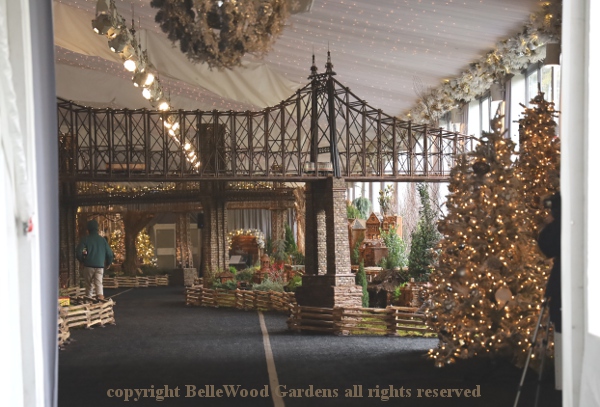 I peer into the space where bridges and buildings and landscape set the stage

for the numerous G-scale trains scurrying around on their tracks.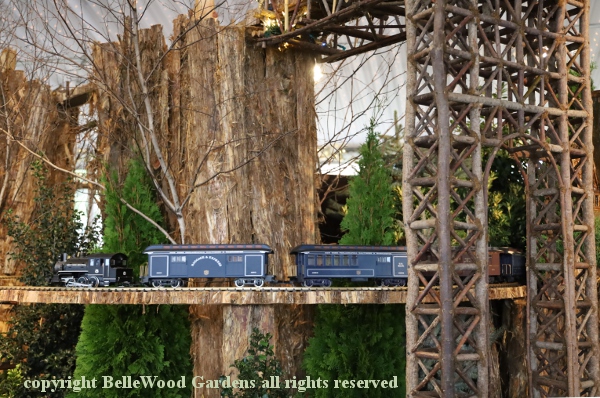 The enchanting model trains zip through displays. Plant parts support the tracks
at ground level, while some trains pass overhead on bridges built from branches.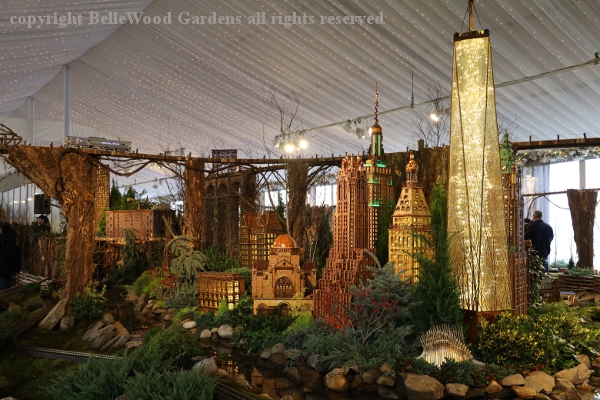 There are iconic New York City buildings created using natural materials such as birch bark, acorns, scales from deconstructed pine cones, leaves and seeds and cinnamon sticks and more. All have been artistically crafted by founding visionary Paul Busse's team at Applied Imagination. This year's landscaping has a more natural feel, incorporating a diversity of dwarf conifers and an undulating carpet of moss. Must have taken 500 boxes of moss. I found it quite appealing in its subtle shades of green, nicer than the flowering Christmas cactus and anthuriums, croton with their colorful leaves. Means they can also keep the venue somewhat cooler than was necessary for the tropicals when it was held in the conservatory.

A neighborhood of brownstones, some still extant and others no longer standing.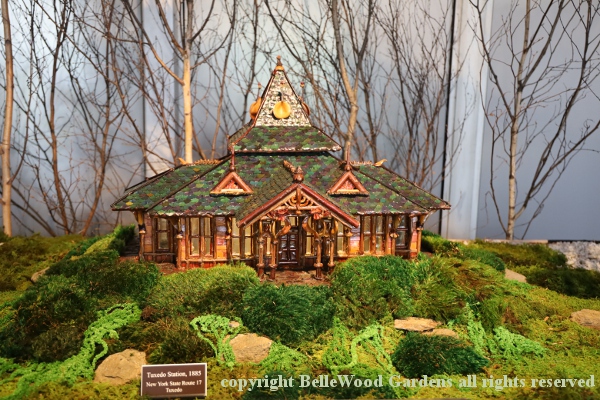 Here's the Tuxedo train station, built in 1885. It's in Tuxedo, on New York State Route 17.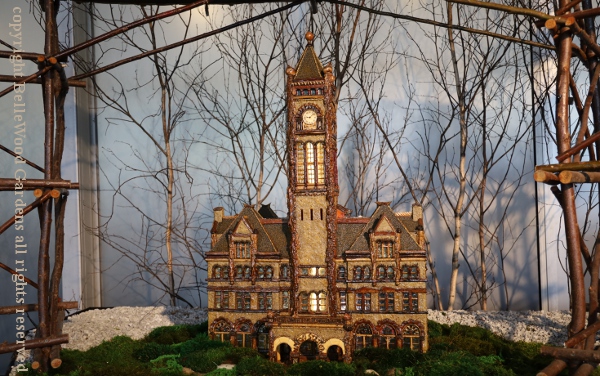 Birch trees, 500 of them, were sourced in Maine and incorporated in the train show.
Wonderfully, they create a sense of the displays merging with the outdoor landscape.

Slabs of cedar function as supports where needed. With the bark left on the wood
they blend with the natural materials of the buildings. And also create backdrops.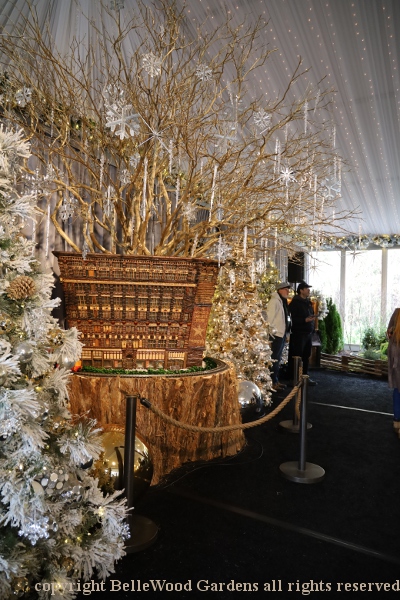 Macy's flagship store, surrounded by wintry glitter has its own little train.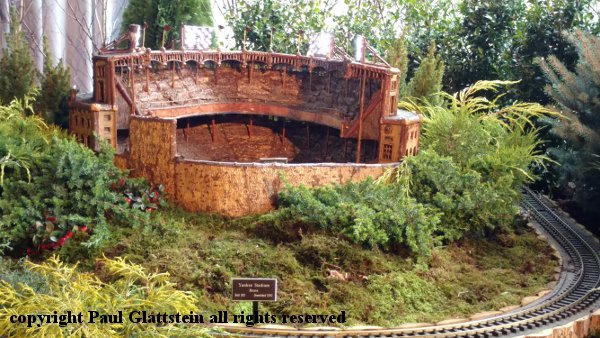 Another memorable feature of New York City - what else but Yankee Stadium.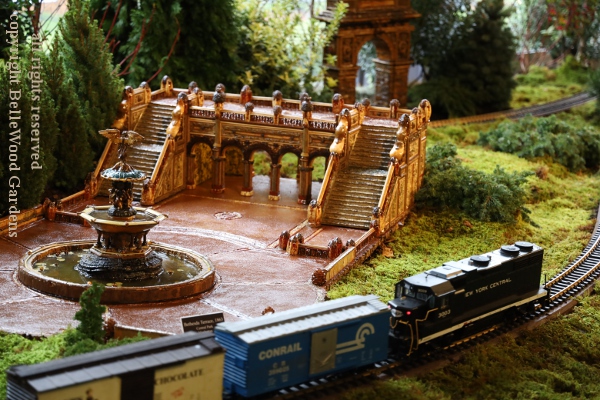 Central Park's iconic architectural features are new this year. The heart of the park,
seen here, Bethesda Terrace includes Angel of the Waters fountain on its lower level.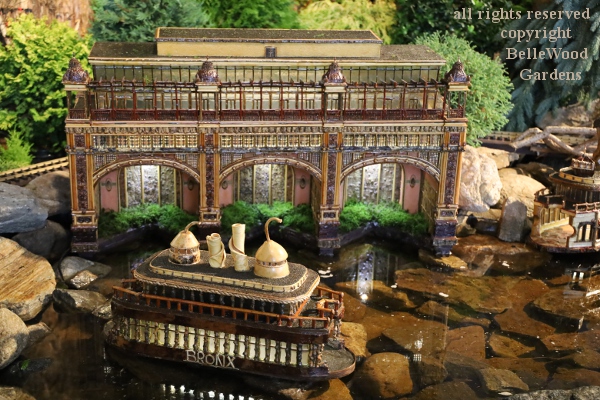 A train show must, perforce, feature trains. But we mustn't forget the water girt borough
of Staten Island. Today there are bridges. But once upon a time you got there by ferry.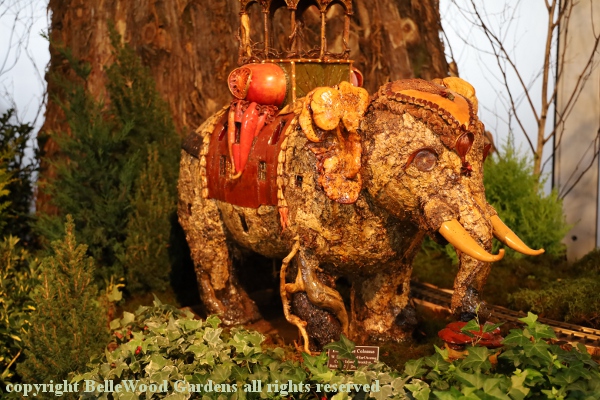 Buildings do not always look like, well, like buildings. Consider the Elephantine Colossus.
Built in 1885, the 31 room, 7 story structure at Surf Ave. and West 12th St. in Coney Island
lasted barely a decade. Having stood empty for a few years, it was consumed in a fire in 1896.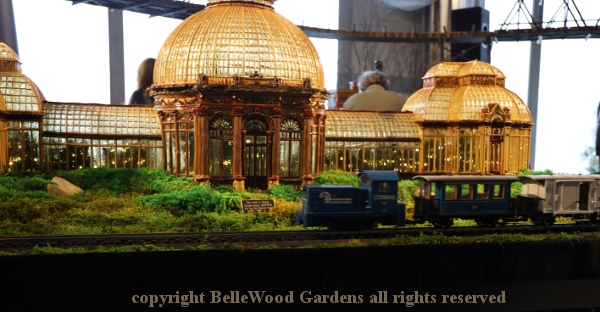 The conservatory itself has several galleries open to the public, though the Palm Court
and adjacent seasonal exhibition gallery are closed. Give thought to its refurbishment
as a train chugs passed and you stroll by its replica, here in the holiday train show.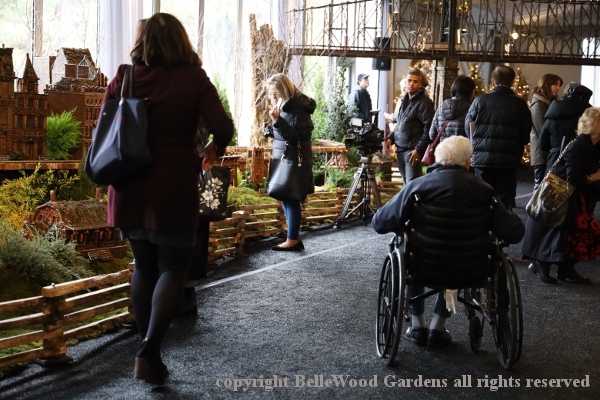 A delightful treat for the whole family, the exhibition is visitor friendly. There is
a wide, level walkway that loops around the central display area with more to see
and enjoy along both walls, with close up views of trains, building and landscapes.
The Holiday Train Show is open from November 23rd, 2019 until January 26, 2020. The Garden is easy to reach, appropriately enough, by Metro North, just 20 minutes from Manhattan with a stop across from the Mosholu gate entrance. Or, an easy drive from Connecticut or New Jersey. The Pine Tree cafe offers a pleasant dining option. And the Garden Shop has possibilities for those on your gift list, and yourself.
Daytime All-Garden Pass access to the Holiday Train Show is from 10 a.m. to 6 p.m., Tuesday to Sunday with Extended Hours: 10 a.m. to 7 p.m. December 26 & 29
Monday Openings: December 16, 23, & 30; January 20
Early Closures: December 6 (Conservatory and Holiday Train Show close at 2 p.m.); December 13 & 24 (NYBG closes at 3 p.m.)
Closures: November 28 (Thanksgiving) and December 25 (Christmas)
Weekday Pricing: Adults: $23, Seniors (65+): $20, Students (with valid ID): $20, Children (2 to12): $10, Members and Children under 2: Free
Weekends, Monday Holidays, and Holiday Weeks (November 29, December 16 - January 3) Pricing: Adults: $30, Seniors (65+): $28, Students (with valid ID): $28, Children (2 to 12): $18, Members and Children under 2: Free
Advance reservations are strongly recommended as tickets do sell out.
---
Back to Top
---
Back to November 2019
---
Back to the main Diary Page