.
Garden Diary - September 2019
---
If you have any comments, observations, or questions about what you read here, remember you can always Contact Me
All content included on this site such as text, graphics and images is protected by U.S and international copyright law.
The compilation of all content on this site is the exclusive property of the site copyright holder.
---
September
---
A Brief Visit to Hay Honey Farm
Tuesday, 10 September 2019
Hay Honey Farm is on the Garden Conservancy Open Day tours this coming Saturday. It is also the day of the September meeting of the Watnong chapter of the North American Rock Garden Society. But I am planning to go to another Open Day garden, maybe two, possibly three. And Hilary, horticulturist at Hay Honey Farm, will be presenting Digging Deeper programs to garden visitors. So today I'm off to deliver The Gardener's Book of Color (which I recently reviewed) to Hilary who will pass it on to Melissa, who will bring it to the Watnong meeting where it will be the door prize. But I mustn't stay long because she's busy, seeing to it that the garden receives its final tweaks and polishing before Saturday's visitors arrive.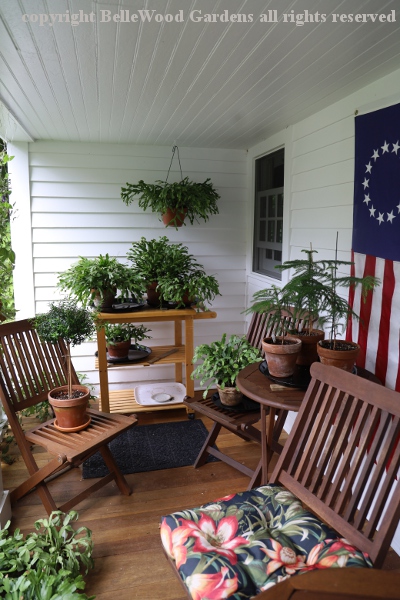 "If I'm not around," Hilary said, "leave the book on the porch."
How lovely, all the pots of Christmas cactus, family heirlooms
that belonged to previous generations of her family. They'll
come indoors, to be wedged in here and there for the winter.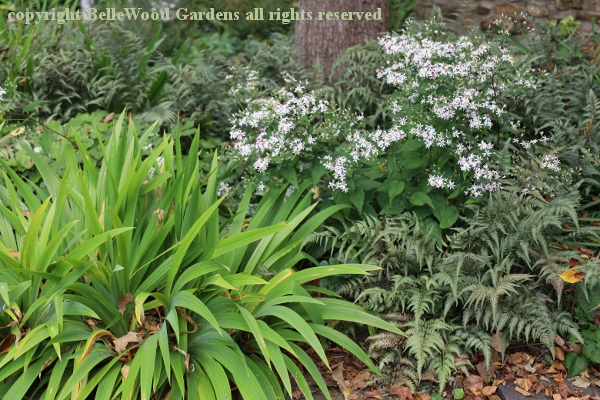 By the path and in the shade, a charming trio. Our native Aster divaricatus in bloom, and two Japanese plants with attractive supporting foliage. Strap-like leaves of the Japanese roof iris, Iris tectorum, and the silvery Japanese painted fern, Athyrium niponicum 'Pictum'. Please note, the aster now rejoices in the name of Eurybia divaricata and you may find the fern listed as Athyrium niponicum variety pictum.
Hilary is around and we have a short while for some pleasant conversation. I look at all the plants that will need to move somewhere sheltered for winter.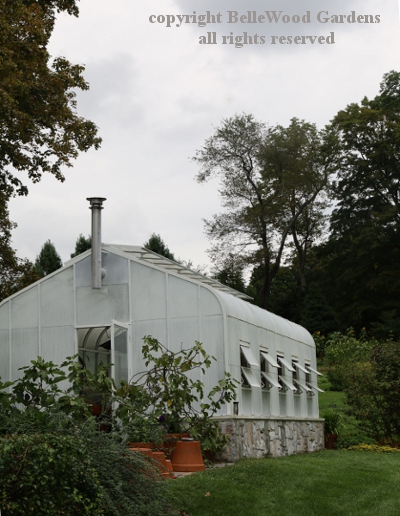 There's the greenhouse, but it isn't completely empty, even now.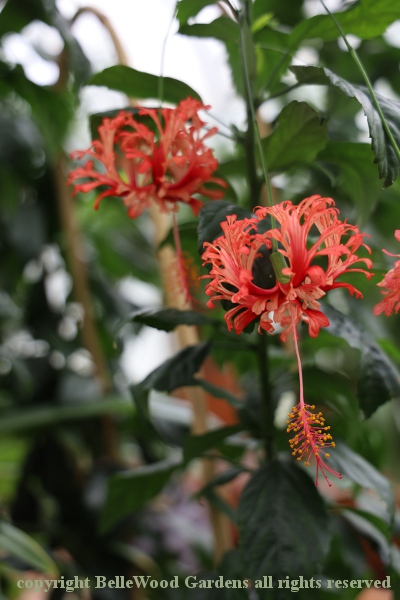 There are a few taller plants, like this wonderful frilly hibiscus.
The figs, I learn, will go into the garage. The agapanthus go in
the coldframe, the one about 3 feet deep, with 2 feet of gravel
as floor. Pots will be hauled around, shoehorned in. Somehow.
But meanwhile, the tender perennials are providing a tropical look.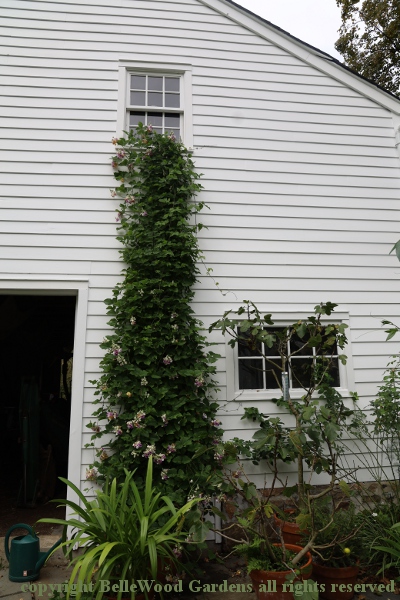 No, this is not the beanstalk upon which Jack climbed. Hardy only in
zones 9 and 10, the tender snail vine, Vigna caracalla, can grow 15 feet
in a season. Raise it from seed or cuttings, keep warm, and the flowers


will certainly remind you from whence came the common name.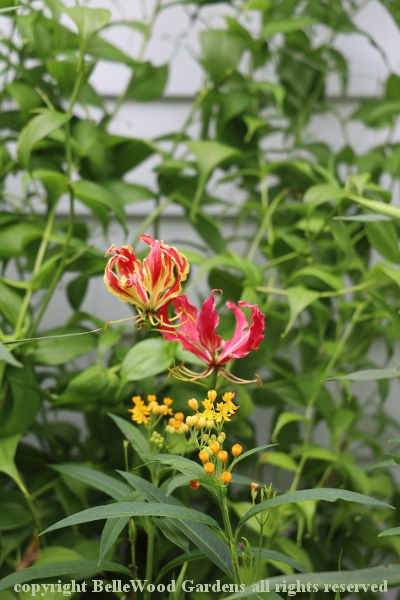 An attractive pairing of gloriosa lily, Gloriosa superba 'Rothschildiana'
with a tropical butterfly weed, Asclepias curassavica. The brittle tubers
of the gloriosa lily easily damage when trying to dig for its necessary dry
winter storage. Some gardeners keep it in a pot all year, as easier to do.
These vignettes are but a glimpse of what is available to see and enjoy at hay Honey farm on Saturday, September 14. Tickets are just $10 / person / garden and may be purchased at the garden gate. Look on-line at the Garden Conservancy's Open Days to find more information. There are gardens to visit across the country. Even though the season is winding down there are other open days. Even into November - if you are in Austin, Texas.
---
Back to Top
---
Back to September 2019
---
Back to the main Diary Page