.
Garden Diary - November 2019
---
If you have any comments, observations, or questions about what you read here, remember you can always Contact Me
All content included on this site such as text, graphics and images is protected by U.S and international copyright law.
The compilation of all content on this site is the exclusive property of the site copyright holder.
---
November
---
Late Autumn Harvest
Wednesday, 13 November, 2019
Now that I am storing canna bulbs in plastic bulb crates I have no need for the sturdy corrugated cardboard cartons I used to use. Two options - I can cut them apart and bundle them up for recycle collection. Or, I can bring them to Janet to use as underlayment in her vegetable garden between the soil and the mulch, smothering weeds. A quick call to check that yes, she still wants the cardboard, even in mid-November, and I fill my car with close to a dozen large banana boxes.
It's cold. Last night's low temperature, according to my rooftop weather station, was 19.2 degrees Fahrenheit. I confess, I'd sort of been hoping for a dusting of the snow to make some pretty pictures but that was at Mercer County park, not here. Drive to Janet's home. We unload the cartons. And walk down to the vegetable garden to see what's there.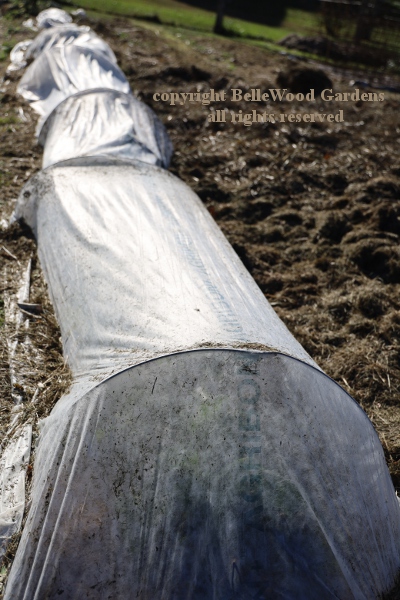 Some of the rows are covered with Reemay polyester fabric.
It allows about 75% of the light through and - more importantly
at this time of year - is providing a little protection against frost.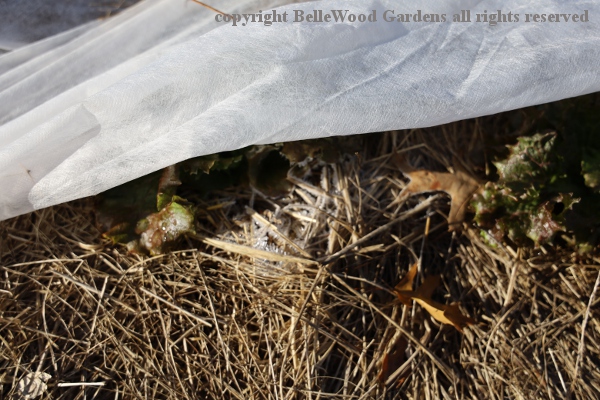 The edges are held down with stones, which have frozen to the fabric.
Janet carefully lifts it up so I can have a look. Fragile, it could easily tear.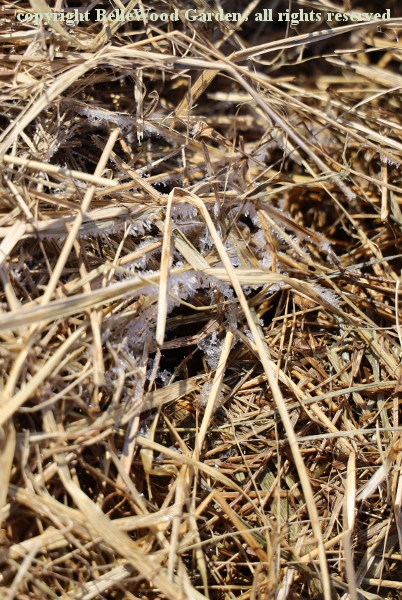 There are some needle-like ice crystals, from moisture in the hay.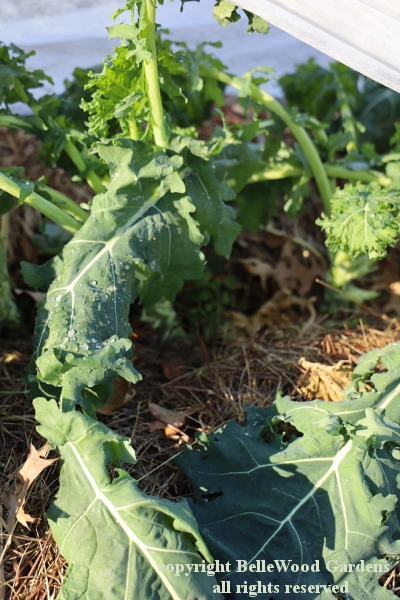 Doesn't the kale look nice. The little blobs are not water
droplets, but spicules of ice. It is cold! Kale is sturdy stuff.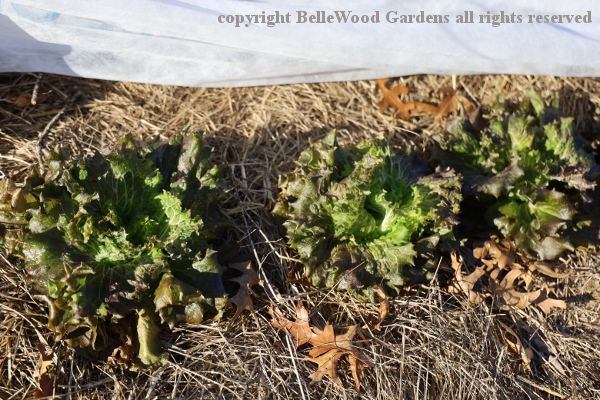 Lettuce is not as tough but Reemay provides the needed protection.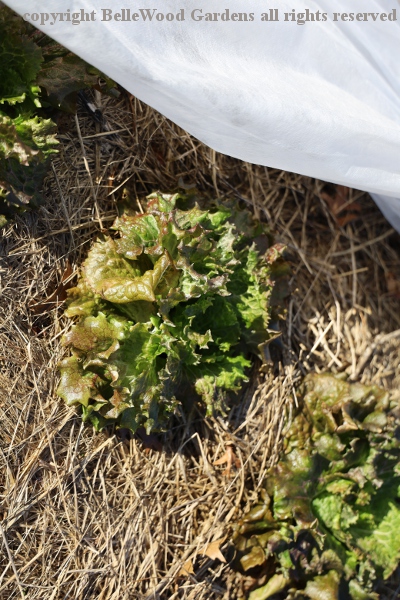 Looks ready for the salad bowl, doesn't it just.
It's the leafy greens with greater surface area that seem to suffer the most
from the cold. The bok choi has made some beautiful heads but there is
just a little icing / freezing at the base of the white ribs close to the soil.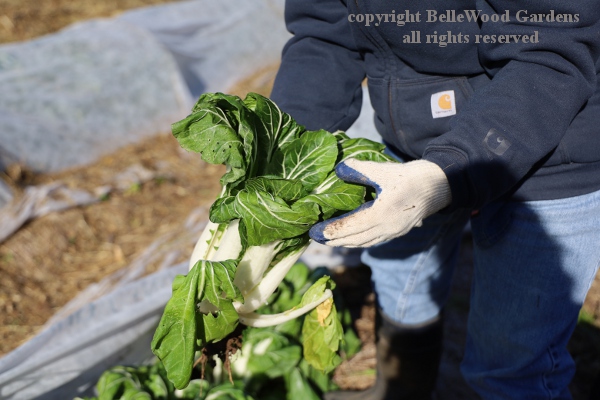 Guess I'll find out when I cook it, as Janet pulled a lovely one for me.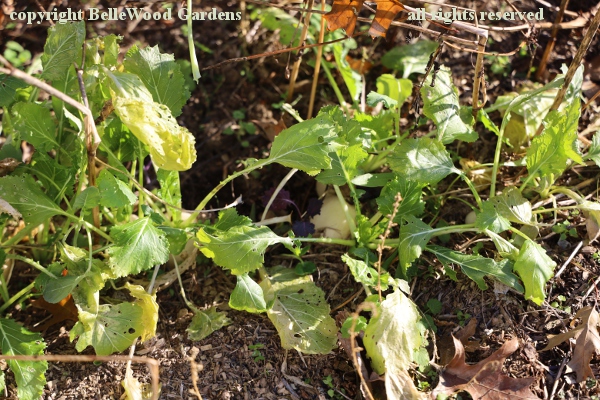 Then we walked over to check out the root vegetables, like these white turnips.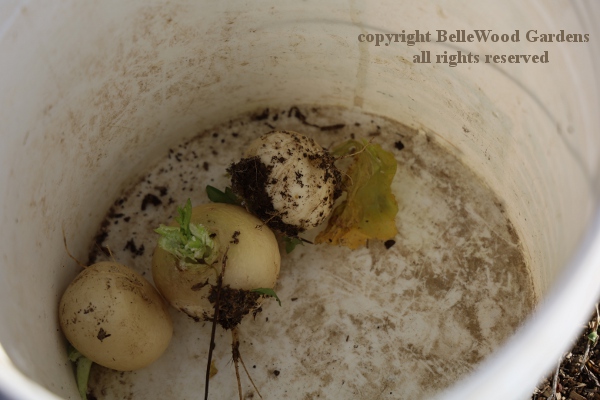 It is only a surface "skin" of soil that's frozen hard, so a few came out of the row
and into the bucket for me to bring home. The frost might make them sweeter too.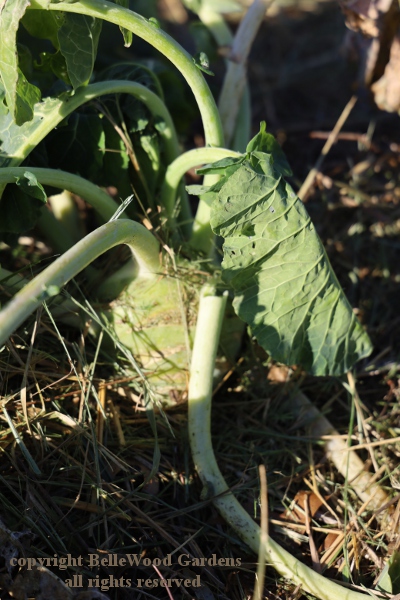 Another of the cole crops, kohlrabi doesn't make a bulb or fat root.
It's a swollen stem that stores food for the plant and something we eat.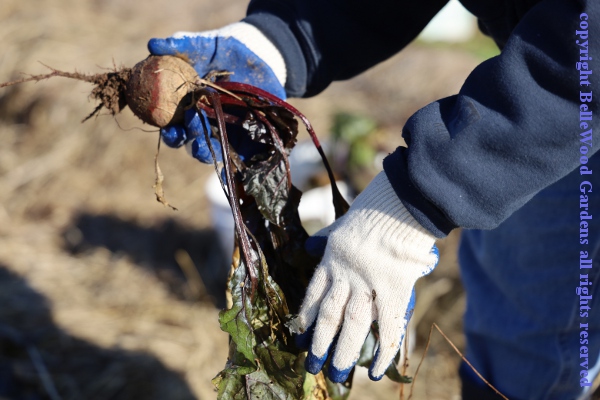 Beets can also tolerate cold weather. I like them roasted. Takes longer than
you might think. They're sweeter than when boiled. I like the leaves for greens.
These Lutz beets are brown where the skin was exposed to sun while growing.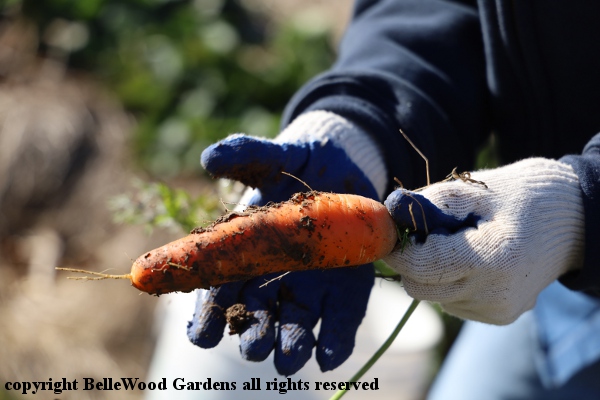 You can tell the years of adding organic matter in the form of compost, manure, and green manure like the buckwheat has paid off. Just look at this magnificent Scarlet Nantes carrot, long and plump and straight that Janet simply pulled out of the ground. By hand. No digging involved. She'll soon lift them all, fill the refrigerator and have fresh produce all winter from her fabulous, productive vegetable garden. And with a lot of hard work on her part.
Who dares to say the gardening season is over by now.
---
Back to Top
---
Back to November 2019
---
Back to the main Diary Page