.
Garden Diary - August 2019
---
If you have any comments, observations, or questions about what you read here, remember you can always Contact Me
All content included on this site such as text, graphics and images is protected by U.S and international copyright law.
The compilation of all content on this site is the exclusive property of the site copyright holder.
---
August
---
The Gardener's Book of Color, a book review
Tuesday, 27 August 2019
---
If plants could talk I'm convinced that there are those in my garden muttering "Here comes that woman with a shovel. Again." A visit to a nursery sends me home with something beautifully in bloom. It is given companions, plants arranged in what I intend to be attractive and harmonious combinations. But sometimes the results are, shall we say, unfortunate. The color is too bright or too pale. It changes, from bud to bloom to fading flower. Perhaps a different cultivar . . . Maybe if they were rearranged, like the furniture. And out comes the shovel. Again. Why should it be so difficult to create attractive, harmonious combinations. What do other gardeners know that I do not? When I visit they seem to have the knack for putting plants together so they look better than they do individually.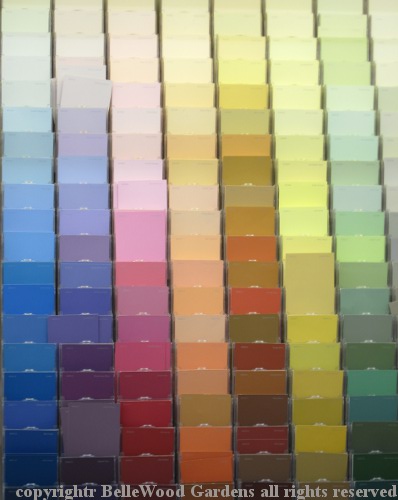 Visit one of the big box stores. There are colors of every tint and tone and shade.

One autumn a friend of mine actually tried that out. Wear your jacket inside out,
she advised, and wait for a day without much of a breeze. Dry, brown grasses and
seed pods burst into vivid color. But they're not flowers. Gardens should be alive.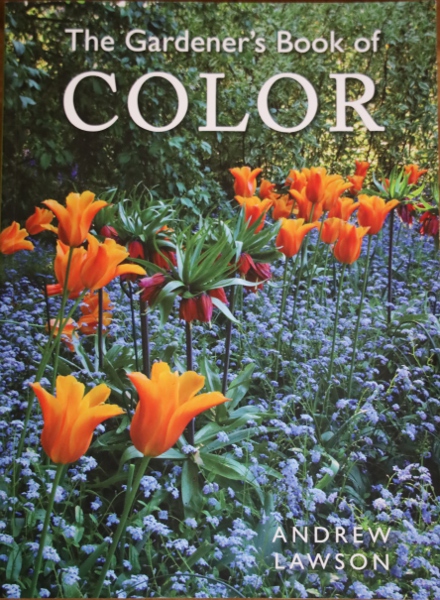 Which is where the revised and updated edition of Andrew Lawson's The Gardener's Book of Color might be helpful. Every garden, or say, every gardener, is different. Do you want a calm and soothing garden or one that's vibrant and stimulating. Only flowers? How about considering leaves, seeds, bark and berries. Think of it as painting, but with plants rather than pigments.
Profusely illustrated, as you might expect from an author who is an award winning garden photographer, the book begins with a chapter on color. Understanding Colour (Lawson is British) explores the artistic aspects from the color wheel, saturation, light and dark tones, influence of light, and more. Be advised, if you think, "Meh" and skip over this section of the book you'll short change no one but yourself. Unless you have the foundation, how will you build your garden?
The majority of the book is devoted to Gardening with Colour, first exploring single colors and then moving on to harmonies, contrasts, and mixed colors. Illustrations vary from full page garden vignettes, half page mixed plantings, smaller plant portraits, with explanations of the plants - both flowers and foliage - the season, and more. There is a, let's call it a dictionary, of plants briefly providing both Latin and common name, type of plant (shrub, perennial, bulb, etc), sun or shade, dimensions. Some but not all are illustrated. That's a good thing as otherwise the images would perforce be so small you would need a magnifying glass, or the book so large it would take a wheelbarrow to move it.
Single colours explored range from yellows to oranges to reds, soften with white to pinks, then on to violets, blues, greens of various hues (and foliage here reigns supreme), to silver-greys and then white. Let's see what Lawson has to say for oranges. It's a demanding, attention-grabbing colour. Especially in a small garden, use in moderation, perhaps an isolated patch of color. Moving on to pale orange and apricot. Use them with closely related tints of of pale yellow, yellow-pink, muted russets and bronzes. They are especially difficult to use with cool blue-pinks.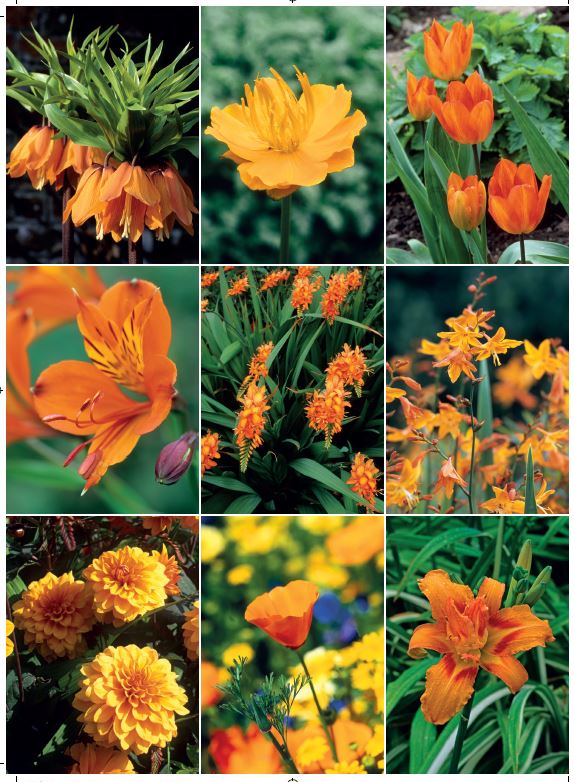 image from The Gardener's Book of Color by Andrew Lawson, with permission from Firefly Books Ltd.
There's a 9-plex page of vivid orange flowers, accompanying a dictionary of orange flowers
for spring, summer, and autumn, with mention of thorns and berries and winter bark. A short
section of apricot flowers for spring and summer completes this segment of the color wheel.
Having studied painting at St Martin's School of Arts Lawson has a grounding in colour theory that goes beyond the basics. Harmonious colors, he begins his explanation, are those closely related on the colour wheel. Colour temperature - blues and blue-violets are cool, subdued, calming. Reds and oranges are hot, vibrant. There is discourse on harmonies with blue, with pink (which may be a cool pink with a hint of blue or a warm pink with a tint of yellow), and more, going around the colour wheel. Harmonies are, relatively, easy. It's when contrasts of colour, tone, and temperature are brought into play that planning the garden becomes more complicated. This section may be the most intriguing.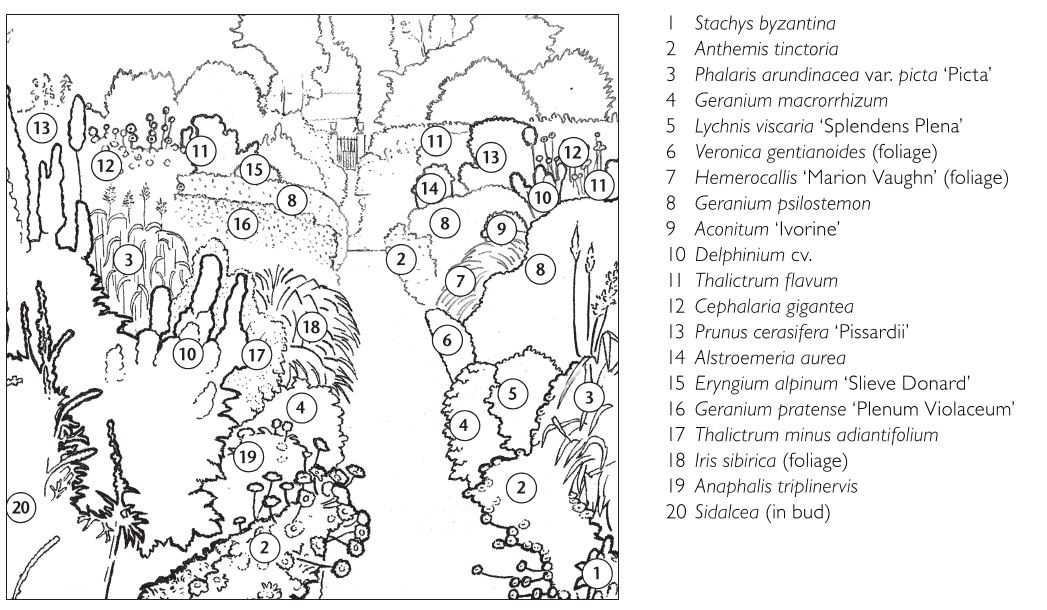 image from The Gardener's Book of Color by Andrew Lawson, with permission from Firefly Books Ltd.
An interesting section concludes the book with two dozen drawings that show
the major plantings illustrated in the book, complete with related page number,
a complete list of the plants with their Latin and relevant cultivar names too.
There is a nice bibliography referencing other titles for garden colour, colour for artists, information on plants, and miscellaneous on color theory and color perception.Originally published by Pimpernel Press Ltd in 2015, I wish this American edition had revised the small hardiness zone chart at the back of the book. To state that hardiness depends on factors such as the rate at which temperature falls, duration of cold weather and wind force are true. This makes the hardiness zones given for plants throughout the book suspect. However colours remain what they are, and for this the book is very useful.
The Gardener's Book of Color
by Andrew Lawson
Firefly Books
Paperback, $24.95
ISBN 978 0 22 8101710
A review copy of this book was provided by the publisher
---
Back to Top
---
Back to August 2019
---
Back to the main Diary Page