.
Garden Diary - August 2019
---
If you have any comments, observations, or questions about what you read here, remember you can always Contact Me
All content included on this site such as text, graphics and images is protected by U.S and international copyright law.
The compilation of all content on this site is the exclusive property of the site copyright holder.
---
August
---
Fordhook Farm, A Garden Conservancy Open Days Visit
Saturday, 10 August 2019
---
Today I'm off across the river to Doylestown, Pennsylvania, for a Garden Conservancy Open Days visit to Fordhook Farm. While it is true that any day spent visiting a garden is better than not, today's pleasant weather is welcome.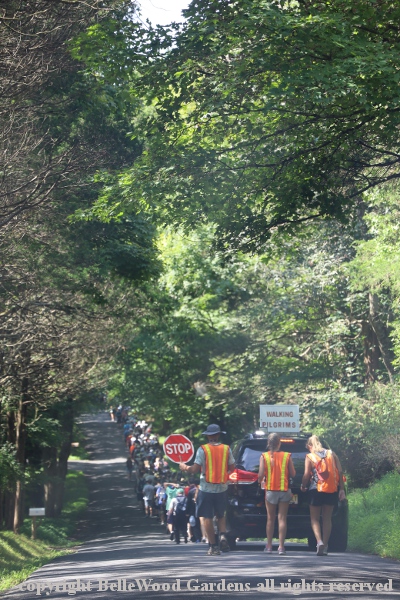 The drive takes somewhat longer than anticipated as on Hollow Horn Road I end up behind the walking pilgrims on their multi-day procession on the annual pilgrimage from the Church of Ss. Peter and Paul in Great Meadows, New Jersey to the National Shrine of Our Lady of Czestochowa in Doylestown. Parishioners, children, priests, and nuns. Safety crews in orange vests. Sound equipment. Sag wagons for the foot sore. Eventually I am motioned forward, and back on my way.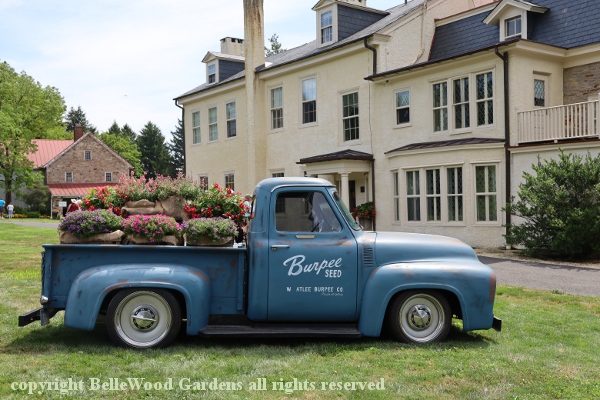 Here's what the Open Days Directory has to say about Fordhook Farm:
"In 1888, W. Atlee Burpee acquired several hundred acres of farmland in bucolic Bucks County. Today at Fordhook Farm, hundreds of new vegetables, annuals, and perennials are still grown, tested, and evaluated on a 60-acre test farm and network of gardens to guarantee Burpee's high standards of quality. In addition to the test plots, there are extensive display gardens of choice perennials, shrubs, and trees for sun and shade. Over 30 new tree specimens have been added since the last Open Day. Important large-scale sculpture by Steve Tobin and Daisuke Shintani animate the landscape. The sixteen-acre core of the property, including the original Burpee Seed House, is listed on the National Register of Historic Places."
Numerous people have apparently decided to enjoy a summer day at Fordhook Farm. Their parking lot is filled so arriving cars are directed to the parking lot across the street at Delaware Valley University. Several golf carts are busily shuttling people back and forth, while there's a uniformed policeman stopping traffic for pedestrians. Arriving at the admissions table where garden greeters collect tickets from those who purchased Open Days admission ticket booklets in advance. Day tripping walk-ins are also welcome, $10 per person, children 12 and under are free. We're each handed a map of the grounds indicating the various gardens and which building have actual bathrooms. No Port-a-potties today. A free packet of mixed Burpee flower seeds for a cutting garden, and we're off to wander at will.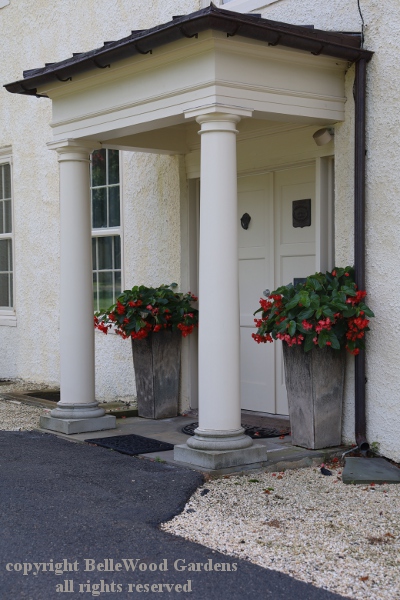 There are lush containers set around the buildings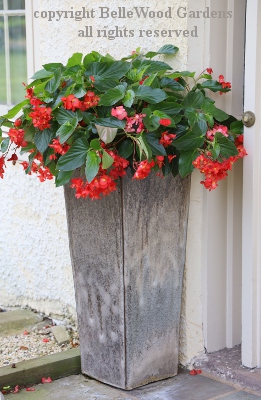 like these begonias at the Main House.

In addition to the test plots there are display plantings of perennials and shrubs
such as this charming pairing of variegated miscanthus and Hydrangea paniculata.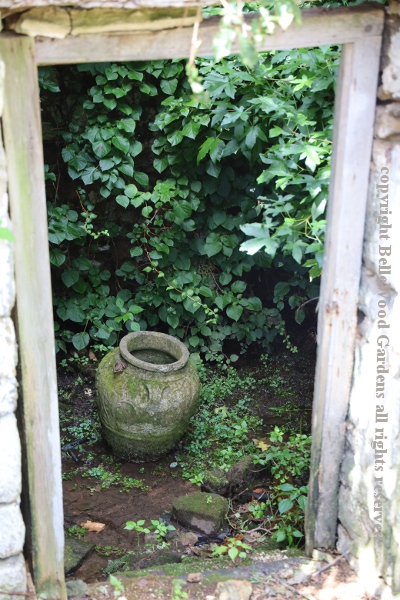 As I am wandering around on the spacious grounds
I come across a dilapidated springhouse. The roof is
disintegrating and the interior is now a green space.
On the map it is labeled as "ruin" but I find it magical.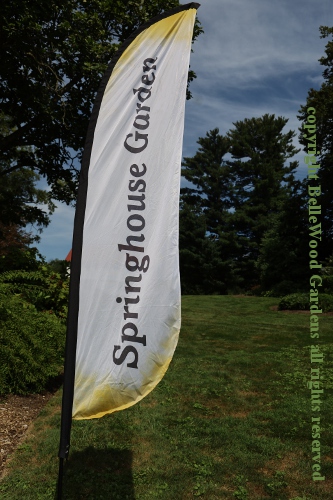 Ruin or something else, it is at one end of the Springhouse Garden.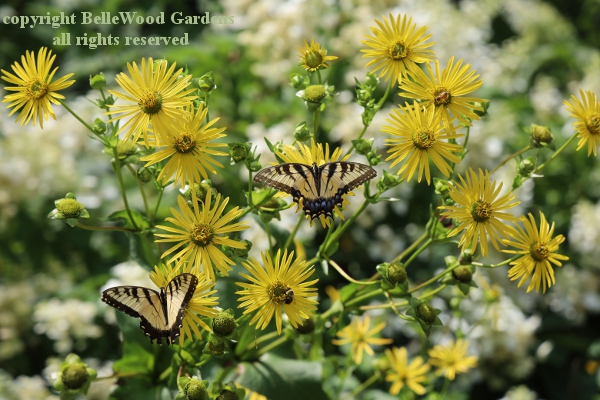 It is a garden filled with masses of native plants. They are quite popular with
the butterflies, like the tiger swallowtail butterflies nectaring on the silphium.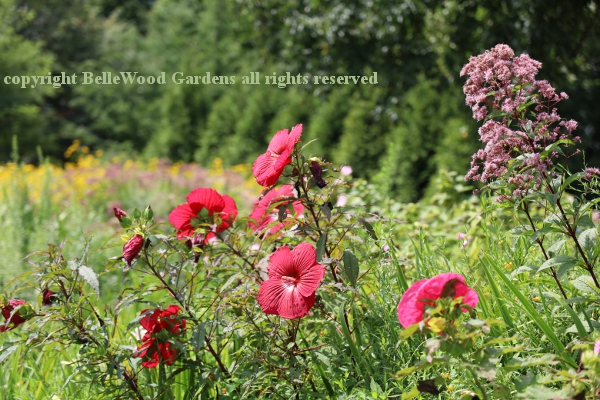 And colorful red hibiscus with Joe Pye weed. Used to be Eupatorium but -
one of those confusing name changes and is now Eutrochium purpureum.
There is a Veranda Garden behind the Main House. There is also an ice house,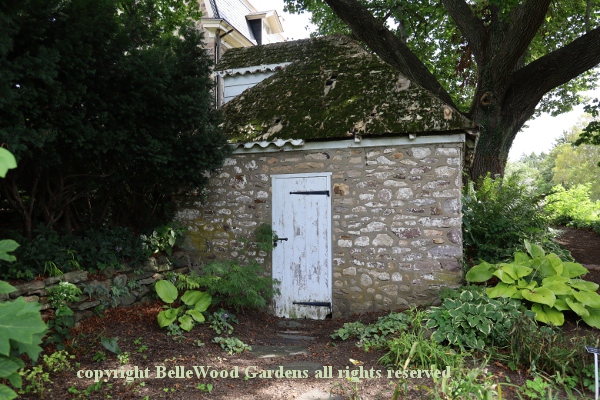 and an Ice House Garden off at the shady side. Found the ice house. Would love to look inside.
As well, across from the Burpee Hall Barn with its small
Nook Garden and the Carolina Shade Garden there is the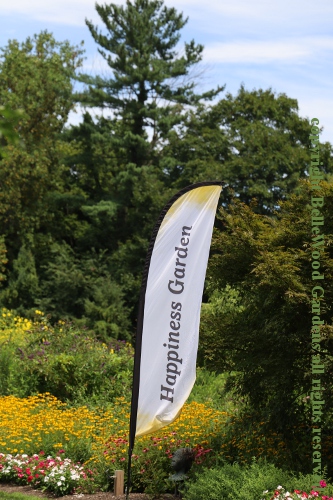 Happiness Garden with masses of flowers, a meandering
path, and, quite welcome, a tub of ice and bottles of water.
Glass and metal fish sculptures by Densaburo Oku are swimming here and there
among the plants of the Happiness Garden.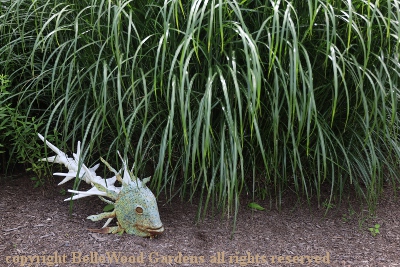 The skeletal spine is made of cast glass cable transducers strung along a metal stem.
Cast glass bones are formed by allowing molten glass to draw out from a loose mold.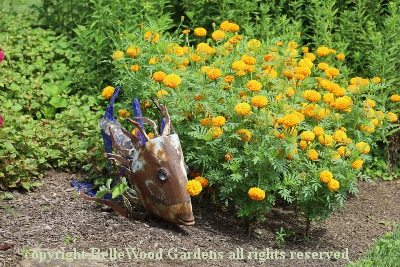 .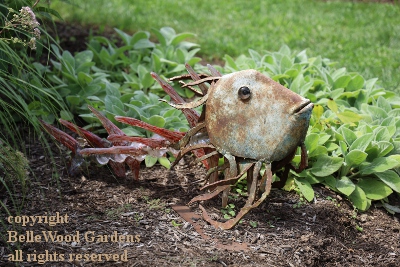 .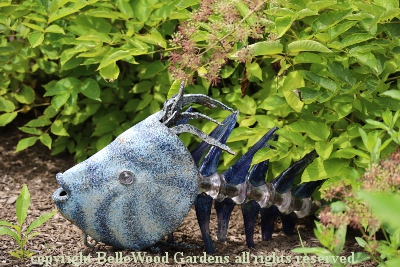 Then, when solidified and cooled, they are attached to the spine. Pigments had been mixed
into the molten glass to match the metal head with their glass eyes, and any fin-like parts.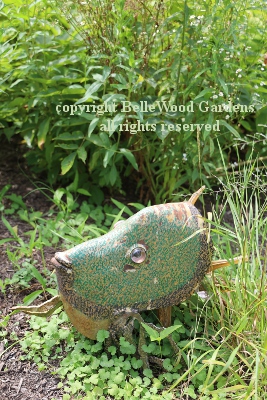 The fish are looking very good for having been made 30 years ago.
Mostly, I had sauntered towards the back of Fordhook Farm, with some side trips.
Now it is time to reverse my direction, back towards the entrance and see the rest.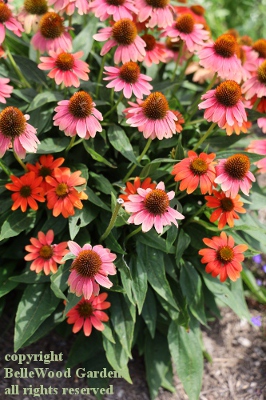 .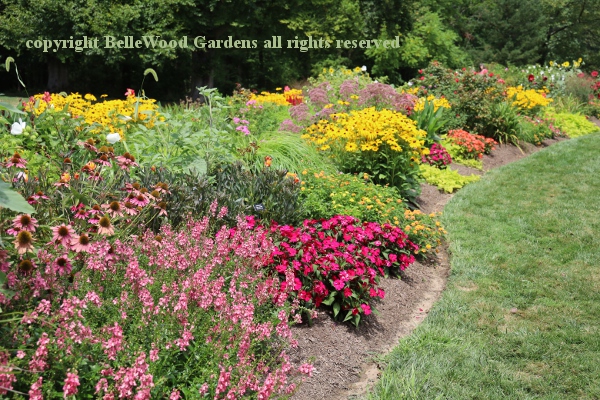 There is a long, narrow Creek Garden filled with a patchwork quilt of colorful flowers.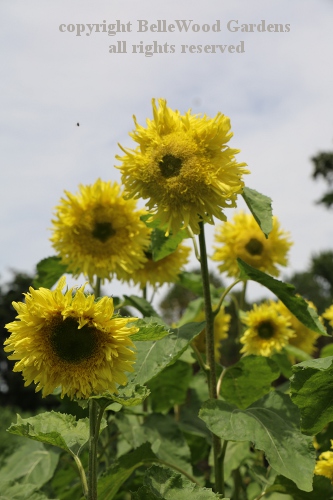 .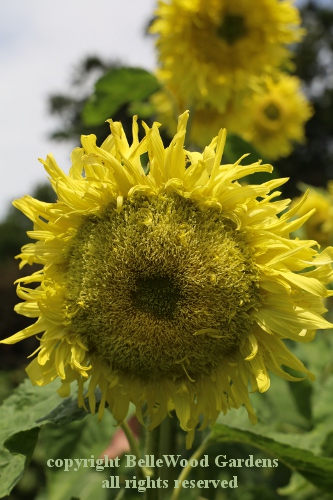 Adjacent to the Creek Garden is the Kitchen Garden. Just inside the garden's gate
is a bed filled with wonderful tall, fluffy, pale yellow sunflowers. Beyond which I spy
beds of tomatoes, eggplants, all sorts of vegetables. But that will be a different entry
which you can read here
---
Back to Top
---
Back to August 2019
---
Back to the main Diary Page