.
Garden Diary - June 2019
---
If you have any comments, observations, or questions about what you read here, remember you can always Contact Me
All content included on this site such as text, graphics and images is protected by U.S and international copyright law.
The compilation of all content on this site is the exclusive property of the site copyright holder.
---
June
---
Five Vermont Gardens:
Judy Robert's Garden
Tuesday, 11 June 2019
---
I have a lecture to give to the Woodstock Garden Club today, on Cottage Gardens Then and Now. But that's not until mid-afternoon. With hours and hours in hand, my hostess, Jill Helmer, has scheduled two garden visits for this morning. It is a little damp. Soft, English weather. She has an umbrella, a rain coat, a wide brimmed hat for me. Onward, to the garden of Judy Roberts.
Judy and her husband are out of the country. In the Cotswolds, to be exact. I'm sure they are having a wonderful time, but what a difficult time to leave one's own garden. They graciously gave permission for us to make a visit.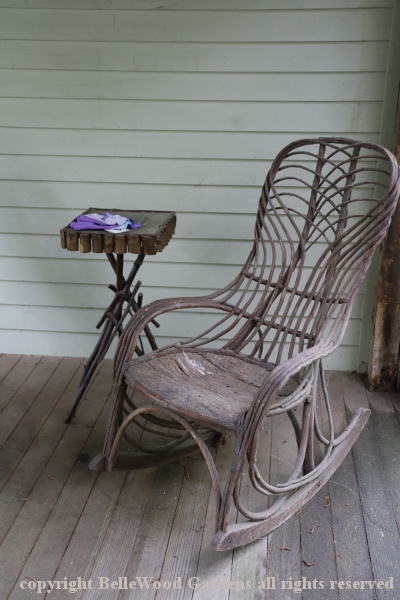 It is clear that someone with style lives here. Just admire
the bentwood rocker and purple garden gloves on the table.
Look through the walk-through between house and garage and see
an allée of gray birch, Betula populifolia. And once you reach the urn


focal point, why, there's an abrupt left turn and a continuation of the allée.
Jill is familiar with this garden. And while she even encourages me to explore
this way and that, there is still a direction to our travels. The drizzle has let up.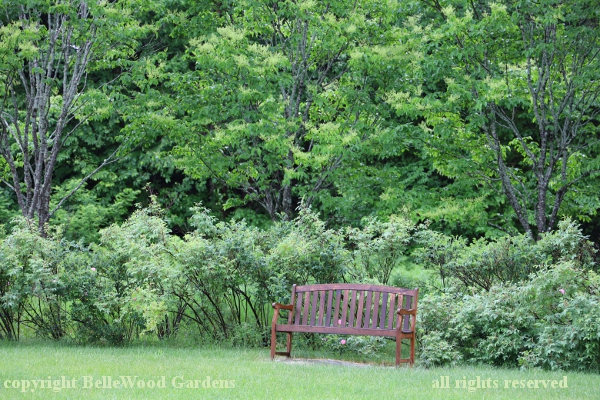 There is a teak bench set on a rough granite slab flush with the ground.
Maybe the stone is a bone of the earth, emerging. Or perhaps it was set.
The hedging shrubs behind the bench are salt spray roses, Rosa rugosa.
A wonderful life size bronze statue of a horse. Even better, Jill says,
when the grass is even tall. I'm here today, and today it is wonderful.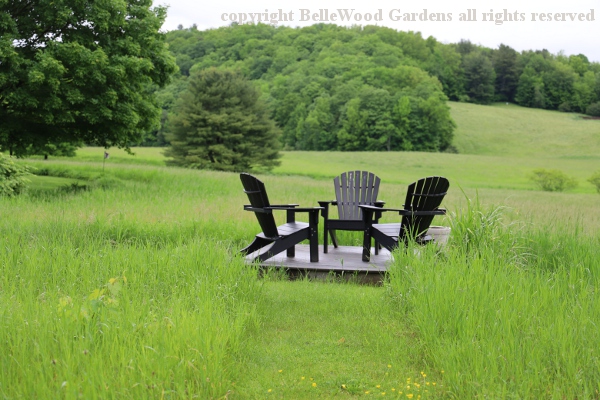 There is a mown path through the meadow, leading to a small platform and
three chairs. Can you imaging sitting here at dusk when the fireflies come out.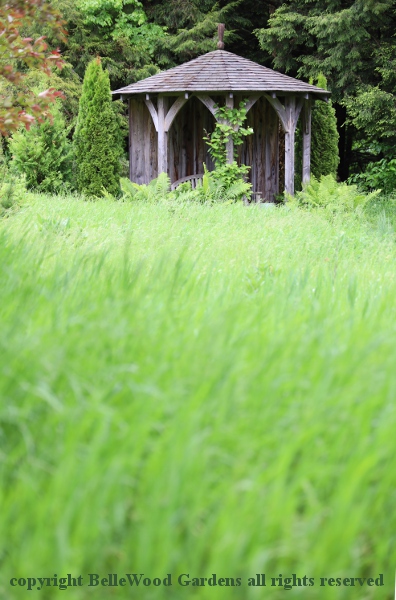 The garden makes wonderful use of the meadow in so many ways,
a waving sea of soft green, with a sheltering gazebo as destination.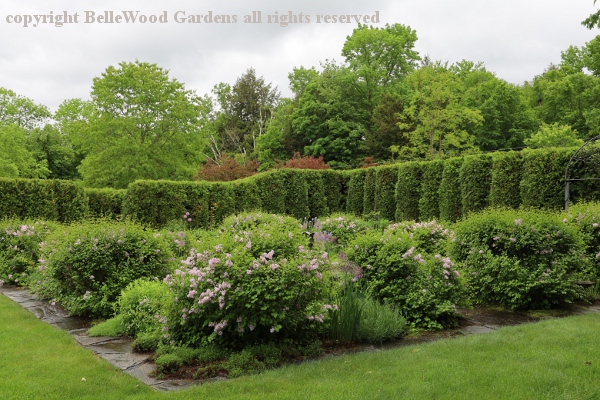 And then we come to the more formal garden room, a walled garden
with hedging greenery all about. Pruned, Jill says, from a cherry picker.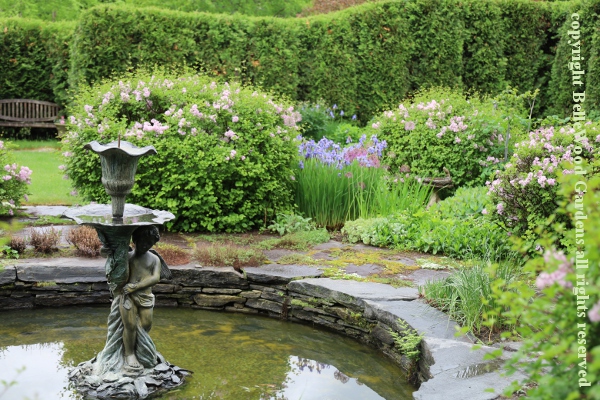 Heaven. Syringa 'Miss Kim' is in flower. If only there was a way to photograph
the fragrance. The palette of colors are lavender, violet, blue, pink. Luminous
under the soft overcast. The garden centers on a circular pool and fountain.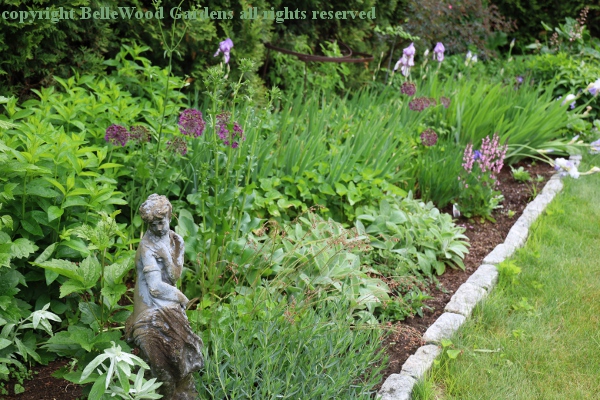 .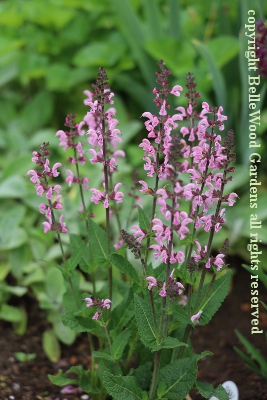 A nice pink salvia, Salvia nemorosa, which I think might be 'Sensation Rose'.
Small objet d'art emerge at the front of the relatively narrow borders. Here, a lady,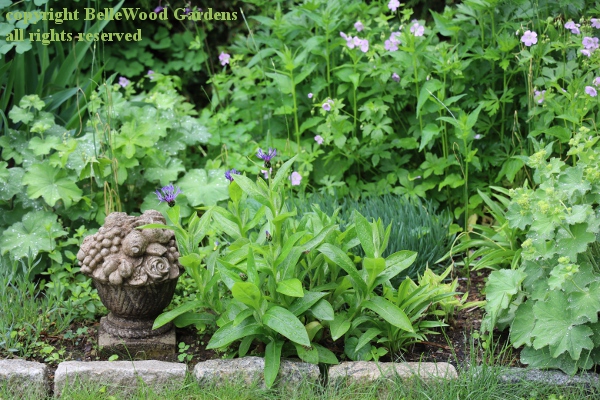 there, a cement fruit bowl. This one is daintier that those I have seen previously.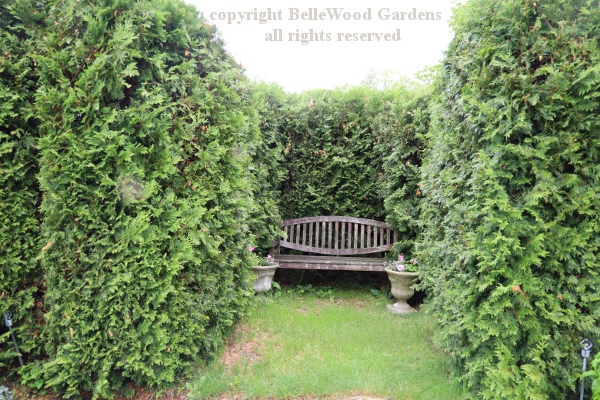 Another teak bench tucked back into an alcove in the hedges.
There is an enormously long curving bed entirely devoted to daylilies, of course not yet in bloom. When they are, dead-heading is a daily competition between Judy and her husband. I get a rapid overview of the beds in front of the house, filled with single and double hellebores. And hosta. But we must be on our way. There's yet another garden to see this morning.
---
Back to Top
---
Back to Five Vermont Gardens
---
Back to June 2019
---
Back to the main Diary Page