.
Garden Diary - July 2019
---
If you have any comments, observations, or questions about what you read here, remember you can always Contact Me
All content included on this site such as text, graphics and images is protected by U.S and international copyright law.
The compilation of all content on this site is the exclusive property of the site copyright holder.
---
July
---
En Plein Air
Wednesday, 3 July 2019
---
See something every day, repeatedly, and soon you do not see it. Oh, it is there, but doesn't get noticed. You just scurry by. Until something causes a fresh look. So it was on my way to the Wednesday morning knitting group at the Bridge Cafe. Turn in on Bridge Street and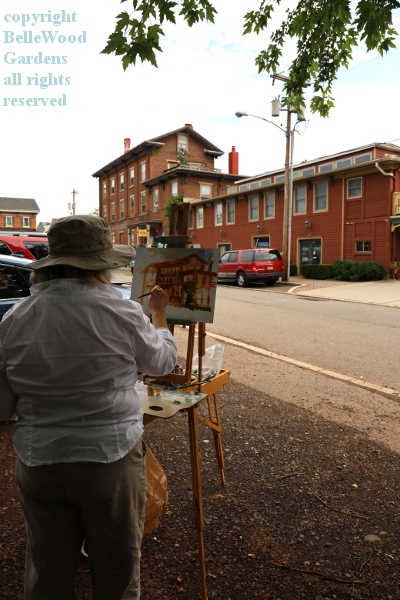 there is someone set up in a parking spot with easel and water colors,
painting en plein air. I see these brick building every day I'm there but I
don't notice them, if you understand what I'm saying. Park, chat briefly
to make sure my car right next to where she is working won't be an issue.
In to the cafe, greet the knitters already there, get a chair, unload my stuff, get an iced coffee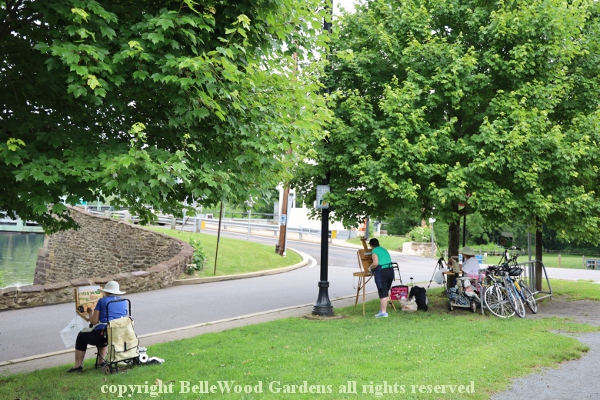 and there are more watercolorists happily at work under the trees. Their focus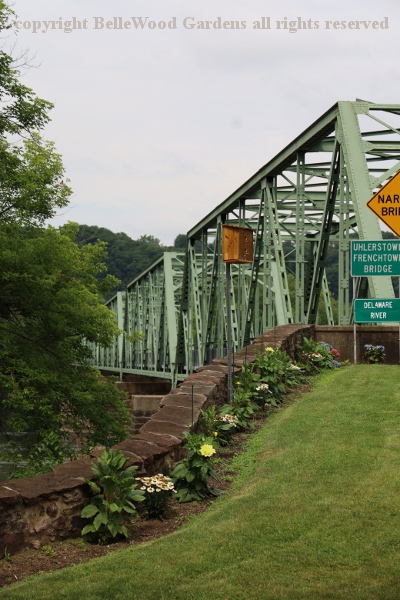 appears to be the bridge over the Delaware River to Pennsylvania.
.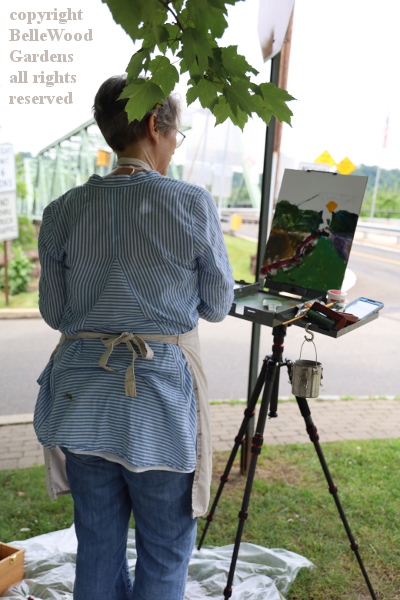 the bridge that I see so often is clearly something they find worth their time and effort to paint.


Each one finds a different point of view. Some are painting on a page


others in a workbook. All are assiduously at work.
Now, my camera is pretty much my American express card. Remember that old commercial, "Don't leave home without it." Never know when I might come across something to photograph. The camera and I often "see" things differently. The camera gives equal weight to everything in the field of view while my mind gives differential weight to what my eye sees, while a painter is deliberately interpreting what is observed. Each one creates something different and unique.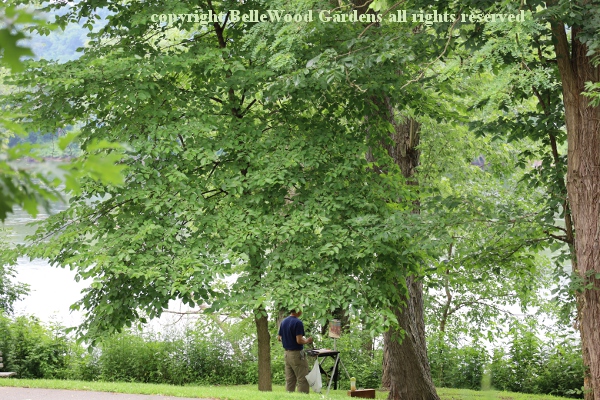 Another point of view. This, down among the trees closer to the river


or turn somewhat away from the bridge to use the Frenchtown Inn.
Enough. Back to the cafe, crochet a few more stitches. I'm getting good mileage from this yarn, which I had bought in Sedona, Arizona at Knit Wits, the LYS. Locally dyed, the colors remind me of the beautiful red rocks of the area. But I keep getting off-count on the shawl pattern Fortunately the yarn is very agreeable to frogging, which is to say rip-it, rip-it, rip-it. This is my third start. But I digress. Time to go. I pack up, back to my car, wave to the the first watercolorist and start home.

But there's another watercolorist! And, mirabile dictu, a convenient parking place.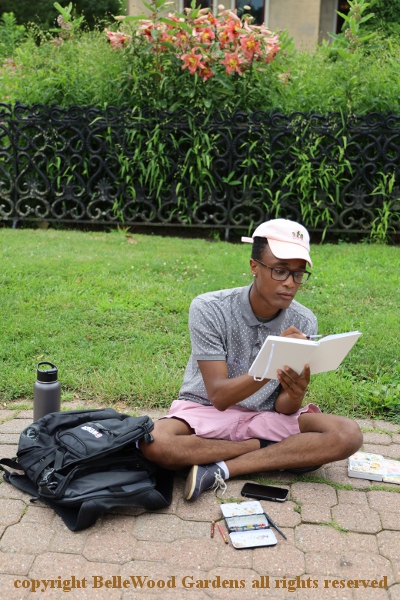 Pull in, hop out, camera in hand, and ask if I might photograph.
It is only polite to ask, and most people will agreeably say yes.
She's sitting with her back to the early Italianate Apgar House,
built in 1869. The elaborate iron fence is original to the building.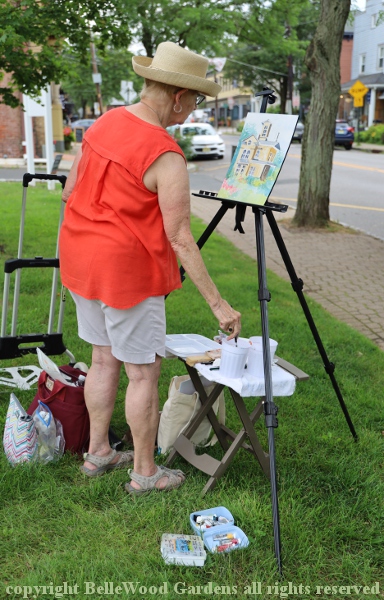 And across the street someone is focused on the house. We chat.
It turns out she grew up in the area. Knew the house when there
were two sisters living there. And the elderly maid would pop out
the front door to collect the newspaper. What a special day for me!
Here's a link to the Facebook page for the Peace Valley Plein Air painters in New Britain, Pennsylvania. They meet on Wednesday mornings between April and October for outdoor painting excursions. How fortunate for me that I happened along on the morning they were here, and fortunate for all of us that the drizzle in the forecast held off until later in the day.
---
Back to Top
---
Back to June 2019
---
Back to the main Diary Page