.
Garden Diary - September 2019
---
If you have any comments, observations, or questions about what you read here, remember you can always Contact Me
All content included on this site such as text, graphics and images is protected by U.S and international copyright law.
The compilation of all content on this site is the exclusive property of the site copyright holder.
---
September
---
Talk and Tea at The Cross Estate Gardens
Thursday, 26 September 2019
It's a trifecta of events at the Cross Estate Gardens in Bernardsville, New Jersey. Presented as a Talk and Tea with Marta McDowell, attendees can visit the gardens, come indoors to consume delightful refreshments, and then enjoy a well presented talk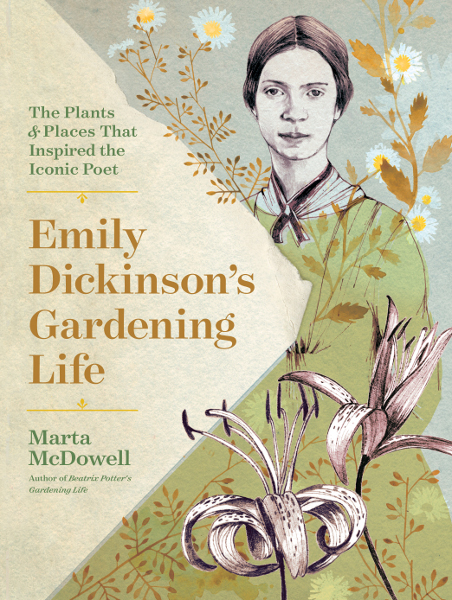 image courtesy Timber Press
about Marta's new book, Emily Dickinson's Gardening Life
Obviously, the first thing for me to do is arrive early so I can wander around the gardens. Nor am I the only one with this thought in mind. Not the first, nor the last. People are strolling and enjoying the day, somewhat warm for late September.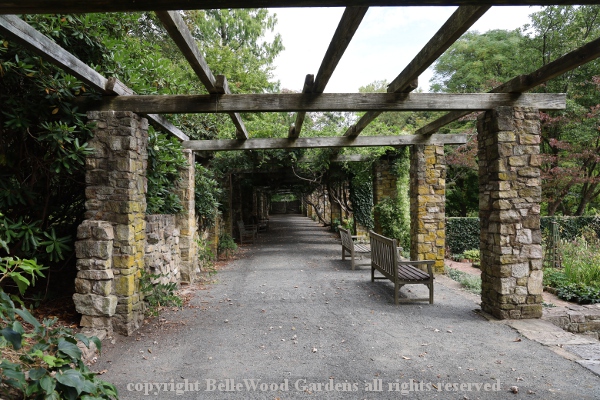 You reach the garden by passing through a self-closing wooden gate that brings you
to a lengthy arbor supported by stone pillars. Benches,should you feel the need to sit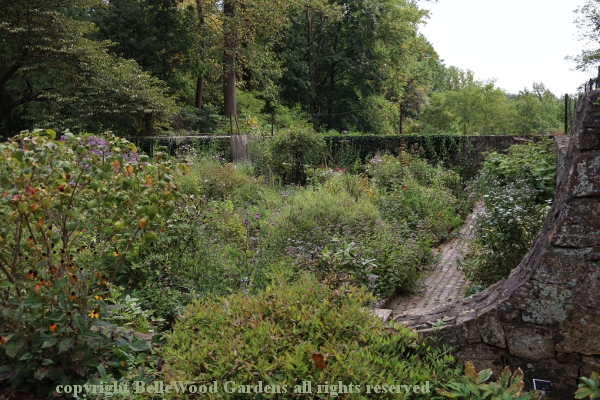 and look out into the gardens. Walled with stone, criss-crossed paths, beds of flowers.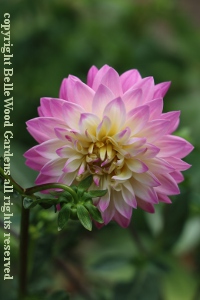 .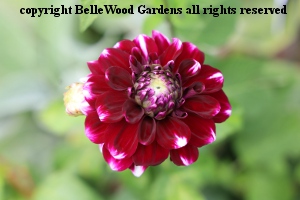 .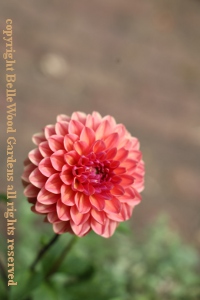 I was particularly taken with the dahlias. There were also autumn crocus, Colchicum speciosum,
asters, Boltonia asteroides (an aster look-alike), obedient plant, and more September flowers.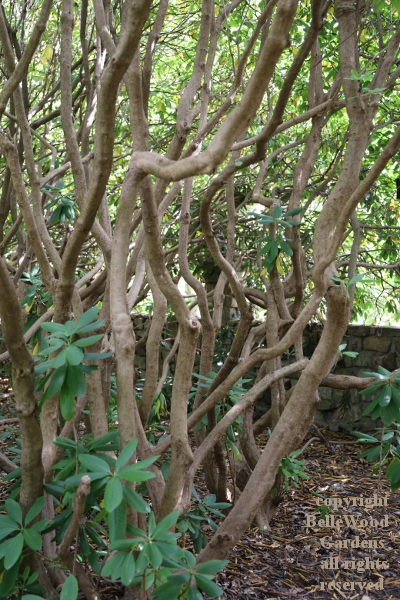 All too often rhododendrons are chopped back into green meatballs, juvenile
in form. So wonderful to see them as the tree-like shapes the mature achieve.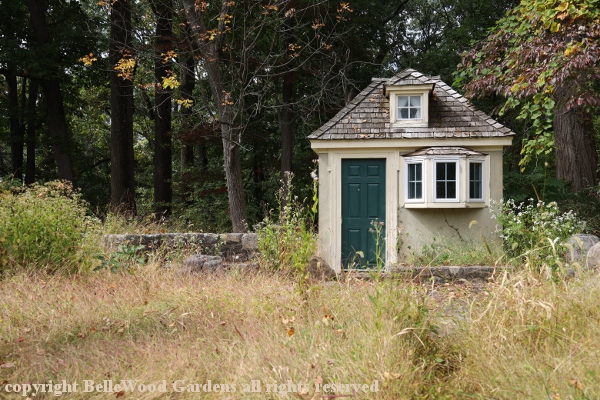 Out beyond the garden there is a playhouse, evocative and lost in the tall grass.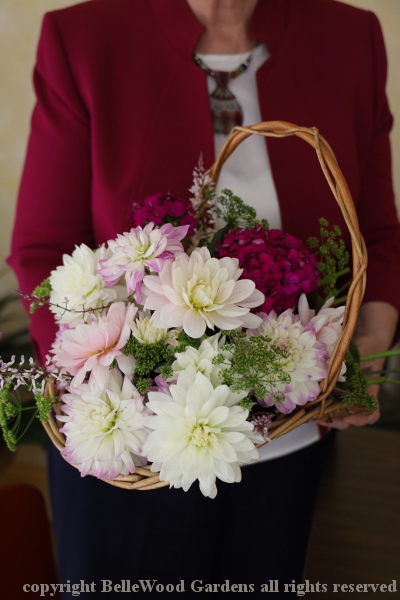 Flowers by Marge Hulstruck
But it is time to return to the house and partake of refreshments.
Beautiful basket of dahlias on the registration table. More on the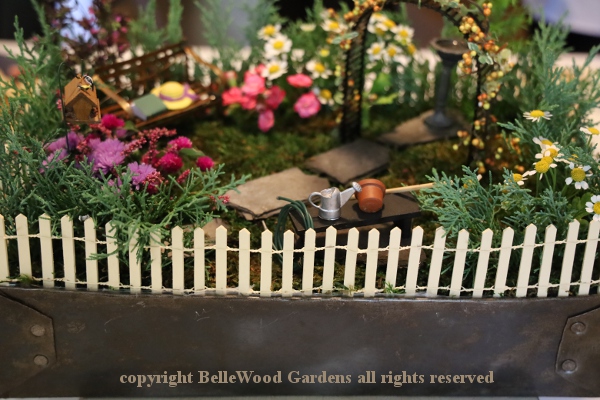 Flowers by Marge Hulstruck
refreshment table, an adorable miniature garden. Bet the fairies asleep
in the foxgloves come out at night to slide down the moonbeams and play.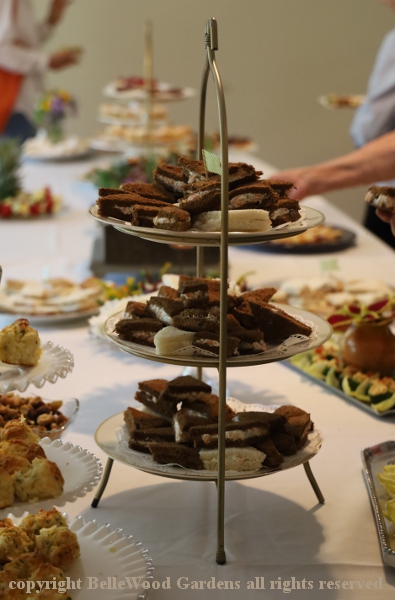 Meanwhile we are all enjoying a plethora of dainty teatime sandwiches,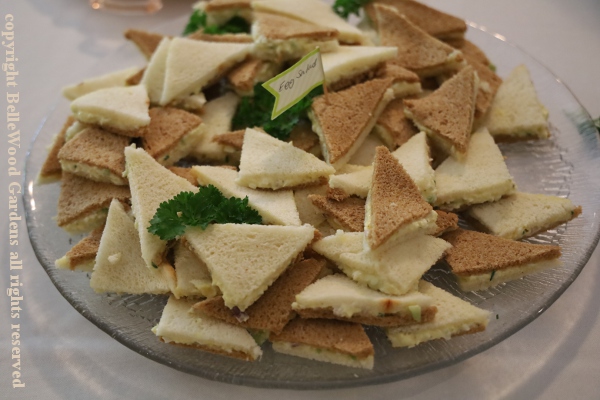 of course with the crusts neatly trimmed away. There were options. These, egg salad.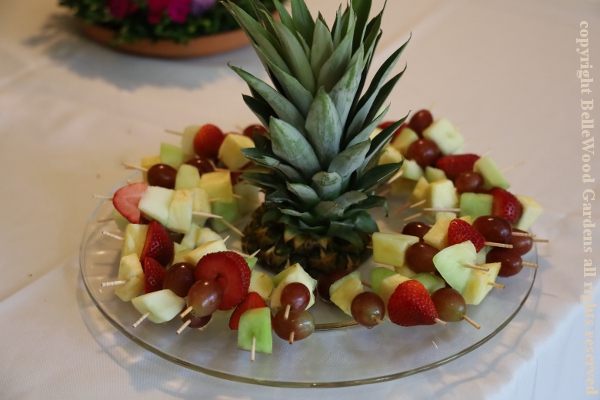 A fruit platter, with skewers of melon, strawberries, grapes. And pineapple.

Little desserts, so you could eat several and not feel guilty. Macaroons.
Lavender shortbread in both traditional and gluten-free versions. All good.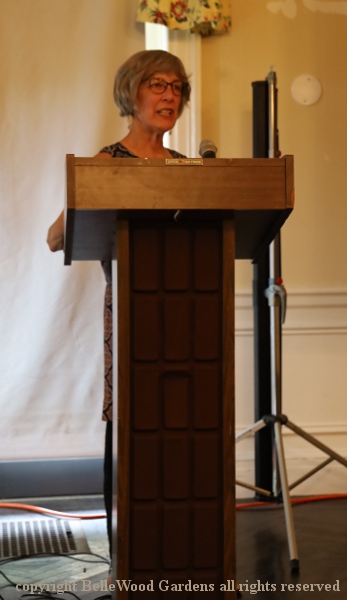 But now they have the microphone hooked up. Into the library,
find a seat. And be prepared to be informed and entertained,
both, with Marta's talk about Emily Dickinson's Gardening Life.
---
Back to Top
---
Back to September 2019
---
Back to the main Diary Page