.
Garden Diary - February 2019
---
If you have any comments, observations, or questions about what you read here, remember you can always Contact Me
All content included on this site such as text, graphics and images is protected by U.S and international copyright law.
The compilation of all content on this site is the exclusive property of the site copyright holder.
---
February
---
Braised Pork and Beans
Monday, 4 February 2019
---
Winter is a good time for hearty, slow cooked meals. The idea of a braise came to mind when I saw a package of meaty pork neck bones at my local market. It would take a little planning, as I like to use the dry marinade that Julia Child suggests in "The Art of French Cooking, Volume One."
I have, of course, coarse kosher salt and black peppercorns. I bought some
fresh thyme and rosemary, then foraged for juniper berries and bayberry leaves.
An aside: in 2017 the old field cedars, Juniperus virginiana, were so laden with berries that they looked positively blue. The set, currently, is quite sparse. But I found enough for my purposes.
I need 1 teaspoon of salt per pound of pork. Crush a few black peppercorns and
some juniper berries, snip the thyme and rosemary, and combine with the salt.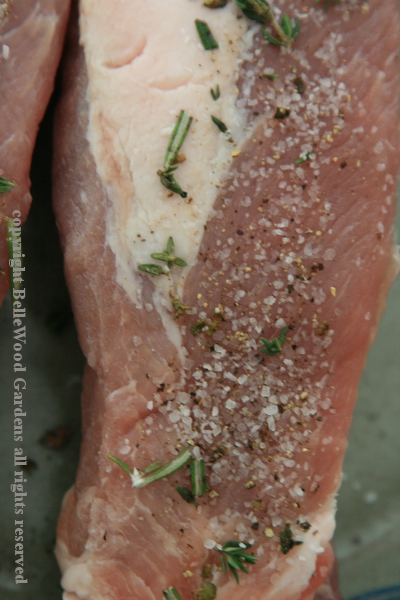 Lightly coat all surfaces of the pork. Refrigerate,
covered with plastic wrap. Let sit overnight or
up to 24 hours, turning pork every few hours.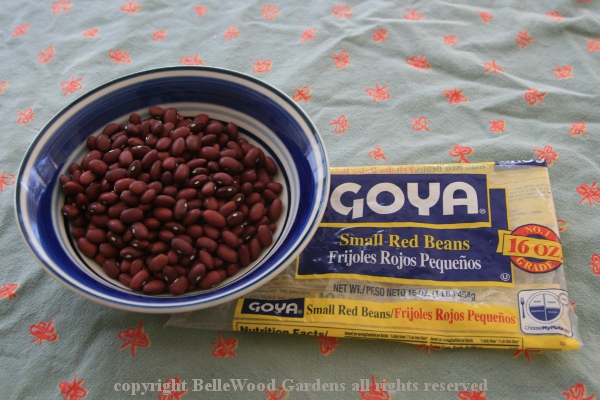 I decided to use my favorite small red beans as the "partner" for this braise. Pick over the beans, removing any split or broken pieces. Cover with ample boiling water and set aside for a couple of hours.
When ready to cook: wipe the remaining marinade off the pork with paper towels.
Cube some bacon. In a sturdy pot, render the bacon. Remove when browned and set aside. Brown the pork in the bacon fat, turning so all sides are seared. Remove and set aside.
Dice the ever-useful mirepoix trinity of carrot, onion, and celery. Gently sauté
in the remaining bacon grease. If the grease is scantly, add a little olive oil.
When the vegetables are tender it is time to put it all together. Set the pork neck bones on top of the mirepoix. Drain the beans, discarding the soaking liquid. Add the beans over and around the pork neck bones. Bring some stock to a high simmer and add to the pot, making sure the beans are covered with the liquid. Bring back to a slow simmer, cover the pot, and go away for a couple of hours.
Note: For this dish, with its herbs and spices, a homemade stock is not necessary. I used some Better Than Boullion, which was just fine.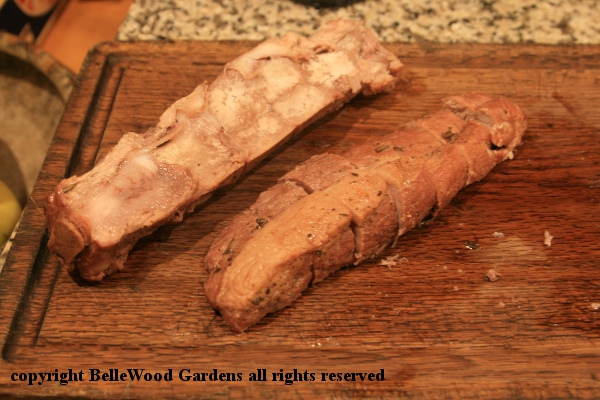 The meaty pork slices quite neatly off the bone in one piece, which I
then cut into sections. To embellish the meal I also broiled chorizo.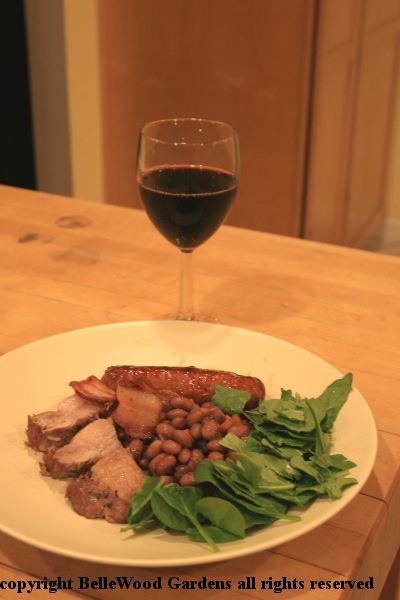 Plated up. Some now-boneless pork, a chorizo sausage,
rewarmed bacon, and a generous ladle's worth of beans.
Some raw baby spinach finishes things off. A glass of
shiraz (made with voignier in the blend) was just right.
A delightful meal for a winter's day, all the way from the foraging
through the cooking, to the consuming. As Julia was wont to say,
"Bon appetit!"
UPDATE: Sunday, 10 February 2019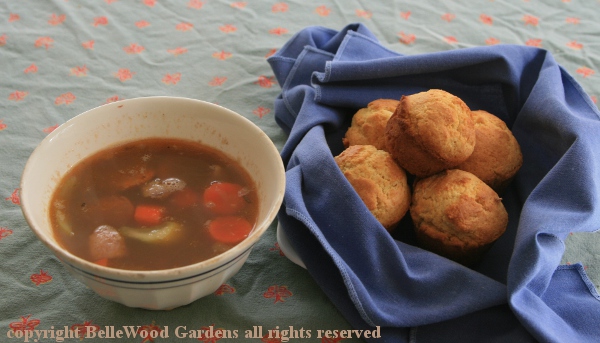 I inspired myself. For lunch I made a "week in review" bean soup (leftover scratch cooked red beans, some of the beans pureed, carrot, celery, chorizo sausage, broth) with cornmeal muffins (yellow cornmeal, flour, sugar, butter, egg, milk, baking powder.)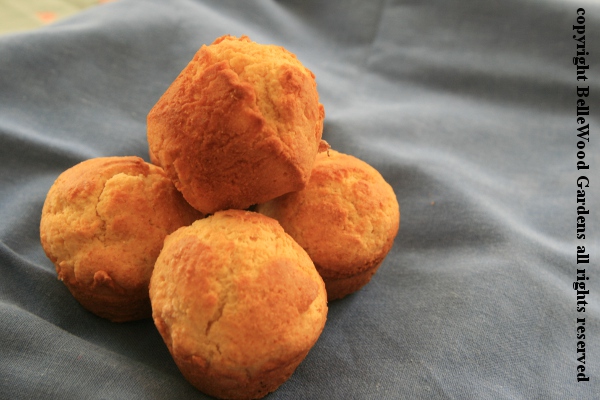 Beans are nutritious and filling. Beans and corn, eaten together, (corn tortillas or corn bread and vegetarian bean chili, for example) are even better. They have complementary amino acids. Together they make complete protein and all 9 of the necessary amino acids we do not manufacture in our bodies. And they taste good too.
---
Back to Top
---
Back to February 2019
---
Back to the main Diary Page