.
Garden Diary - December 2019
---
If you have any comments, observations, or questions about what you read here, remember you can always Contact Me
All content included on this site such as text, graphics and images is protected by U.S and international copyright law.
The compilation of all content on this site is the exclusive property of the site copyright holder.
---
December
---
A Dutch Christmas at Bouman Stickney Farmstead Museum
Sunday, 8 December 2019
Yesterday was Christmas on the Howell Living History Farm. Today's very popular, enjoyable event for families and friends is a Dutch Christmas at the Bouman Stickney farmstead museum.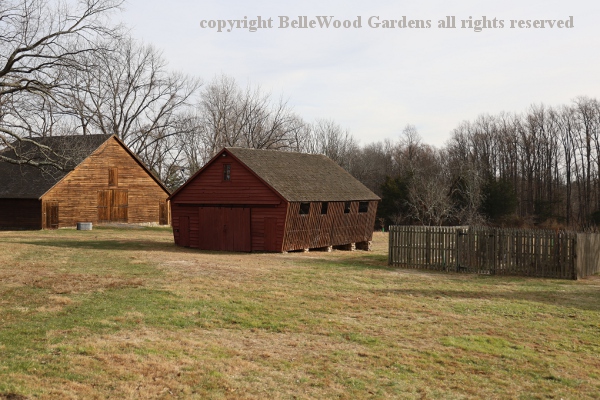 I glance over the wintry landscape of barn and outbuilding, small fenced garden.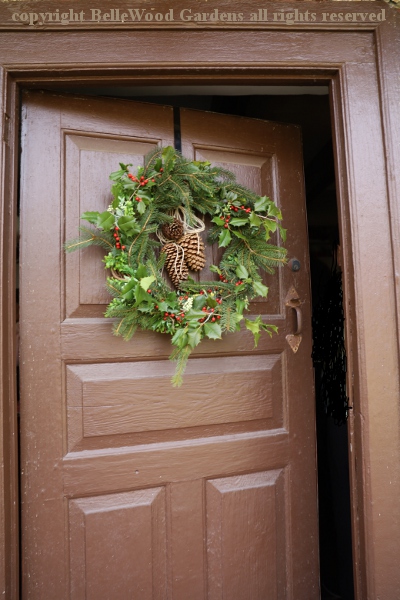 Come, the decorated front door of the house stands ajar. Let's go in.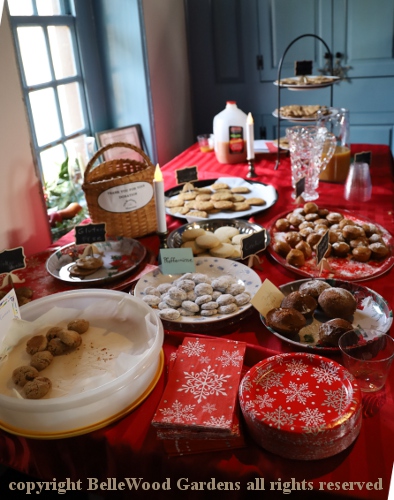 There are refreshments - an assortment of cookies to nibble, and cider to drink.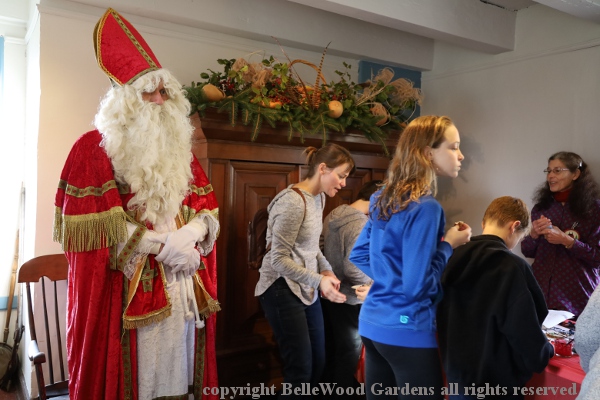 Sint Nicolaas (or perhaps you call him Sinterklaus) benignly watches children making
crafts to bring home, a pomander ball from clementines and cloves or a bishop's miter
from red craft paper. Just notice the greenery and fruit on the bedroom's armoire.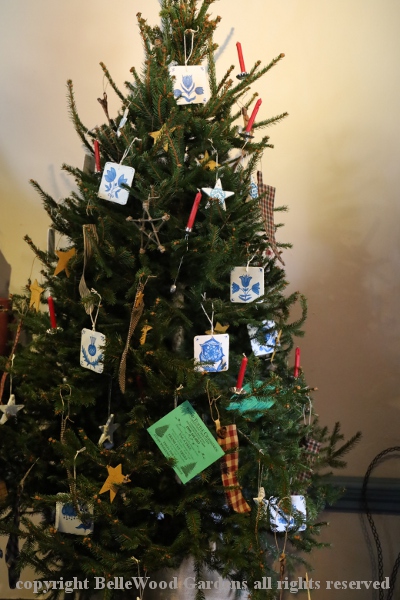 Of course there's a Christmas tree, with Delft-style blue and white ornaments.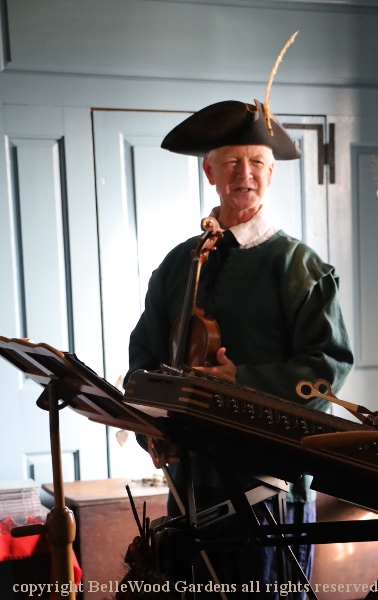 .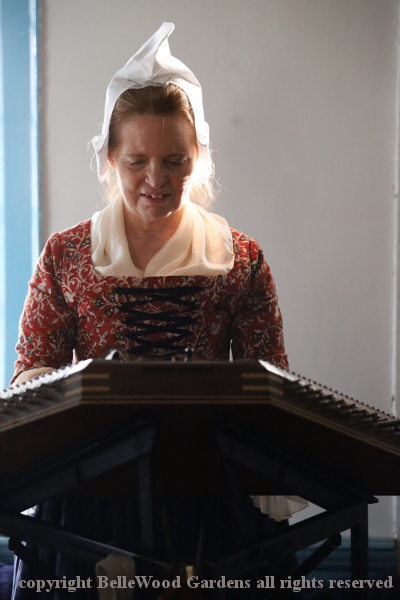 And music too. Ridley Enslow is playing carols on his historic violin - only a few strings to tune,
while his wife Anne must tune 100 to play sweet accompaniment on her hammered dulcimer.
It's crowded upstairs, where the family events and the musicians are, what with music and merriment, refreshments and crafts. I carefully wend my way down the steep and winding stairs to the kitchen with its walk-in hearth. Bev and Arlene are not actually baking - the walk-in open hearth in the downstairs kitchen can make things kind of smokey upstairs. So they had baked at home - springerle and speculas and gingerbread. They were making pastilles and other things that didn't need baking.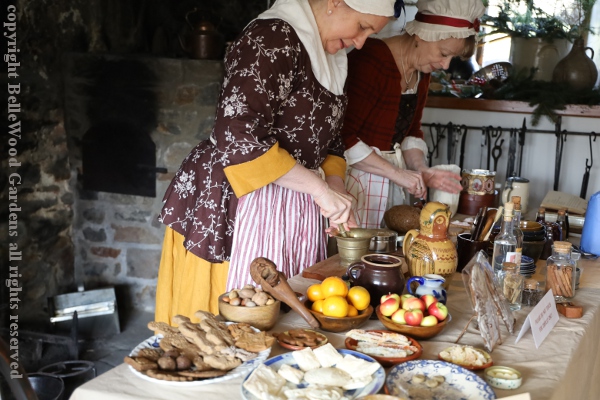 .

A plate of candied citrus peel and bright little lady apples decorate the table.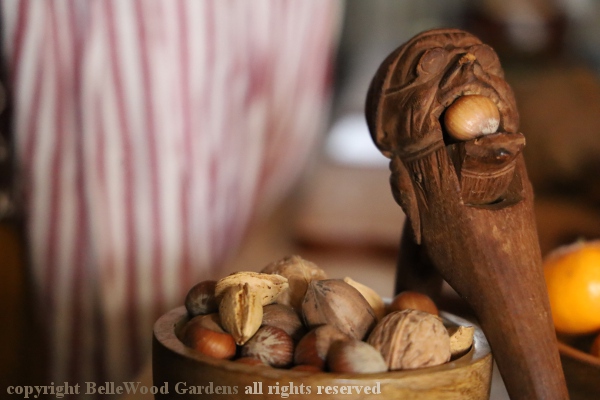 There's a pirate nutcracker. Bev gave him a hazelnut to work his jaws on.
She is working with almond paste. The colors she used are all traditional / vegetal:
dried beets (still in use today) for red, annatto (ditto) for orange, indigo for blue,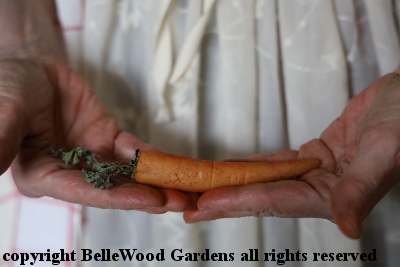 and more. Just for fun Bev made a marzipan carrot. Quite realistic, especially
with a sprig of parsley for its greenery. I'm sure you agree.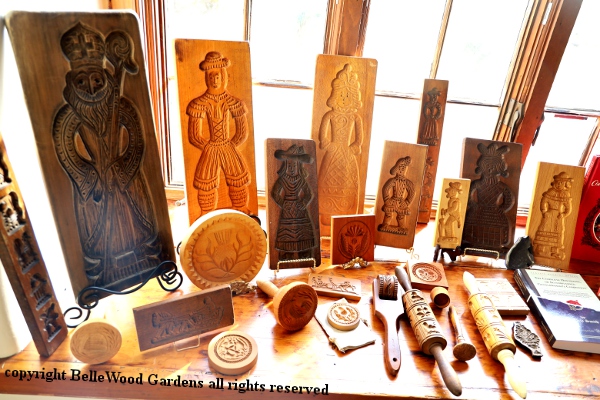 There's a wonderful collection of springerle and speculas molds. There are boards, stamps,
and rolling pins. I have a rolling pin that Nana gave me, years, decades ago. I use it every
holiday season but I need to up my game. My cookies taste excellently of anise but do not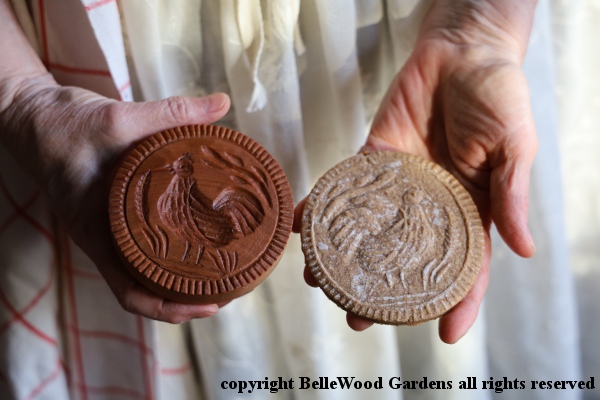 have the wonderful detailing that Bev and Arlene's cookies display.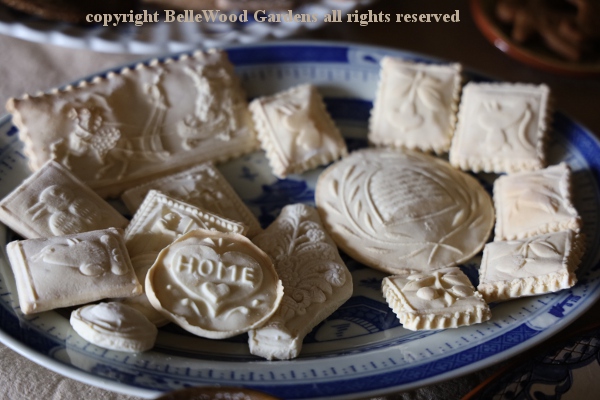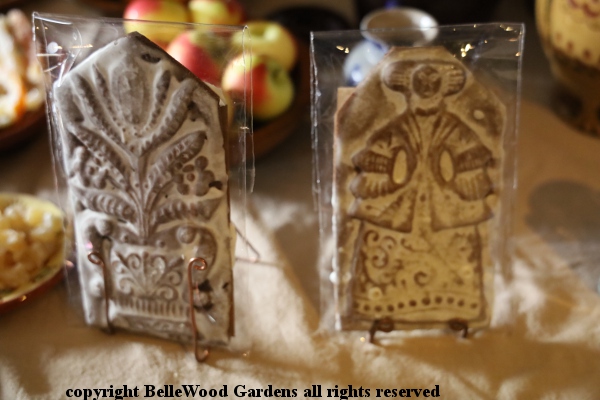 Bev is very enthusiastic about two gingerbread cookies she has, that were baked in replica Christopher Ludwick molds. Who he? Christopher Ludwick [or Ludwig, Ludowick, Ludwigg] (1720 Germany - 1801 U. S. A.) was a German immigrant to Philadelphia, Pennsylvania who served as baker general for the Continental Army during the American Revolutionary War. Here's more about a baker who was a fascinating man who lead an interesting life.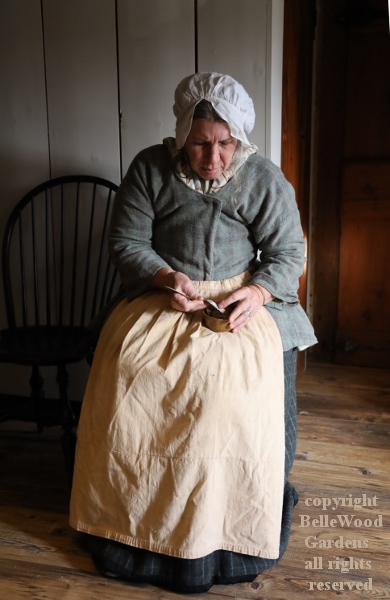 Arlene is preparing pastilles from a mixture of gum arabic, orris root,
some starch, and one or another essential oil, tincture or extract.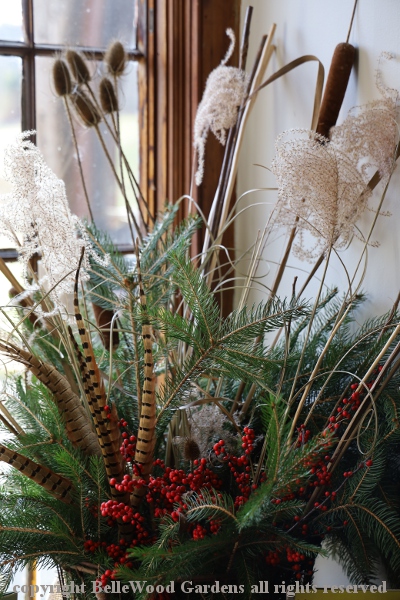 A holiday season, festive then and delightful now. Christmas is made, not bought.
---
Back to Top
---
Back to December 2019
---
Back to the main Diary Page