.
Garden Diary - February 2019
---
If you have any comments, observations, or questions about what you read here, remember you can always Contact Me
All content included on this site such as text, graphics and images is protected by U.S and international copyright law.
The compilation of all content on this site is the exclusive property of the site copyright holder.
---
February
---
Barley - Another Grain
Sunday, 17 February 2019
---
A couple of days ago I made chicken cacciatore from bone-in, skin-on chicken thighs, using the Marcella Hazan recipe that is so good. Toss the chicken thighs with flour, then brown. Set aside. Coarsely dice onion (I used a leek this time), carrots, and celery, then sautéed. Add some chopped tomato and a generous splash of red wine. Return the chicken thighs to the pot. Bring to a simmer, then cover the pot. Either simmer on stove top over low heat or cook in a moderate oven for about an hour or so. I always prepare more than I need for one meal. It's so good, and there's this yummy gloppy stuff too. Typically I'll coarsely dice the leftover chicken, rewarm it with the vegetables and braising liquids, then serve it over rice or pasta.
But tonight I wanted something different, and used pearled barley. That's whole grain barley, processed to remove its fibrous outer hull and polished to remove some or all of the bran layer.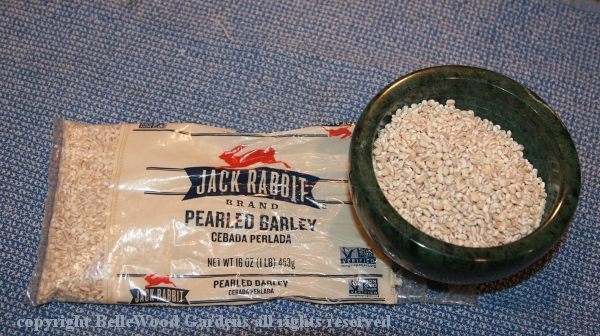 It's really easy to cook. Measure barley and put it in a pot. For each cup of pearled barley add about 2 1/4 cups of water. Stir, bring to a simmer, turn down heat and cover the pot. Cook for about an hour or a little longer. When done, barley will still be chewy.
One of the first cultivated grains, barley is used as animal fodder, and commonly made into malt in a traditional method in making beer. You are probably familiar with barley in beef and vegetable soup. But it is a wonderful grain to use like this, or in a pilaf. Have you ever used it like that?
---
Back to Top
---
Back to February 2019
---
Back to the main Diary Page