.
Garden Diary - July 2019
---
If you have any comments, observations, or questions about what you read here, remember you can always Contact Me
All content included on this site such as text, graphics and images is protected by U.S and international copyright law.
The compilation of all content on this site is the exclusive property of the site copyright holder.
---
July
---
Summer Heat, and the Bananas are Lovin' It
UPDATES: July 2019
UPDATE: 12 August 2019
UPDATE: 18 September 2019
It has been hot, hot, hot. Temperatures in the 90s Fahrenheit. And wet. Rain, rain, rain. My hardy banana, Musa basjoo, does like summer. Cut back, covered over, it survives winter. The original one, planted about 12 years ago, does better than merely survive. When summer comes it and all its pups really thrive. This summer it has gone into overdrive.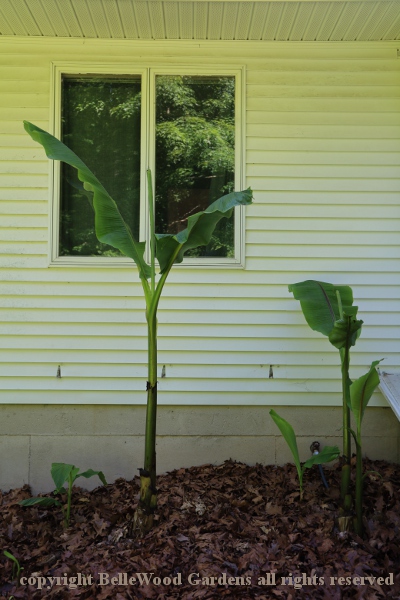 Late in May they are starting into growth.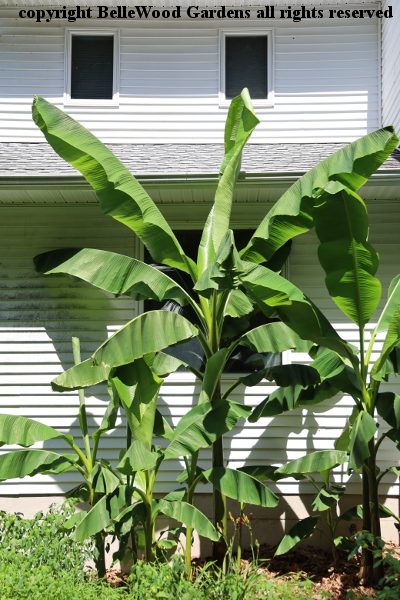 About 7 weeks later, on July 15, they begin to resemble a forest.
And this year the main pseudostem produces a leaf each week.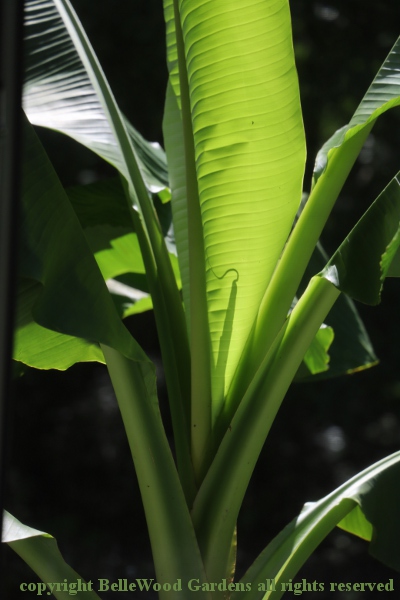 .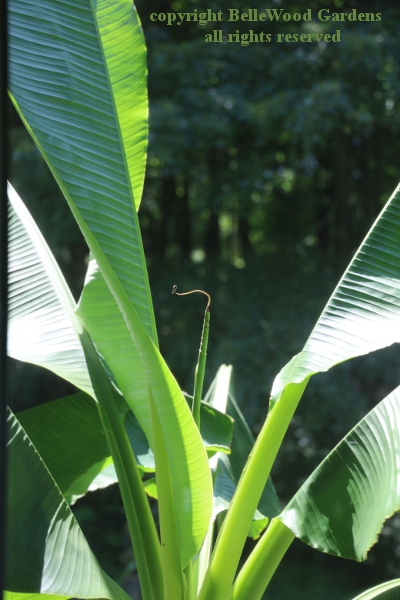 Monday, 15 July. See the new leaf's shadow. And 24 hours later on July 16, out in the open.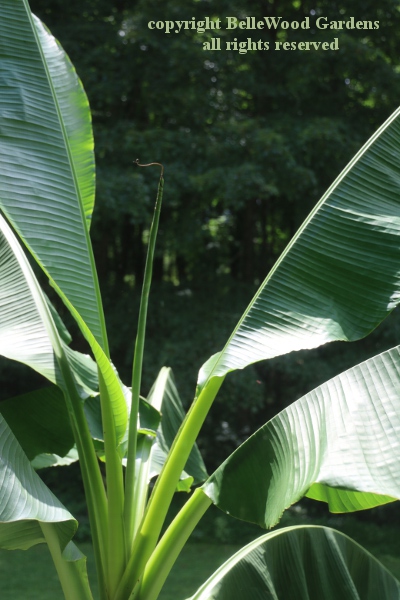 .

Wednesday, July 17. It is really elongating. By Thursday, July 18 it is approaching the soffit.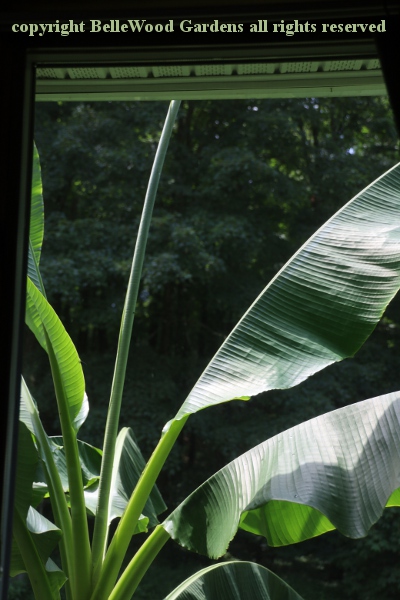 .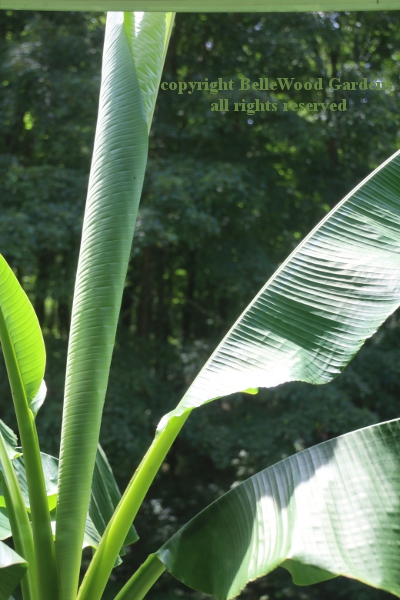 Friday, July 19. Now it is higher than the soffit. And by Saturday, July 20 it has begun to unfurl.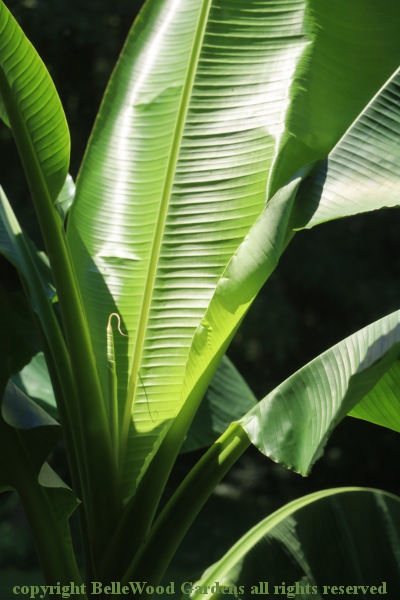 And by Sunday, July 21 what was a new leaf
just last Monday is completely unfurled, and
with another leaf eagerly starting into growth.

The banana forest on July 25.
Before you ask, yes my banana forest has, very infrequently, flowered and fruited. But this species has very small, fibrous, not very edible bananas. If the pseudostem does flower this year I will harvest the flowers and eat them. The pseudostem itself will die but the corm survives, to grow again. I do use the leaves as a wrap for cochinita pibil, Mexican style slow cooked pork, and also for banana leaf wraps.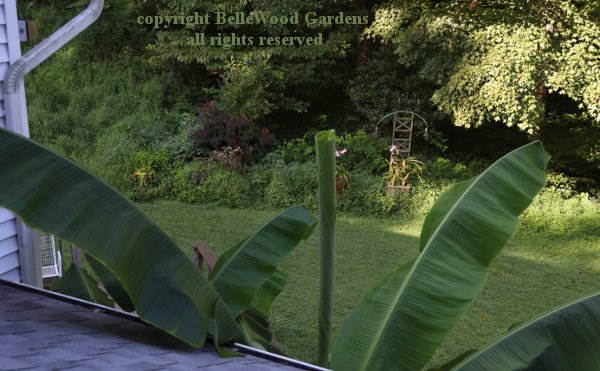 UPDATE 12 August 2019: The banana leaves on the primary pseudostem are now well above the roof overhang and can be observed from the second floor bathroom.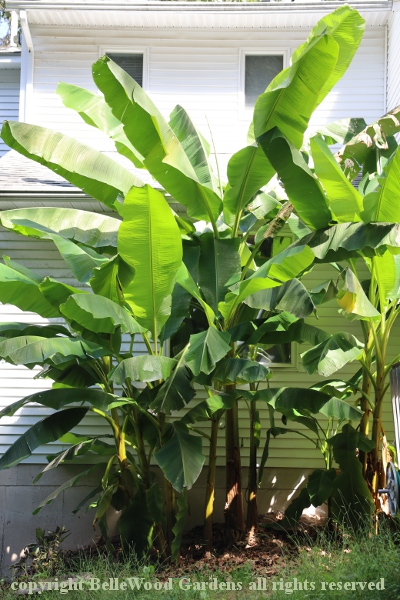 ANOTHER UPDATE 18 September 2019: Up, up, up. But the nights are getting cooler, dipping down into the 40s Fahrenheit. This will, I'm sure, slow the bananas growth.
---
Back to Top
---
Back to July 2019
---
Back to the main Diary Page