.
Garden Diary - April 2019
---
If you have any comments, observations, or questions about what you read here, remember you can always Contact Me
All content included on this site such as text, graphics and images is protected by U.S and international copyright law.
The compilation of all content on this site is the exclusive property of the site copyright holder.
---
April
---
Tuesday, 16 April 2019
A Visit to Tlaquepaque
As we go here and there our travels often start off on Arizona Rte 179 and the numerous Sedona round-abouts. Passing Tlaquepaque arts and craft village again and again, the group consensus is to make a visit. It fits into Tuesday's schedule. First though, I need how to say the name. Multiple repetitions and I think I have it: tlah-kay-PAH-kay
There's the main village, and Tlaquepaque North, a newly developed expansion on the opposite side of Rte 179. Two men with slow / stop lollipop signs control the traffic for pedestrians hurrying across the road. Be clear, this is a shopping experience with more than 50 art galleries, jewelry shops, specialty shops, and five restaurants.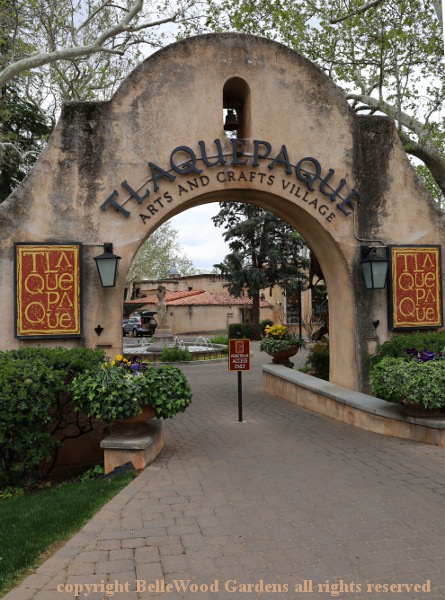 It's not just shops and galleries that make a visit worthwhile. Constructed around existing sycamores on the banks of Oak Creek, Tlaquepaque is a beautiful place to visit, with Spanish-style buildings and details that provide the ambience of a quiet Mexican style village. And flowers.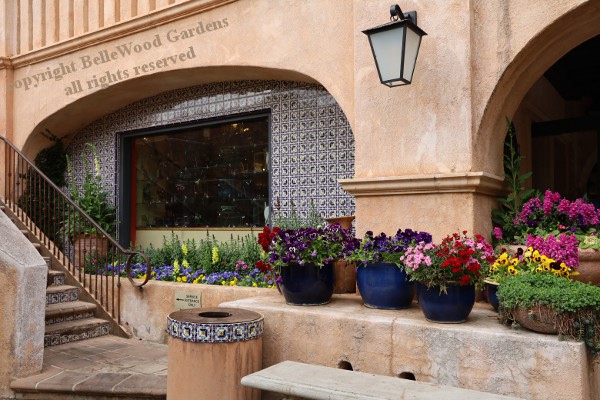 Mixed plantings with foxgloves on the left, transitioning to snapdragons, dianthus,
pansies, and a few tired primroses. Arizona is not climate-appropriate for primroses.
I think they must have a greenhouse somewhere, for all the potted flowers we saw.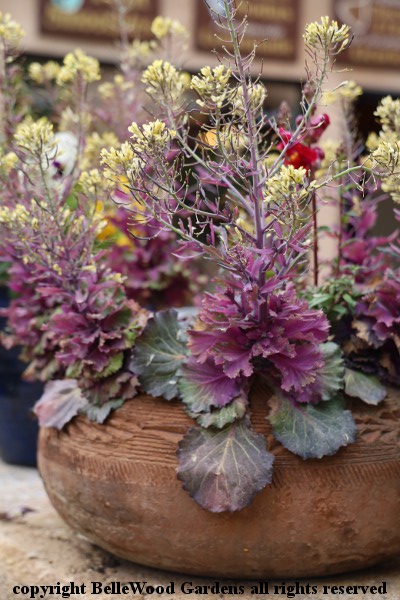 What fascinated me were the small pots of kale, attractively in flower.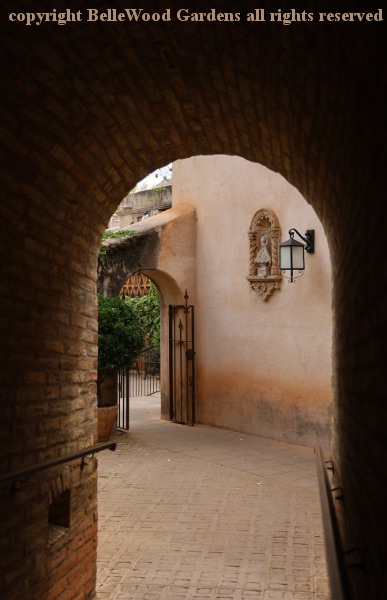 If you are looking for a specific gallery or shop, a map is needed. If instead you are just wandering and admiring the architecture - stucco walls, cobble-stoned walkways and magnificent arched entryways from one courtyard to another plaza - then you're fine.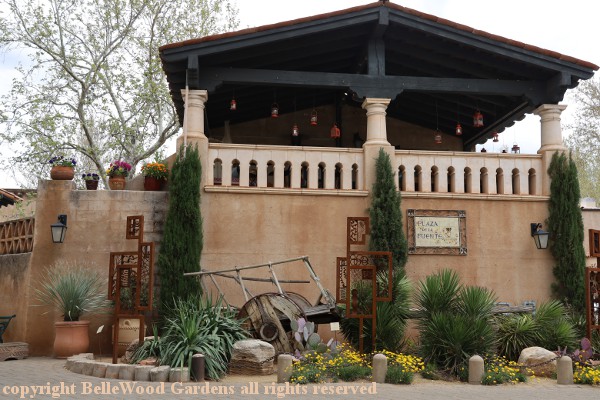 .
There are splashing sounds from a three tiered courtyard fountain
beneath the dappled shade of sycamore just beginning to leaf out.
Another courtyard also has a fountain, different in pattern with
a somewhat pseudo Mesoamerican design, which carries over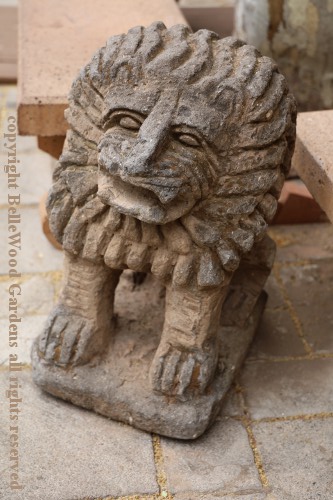 to a small lion-esque statue sitting nearby.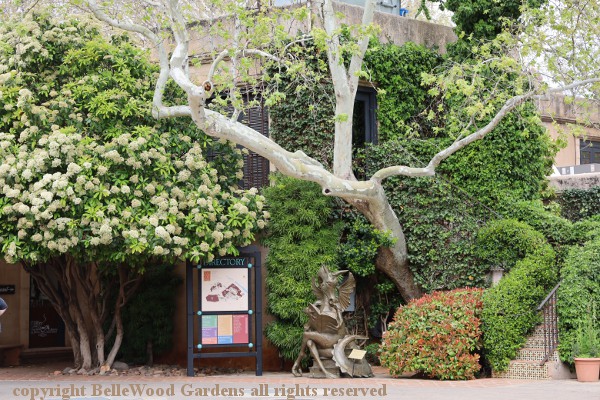 There is art embellishing Tlaquepaque here and there. For example, near the stairs
and under the sycamore there is a statue. It is of Delbert the dragon, and he is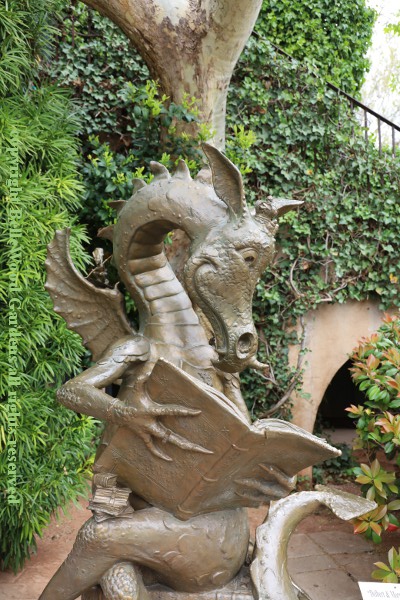 reading a book. Cannot see from this point of view but there is a
small mouse on his shoulder, reading along with him. In bronze.
Available from Mountain Trails Gallery. $75,000. Shipping extra.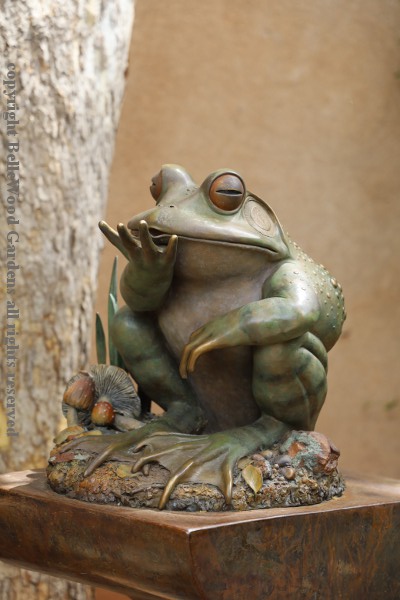 Elsewhere there is a wonderful sculpture of a thoughtful frog,
a couple of mushrooms at his feet. What a charming piece.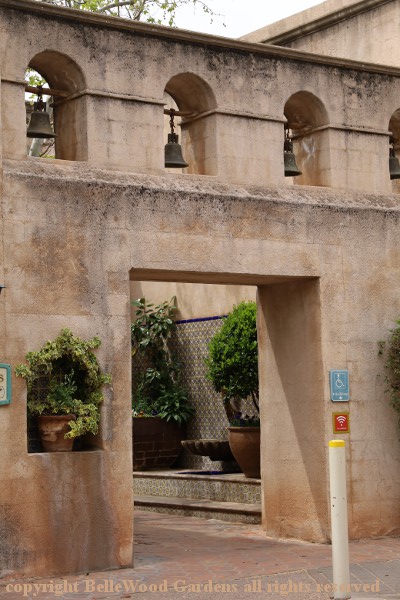 Glimpse into yet another plaza through a gateway. Pots of greenery,
a tiled wall with fountain, and the wall topped with a series of bells.
There is a cross with embossed pattern on arms and shaft. It is
on the plaza in front of a chapel, occasionally used for weddings.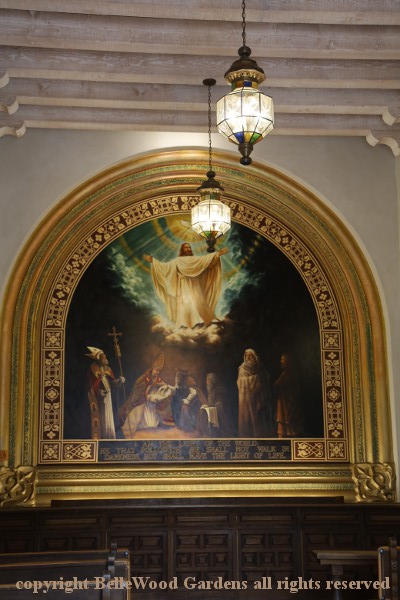 I peer through the grillwork at the elaborate artwork inside.
Non-denominational, the small chapel can seat 36 guests.
In among the sycamores outside Renee Taylor Gallery there is a garden of kinetic wind spinners made by Lyman Whitaker. Made from copper, stainless steel, steel these are a a diversity of shapes, devices that twirl in the lightest breeze as they catch the movement of the air.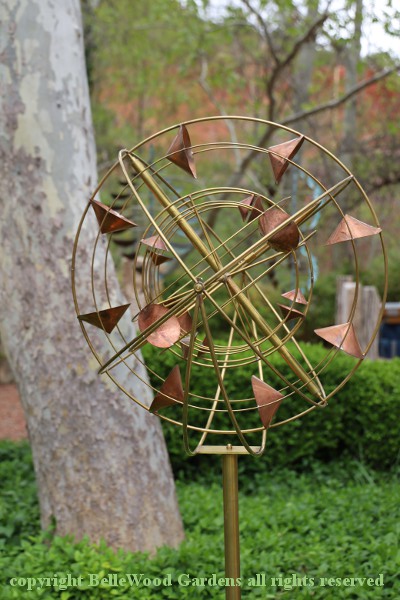 I was especially intrieged by StrataSphere, a different style of wind spinner by Roger Heitzman. Its movement makes me think of gyroscopes within gyroscopes as the entire sculpture takes on a random yet graceful spinning motion in the wind.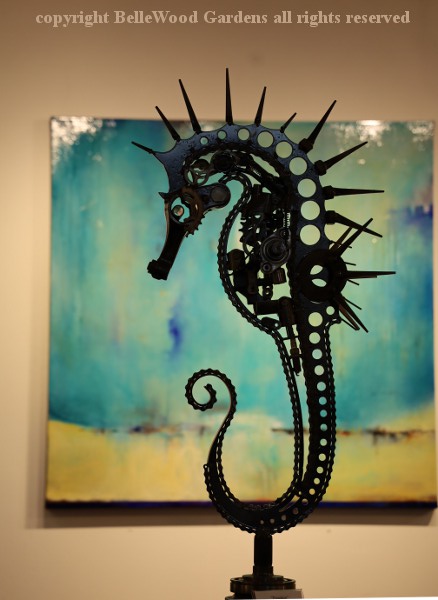 And inside, in the Vue Gallery at Renee Taylor Gallery, are some sculptural pieces made of bicycles chains, gears, springs, and other work-a-day parts. I was especially taken with this seahorse, although there was also a very good leaping dolphin.
One item I was hoping to find in Sedona was an empanada press. Where better than in the heart of the Southwest. I figured there would probably be empanada emporiums. Not so. In fact some places where I enquired, "Hast thou an empanada press?" either did not know what it was or offered me a tortilla press in lieu.
Two cookware shops - The Artist's Kitchen in Tlaquepaque North and
Cucina Sedona in the main complex. Lots of items. No empanada press.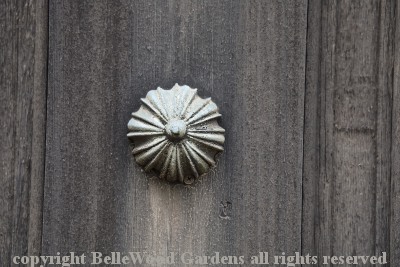 A little knob on weathered wood. It is one of a grid of 56 on the gate.
Even small details are imbued with beauty here at Tlaquepaque.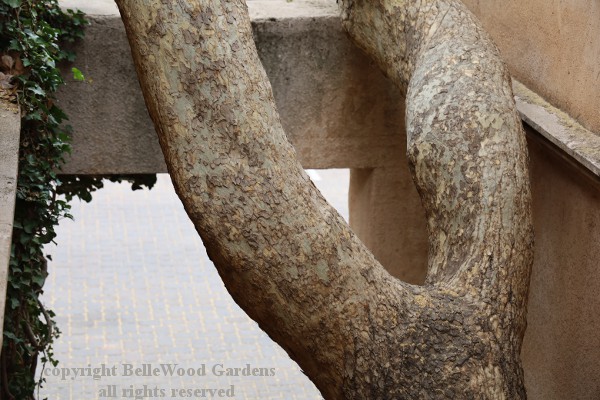 An old sycamore. The building has carefully been built around it. Sense of age.
Old trees. Vine covered wall. Give the feeling that
Tlaquepaque has been here if not for centuries,
for a long time, for more than four plus decades.
---
Back to Top
---