.
Garden Diary - April 2019
---
If you have any comments, observations, or questions about what you read here, remember you can always Contact Me
All content included on this site such as text, graphics and images is protected by U.S and international copyright law.
The compilation of all content on this site is the exclusive property of the site copyright holder.
---
April
---
April 2019
Arizona Omnium Gatherum
As we go here and there and elsewhere there are also tidbits and happenings that should be mentioned but do not necessarily need an entire entry of their own. To wit -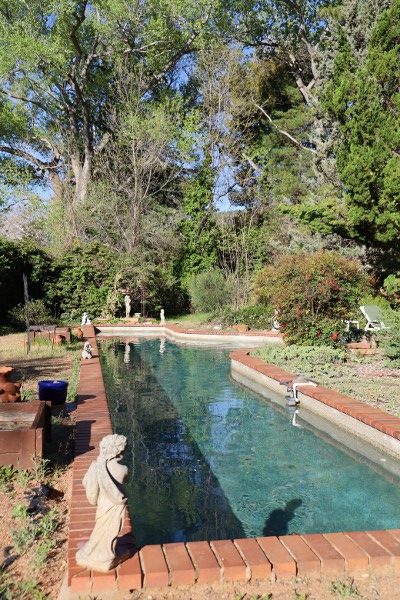 The AirB&B at which we stayed had a lap pool. I really, truly wanted to swim.
Night temperatures in Sedona, in April, are in the 40s Fahrenheit. I did go in,
one afternoon. It was brisk! Moving around stirred up cold currents. I dunked.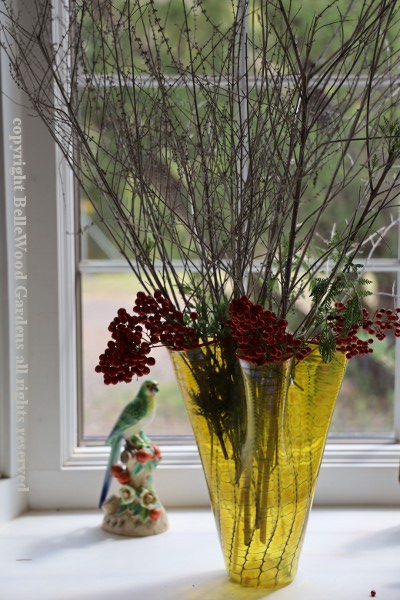 I garden. It's my thing. Which, since you visit BelleWood Gardens website,
is something you already know. The garden at our AirB&B had some arid
climate plants. Some of which needed attention. It was the Russian sage,
Perovskia atriplicifolia, that bothered me. New green growth lower down
on the stems, last year's dry dead growth above. So I found some clippers,
trimmed them up, then made a sort-of-arrangement in a vase. That's better.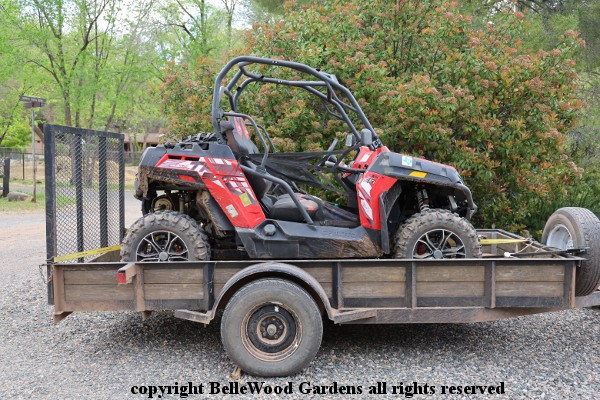 Five of us flew to Phoenix from here and there. Steve wanted to off-road with his UTV.
So he drove, trailering it behind him. Since he had, cough, cough, all that room it meant
he could bring things along. Like Mira's InstantPot. Which we did indeed put to good use.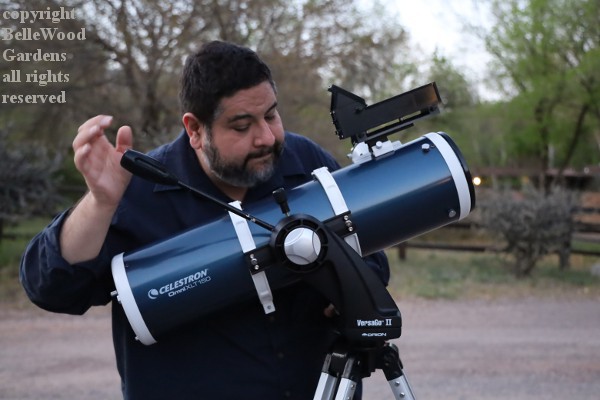 And also Luis' Celestron telescope. Good sky watching - the Pleiades were wonderful!
As an aside, at a Pink Jeep Tours booth in Tlaquepaque we did ask what was their most extreme Sedona tour. Broken Arrow, they said. Here's the description on their site: "Exclusive to Pink Jeep Tours, the Broken Arrow Tour is our most extreme off-road adventure. It features giant red-rock spires and the area's most iconic rock formations." When we were all gathered together later that afternoon Paul mentioned it to Steve. Who looked at him quizzically. Then said, "I did that yesterday. Twice. Once with the UTV and once with the Lexus." 'Nough said. Maybe "extreme off-roading," for the tourists.
The metaphysical community in Sedona has been pretty well established since the 1980s, when the vortices were defined. You can have your aura read, fortune told and/or past lives revealed. There are shops offering aura photography and psychic readings. Crystal shops sell vortex charged power crystals.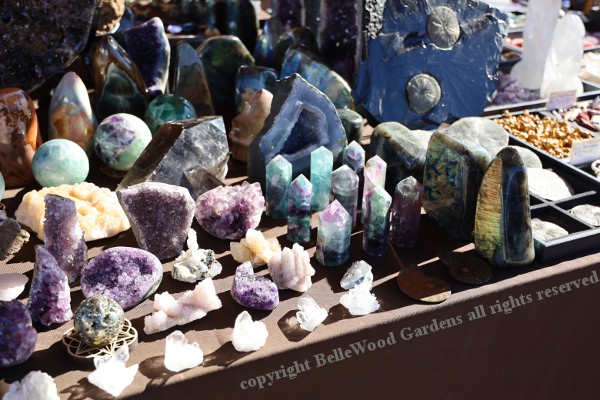 This was just one of the booths with crystals for sale at an art festival
where there were crafts, prickly pear preserves, and fairy/angel readings.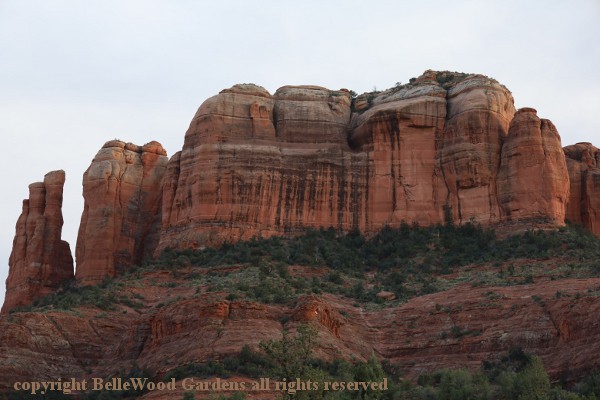 One day towards sunset we three women went off for a hike at nearby Cathedral Rock.
There's supposed to be a vortex there. Sedona is really big on vortices, which are places
or situations regarded as drawing into the center all that surrounds it. I went partway up.
The others went higher. The light quickly fades down in the dry riverbed as the sun sets.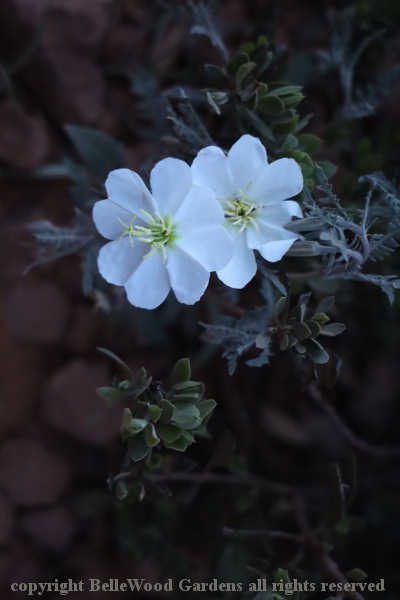 Flowers that had not been noticeable were now enchanting.
Pale evening primrose, Oenothera pallida, opens at dusk to
attract hawkmoth pollinators to its fragrant night flowers.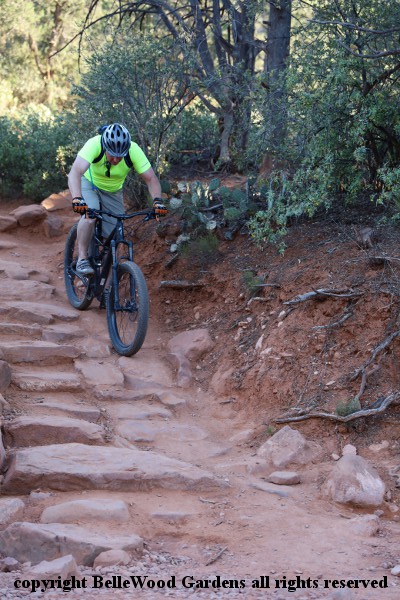 Another late ramble on a different day had bicyclists off-roading.

I appreciated how buildings melded with the landscape.
Flat roof and, rounded corners, hues of tan or sage green.
To balance the landscape and retail areas, Sedona put restrictions on building design
and signage - how high buildings could be and colors storefronts and signs could have.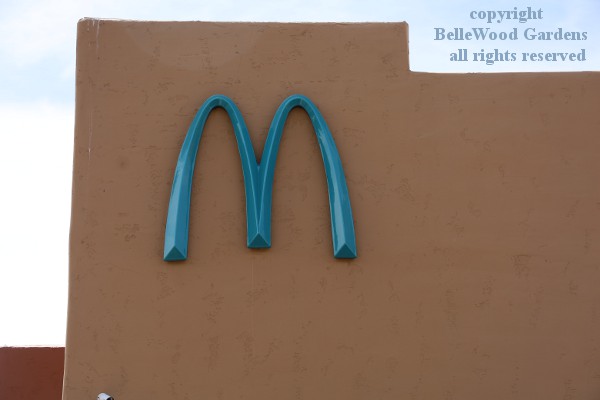 Which means that the McDonald's on Route 89A in Sedona has turquoise blue arches.
One day we went to Flagstaff, and visited the Lowell Observatory. Wonderful visit.

All sorts of events and happenings. Here, Luis is peering at the sun
through a solar telescope. Not flares and prominences, interesting
none the less. Lecture about the history of the observatory. And the
Rotunda Museum was open with some interesting displays as well as


their new OmniGlobe, like a planetarium with displays on the globe's interior.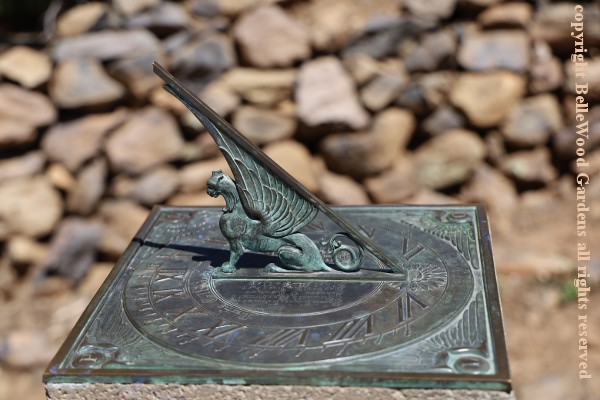 I was smitten with this sundial, which had been presented by the observatory staff
to Percival Lowell upon the occasion of his 50th birthday. I first thought the gnomen
was a griffin. But then it would have an eagle's head. Some searching revealed that
it is, most likely, based upon the Lion of Saint Mark, in Venice.
Addendum: Arizona is on Mountain Standard Time. Other than the Navajo Nation in northeastern Arizona which does observe daylight saving time the state does not observe daylight saving time. Which means that this attractive sundial does not require twice yearly adjustment.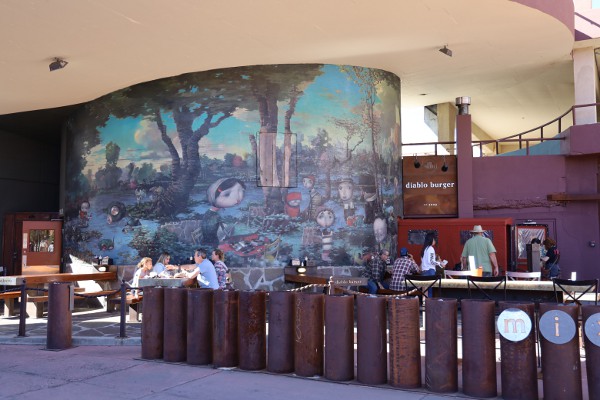 After which we went to Diablo Burger, in Flagstaff, for a very good lunch outdoors, on the plaza.
Wandering (by car) sort of heading for Cottonwood we went to Jerome, a town in the Black Hills of Yavapai County along State Route 89A. Founded in the late 1800s on Cleopatra Hill overlooking the Verde Valley, the town owes its existence to mining. In total, the copper deposits discovered in the vicinity of Jerome were among the richest ever found.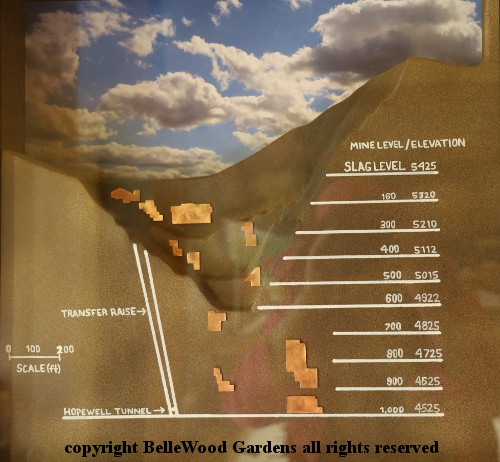 The United Verde Mine extracted ore bearing copper, gold, silver, and other metals.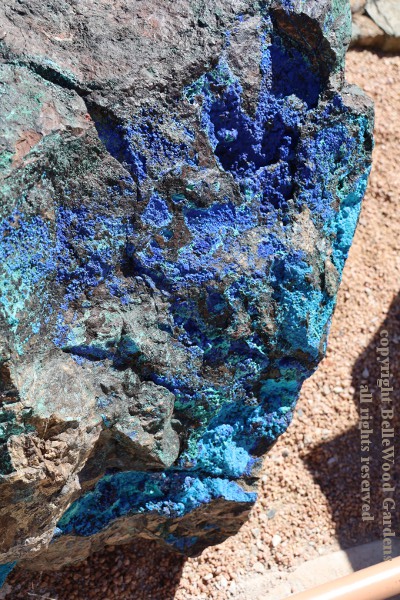 The Arizona State Parks mining museum has a diversity of exhibits,
such as this 2700 pound azurite and malachite boulder from Morenci.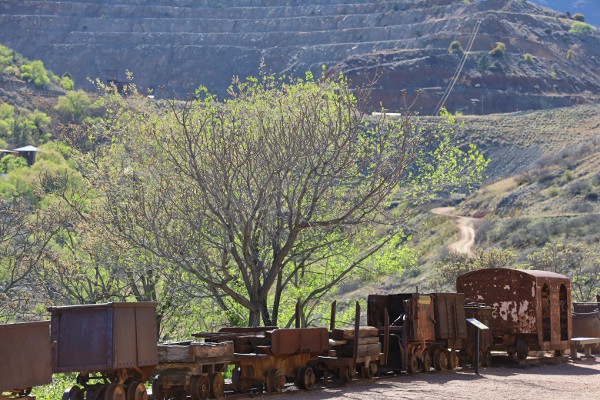 There's an ore train to admire also. Notice the terraces in the background of the image.The decision to turn the United Verde Mine into an open-pit operation led to abandonment of the narrow-gauge United Verde & Pacific Railway between Jerome and Jerome Junction. Instead, the 11-mile Verde Tunnel & Smelter Railroad and a companion electric line, the Hopewell Haulage Railroad, transported ore to Clark's new smelter from two different levels of the mine. The electric train, the lower of the two, ran through the 7,200-foot Hopewell Tunnel to a station called Hopewell, where ore was transferred to the Verde Tunnel & Smelter Railroad. The video we watched in the museum indicated that the smelters were so toxic that the sulphur fumes poisoned the native trees that had been growing in the area.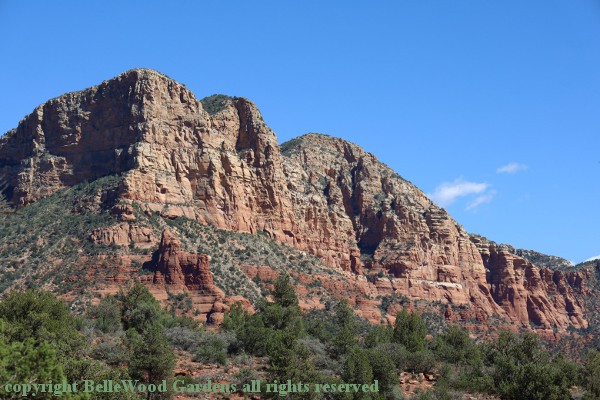 What I remember best from this trip is the big blue sky and the red rocks.
---
Back to Top
---