.
Garden Diary - February 2019
---
If you have any comments, observations, or questions about what you read here, remember you can always Contact Me
All content included on this site such as text, graphics and images is protected by U.S and international copyright law.
The compilation of all content on this site is the exclusive property of the site copyright holder.
---
February
---
A Taste for Herbs:
A guide to seasonings, mixes and blends
from the herb lover's garden,
a book review
Sunday, 24 February 2019
---
Spring is less than a month away. One sure sign, the arrival of seed catalogs in the mail box. Enticing images and glowing descriptions that encourage optimistic visions of abundance. Real tomatoes, bursting with flavor, embellished with some snipped basil . . . Now it is true that even in the depths of winter you can purchase tomato shaped vegetable products. The flavor is not the same as summer's Jersey fresh, silken skinned plump red globes. And herbs are available fresh, dried, frozen. But what a delight to step out the door and pick your own.
It is easy, in the tag end of the winter doldrums, to order more seeds than can be cultivated. Visit a nursery or garden center and fill the cart with one of this, some of these, others of those. Herbs tend to be quite easy to grow - as long as you do not over water, over fertilize. They like sun and good drainage. Better yet, they are pest resistant. Even deer, those garden ravagers, dislike fuzzy, pungent, strongly flavored foliage.
You acquired a variety of herbs. They grew. Now what? Obviously, you need to harvest, use and enjoy, and store the excess for winter that will come again. Help is here with a pleasant book with just this information.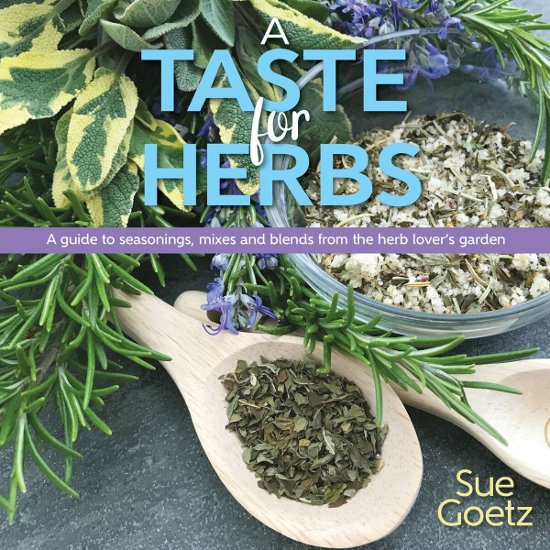 image courtesy St Lynn Press, copyright Sue Goetz
A Taste for Herbs: A guide to seasonings, mixes and blends
from the herb lover's garden. By Sue Goetz
But wait, there's more. First, there's discussion of 20 different favorite herbs from basil through thyme, including annuals and perennials, many likely to be familiar and others perhaps less so. Each two page spread includes common and Latin names, varieties to look for, what part of the herb to use, how to grow and harvest, food and flavor pairings, and other uses. The inclusion of page references to recipes that use that herb further on in the book is very helpful. No need to flip back and forth to the index, which I actually found awkward to use.
There is one page of four unusual or tender herbs: lemon grass, bay leaves, stevia, and saffron. Added for completeness, these are written more like passing thoughts than actually helpful information. Suggesting someone grow their own saffron crocus but no mention of its autumn flowering and picky need for specific conditions will confuse gardeners familiar with the easily grown spring blooming crocuses.
Although the book's title mentions herbs there is an interesting chapter about spices. The difference? We're told that herbs are green plant parts and spices are woody aromatic bark, seeds and pods from warm temperate climates. Descriptions and uses for 9 different spices. Next - how to make your own vanilla. Moving on to vegetables, fruits and roots (citrus, allium, horseradish) and edible flowers.

image courtesy St Lynn Press, copyright Sue Goetz
What comes next, now that you've grown some herbs?
Why, harvesting and preserving your herbal bounty.
Tools such as scissors and pruners are better than tearing at the plants. Time of day to harvest. Options and possibilities for preserving herbs range from drying on racks or screens, freezing techniques, plus storage and shelf life.
If the first part of the book is about gardening and harvesting, the second half takes you into the kitchen and working with herbs. There's a glossary of utensils and preparation terms you should know. Goetz starts with dry seasoning mixes - herbs with salt combinations, and no-salt herb blends. For example, a lavender French grey sel et poivre (French grey sea salt, ground black peppercorns, and dried lavender buds) plus a recipe for incorporating the blend in microwaved scrambled eggs in a mug. Lots of recipes in this section of the book: easy herb beer bread mix, sausage seasoning, herby ranch dressing mix and more. A helpful page discusses different types of salt and recommends when to use which one.
From there, a short section on rubs offers savory blends to make up in advance and keep on hand for fish, poultry, pork, and beef. Then, sweet flavor enhancements that incorporate herbs by infusing their flavors in honey or with sugar, and making your own herbal simple syrups. As with the salt there is information on different types of sugar, and a sentence or two on sweet alternatives such as agave.
Dressings and condiments, the recipes using low to no sugar, salt, and fillers so often found in commercial products, include such summertime favorites as pesto, with variations you might not have considered - make a lemon / lime pesto that uses lemon basil, lemon thyme, lemon verbena, lime juice, garlic, light olive oil, and salt for pasta with shrimp.
Herbal vinegars. Of course, there's information on different vinegars and when to use a specific one. Flavored herb oils. Naturally, options of various available oils and when to use a specific one. Herb butters, mustard and mayonnaise. A page offering a recipe for a savory herb flavored cream cheese and another recipe that's sweetly floral.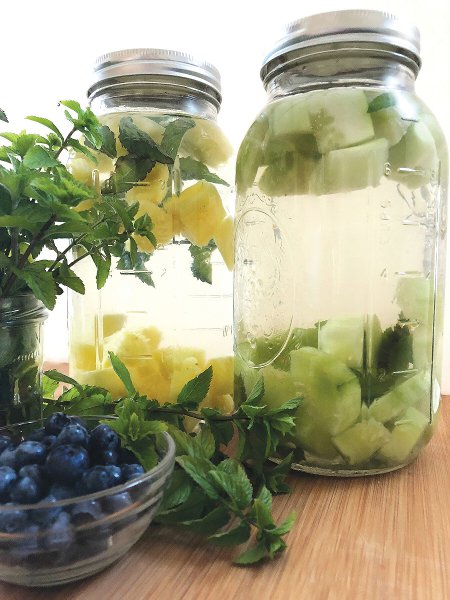 image courtesy St Lynn Press, copyright Sue Goetz
If all of this is making you thirsty you can slake your thirst with herb infused waters.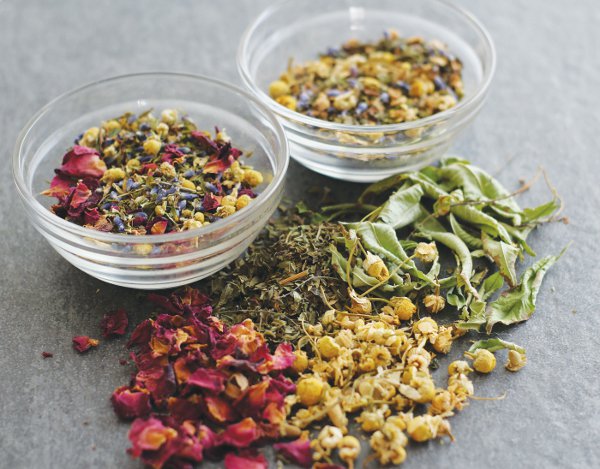 image courtesy St Lynn Press, copyright Sue Goetz
Why buy herbal teas when you can make your own? Either use one herb
or develop / create your own unique house blend from dried herbs.
Water is not the only beverage you can infuse with herbs.
Go alcoholic with wine, infused liquors, sangria, cocktails.
Appendices in the back include a list of recipes (but these have no page references), book references, other suggested reading and books from the author's personal collection, herb publications, herb societies. A page of resources for dried herbs and kitchen supplies, packaging, plants and seeds.
A Taste for Herbs by Sue Goetz
published by St Lynn Press, Pittsburgh, PA, 2019
Hard cover, color images throughout, $23.95
ISBN 13: 978-1-943366-38-5
A review copy of this book was provided by the publisher
---
Back to Top
---
Back to February 2019
---
Back to the main Diary Page