.
Garden Diary - January 2018
---
If you have any comments, observations, or questions about what you read here, remember you can always Contact Me
All content included on this site such as text, graphics and images is protected by U.S and international copyright law.
The compilation of all content on this site is the exclusive property of the site copyright holder.
---
January
---
Winter on the River

---
Wednesday, 3 January to Sunday, 28 January 2018
Living just a couple of miles from the Delaware River it means that when I go into town it is easy to see how high or low the water is. January . . . well January began with colder than usual weather. There was snow. There were a couple of weeks when temperatures never reached the freezing point. It's been cold enough that there's solidified water flowing by on the liquid layer. Downriver by Trenton, where the river is wider and thus shallower than it is here, it was completely iced over. And mixed in with that there was absurdly warm weather where it reached 62 degrees Fahrenheit on January 12. Strange month.
Wednesday, 3 January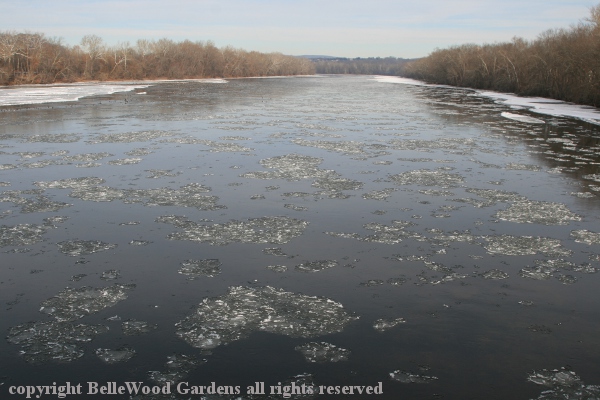 The view up-river reveals the ice skimming past.
Near the shore is a "beach" of ice. And a tongue of ice colliding
with the concrete of the piers supporting the bridge to Pennsylvania.
The ice floes are noisy, crinkle / crackling as they bump into things.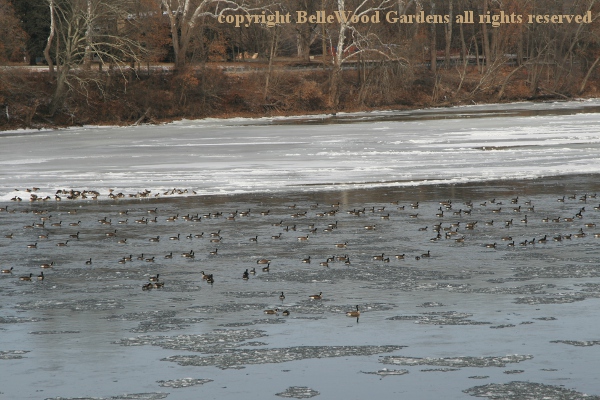 But not so noisy as the geese congregating on the shoreline ice and swimming in cold water. Their feet don't freeze because the artery and vein in their legs are adjacent, so warm arterial blood helps warm up the cold venous blood traveling back to the bird's heart.
Saturday, 6 January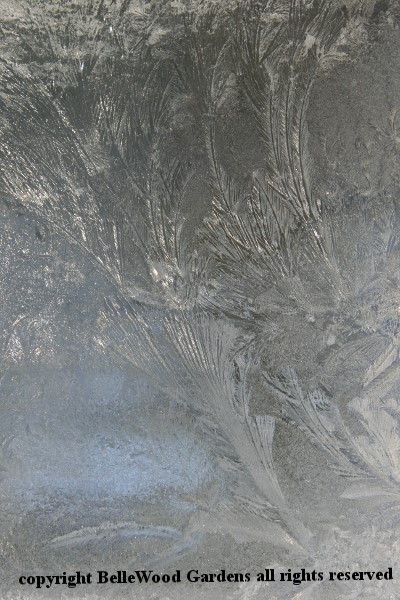 There's a night curtain for my greenhouse. When open it means that I can look from the kitchen into the greenhouse. Last night, Jack Frost painted frost flowers on the glass. What with double pane windows it's a rare thing to see.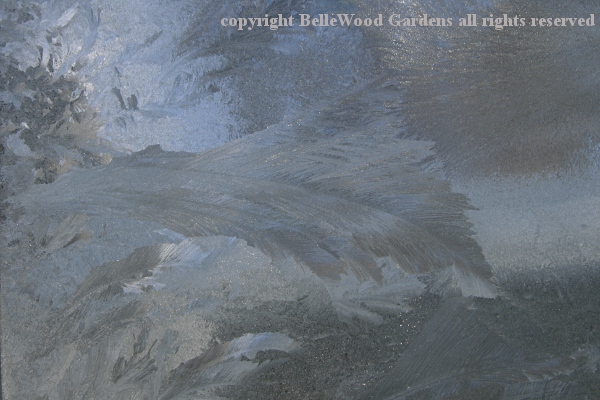 Sunday, 7 January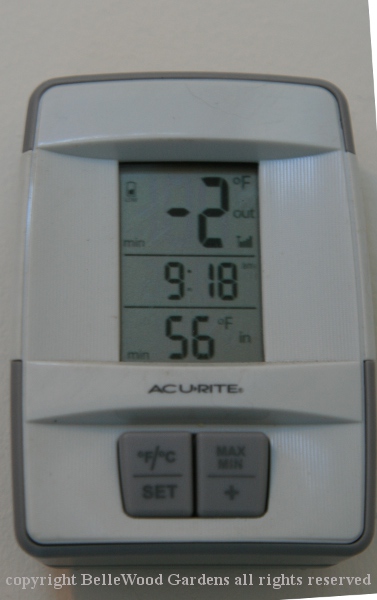 Last night was very cold, sub-zero Fahrenheit.
More ice covering the water, and more geese clustered on the river.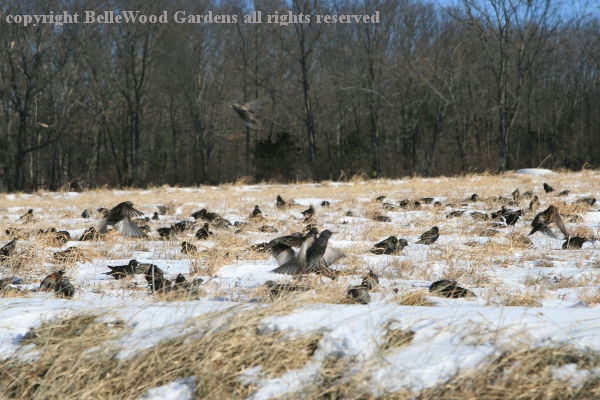 A field closer to home has a flock of starlings foraging for seeds.
Wednesday, 17 January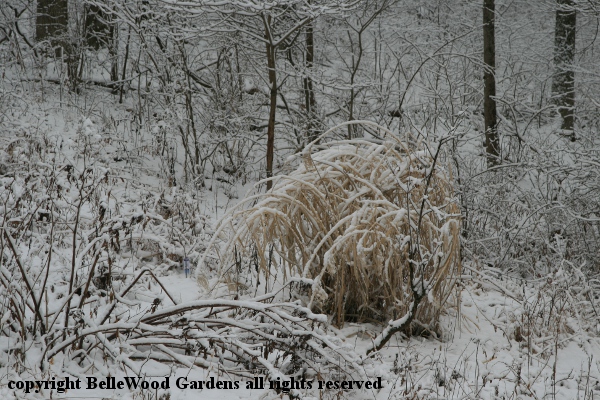 It warmed up, and snowed. Heavy wet snow weighing down the plants.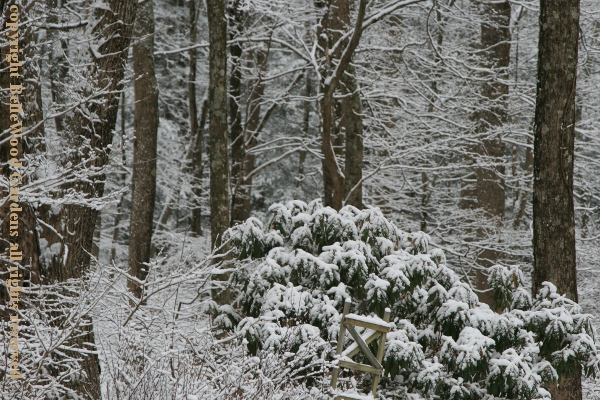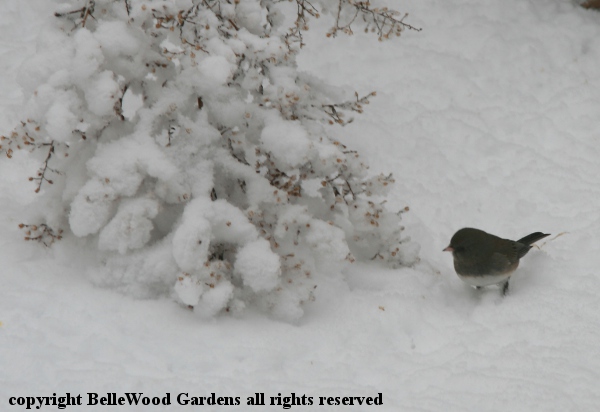 A junco, searching for seed beneath the bird feeder.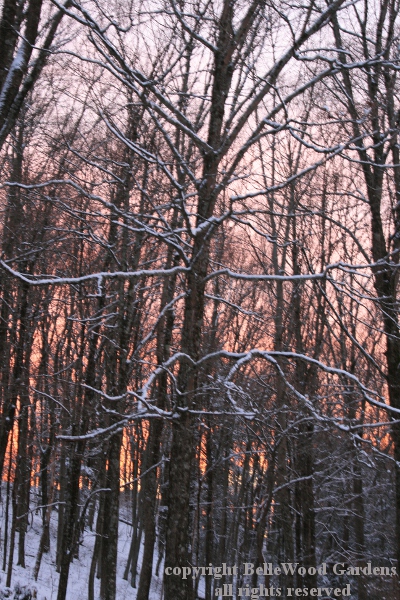 Colorful sunset. Tomorrow should be better weather.
Friday, 19 January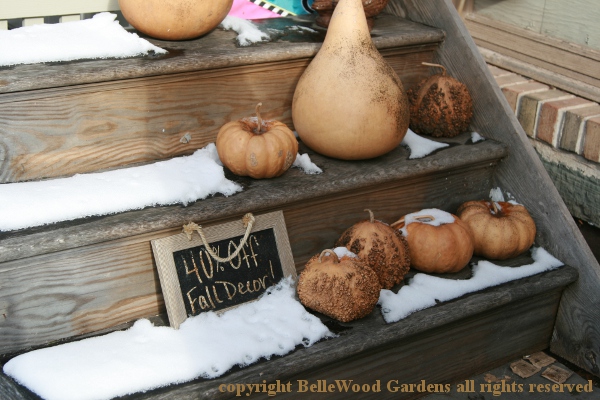 Optimistically, a discount offer for gourds in the snow.
Friday, 26 January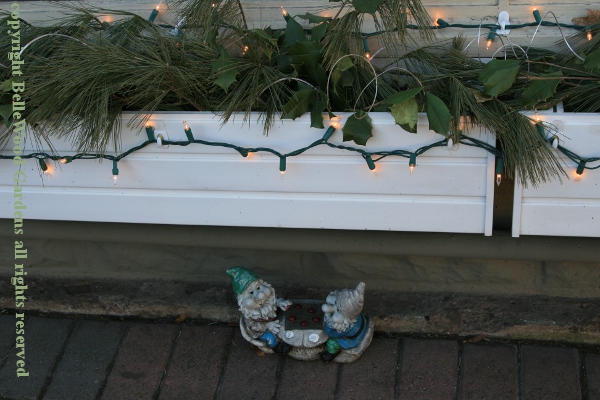 Two little gnomes at a table under a storefront window box.
The story I've heard from a couple of people is that there was a woman with a yard full of gnomes. And when she was about to move, she distributed them all around town. Like these.
Sunday, 28 January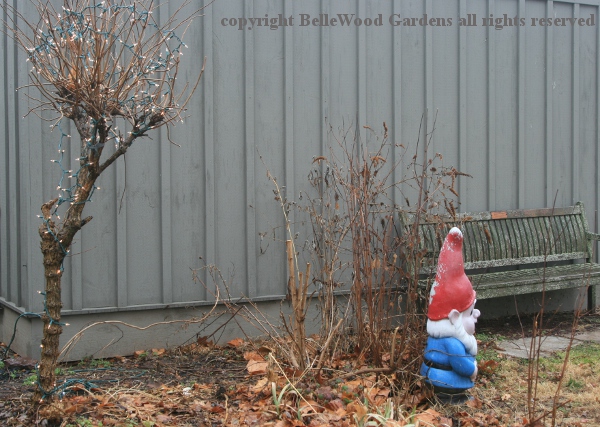 Here's another, described as the largest one in her collection.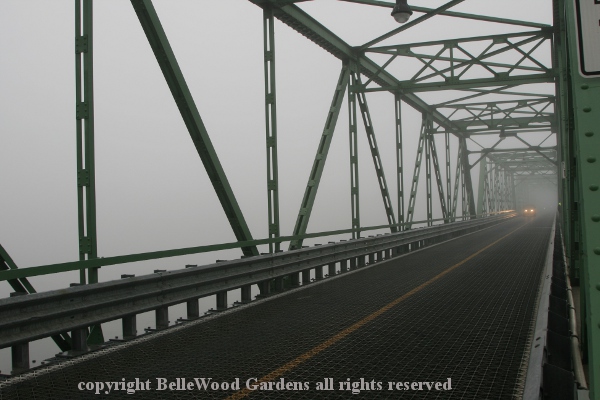 Today it's warmer. And so foggy that I cannot even see the river.
---
Back to Top
---
Back to January 2018
---
Back to the main Diary Page