.
Garden Diary - May 2018
---
If you have any comments, observations, or questions about what you read here, remember you can always Contact Me
All content included on this site such as text, graphics and images is protected by U.S and international copyright law.
The compilation of all content on this site is the exclusive property of the site copyright holder.
---
May
---
At Wave Hill
Big Trees, Other Plants, Family Fun, and Avifauna
Sunday, 10 June 2018
---
I know why I'm here at Wave Hill today. It's all about poppies, another of their once a month, plant specific, garden and culinary events. But that's not all that they have to offer their visitors.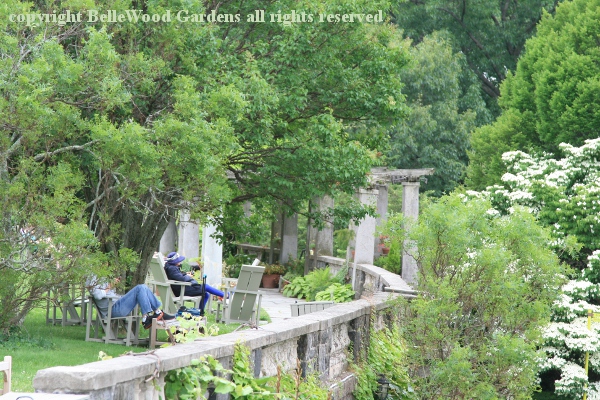 Maybe it's the blissful experience of relaxing outdoors, away from the traffic, surrounded by greenery. Wave Hill provides the Adirondack chairs, doesn't care if you walk on the grass.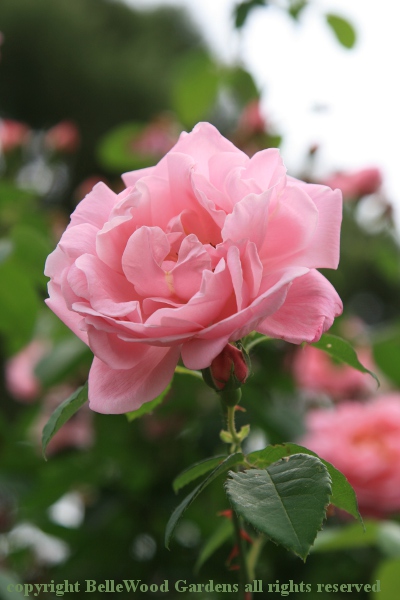 Every day has a holiday but roses have the entire month of June.
An arbor seat in the Flower Garden has pink roses spilling over it.
(And a very popular setting for people to take pictures, selfies too.)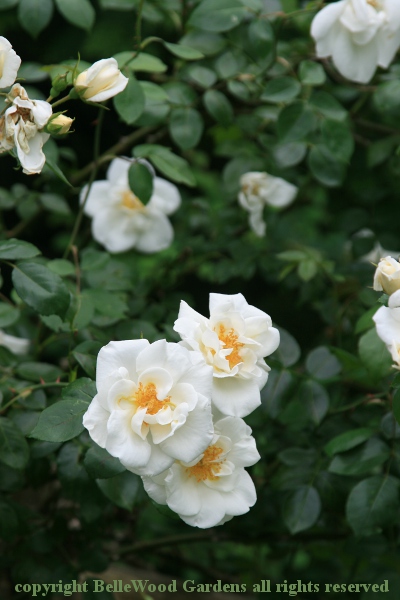 Aptly named, bright white flowers of 'Silver Moon' rose.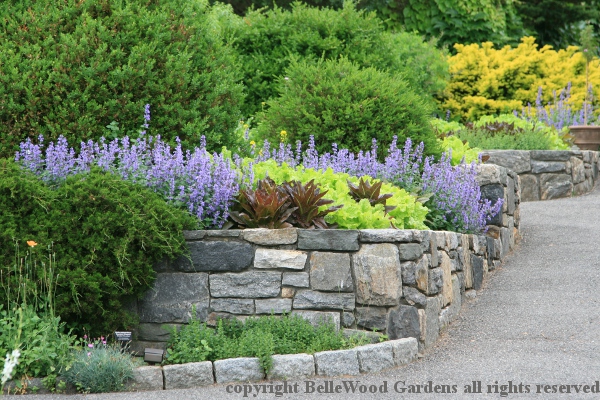 There's a sense of whimsy and playfulness here. The lush foliage above the stone wall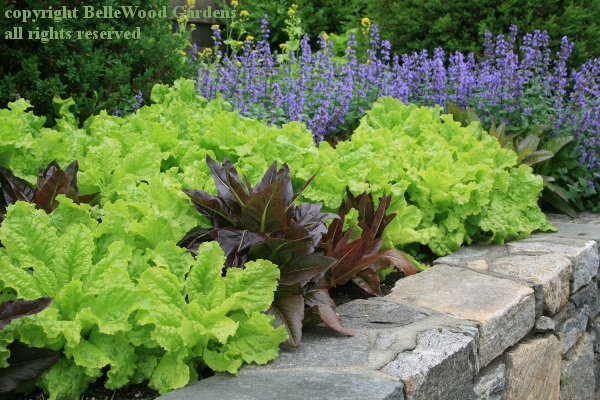 happens to be lettuce and raddichio! No Peter Rabbit here.
(But perhaps big black and white Sylvester cat, and the other
organic pest control staff, help with more than mice and voles.)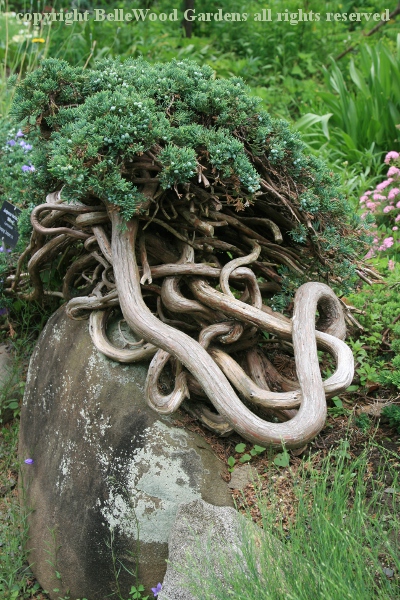 Wonderful, twisting, snaking trunks of a juniper,
sprawling over a boulder like an outsized bonsai.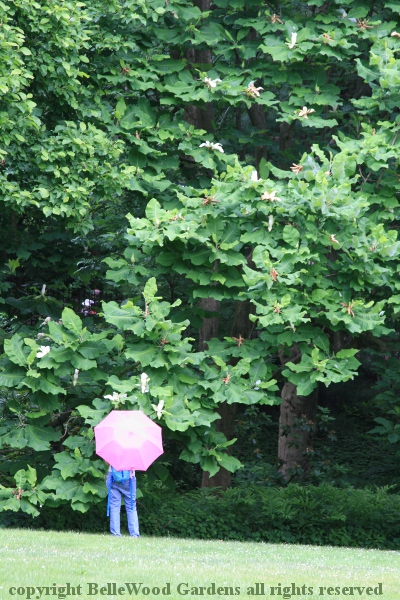 It is beginning to rain. What I drove away from when I left
New Jersey has caught up with me. Time for the umbrellas.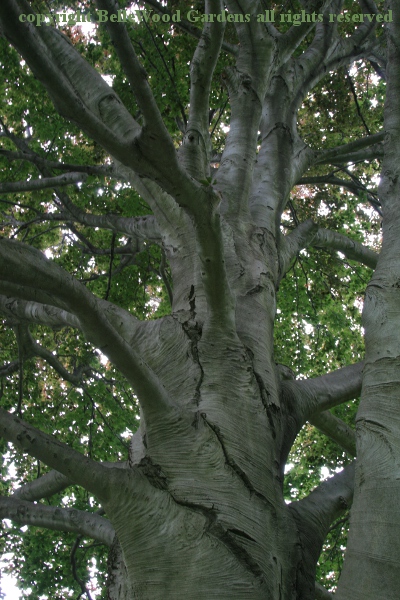 Some trees are able to provide shelter from the rain,
like this massive European copper leaved beech,
Fagus sylvatica 'Atropurpurea' of respectable age.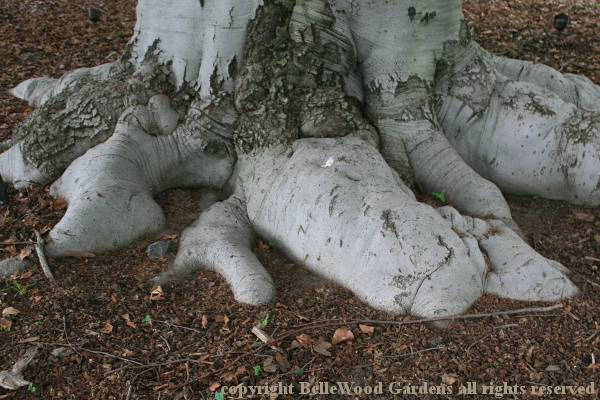 Its roots look like toes, gripping deep into the earth, an Ent content to stay
in place. No need to pick up and march across Middle Earth. Hoom, hom.
For families, every Saturday and Sunday morning from 10:00 a.m. to 1:00 p.m. there's an artist-led, hands-on workshop incorporating a variety of different techniques for an introduction to traditional and contemporary art-making around the world.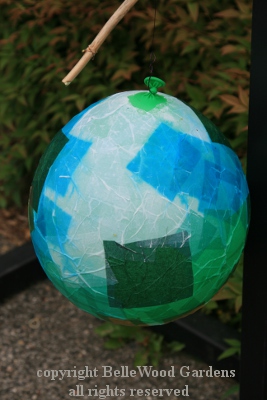 Today's family art project makes use of a simple papier-mâché
method to transform balloons into globe-like paper sky lanterns.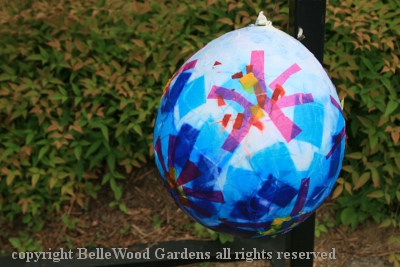 Inspired by nature, cut colorful tissue paper into shapes
suggestive of a a sky scene, be it a day of sunshine or
a billow of clouds. Free with admission to the grounds.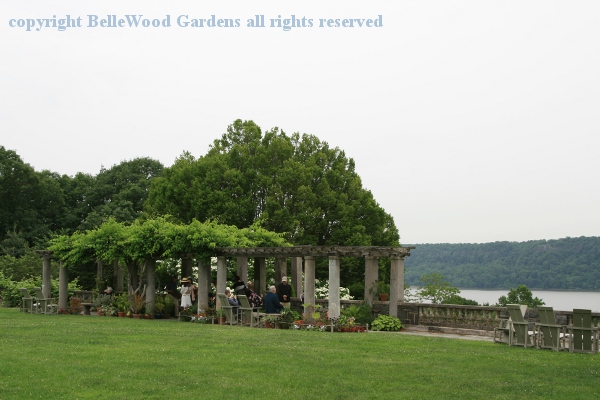 A group of people gather under an arbor overlooking the Hudson River.
On June 24th, only two weeks from today, will see the end of an interesting exhibition in Glyndor House. Avifauna Birds + Habitat features artworks that explore into the relationship between birds and their habitats - from the way changes in natural and built environments affect migration patterns to the role birds play in propagating plants. New York City provides a wide array of habitats for birds. Numerous species of birds migrate along the Hudson or make Wave Hill's gardens and woodlands their home.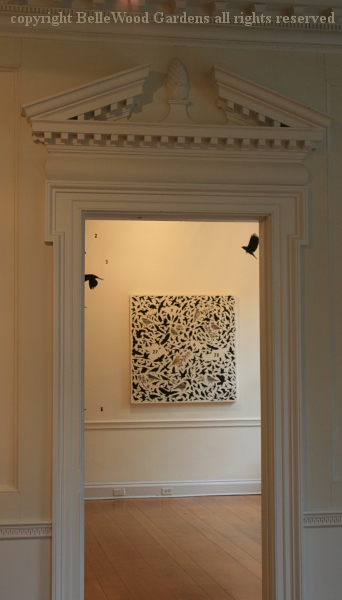 A glimpse through an interior doorway of the gallery reveals a work
by James Prosek, Avian Composition with Warblers acrylic on panel.
Other birds, also done in acrylic, are painted directly on the walls.
Peter Morgan creates larger than life size, low fired ceramic birds. As well as
this trio, others of his works are elsewhere in Glydor House' rooms. I would
stay longer, look more. But it is already 4:00 p.m. and I have an 80 mile drive.
His yellow bellied sapsucker, brilliantly colored just like the actual bird.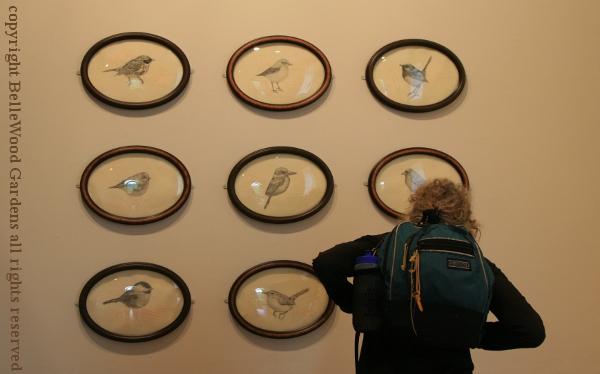 Tanya Chaly has this fascinating grouping, arranged three by three.
Nature's Syntax, done in graphite, colored pencil on parchment,
including punctured drawing. Each an oval, framed under convex glass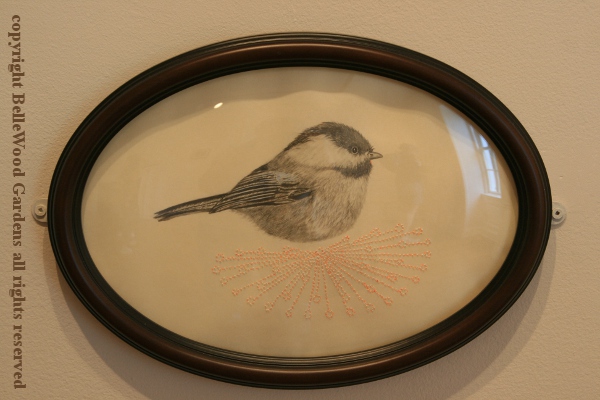 Previous viewer has moved on. Now I can get a closer view of her chickadee.
In a recent Field Notes article, the New York Times refers to Wave Hill as being
"Like the botanical garden. But quieter." It is. Also interesting, and more intimate.
---
Back to Top
---
Back to June 2018
---
Back to the main Diary Page