.
Garden Diary - February 2018
---
If you have any comments, observations, or questions about what you read here, remember you can always Contact Me
All content included on this site such as text, graphics and images is protected by U.S and international copyright law.
The compilation of all content on this site is the exclusive property of the site copyright holder.
---
February
---
The Trees of North America
Tuesday, 13 February 2018
---
Imagine that you have travelled to a new continent. Forest extends from east to west for hundreds, many hundreds of miles. It goes north, it goes south. Some trees somewhat resemble trees of your homeland. Others are strange, unknown. Let's set aside the inconvenient facts that in the late 18th to mid-19th century there was no Internet. There were cameras. The chemistry was complicated, and resulting images were black and white. Today we blithely take snapshots. Today we might do a Google image search. I gave it a try with
and got the not too helpful "pacific rhododendron" as my answer.
So there you are, off in the unknown woods. No camera. What to do . . . Take notes, make drawings, collect samples for herbarium specimens. Trudge on.
And when you return to civilization have finished drawing created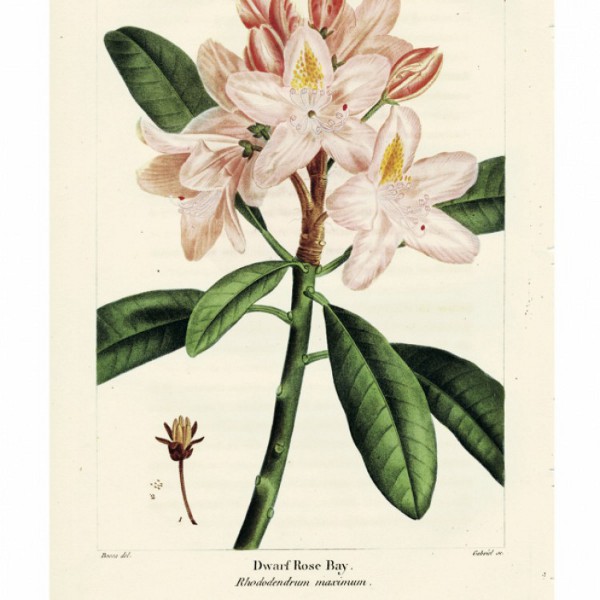 such as this Rhododendron maximum.
It is just one of the magnificent illustrations from The North America Sylva: Or, A Description of the Forest Trees of the United States, Canada and Nova Scotia. To which is Added a Description of the Most Useful of the European Forest Trees, by François-André Michaux. A French botanist, his work on the trees of North America gave the first illustrated account of American trees east of the Mississippi to the world. Featuring illustrations by celebrated botanical artists such as Pierre-Joseph Redouté and Pancrace Bessa, as well as Redouté's brothers Henry-Joseph and Antoine-Ferdinand, a copy of the original work is held in the LuEsther T. Mertz Library of The New York Botanical Garden.
However, thanks to a collaborative effort of the New York Botanical Garden and Abbeville Press Publishers there is now a contemporary version, complete with full-color reproductions of all of the more than 270 plates of this historical book. Just as our eyes see more than a camera which gives equal value to everything in focus, botanical art is able to show more than might a photograph.
A remarkable compendium of American forest trees, with
an afterword by natural history artist David Allen Sibley.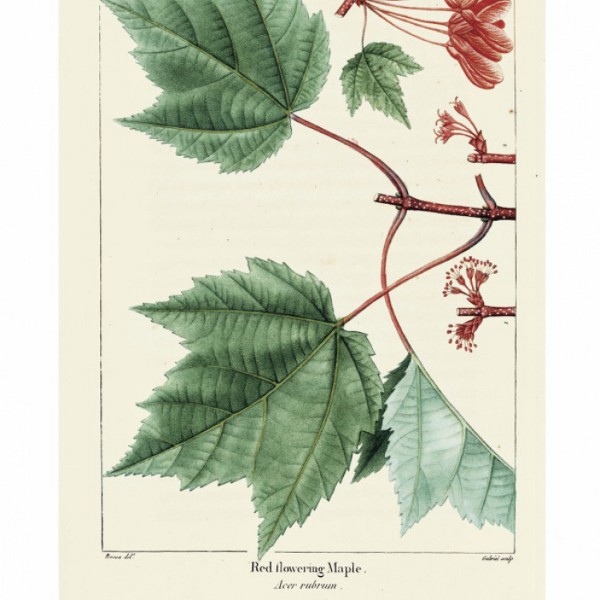 Consider the horticultural details of twig and leaf, flower and seed of this red maple, Acer rubrum. Then admire the aesthetics of the composition.
So much to admire. Who could anticipate 34 different species of oaks would be found in the forests, from California live oak and Bluejack oak whose leaves look nothing like the white oak or red oak species with which I am familiar (but acorns look like acorns.) Magnolias and osage-orange, and completely unfamiliar trees such as Spanish Stopper, Eugenia foetida. It is fascinating to page through the book, pausing to admire this plate or that one. The conifers are especially mesmerizing, with beautiful detail of their cones. It should be mentioned that each page offers both current Latin name at the bottom of the page, each plate has the Latin name given "back in the day."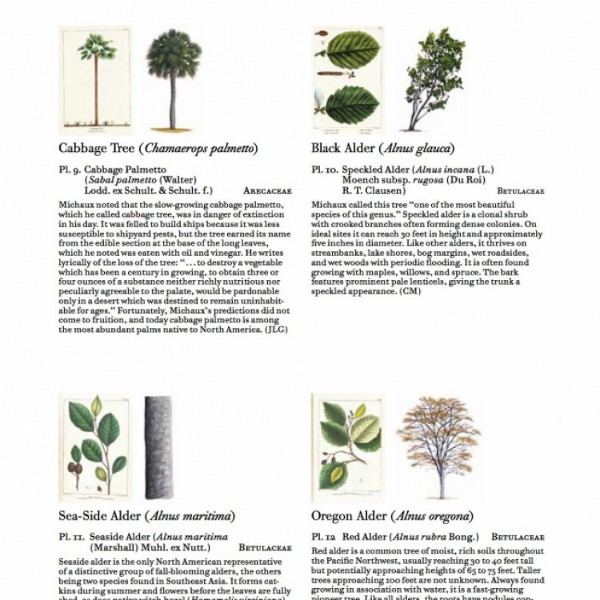 In a separate section at the back of the book are capsule summaries
of every tree species featured, written by New York Botanical Garden staff.
A beautiful book for a gardener's library, to remind us that once these were unknown trees. And each gardener has new discoveries to make as they wander down the never ending garden path.
Published by Abbeville Press, 2017
ISBN-13 978-0-78921-276-4 , Hardcover, $49.95
A review copy of this book was provided by the publisher.
---
Back to Top
---
Back to Book Reviews 2018
---
Back to February 2018
---
Back to the main Diary Page