.
Garden Diary - May 2018
---
If you have any comments, observations, or questions about what you read here, remember you can always Contact Me
All content included on this site such as text, graphics and images is protected by U.S and international copyright law.
The compilation of all content on this site is the exclusive property of the site copyright holder.
---
May
---
Tree Work
Monday to Friday, 7 to 11 May 2018
---
Monday, 7 May 2018
If you made a virtual visit here at BelleWood Gardens back in March you might remember trees down across our driveway. After that imbroglio was taken care of I walked up and down the driveway looking at the other trees adjacent to it. There's a widow maker hung up in another tree. Knew about that. There are some unattractive black walnuts, three of them, that have been somewhat battered in other storms. A shagbark hickory that's tilting, and the root mass is beginning to lift on one side. More ash, like the two that fell across the driveway. All of the trees are tall but only one is big in diameter. Mike from C & M Tree Service came and looked and gave us a price. Now it's just a matter of fitting us into the schedule since our job is not urgent and he has other jobs that are. Yes, I'd rather have the trees dropped before growth begins beneath them. That's not considered urgent. And didn't happen.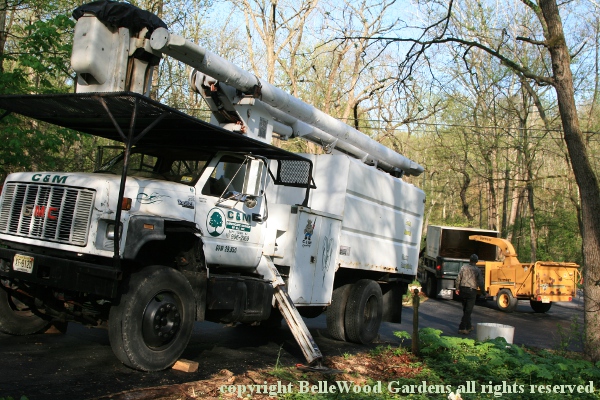 The work crew of three men, chipper and truck, and
bucket truck with 50 foot lift came on Monday, 7 May.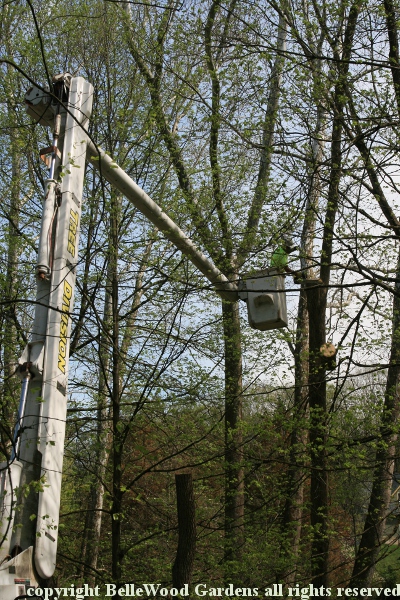 Bob, the lumberjack, has the bucket truck obedient to his commands, almost as if it is reading his mind. Lift up, angle down, extend out. He wear a safety harness that tethers him inside the bucket. There's a scabbard for the chain saw too. You can make out a falling log, somewhat below the level of the bucket.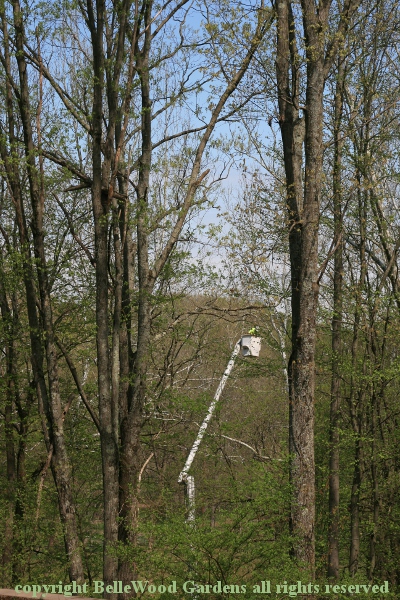 Not that these are trees Bob will be cutting but
it gives you an idea that 50 feet is not that tall.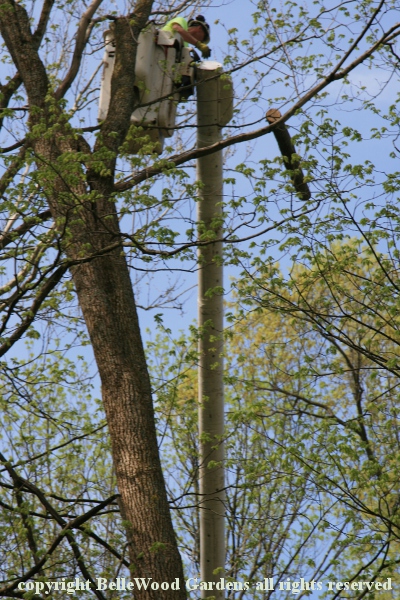 Another log dropping. In the interest of expediency the potential firewood is being cut to somewhere around 4- to 6-foot length. For our stove we need 18 inch firewood. The crew would cheerfully cut to that length, move it, and stack it too. But that all takes time. Our agreement is that they are here for one day. If they need to come back on Tuesday that increases the cost. Better to have the wood cut long, and rough stacked here and there beside the driveway.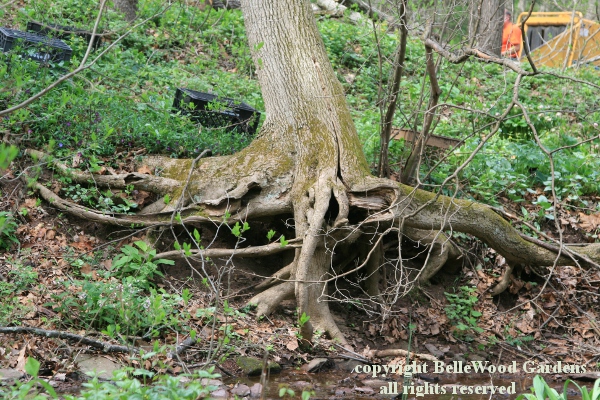 This big ash is leaning , hung up in another tree. The roots were undercut
by the brook when, time and again, storms swelled it to torrential water.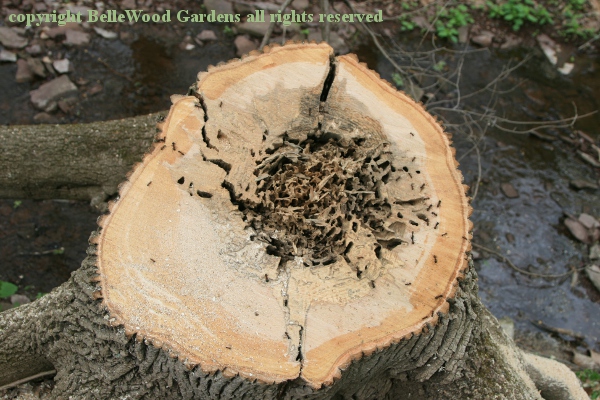 Just as well it was scheduled for removal. A very large colony of
carpenter ants had made their home in the very base of the tree.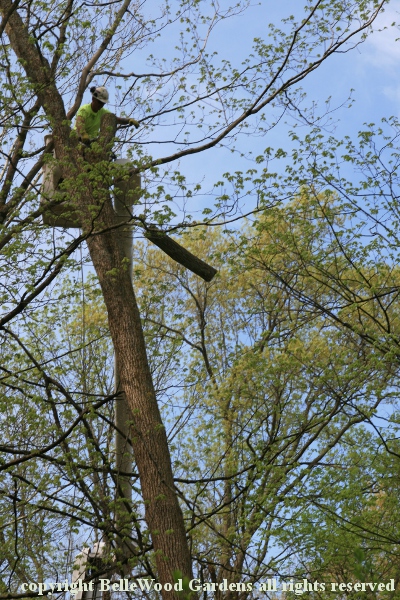 Bob continues his work, moving on to another tree.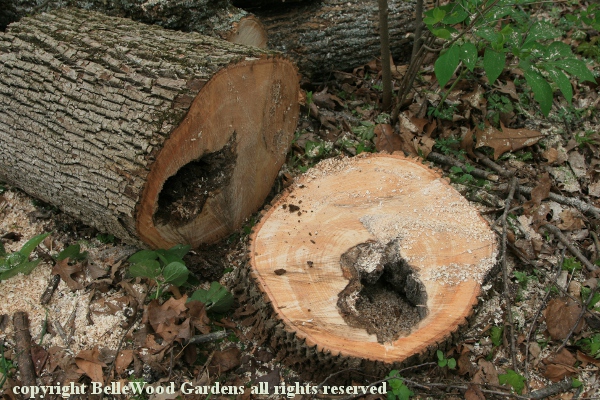 Rot, in a different tree that appeared healthy.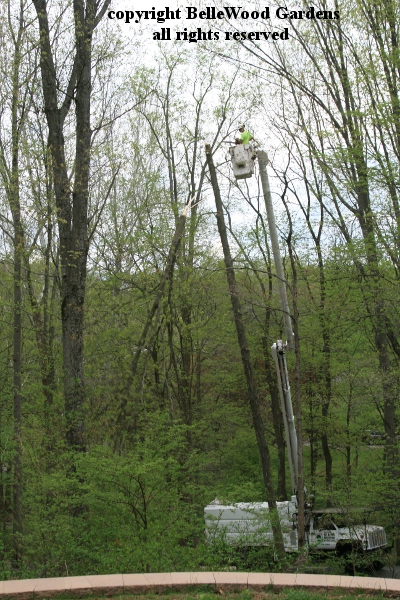 Last tree to come down - the shag bark hickory. It's
getting late. Bob just cut the twin forks as one to top it.
Chip, chip, chip. In fact, branches that could have become firewood became chips. With all the logs that there are, we'll have enough ash for this winter's firewood, and hickory, maple, and black walnut for the next one.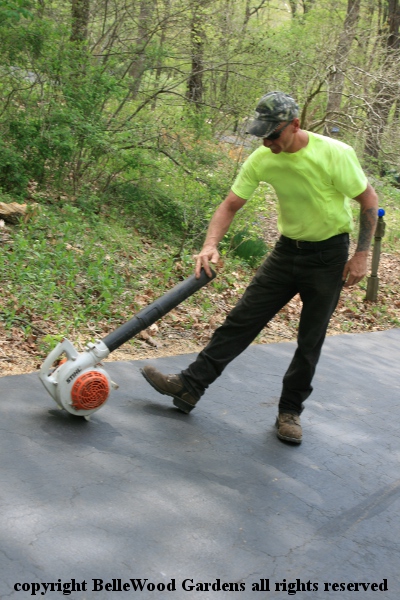 Equipment collected and stored away, and the driveway
has been blown clear of dust and debris. Now Bob does
the same to his clothes. It sure was a busy eight hour day.
Wednesday, 9 May 2018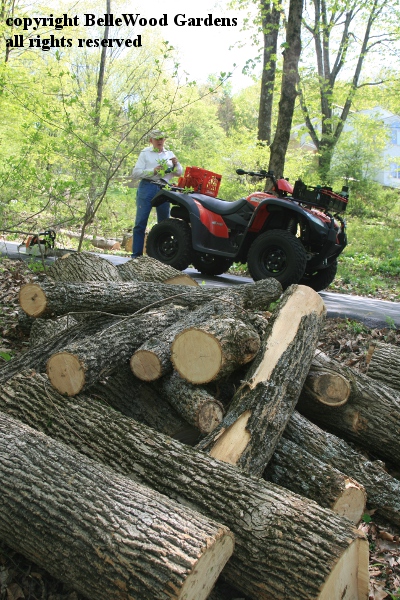 Paul is starting to move the wood up the driveway.
First step, he'll cut the smaller logs to stove length.
Then hitch the trailer to the ATV and haul them up.
Friday, 11 May 2018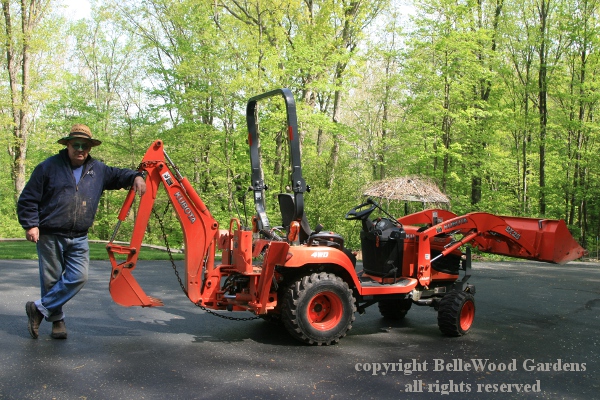 But some, the ash in particular, are too big. That's where our neighbor,
John, and his handy, dandy Kubota tractor come in and are very helpful.
Two, maybe three logs fit in the bucket and he trundles them up.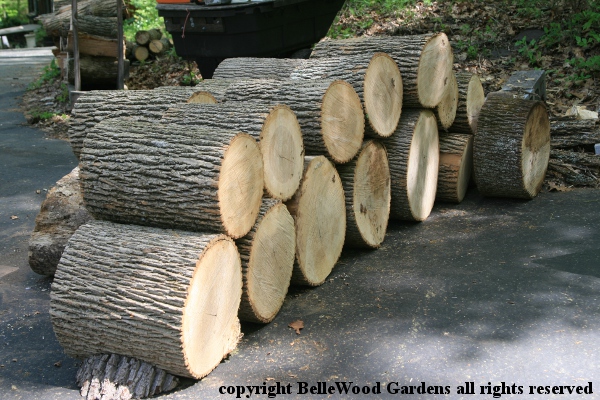 In just less than an hour all the biggest logs have been moved to the top of the driveway, near the log splitter. That's a double row, by the way. You can just make out the top pieces on the back row. Next step, set the log splitter to vertical and start making firewood. Might be a two stage process - first break the logs into sizes that can be handled Then return log splitter to horizontal and split the wood to burn size.
---
Back to Top
---
Back to May 2018
---
Back to the main Diary Page