.
Garden Diary - March 2018
---
If you have any comments, observations, or questions about what you read here, remember you can always Contact Me
All content included on this site such as text, graphics and images is protected by U.S and international copyright law.
The compilation of all content on this site is the exclusive property of the site copyright holder.
---
March
---
Wonders of Water at the Philadelphia Flower Show
Monday, 5 March 2018
---
Early every March it is a foretaste of Spring at the Philadelphia Flower Show. There are grand set pieces with gardens in full bloom. A diversity of flower arrangements on themes related to the focus for the overall show. Horticultural classes. Vendors. And masses of eager gardeners wishing for an escape from winter's last dregs. Joan, Ann, Pat, and I will take the SEPTA train from Doylestown to a station right below the convention center. We'll have five hours to see as much as we can before our return train home.

This year's theme is Wonders of Water.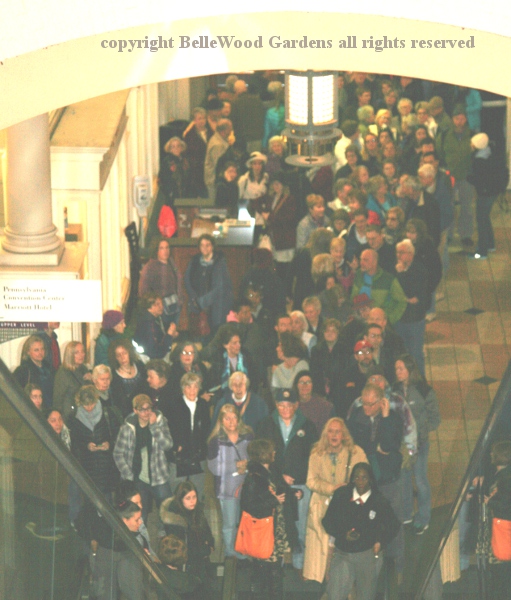 The massed throng of humanity shuffling along to get
to the escalator, to loop around the upper hall and
then eventually present their flower show tickets.
Once past the entry booth we're still not at the entrance to the show. There are fun things to see as we walk along, such as Subaru's take on a Japanese shishi odoshi. Rather than a bamboo pipe to fill with water, then drop with a loud, deer-scaring clack this gardenesque version feeds water from the upper left onto a narrow shovel. From whence it spills water onto a rotating wheel of trowels that pour onto a broad shovel that fills, drops, and the cycle begins again.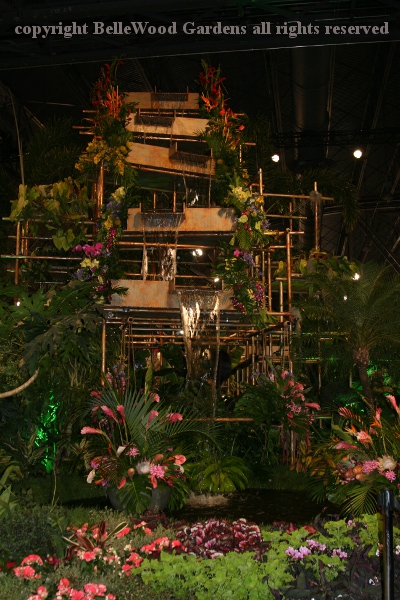 By now we have arrived at the flower show. Directly inside the entry is a jungle. There's a huge tower with water cascading from level to level. Recordings of parrots and other jungle birds shriek and cackle from different directions. Masses of tropical flowers and colorful foliage. Masses of people too.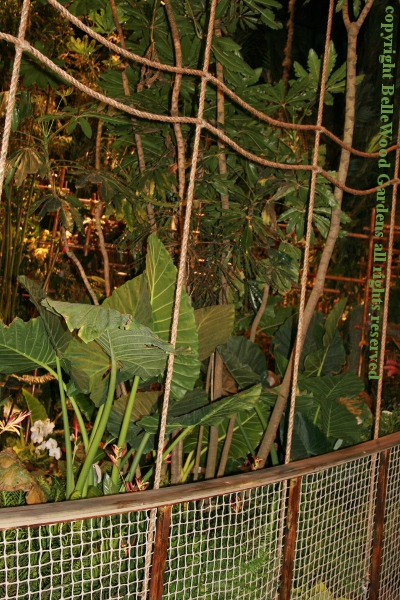 There are pathways and a bridge through the jungle.

An elaborate floral art installation created through the efforts of multiple artists: Ryan Beck of Mural Arts Philadelphia created the abstract mural backdrop. Philadelphia-based multimedia artists Joseph Leroux and Ken Derengowski sculpted the flowing armatures that emerge from the mural. Then Schaffer Design Team's floral artists, headed by Bill Schaffer and Kristine Kratt, completed this collaborative rainbow wonders of watercolour.
.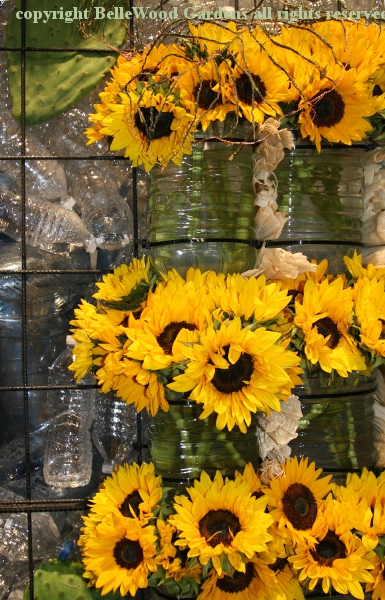 There are several country themed designs. Mexico has this large wire grid cage filled with water bottles, some green opuntia cactus pads, and massed sunflowers. The poster explains that much of the drinking water in Mexico is tainted. People buy bottled water in 5-gallon jugs, using it for drinking, cooking, and even bathing babies.
Flower arrangements are always a huge part of
the Philadelphia flower show, from minatures
to massive displays using fresh flowers. Dried
pressed material used to "paint" pictures.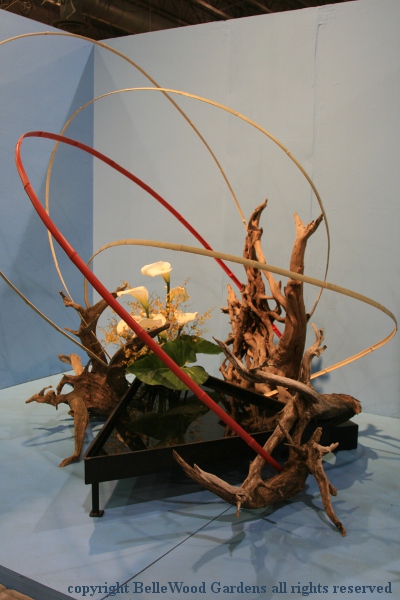 Ikebana has precise rules. This main feature design by the
Sogetsu main line chapter complies with the stylistic rules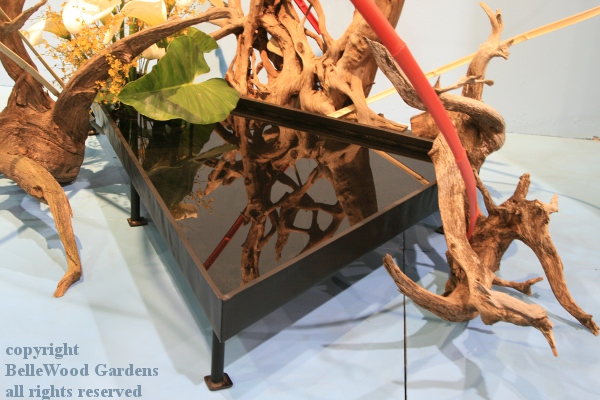 and also incorporates the water theme of the flower show .
Class 130, for Backed Pedestal is Sink or Swim, an underwater design,
requiring both backdrop and a portion of the arrangement under water.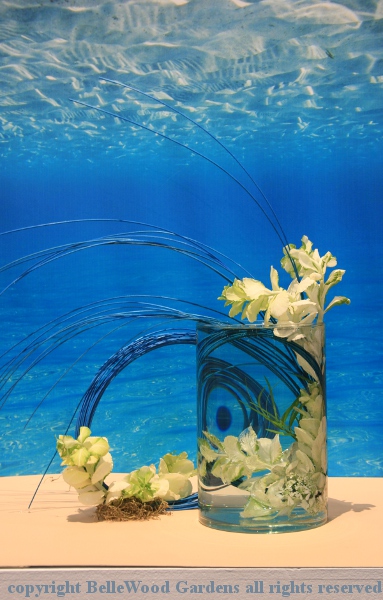 Other entries have plain, solid color backdrops.
This waterscape is very fetching. Too much so?
Class 126, Water World, is to be an arrangement inspired by a water-related painting.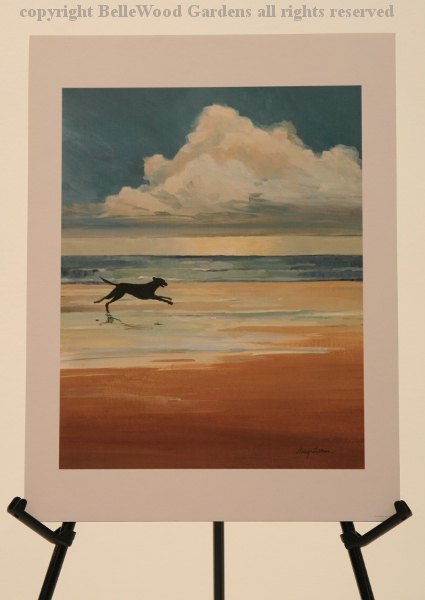 .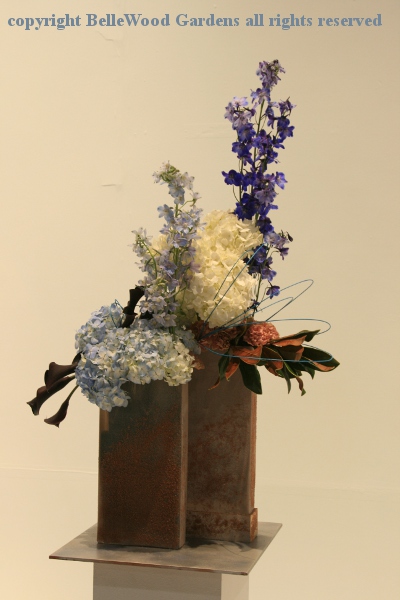 I like this arrangement, based on Low Tide, a beach scene painted by Avery Tillmon.
Class 134 - Interiorscape
There is a back story to the Wissahickon Garden Club's interiorscape,
titled a Botanist's Fantastical Library.
"Born in 1860 to a well travelled botanical collector, Alma spends her days studying mosses and ferns in an urban estate in Philadelphia. Over time, her study expands and intensifies. Peek into the fantastical library of Alma's imagination as wild and wonderful plants seep through, blurring inside and outside."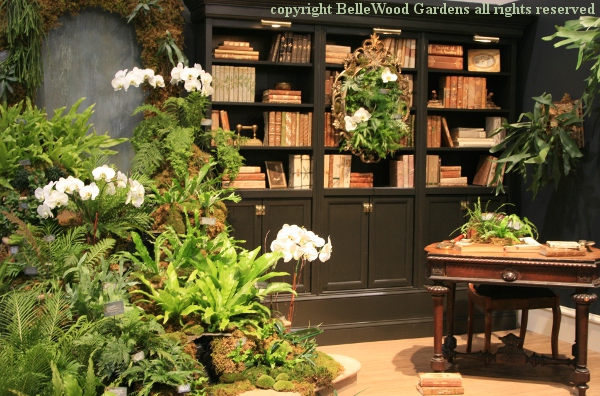 The window on the left behind the phalanopsis orchids is just
sheeting with water, behind. A waterfall, or a magical rainstorm?
The Friday judges loved it:
"Exceptional central water feature properly set within historical period
of 1860. Of all the exhibits, this personifies the wonder of water."
For something very different, Class 3408 - Miniature Garden / Landscape Design
A miniature landscape hidden in an enchanted library book.
It is not merely water as pools or puddles or containers.
Objects are aquatically themed in charming detail: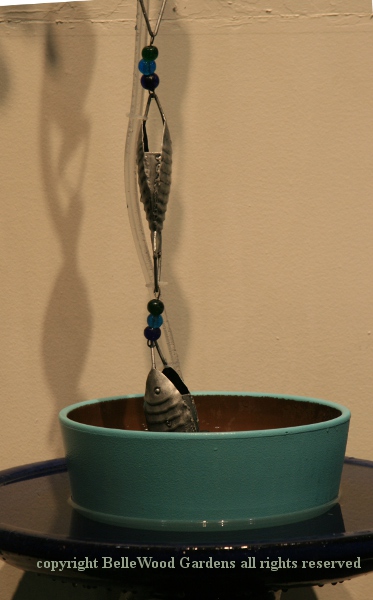 a rain chain of fishes
or a caligraphically precise drawing of two koi on a board.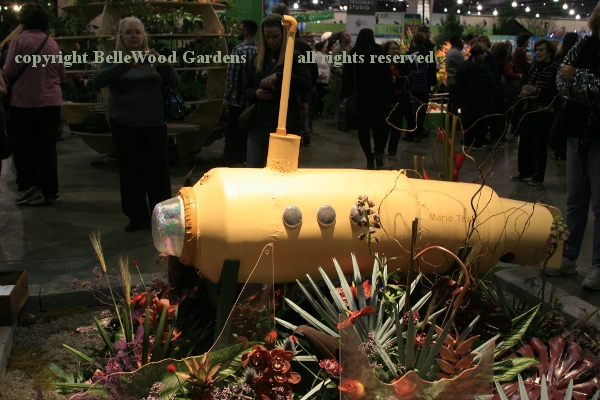 Of course, there's also the yellow submarine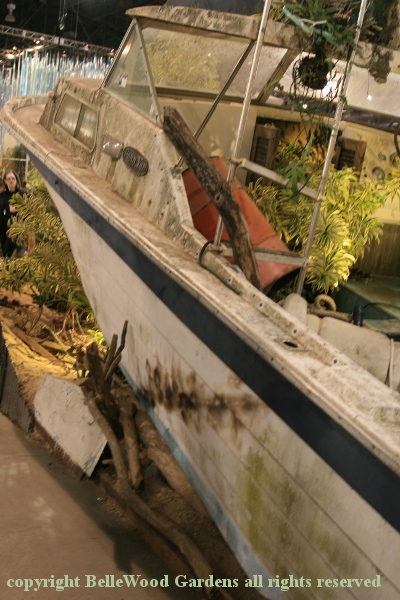 and a shipwrecked cabin cruiser so filled
with sand that plants are now growing in it.
And the koi go swimming through the daffodils.
---
Back to Top
---
Back to Book Reviews 2018
---
Back to March 2018
---
Back to the main Diary Page