.
Garden Diary - December 2018
---
If you have any comments, observations, or questions about what you read here, remember you can always Contact Me
All content included on this site such as text, graphics and images is protected by U.S and international copyright law.
The compilation of all content on this site is the exclusive property of the site copyright holder.
---
December
---
For Flowers, Just Add Water: Paperwhite Narcissus
Saturday, 29 December 2018
---
The same tulips / hyacinths / daffodils that are planted in the garden each fall can be coaxed into earlier bloom indoors. Here's the caveat - they need a 12 week chilling period to properly root, vernalize, get ready to bloom. With an exception. Paperwhite narcissus originated in the Mediterranean region. They're too tender to survive outdoors in my New Jersey garden. But will happily flower in just a few weeks indoors. Basically it is a matter of just add water.
Friday, 7 December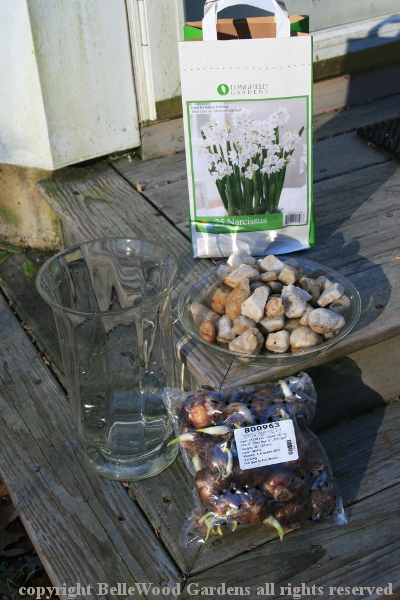 I bought a bag of paperwhite daffodil bulbs.
I'll use an inexpensive clear glass vase and
some white stones to stabilize the bulbs.

A layer of the stones on the bottom of the vase,
6 bulbs, and a few more stones to hold them.
Wednesday, 12 December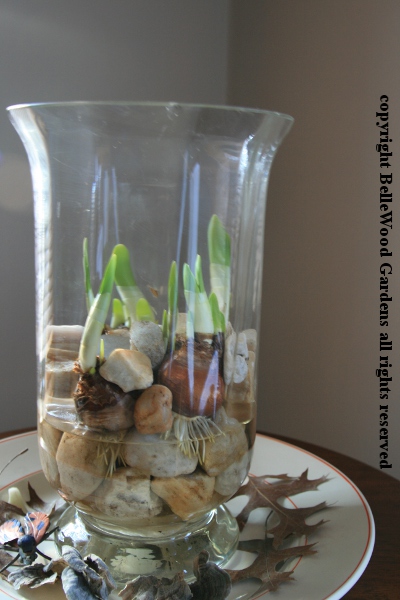 Just 5 days later and it is easy to see how
the bulbs are rooting, shoots growing.
Sunday, 16 December

Nine days from "potting" and the flower buds
are already making their appearance.
Tuesday, 25 December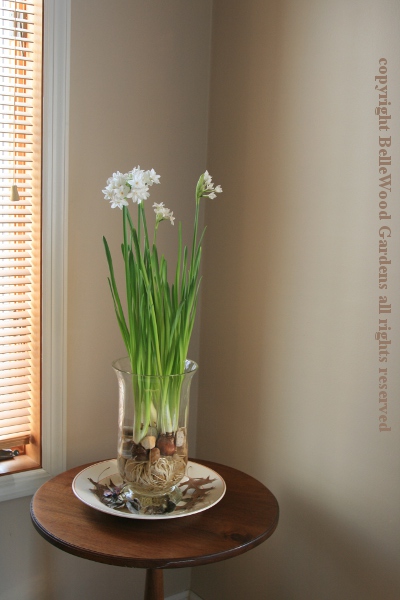 Could not have timed it better! Flowers for Christmas.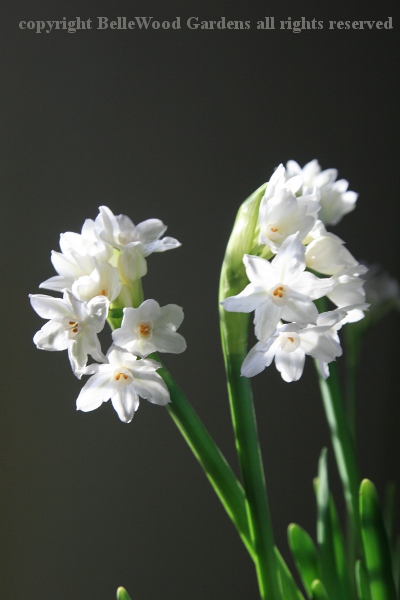 Kept cool, the flowers will last for a week or more. Once they begin to wither and fade I'll discard the bulbs - having been forced in water, they did not replenish the stored nutrients within the bulbs that fed growth. And then I'll start another set of bulbs for another flower cycle. It's as easy as just adding water.
---
Back to Top
---
Back to December 2018
---
Back to the main Diary Page