.
Garden Diary - January 2018
---
If you have any comments, observations, or questions about what you read here, remember you can always Contact Me
All content included on this site such as text, graphics and images is protected by U.S and international copyright law.
The compilation of all content on this site is the exclusive property of the site copyright holder.
---
January
---
Wild Medicine at the New York Botanical Garden
Thursday, 25 January 2018
---
Off to the New York Botanical Garden on a sunny winter day for a look at the Wild Medicine exhibition in the Enid Haupt Conservatory. Open from January 20th to February 25th, this is not one of their major productions. Making use of extant plants and explanatory signage, the goal is to share with visitors the diversity of tropical plants and their uses.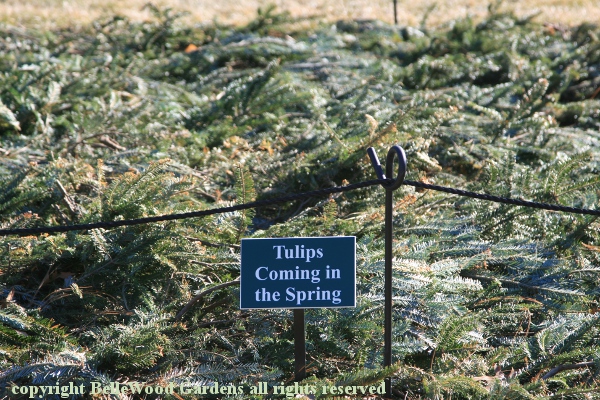 Proof positive it is still winter. Near the NYBG Shop I pass a flower bed covered with evergreen boughs. Tulips, it optimistically notes, coming in Spring. Sure. And at this time of year my mantra is, "Every day is another day closer to Spring." I continue on to the conservatory.
A sign outside the doors to the conservatory's
tropical forest gallery announces the exhibition.
Enter, and walk into warmth and humidity.
Many of the plants are trees, so visitors see bark-covered trunks and leafy branches. The planting beds are carpeted with plants. Ferns and bromeliads festoon the branches. There's excellent signage to explain the traditional use of the wild medicinal plants. You'll be pleasantly surprised by how many of the plants will be familiar.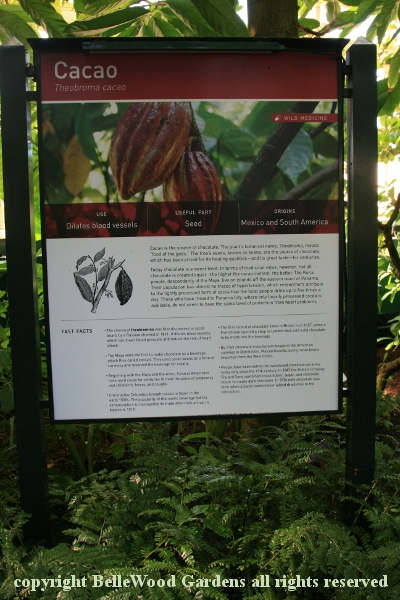 First and foremost (and very popular) is cacao.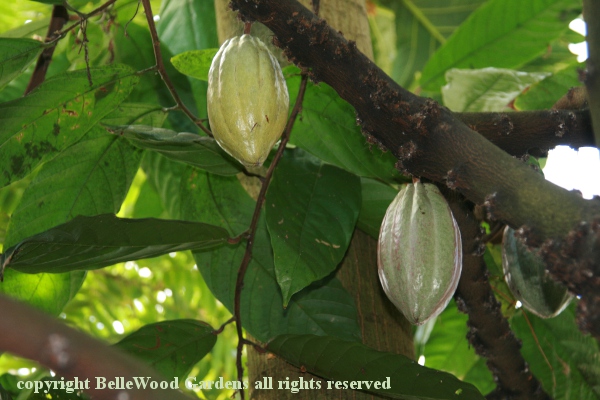 These pods, growing straight from the branches and looking like partially inflated footballs contain the bean-like seeds from which cocoa, cocoa butter, and chocolate are made. And cacao is good for you. Unfortunately, heat from processing and added sugar (cacao itself is bitter) lessens cacao's antioxidant value.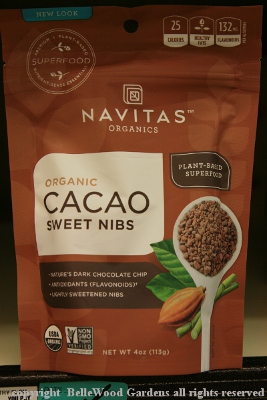 Health food stores and supermarket natural food aisles
offer alternatives, such as lightly sweetened cacao nibs.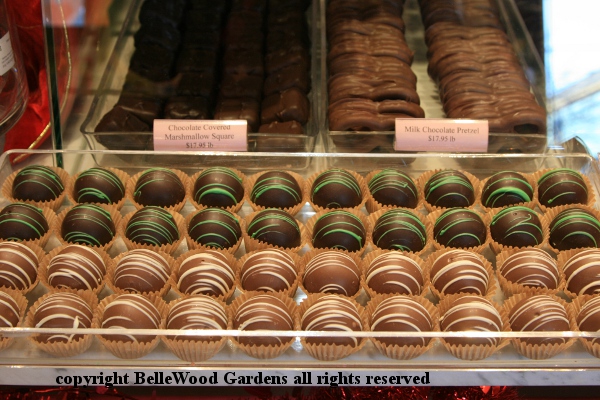 And, in moderation, chocolate must have beneficial properties -
if only in my mood. Truffles at Minette's, my local chocolatier.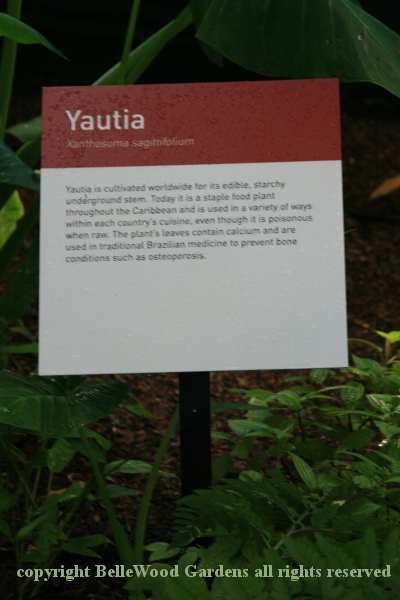 Consider yautia. The tubers are a staple food plant,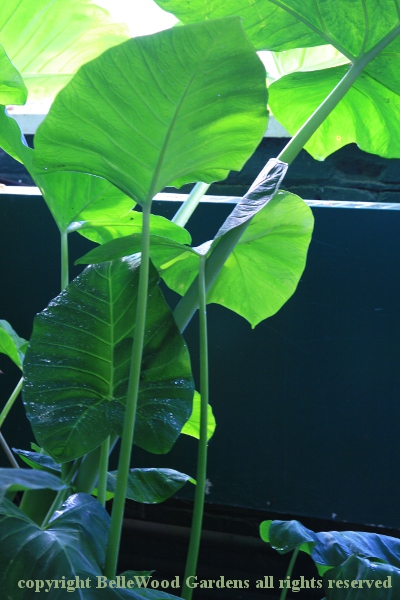 and the calcium-rich leaves are used in traditional Brazilian
medicine to treat conditions such as osteoporosis. Yes, it does
look like some related plants maybe grown in a summer garden.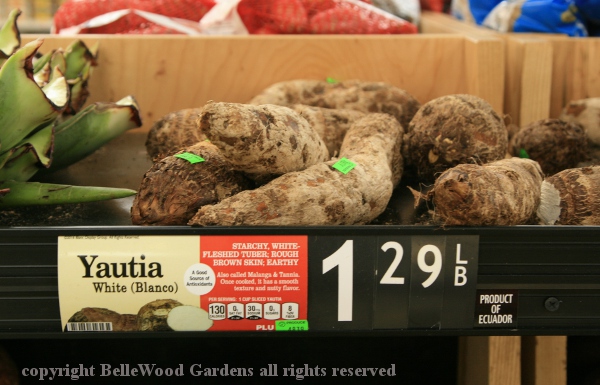 And you might see the unfamiliar roots for sale in a supermarket.
I walk past a coffee tree, and cinnamon. Cinchona. That's quinine, a treatment for malaria, and an important ingredient of tonic water. Citrus trees - citron, lemon, and grapefruit. A vine-like vanilla orchid.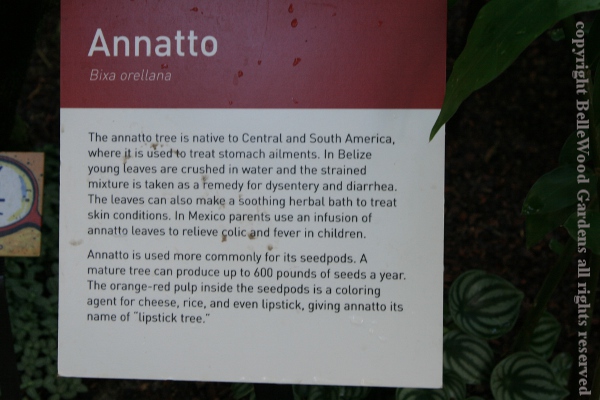 Annatto
Traditional medicine makes use of the leaves
to treat diarrhea and dysentery.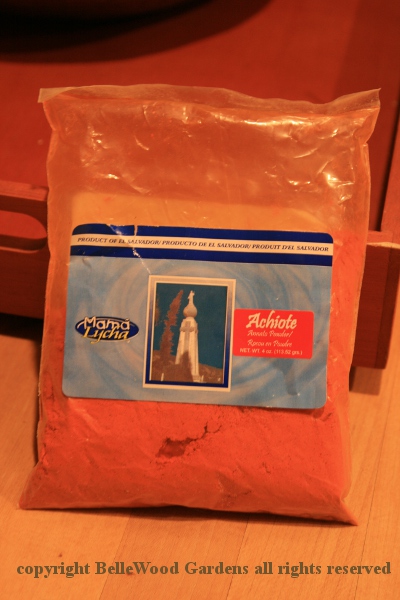 The seeds, often referred to as achiote,
add color, cheeses for example. Culinary uses too.
I use achiote in banana leaf cooking.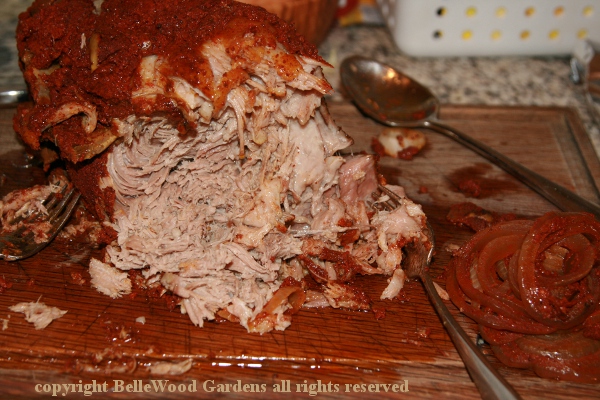 And also use it when making cochinita pibil: shoulder of pork slow cooked in a crock pot lined with banana leaves, seasoned with achiote, juice from sour oranges, garlic, and spices.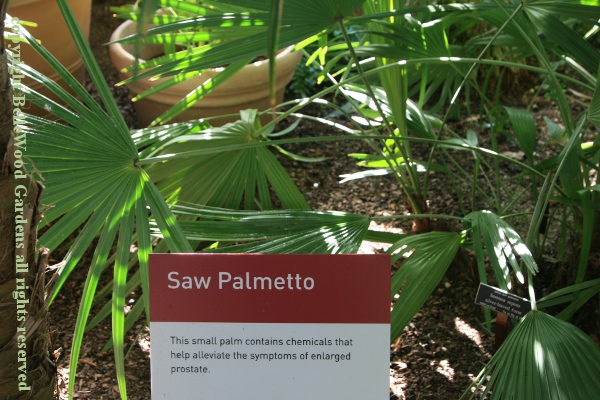 Saw palmetto is a shrubby little palm tree that looks more like a bush. It apparently has a similar effect as finasteride in men with benign prostatic hyperplasia. BUT it is important to avoid self-medication. Saw palmetto interacts with other medications such as warfarin. It is prudent to consult with a doctor before embarking on a course of treatment with wild medication. Just because it is available over the counter doesn't mean it is foolproof.
.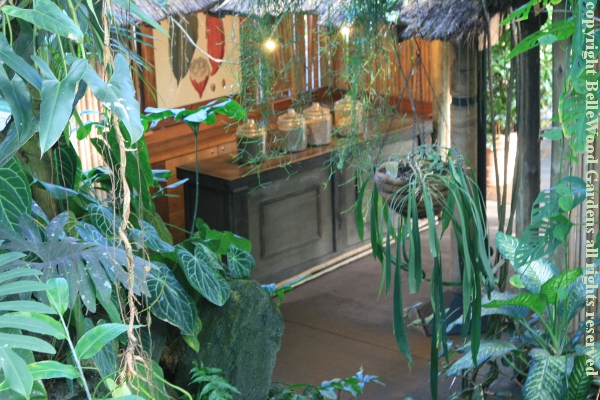 Make a visit to the Enid Haupt Conservatory at the New York Botanical Garden
for an interesting stroll through the tropical forest and Wild Medicine.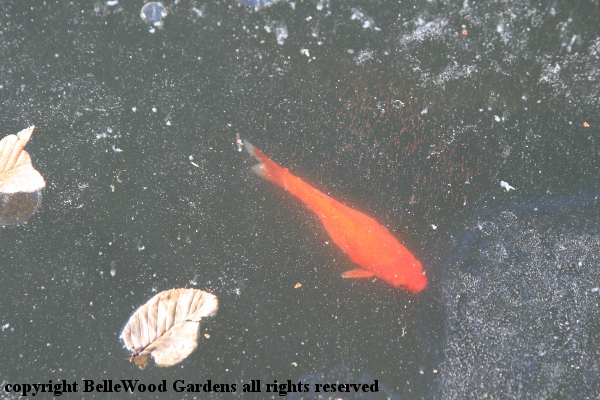 Goldfish may be swimming under the ice of the water lily pool.
Indoors, it is a another story. Exhibition continues until February 25.
---
Back to Top
---
Back to January 2018
---
Back to the main Diary Page