.
Garden Diary - February 2018
---
If you have any comments, observations, or questions about what you read here, remember you can always Contact Me
All content included on this site such as text, graphics and images is protected by U.S and international copyright law.
The compilation of all content on this site is the exclusive property of the site copyright holder.
---
February
---
Orchid Show at the New York Botanical Garden
Tuesday, 27 February 2018
---
I'm on the road. Off to the New York Botanical Garden for the press preview of the 16th annual Orchid Show. It is a wonderful bridge between winter and spring. Each year is different, strongly influenced by the exhibition's designer. One year it was Thailand. Another year it was the orchidelirium of the plant hunters. Then there was a Broadway stage designer, a Frenchman noted for his living walls, a Cuban born landscape designer. One constant will be the plethora of diverse orchilds, superbly grown and beautifully on display in the exhibition gallery. (There are orchids on display in others of the Enid A. Haupt Conservatory's galleries, but they are part of the permanent collections.)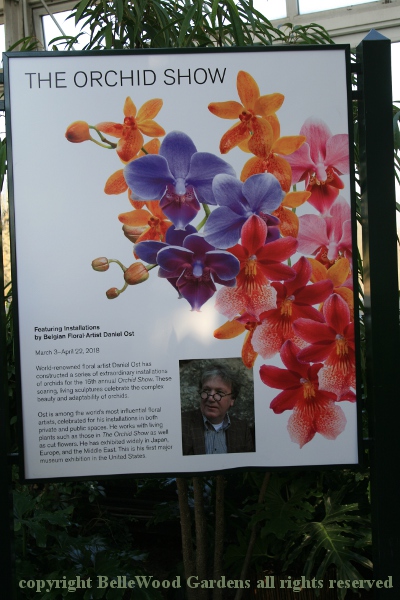 This year's designer is Daniel Ost, a bloembinder from Belgium. The term is often translated as "flower arranger" but there are nuances, more like someone who binds flowers together. Studying in Begium and the Netherlands, also influenced by ikebana he was taughtby his mentor and teacher while living in Japan, his installation have appeared in both public and private settings. This shoud be interesting.
Onward.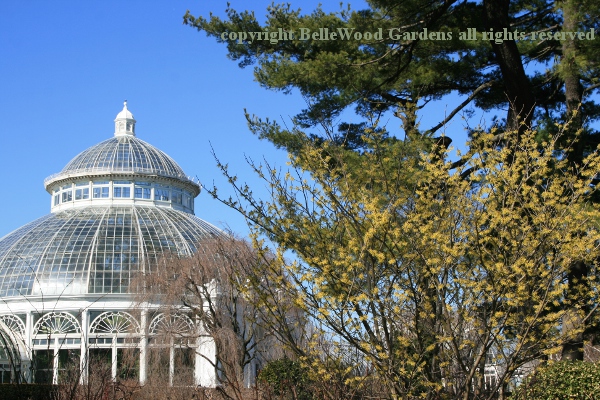 There are some flowers in bloom as I walk to the conservatory.
I see snowdrops, a few winter aconites, and witch hazels.
And will meet my brother, Ben, who is joining me today.
We gather in the Conservatory's Palm Court - newspaper, television, and blogger press - for introductory remarks by Todd Forrest, Arthur Ross Vice President for Horticulture and Living Collections. And then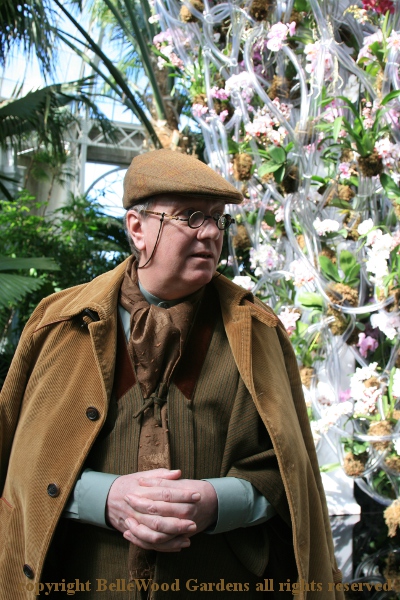 . and very snazzy shoes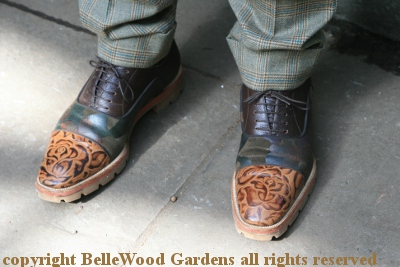 we hear from the bloembinder himself, who explains from
where he developed the concepts for this orchid show.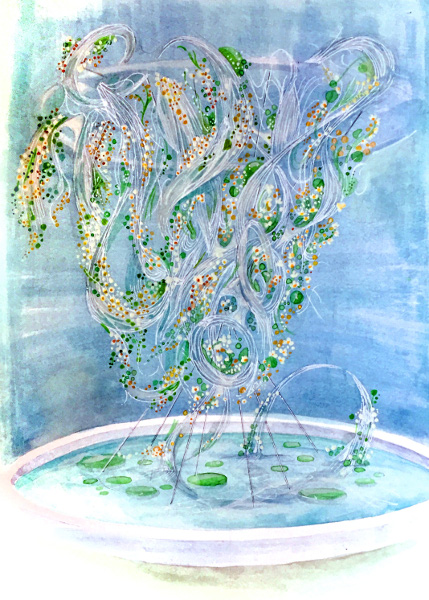 image courtesy of the New York Botanical Garden
Impressed by the plant collections here at NYBG, and also by the dedication of the staff gave him a starting place. He wanted a transparent design, like the glasshouse itself, but with a framework too. And something looking, like vines in the tropics where orchids are native. Most orchids are ephiphytic, they grow up in the air, on trees, they do not mass together. That also resonates with something his sensei taught him, that one flower can be more than a tight conglomeration. [An aside - from somewhere I remember a story about a samurai renown for his chrysanthemums. Told that the emperor was coming to see them, the samurai went out into his garden and cut all except the single, most perfect bloom. The emperor should see nothing less than perfection.]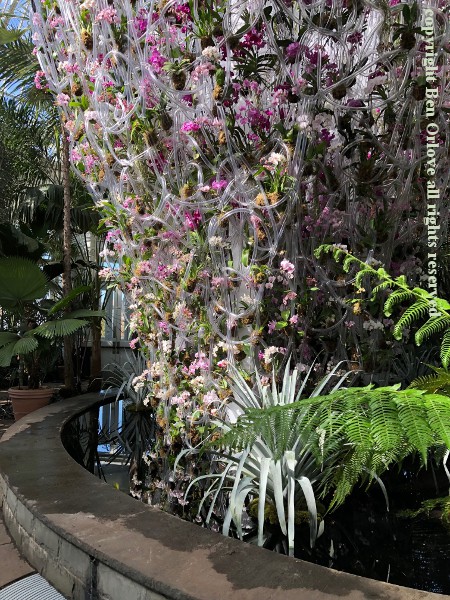 image courtesy of Ben Orlove
And in the Palm Court there is an extravagant, swirling, confection of plastic tubing embellished with orchids, orchids on the periphery and emmeshed within: white, blush, rose, pink, and wine colored orchids. From its base in the dark reflective water it expands as it rises towards the dome.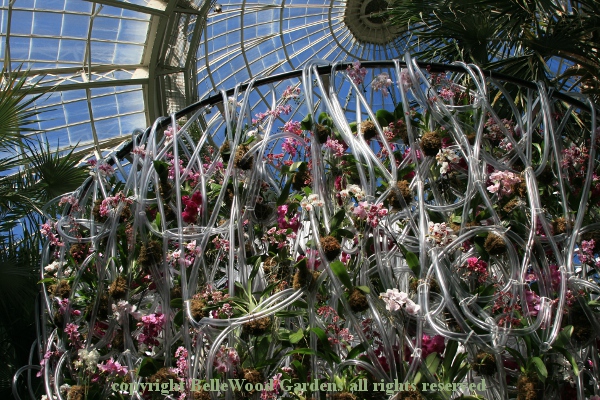 The tubing catches the light which seems fluid,
like water, sliding down. The twists and turns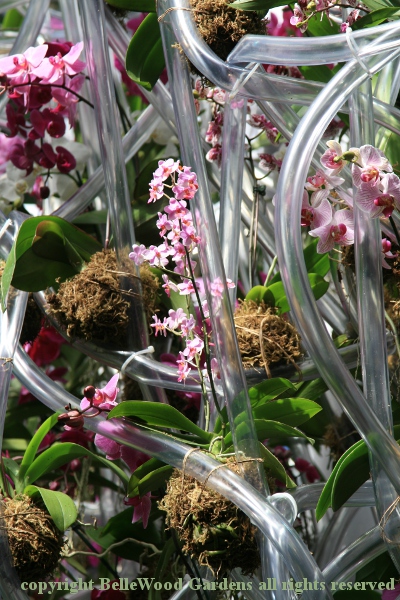 offer lodging for the orchids moss wrapped roots.
We now troop outside, pass the bare, hardy water lily pool, and re-enter the conservatory.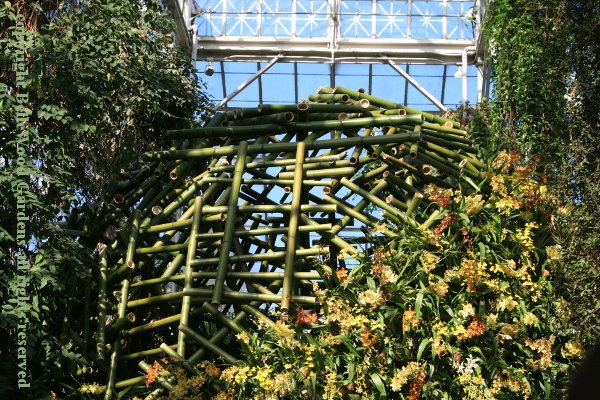 Oh. my. goodness. Daniel Ost likes bamboo. It bends to the wind,
then springs back when the storm lets up, unlike oak which resists
until it breaks. This timber bamboo was brought in from Georgia.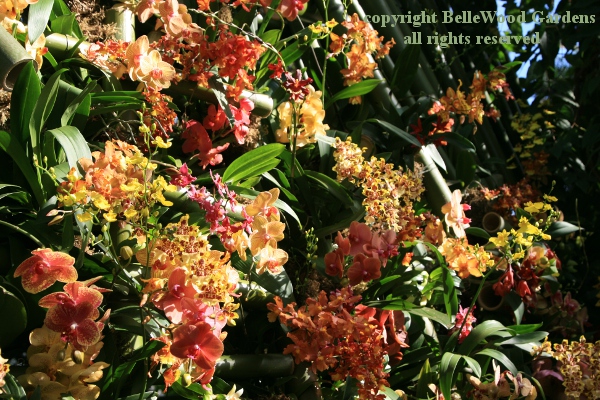 These orchids were chosen for a rich, warm color palette of
yellows, oranges, reds. Croton are ground dwelling companions,
their leathery leaves in the same hot colors to complement them.
There are two peripheral rectangular pools
with yellow cymbidiums on the mossy bank
across from a frothy lace of maidenhair fern.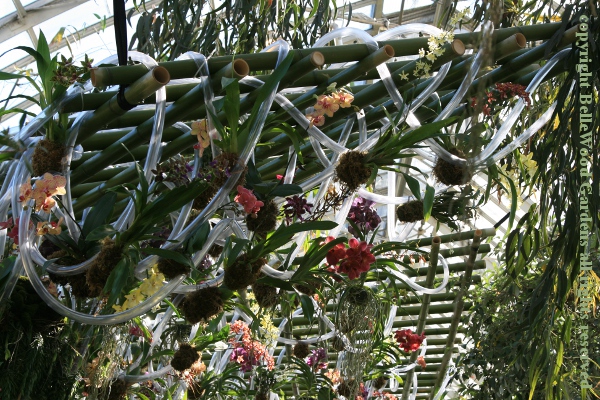 A third delightful display pavillion magically connects the bamboo dome
with the Palm Court, incorporating design elements of both and also
complementing the architecture of this Lord and Burnham glasshouse.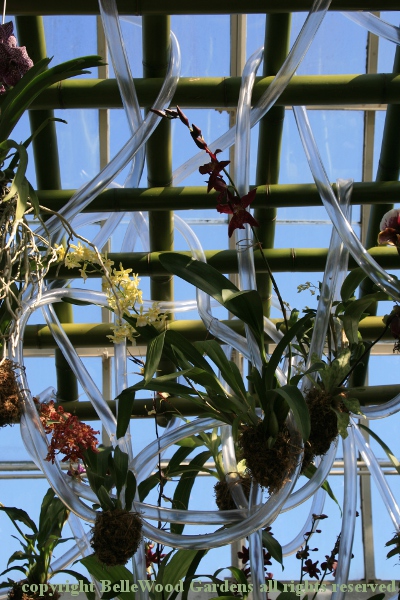 Bamboo grids, suspended above visitors like rafts,
floating on air, with a spider web of plastic tubing
supporting yet more orchids, a plethora of orchids.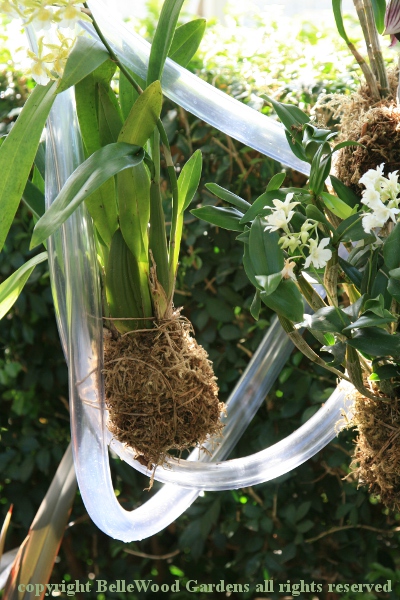 .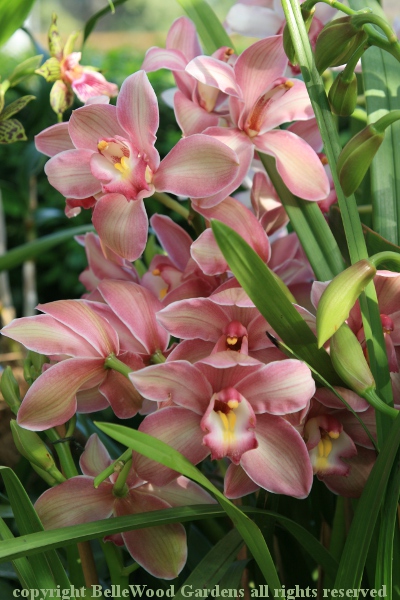 There are some terrestrial orchids also, to keep us grounded,
always popular cymbidiums, and the Paphiopediulum lady slippers.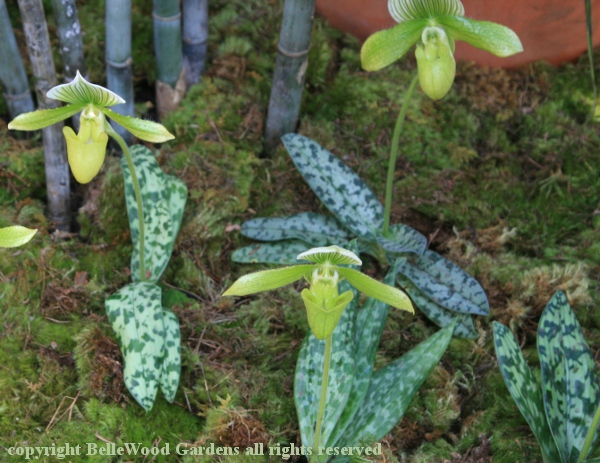 .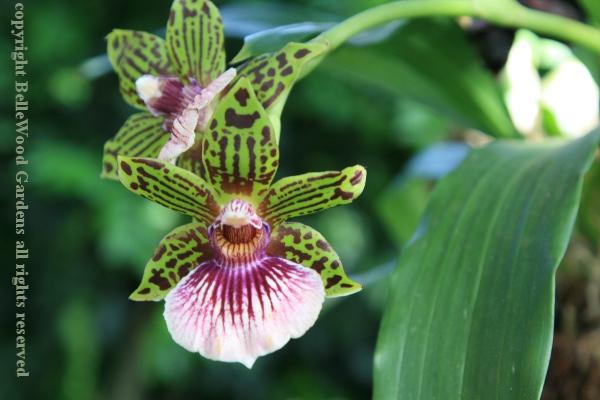 And others completely unknown to me such as this leopard spotted
intergeneric Galeopetalum with a selection from its Starburst grex
named 'Parkside' - fortunately for visitors there are labels.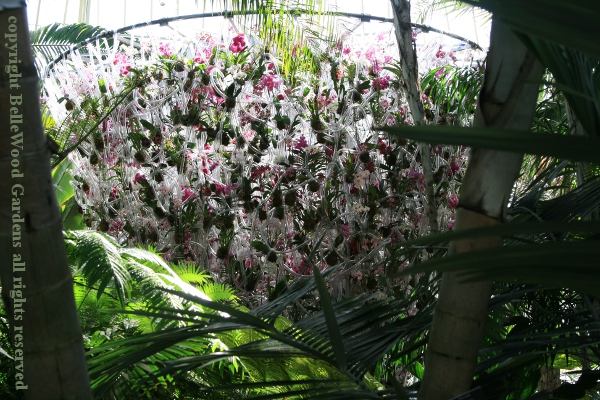 I'm enthused, enraptured, enthralled. You will be too.
The exhibition opens on Saturday, 3 March and runs through Sunday, 22 April 2018.
Please visit the Garden's web site here for more information and to purchase tickets.
There will also be special Orchid Nights events. The Shop has orchids for sale.
But more than any other reason, for your pleasure and delight, there is the Orchid Show.
---
Back to Top
---
Back to Book Reviews 2018
---
Back to February 2018
---
Back to the main Diary Page