.
Garden Diary - February 2018
---
If you have any comments, observations, or questions about what you read here, remember you can always Contact Me
All content included on this site such as text, graphics and images is protected by U.S and international copyright law.
The compilation of all content on this site is the exclusive property of the site copyright holder.
---
February
---
Mycophagy
Sunday, 11 February 2018
---
A message arrived in my e-mail box: Don't forget to register for the New Jersey Mycological Association's 40th Anniversary Mycophagy Meeting (mushroom cookery demo), which will be held on Sunday, February 11, at 1:30PM in East Brunswick, New Jersey. This year, Luke Smithson (our president and a professional chef) will team up with Jim Richards (newsletter editor and experienced foodie) to cook a variety of mushroom dishes. They are digging into their recipe vaults to find recipes that showcase maximum mushroom flavors with a variety of cooking methods. Samples will be passed around so that each member can get a real taste of what mushroom cookery can be all about! Our annual Myco-Auction will be held in between courses, and the proceeds will be used to benefit NJMA club activities. Be prepared to bid on and purchase all kinds of mushroom-related goodies, gifts, knick-knacks, etc. (and maybe even some dried locally-collected wild mushrooms)!
I quickly replied with my acceptance, and counted down the days until Sunday. Set off shortly after lunch, driving in rain and fog - at least it was not snow.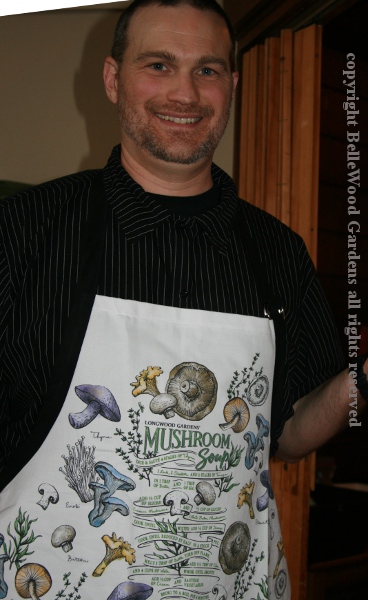 Attired in his natty Longwood Gardens mushroom apron,
Luke had a smile for the enthusiastic attendees.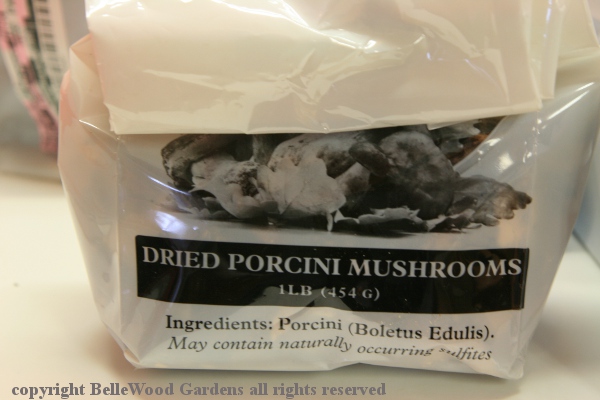 He had brought ingredients, such as bags of dried porcini. Phillips Mushroom Farm had graciously donated 30 pounds of assorted fresh mushrooms: portobello, king trumpet, yellow oyster mushrooms, maitake, and more.
From the left: dried porcini, rehydrated porcini, and a sizeable
portobello from which Luke had scooped away the gills.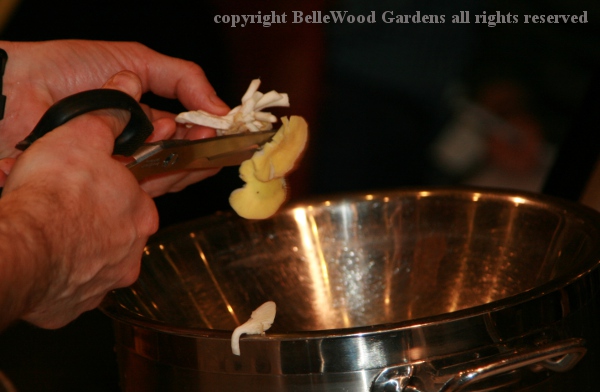 He trimmed off the hard stems of yellow oyster mushrooms.
Suitable for making stock, but not for eating.
And displayed a beautiful king trumpet mushroom, a favorite of his.
A medley of raw mushrooms: cleaned, prepped, chopped.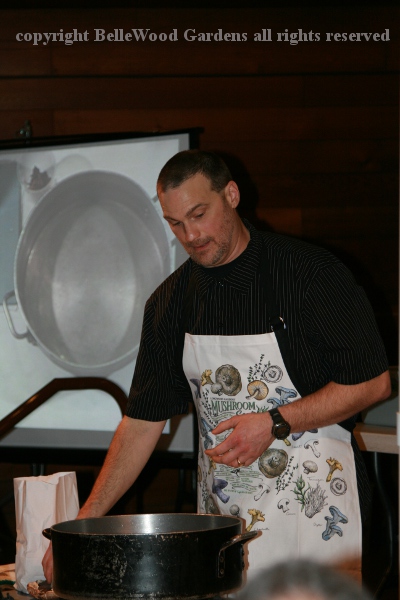 It's a well done event. A video camera feed focused on the table sends images to a large screen, allows the 60 plus people in the audience to watch what's going on.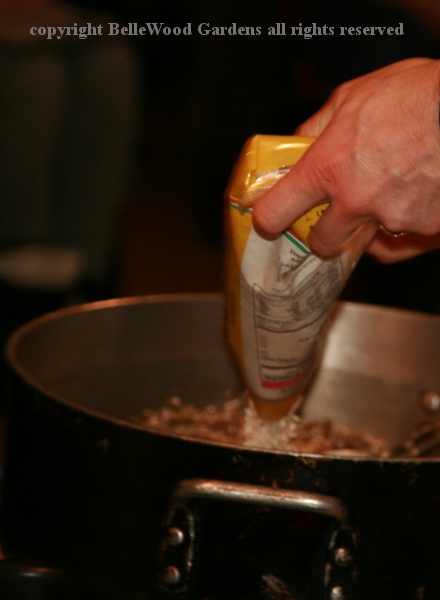 One of today's dishes is a mushroom risotto. With everyone in the audience salivating in anticipation of their sample Luke uses all 5 pounds of arborio rice. For risotto, first you add some oil to a hot pan. Turn down heat to medium. Add shallots (onions may be substituted) and chopped mushrooms. Stir. Add rice and garlic, and toast over medium heat. Add wine and scrape the bottom of the pan so the fond loosens and becomes incorporated.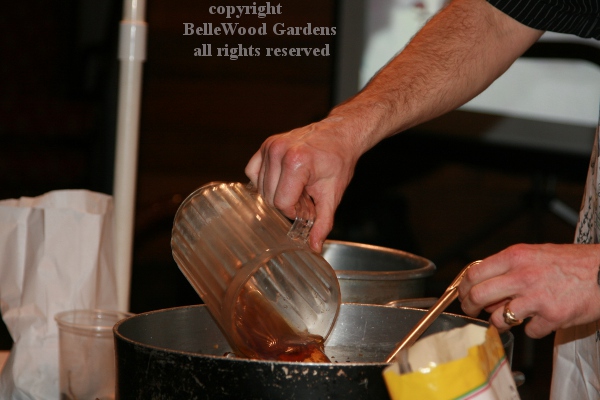 Luke adds some mushroom stock from soaking the dried porcini.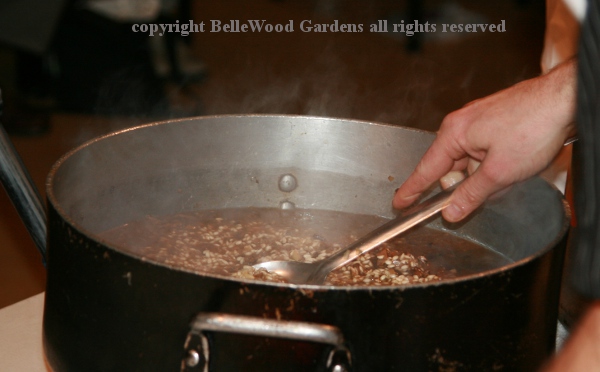 And gently stir. For risotto, the liquid must be added incrementally.
See - the rice is taking up the stock.
Add the salt. If you wait until the end the rice will be drier, and
will not absorb it well. You can always at a little more at the end.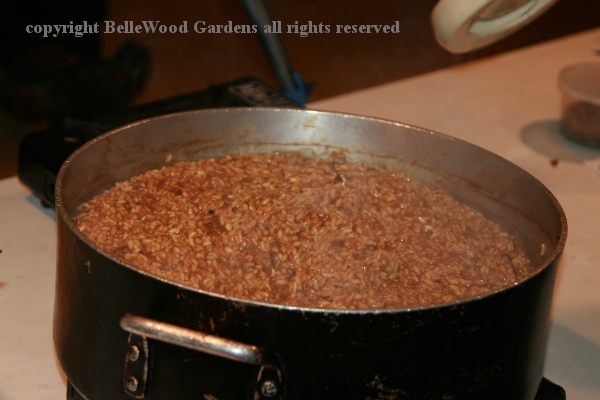 The risotto is now somewhat dry, nearly done. What's left?
Remove from heat and stir in lots of Parmesan, and lots of butter.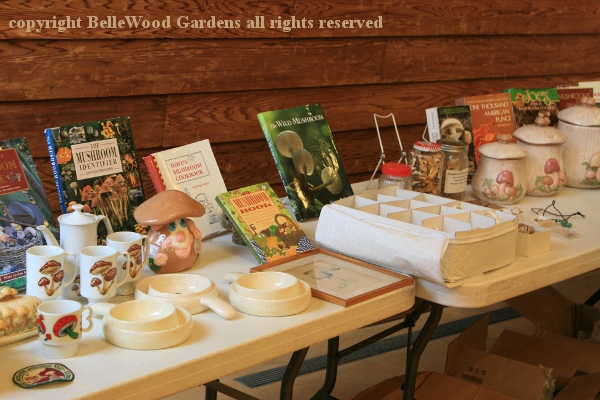 Time for a break. Our enthusiastic auctioneers have a great diversity of mushroom-related items from mushroom themed plates, cannisters, napkins, jewelry, field guides, cook books . . . and mushrooms fresh and dried.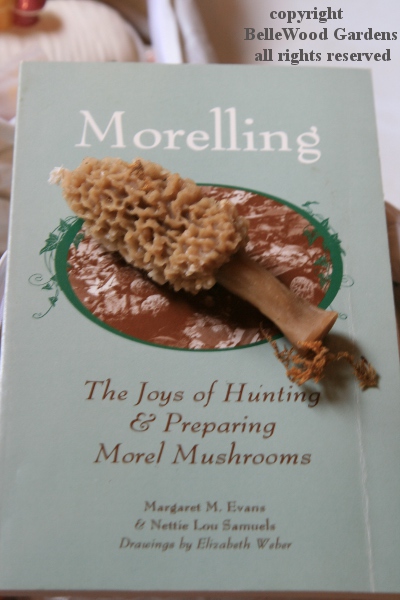 A little book about finding and cooking morels
and a wax candle looking good enough to eat.
Time to start on the next dish, a savory mushroom bread pudding. Two large pans are gently baking in the oven. This is a "display" pan, home size, to demonstrate the necessary techniques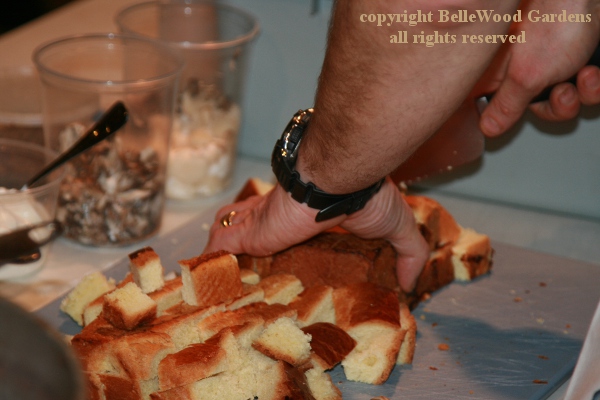 Coarsely cube a brioche loaf, soft crust and all. What's brioche? An eggy, buttery bread. A challah would also serve, but nothing like rye bread, or even a country style white bread.
Thoroughly grease a baking dish. Saute onions in a skillet until softened. Set aside. Saute mushrooms until they have released their liquid and become tender.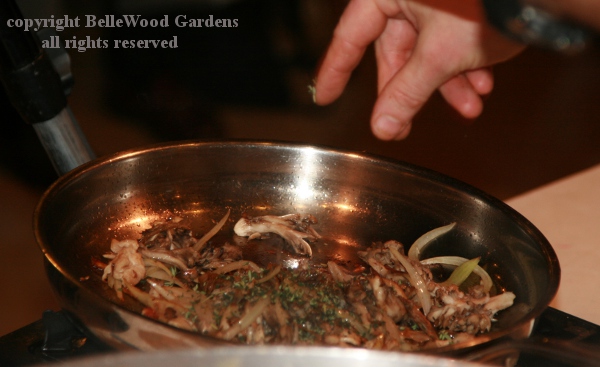 Stir in fresh thyme leaves. Cook for a few minutes. Add some white wine. Return onions. Add crème fraiche and stir well. Set aside. Beat together eggs, egg yolks, milk, seasoning. Add to bread cubes, mushroom mixtures, and some gruyere cheese. Stir gently to combine everything. Transfer to prepared baking dish, gently level off, and top with more cheese. Better if the bread pudding can sit for an hour or so, to allow the bread cubes to absorb the liquids.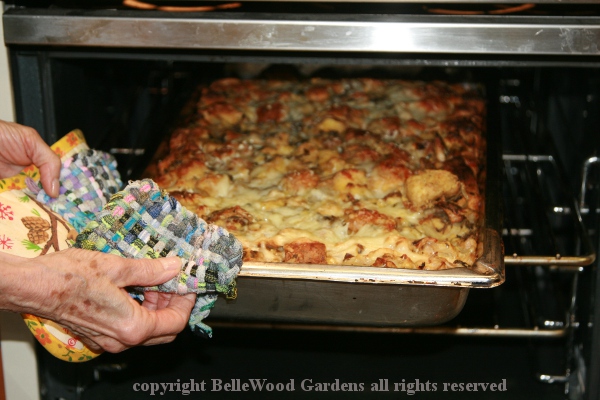 Bake in a preheated 375 degrees Fahrenheit oven for about
25 minutes until set in the center and slightly puffed. Rotate
once. Serve warm. Adapted from Saveur Magazine.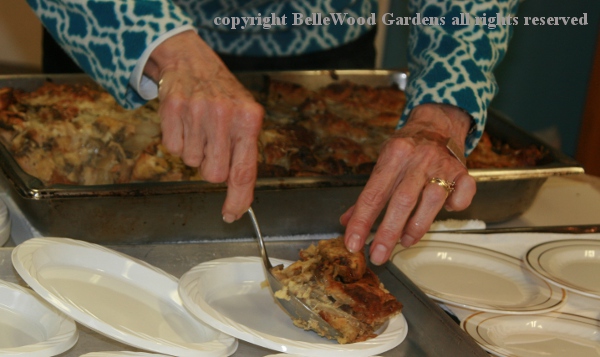 Kitchen helpers are starting to plate up. Generous servings.
Delicious, too.
Another wonderful NJMA event. Unlike the forays which are open to all, this is always a members only event. Consider a membership. Whether your interest in mushrooms and mushrooming is casual or serious, becoming a member of the New Jersey Mycological Association is an educational, fun, and rewarding experience. What does NJMA membership offer? A year-round range of activities such as forays, meetings, educational workshops, culinary events . . . and a wonderful newsletter too.
---
Back to Top
---
Back to February 2018
---
Back to the main Diary Page