.
Garden Diary - February 2018
---
If you have any comments, observations, or questions about what you read here, remember you can always Contact Me
All content included on this site such as text, graphics and images is protected by U.S and international copyright law.
The compilation of all content on this site is the exclusive property of the site copyright holder.
---
February
---
Winter Kitchen at the Howell Living History Farm
Saturday, 17 February 2018
---
Snow is forecast, but scheduled to arrive later today. Accordingly, I set off to Howell Living History Farm this morning, eager to attend their winter kitchen event. It is their fourth Saturday program of 2018 but my first visit of the year. Did not come for the ice harvest (there wasn't any ice on the pond that day), the Valentine wagon rides, or tapping maple trees. The latter will be an ongoing process until the buds begin to swell and the flavor of the sap becomes "buddy."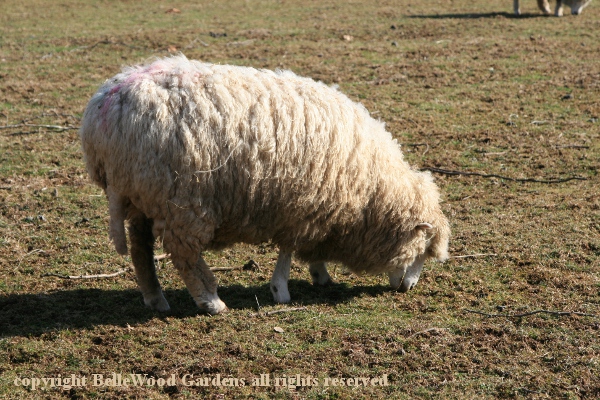 Park, enter through the visitors center and start my walk
up the muddy path. Very woolly sheep are grazing in a field.
Most of the draft horses are turned out in another field.
One team, with shaggy winter coats, are in the farmyard.
They'll be needed later on to collect buckets of maple sap.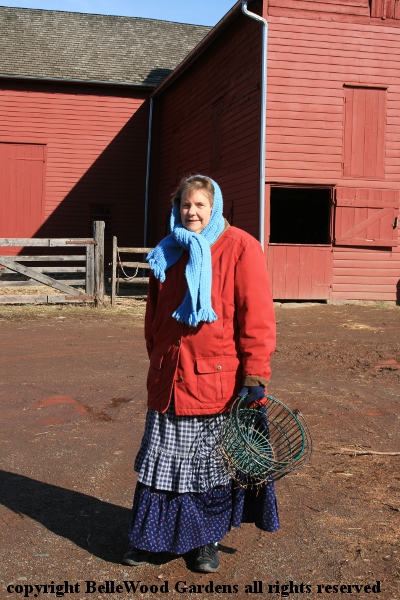 Bundled up against the chilly wind
a farm wife goes to collect eggs.
I decide to begin by going to the furthest site, then work my way back to the visitors center. Walk past the yellow farmhouse and turn left. Past the field I turn right and go across the bridge.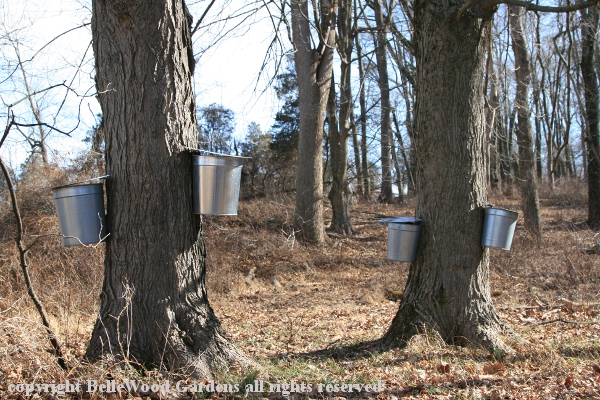 Through the sugar bush where sap is collected old style, in buckets.
For efficiency and bulk collection the trees are tapped with tubing.
Make another left turn. Pass an old school house now a residence. Pass the sugar shack (I'll stop in on my reverse journey) and arrive at the Justice John Phillips House, which dates back to circa 1765. John Phillips is the one the family calls Justice John since he was a Justice of the Peace starting about 1738.He bought 125 acres from his brother Joseph in 1737, and lived in a section of Hopewell Township called Pleasant Valley. Much of his farm is now the Howell Living Historical Farm.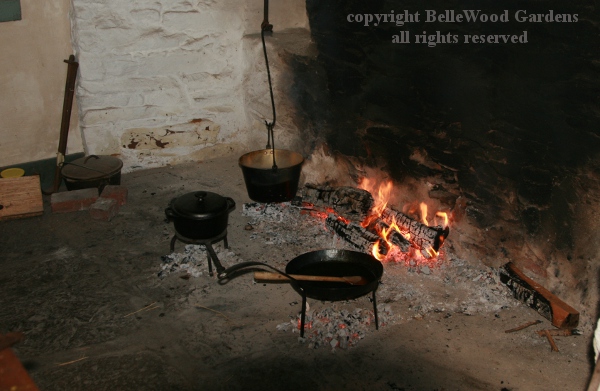 There is a very large (I want to say "grand") hearth. Hot coals
moved out onto the flagstones make individual cooking places.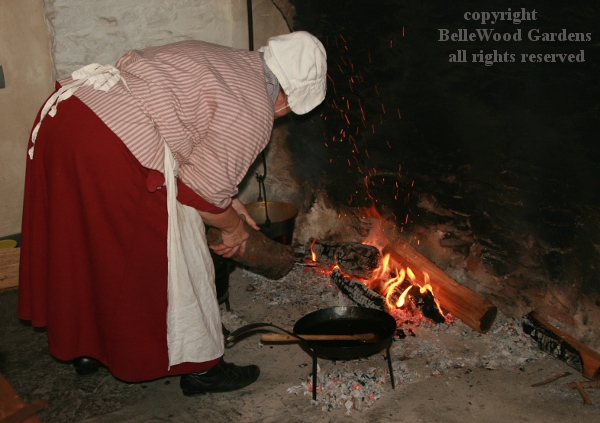 Margaret Quinn adds more wood to the fire.
One of the dishes she'll prepare today is pork (from Howell Farm's
butchering demonstration last autumn.) Notice that Margaret is
actually standing just inside the hearth - that's how grand it is.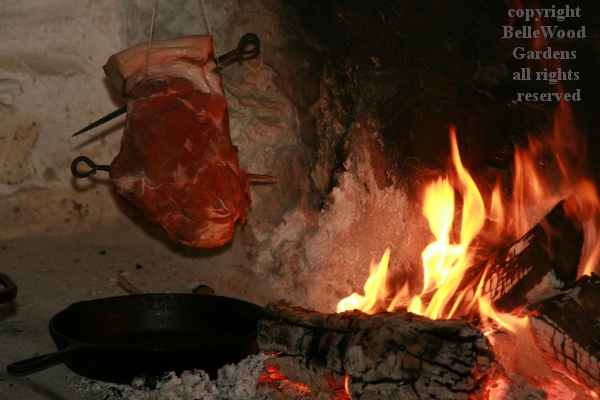 A pan set under the meat catches the dripping fat. It is too useful
to drip into the ashes and discard. The meat twirls one way, then
reverses and unwinds back the other way. Like the swing on a
playground when we were young, and twisted the chains to spin.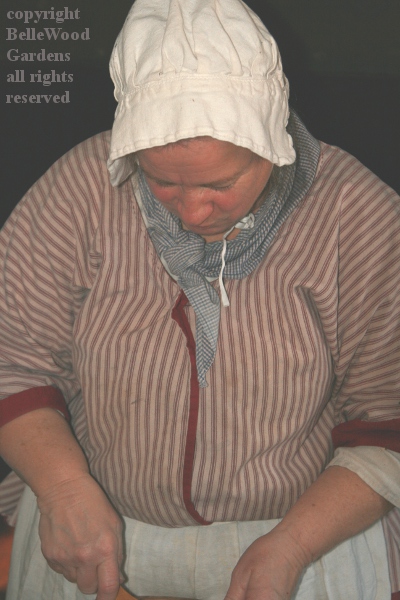 Margaret is shaping delicious little chicken buns (so named
in the 16th century German receipt.) Chopped cooked chicken,
finely grated dry bread crumbs, bound with an egg, seasoned
with herbs, and shaped into little balls "the size of a walnut."
The little balls are flattened, then fried in lard. Delicious!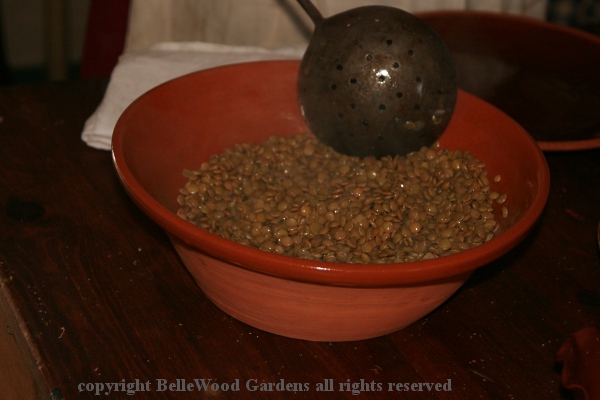 Another dish she prepares is sour lentils - cook lentils until done.
Add diced and sautéed onion. Finish with a couple of tablespoons
of vinegar. It sounded rather strange to me. I do make lentils myself,
but not with vinegar. Didn't taste like a pickle. Was, in fact, very good.
People were now finding their way to Justice Phillip's house to see the open hearth cooking demonstrations. Children get to try rasping stale bread on a grater to make bread crumbs. Questions get asked, and Margaret answers them. I was amused by one toddler in his mother's arms who, after tasting a chicken cake, reached out and squealed for more. Pleasant, but time is passing. Time for me to reverse course and visit the sugar shack.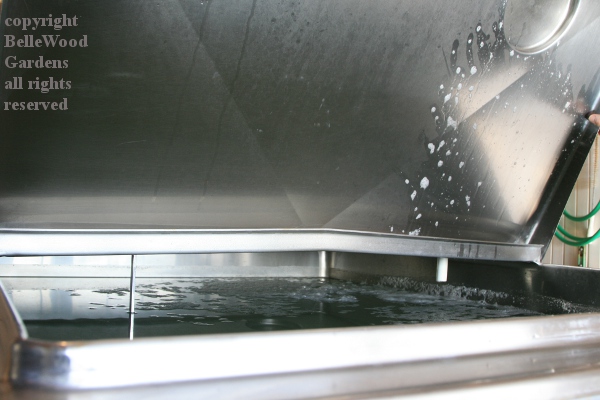 Howell Living History Farm makes maple syrup in bulk. It is for sale in the visitors center. Here is the bulk collection tank which holds 440 gallons. In chilly weather the sap can stay here for a couple of days. It is then pumped upstairs to a 200 gallon tank that feeds into the evaporator. They've been tapping for about a month now, once days are sunny and warm and nights are below freezing. This may look like a huge amount of sap but remember that it takes 40 gallons of maple sap to make one gallon of maple syrup.
It also takes a tremendous amount of firewood.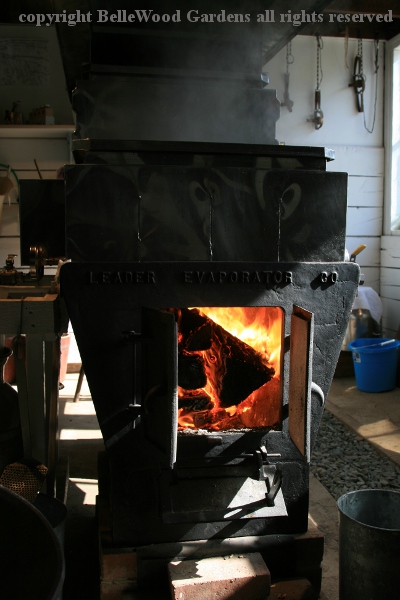 Unlike commercial production in Vermont or
Canada that use propane, Howell evaporates
sap to syrup with a wood burning system.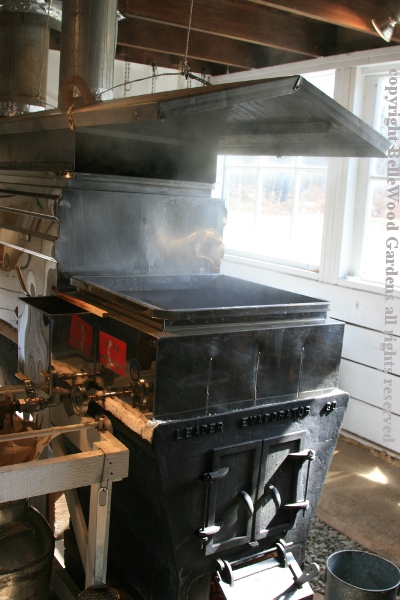 Sap feeds down from the bulk tank on the second floor
into the evaporator. As water boils off, sap condenses.
It smells so good in here! But the men tending the process
say that after fifteen minutes they no longer notice it.
Fresh sap feeds in on the right and pushes that which is already
in the evaporator over to the left through all four chambers.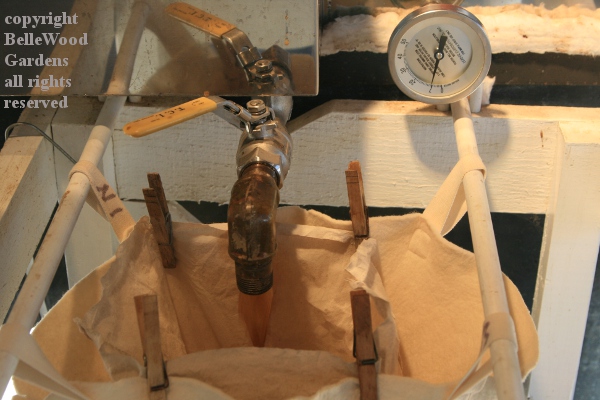 When syrup is almost at the final stage it is drawn off and filtered
through two nested filters - paper and felt. It will be completed
in the visitors center kitchen where women will process it just
two gallons at a time, carefully checking it with a hydrometer.
What's a hydrometer? It works like this: there are two scales to read - Brix and Baume. The Brix scale reads the percentage of sugar in the maple syrup. The Baume scale reads the density of of water related to the density of the maple syrup. Maple syrup must be evaporated to a density between 66% and 67% Brix at 68°F. If you have a density below 66% Brix, the syrup will ferment. If you have a density above 68% Brix, the syrup may crystallize. Maple syrup reaches the proper density at 219.5°F or 7.5° above the boiling point of water.
Time to move on. There's one more event, winter kitchen in the farmhouse.
The easy to find building is very visible, near the barns and animal pens.
Beef stew is simmering on the cast iron, wood burning cook stove. Vegetables, brought up from basement storage, include carrots, parsnips, white turnips, beets. Onions would have been braided by their dried leaves and hung. Celery, it was explained, was tricky - bunched stalks and their base were buried in sand. The green fades, stalks become white, taste more delicate.
As she cooks, Kim Daly mentions how large animals, beef and pigs, would be slaughtered in autumn with the advent of cold weather. In summer, the meat would spoil before it was consumed. Unless it was salted or otherwise cured. Self sufficiency was the goal. Trade vegetables with a neighbor, what you had in quantity for what they might have and you did not. When the tasting samples of stew were tasty but maybe needed a little more salt she reminds the audience that salt cost money.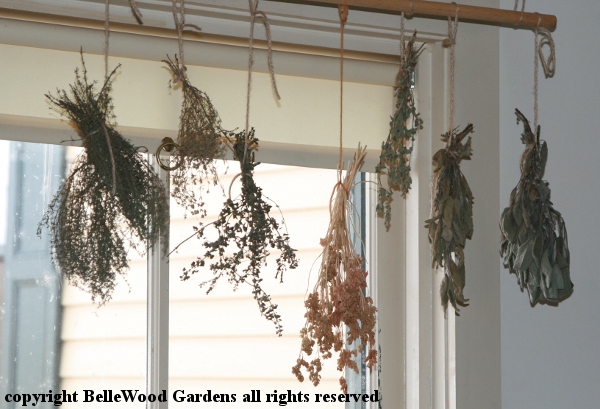 Herbs, that could be grown and dried, were a better,
more frugal answer. Oregano and thyme, that did it.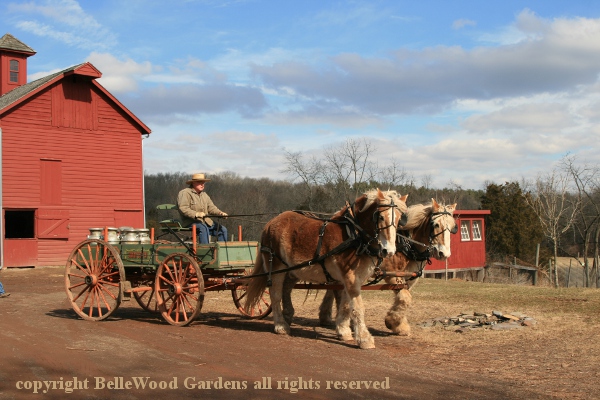 I headed out to the visitors center I saw the team of draft horses,
now hitched to a wagon, setting off to collect - I'm not sure which,
maple sap from the old style buckets or maple syrup for finishing.
Another excellent Saturday at Howell Living History Farm. There will be another maple sugaring event next Saturday, 24 February.
---
Back to Top
---
Back to Book Reviews 2018
---
Back to February 2018
---
Back to the main Diary Page