.
Garden Diary - December 2018
---
If you have any comments, observations, or questions about what you read here, remember you can always Contact Me
All content included on this site such as text, graphics and images is protected by U.S and international copyright law.
The compilation of all content on this site is the exclusive property of the site copyright holder.
---
December
---
Holiday Decorations
Saturday, 29 December 2018
---
We used to have a Christmas tree. Go to a nearby tree farm, cut something huge, and take it home on top of the car (which looked like a horizontal tree, with wheels beneath it.) The tree would be fastened into the stand and further stabilized with picture wire that went from eye hook in the door frame, wrap around the tree trunk, and on to the eye hook on the opposite side of the door frame. My sister from different parents would come over with a bottle of champagne. In preparation there would be two tall stepladders, one on each side of the tree. And a couple of pusher sticks. We'd climb up the ladders, swig champagne, and put up the lights. She'd leave, and the rest of the ornaments was up to me. Also, the not-as-much-fun undecorating the tree was up to me. One year, instead of one very large purchased tree we had three smaller field cedars cut from a neighbor's field: one in the foyer, one table top tree in the dining room, and one in our bedroom. Nowadays we don't have a tree. But that does not mean I don't have seasonal decorations.
For example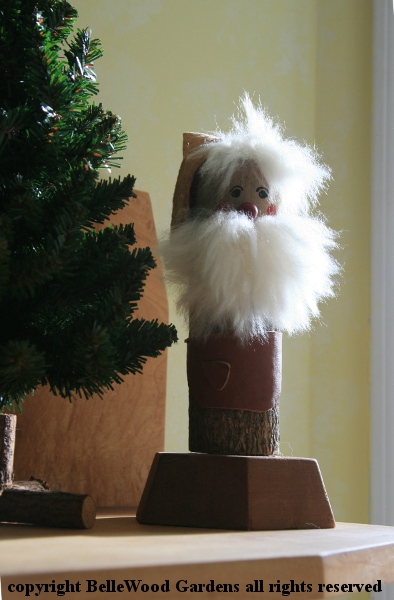 There's a tomten. What's that? He's an elf-like little Swedish fellow who guards the farm. You may have heard about him, but it's likely that no one has seen him - only his tiny footprints in the snow. He guards the farm by night, quietly watching over the livestock. He speaks, silently, to the cows and sheep in the barn, the chickens in their coop, the cat in the hay loft and the dog in its kennel. My father made this tomten for me, many years ago.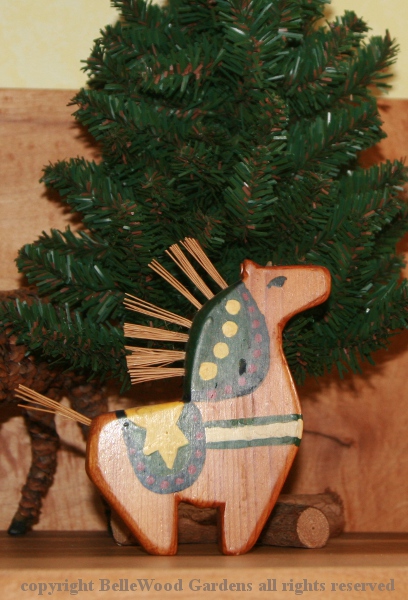 Tomten ares especially fond of horses. So of course I have one for my tomten, a Swedish Dala horse. A friend cut this one out for me. Then I sanded it a little bit, painted him, and gave him a mane and tail of broom straws.
There's also Mrs. Tiggywinkle. The small shed has a wheelbarrow, some tiny clay flowerpots, and an assortment of porcelain vegetables. The forest animals gather round - several rabbits, a racoon, a little hedgehog. And a fox. Though he should really be with the tomten.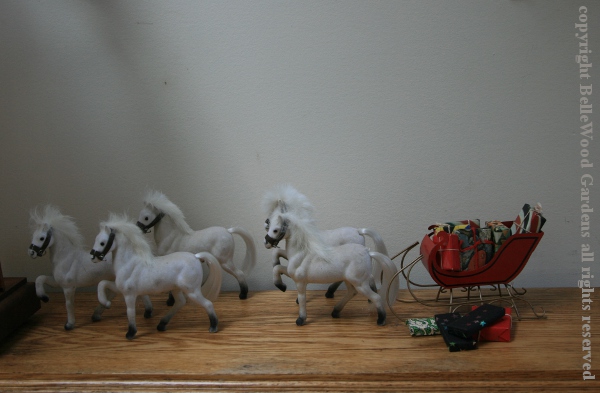 On a bookcase there are five white horses and a sleigh heaped with gifts.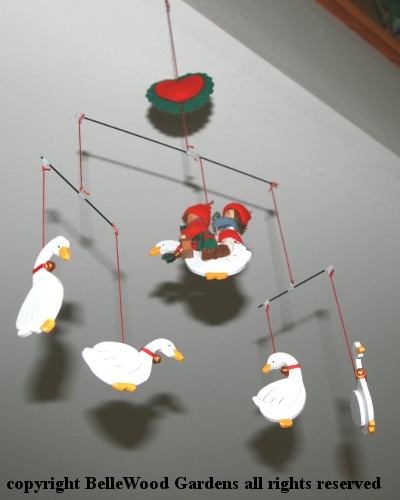 One of the first items to go up is a mobile of a goose girl and boy
probably inspired by the Swedish folk tale about Nils Holgersson, whose "chief delight was to eat and sleep, and after that he liked best to make mischief." Nils captures a tomte in a net. The tomte turns Nils into a tomte, which leaves him shrunken and able to talk with animals. While this is happening, wild geese are flying over the farm on one of their migrations, and a white farm goose attempts to join the wild ones. In an attempt to salvage something before his family returns, Nils holds on to the bird's neck as it successfully takes off and joins the wild birds.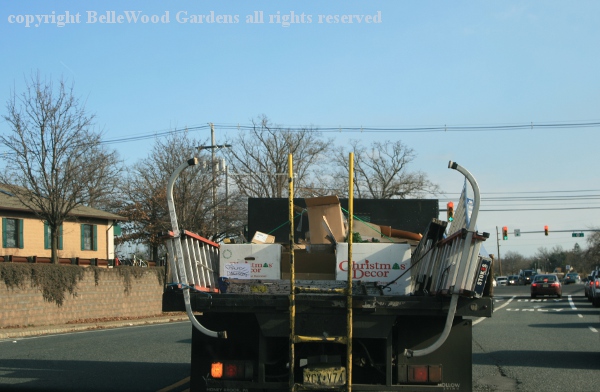 I saw a truck with boxes of Christmas decor driving down the road.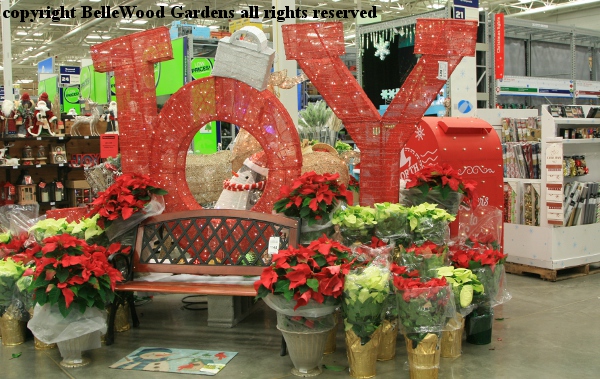 Lowes had a big display of Joy. And pots of poinsettias.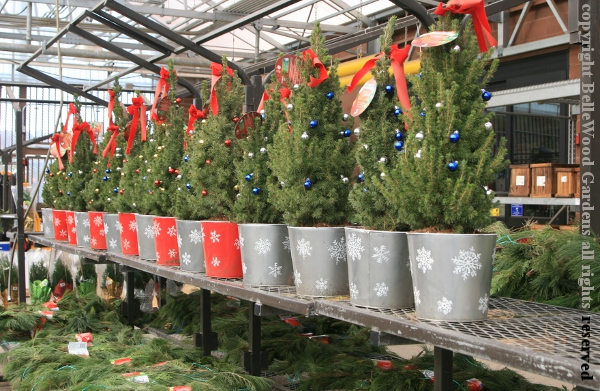 Buckets of pre-decorated Alberta spruce in their garden section.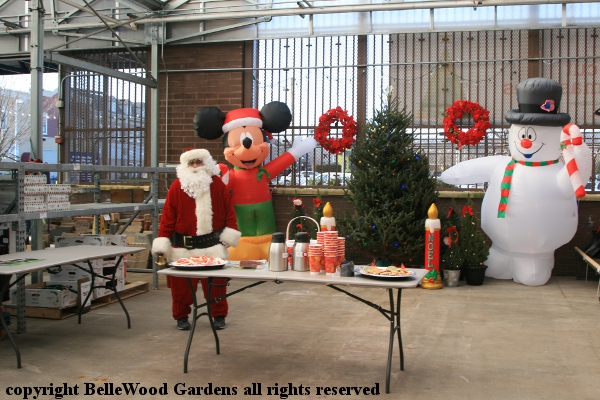 Santa Claus, with cookies and cider on offer. And a couple of those
inflatable lawn ornaments, Frosty the Snowman and Micky Mouse.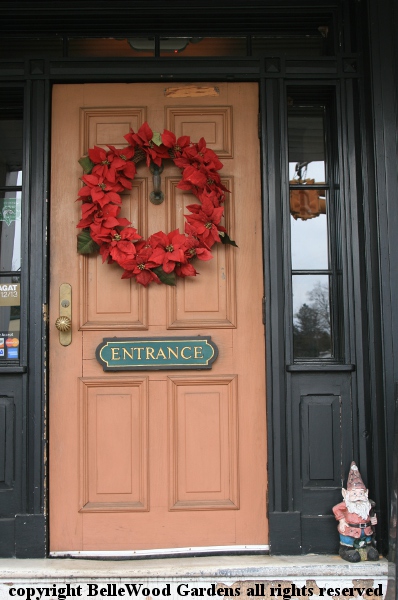 The National Hotel in Frenchtown has a poinsettia wreath,
clearly artificial as poinsettia are native to Mexico. I really
like the gnome. Or, perhaps a tomten, out in the daylight?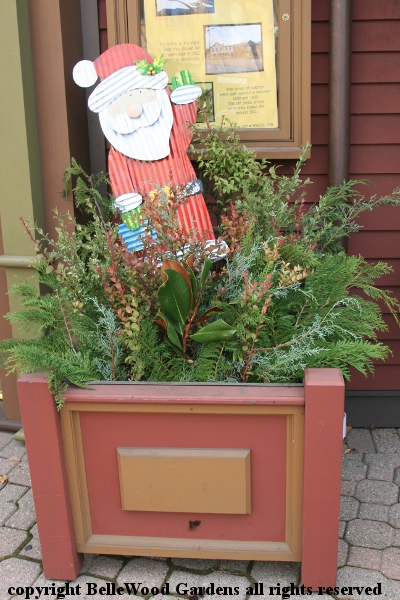 A planter stuffed full of seasonal greenery
with a cheery Santa waving hello to passers-by.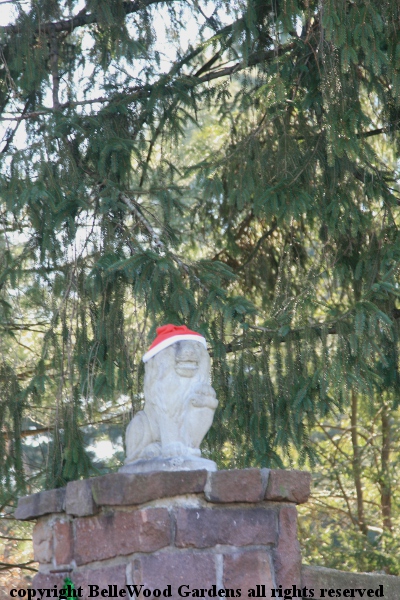 In Flemington, a driveway is guarded by two heraldic lions
who acknowledge the season with cheery red Santa hats.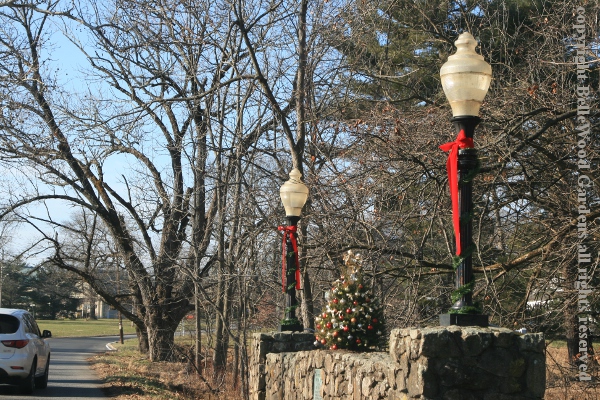 And a small bridge is festively embellished with a little tree decorated
with colorful ornaments, scarlet ribbons and bows on the light fixtures.
Decorations indoors and out, to welcome in the holiday season.
---
Back to Top
---
Back to December 2018
---
Back to the main Diary Page