.
Garden Diary - April 2018
---
If you have any comments, observations, or questions about what you read here, remember you can always Contact Me
All content included on this site such as text, graphics and images is protected by U.S and international copyright law.
The compilation of all content on this site is the exclusive property of the site copyright holder.
---
April
---
Hellebores at Linden Hill Gardens
Sunday, 8 April 2018
---

There's a hellebore weekend event at Linden Hill Gardens in Ottsville, Pennsylvania. On Saturday Jerry Fritz will share his tips for selecting, planting, and caring for hellebores, and talk about the latest cutting-edge cultivars, too. Then on Sunday, David Culp will talk about breeding hellebores and his goals in creating the Brandywine Hybrid strain of hellebores. I decide on Sunday.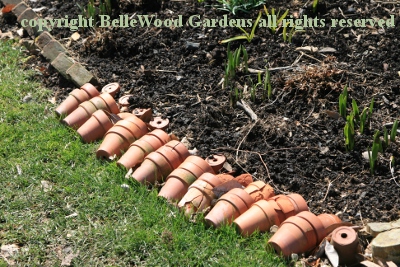 .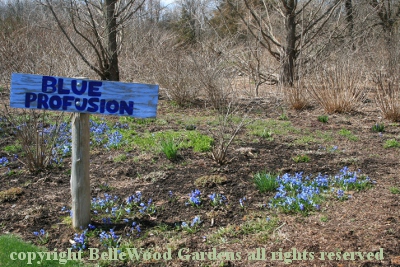 Linden Hill Gardens is always fun to visit. Lovely gardens and
shabby chic elements, like this bed edged with flower pots.
Special areas tucked here and there. Blue profusion indeed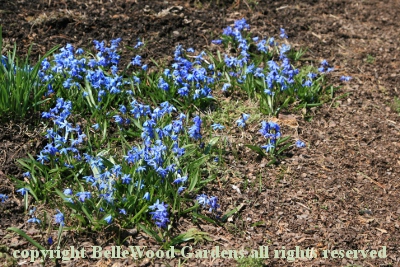 .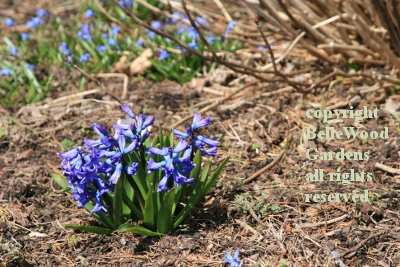 with a pool of blue scillas bravely standing up to the cold,
and a group of the first blue hyacinths perfuming the air.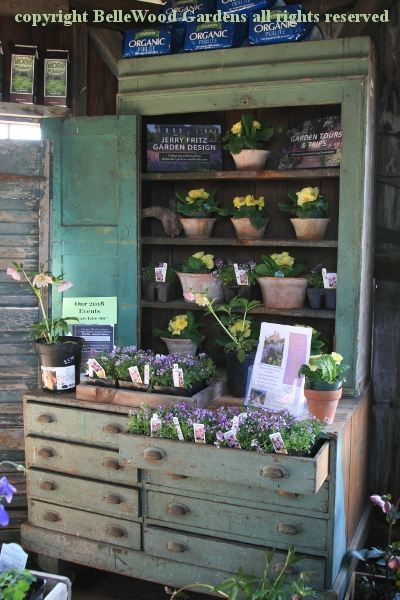 The small cottage-like area where you pay for plants has
a bureau filled with flowers - shelves and even a drawer full.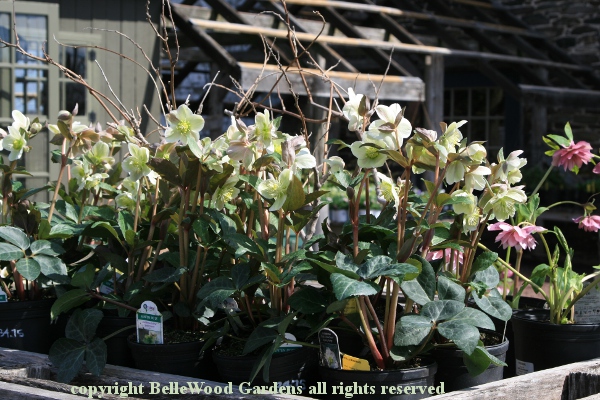 Lovely, but I'm here for hellebores and their lore.
And hellebores are definitely here in profusion.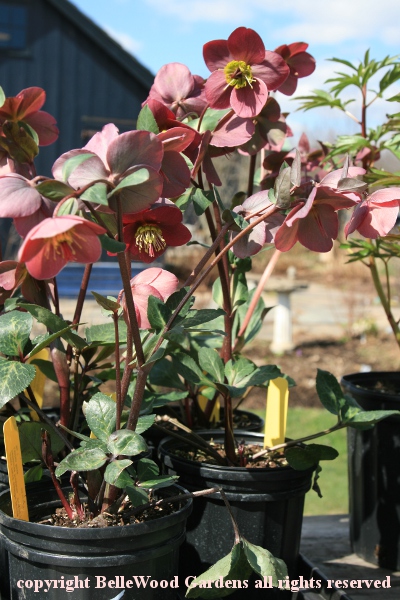 There are hellebores in pots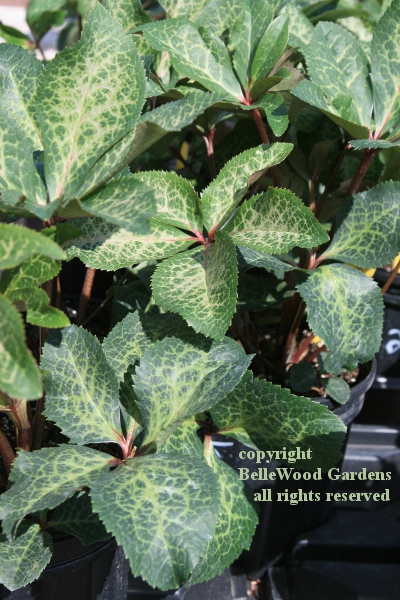 Hellebores with leaves marbled in white.
This is the aptly named 'Frostkiss'.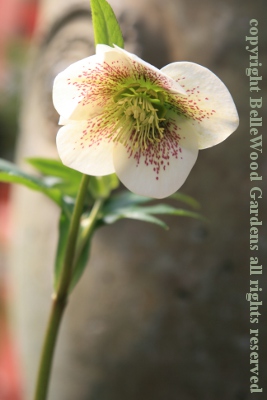 .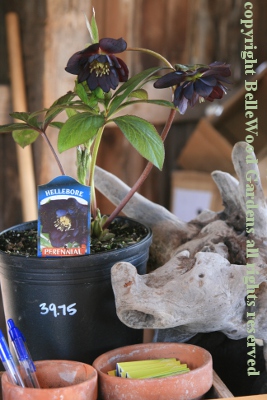 Hellebores with freckled flowers. Others with nearly black flowers.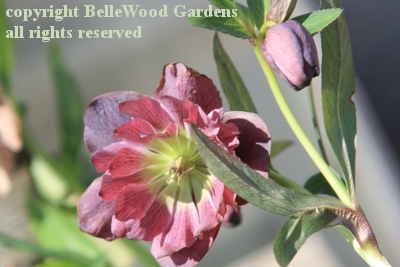 There are some with double flowers.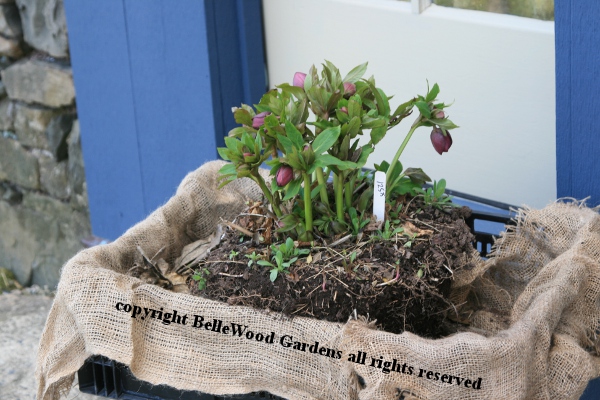 Hellebores freshly dug from the garden.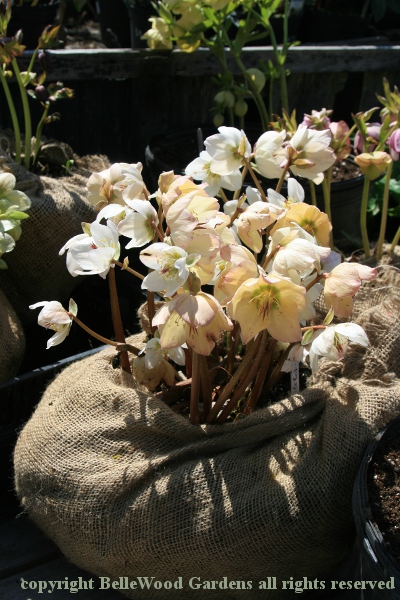 I've seen trees and shrubs balled & burlap,
but perennials are a first. This one would
have needed a very large pot, otherwise.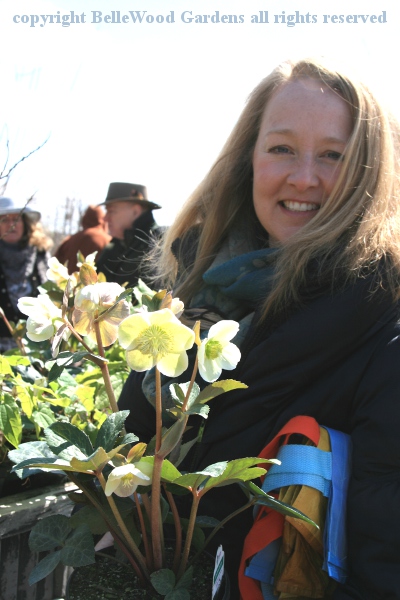 A large number of people here. Some friends
of mine here too, like Kristen with an armful.
Too many plants for an armful, needed a cart.
The barn was filled to capacity with gardeners, too many for the chairs so it was standing room only. David Culp shared his interest in hellebores, from the different species, caulescent and acaulescent, which can cross with what (only within their caulescent / acaulescent group), numerous trips to England where hellebore hybridizing was ongoing, and more. The audience was fascinated. Applause, a few questions, and people went streaming out to shop - for hellebores, of course. What a good time was had by all. So many hellebores, and their admirers.
---
Back to Top
---
Back to April 2018
---
Back to Book Reviews 2018
---
Back to the main Diary Page