.
Garden Diary - April 2018
---
If you have any comments, observations, or questions about what you read here, remember you can always Contact Me
All content included on this site such as text, graphics and images is protected by U.S and international copyright law.
The compilation of all content on this site is the exclusive property of the site copyright holder.
---
April
---
Glorious Shade
by Jenny Rose Carey
Tuesday, 24 April 2018
---
I like shade. Let me back up. I love trees, which means shade. Think of all its varieties: light shade, dappled shade, all the way through to stygian gloom. The seasonal variations from winter's bare branches to the tender green leaves of spring, summer's maturity, and the colorful display of autumn. That all means I have an interest, a predisposition, to a book titled "Glorious Shade." Additionally I once had the pleasure of visiting Northview, garden of the author Jenny Rose Carey. Let's see what came from her academic background as an adjunct professor in the Department of Landscape Architecture and Horticulture at Temple University, then as director of the Ambler Arboretum. Northview has a shade garden, a moss garden, a stumpery (upside-down tree roots filled with soil where ferns may be grown.) Can this translate to a book that will intrigue, inform, and educate readers that likely do not have the same credentials.

image courtesy Timber Press
There are six chapters to the book. The last, and longest, is The Plant Palette, on Choosing Plants for Your Shade Garden . Last, because, Jenny Rose Carey explains, first you need to understand shade, soil, and seasons, successful techniques and maintenance, and design. Like dominoes, she guides the gardener exploring the options and possibilities for a shady landscape from the beginning to conclusion - choosing the plants.
To begin, start with Shades of Shade.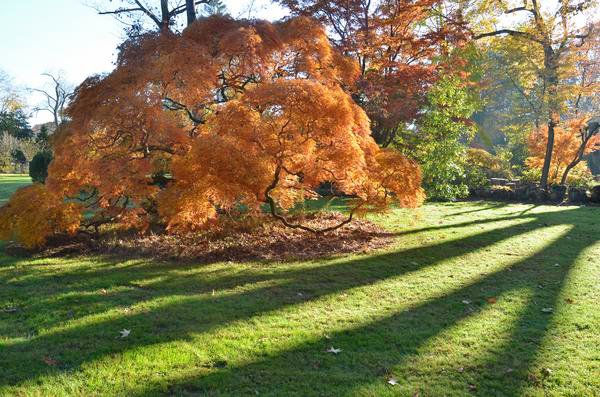 image by Jenny Rose Carey, provided courtesy Timber Press
Shadows on a lawn, and a Japanese maple's rich autumn foliage.
It is transient, she explains. There are different types of shade, depending on where you stand under a tree, how it changes with the seasons (she'll come back to this), and more. Profusely illustrated, the images explicate her descriptive text. Jenny Rose took all except a very few images on visits to public and private gardens nearby in Pennsylvania, further afield in Maine, South Carolina, Oklahoma, Texas, further afield in England. There are scenic overviews as well as closeups of individual plants in flower and in fruit.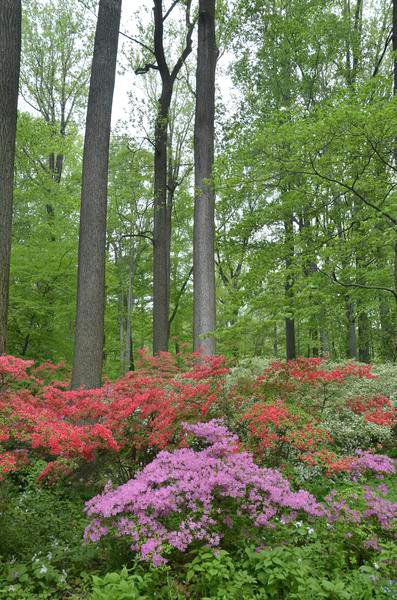 image by Jenny Rose Carey, provided courtesy Timber Press
Plant layers at Azalea Woods at Winterthur,
where canopy trees tower over the shrub layer
of azaleas, in turn underplanted with trillium.
The Gardener's Calender: Seasonal Changes in the Shade Garden discusses what happens in the garden as the seasons shift from one to another. There is also mention of each season's tasks. Next, Down and Dirty: The Intertwined, Underground World of Soil and Roots. Humus, compost, pH (and a couple of lists of plants that prefer acidic or accept alkaline soil), roots and mycorrhizae. Planting for Success: Techniques and Maintenance. Suggestions and advice for - planting in a new area where you'll start by smothering grass, planting under existing trees where their roots already occupy the soil. Preparing, placing, planting - there's more to it that just plunking a plant in a hole and walking away. How to mulch, This is all useful information, presented in a coherent, comprehensible way. There are brief suggestions for coping with insect pests, slugs and snails, fungal diseases.
Having gone through these all important preliminaries, the penultimate section (before the plant section) takes a serious look at Designing in the Shade: Bright Ideas for Shady Places. Study existing gardens, we're advised. These range from two or few page discourse on woodland gardens, moss gardens, Japanese- or Chinese-inspired gardens to rock gardens, dry, tropical, water, courtyard, container gardens. It is a parade of ideas but not all will be applicable. The primary focus of "Glorious Shade" would appear to be temperate climate deciduous woodland situations. There's much practical, useful, adaptable information to incorporate if your garden is in such a location. In other climates - Mediterranean summer-wet/winter-dry, or arid Southwest for example, the information will be more theoretical than practical.
The Plant Palette: Choosing Plants for Your Shade Garden begins with an important recapitulation on plant layers, what you need to understand about natural processes and how to support them. Choosing plant combinations - make choices that work well together, with leaves, with leaf color, with flowers, with repetition.
Begin with the major players, trees and shrubs. A paragraph or so describes the primary feature of each, accompanied by a header suggesting its suitability for bright, part, to full shade; soil type; suitable zone hardiness, height and spread.

image by Jenny Rose Carey, provided courtesy Timber Press
such as Hydrangea paniculata 'Tardiva'
Next come Vines, then Ferns.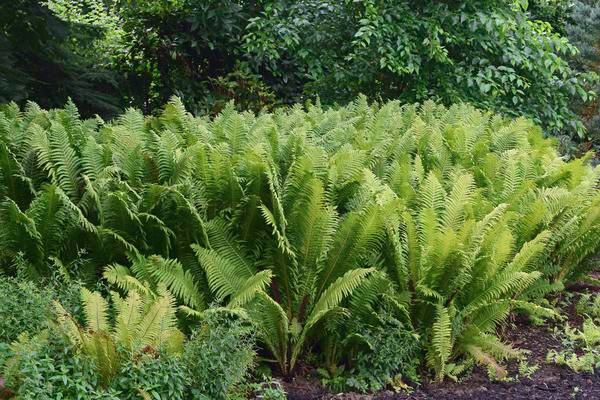 image by Jenny Rose Carey, provided courtesy Timber Press
Ostrich fern, Matteuccia struthiopteris, has great presence, we're told.
Now comes the fun stuff, Herbaceous Perennials. This section includes everything from familiar hosta to Japanese woodlanders such as Glaucidium palmatum and on to bulbs from snowdrops and anemones to daffodils. Of course, there are also woodland natives such as trillium and bloodroot, to be grown for their flowers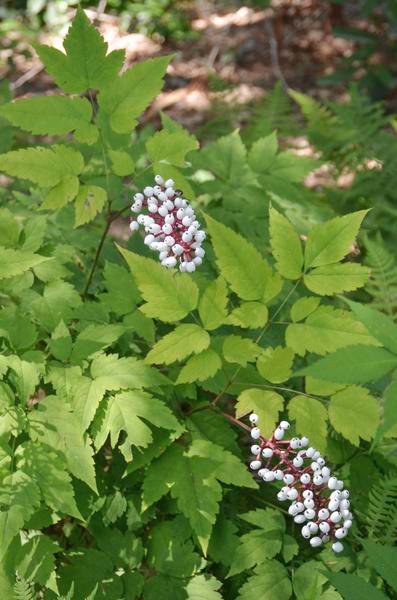 image by Jenny Rose Carey, provided courtesy Timber Press
and doll's eyes, aka white baneberry,
Actaea pachypoda, for autumn berries.
The last few pages suggest Tropicals and Annuals, from traditional coleus, begonias, nicotiana, and caladiums to house plants such as aspidistra, philodendron, and sansevieria that might enjoy a summer vacation outdoors.
An interesting book with useful information to offer, taking the reader down the garden path and into the pleasures of a shady woodland garden.
Published by Timber Press, Inc., 2017
Soft cover, $24.99
A review copy of this book was provided by the publisher.
---
Back to Top
---
Back to Book Reviews 2018
---
Back to April 2018
---
Back to the main Diary Page