.
Garden Diary - September 2018
---
If you have any comments, observations, or questions about what you read here, remember you can always Contact Me
All content included on this site such as text, graphics and images is protected by U.S and international copyright law.
The compilation of all content on this site is the exclusive property of the site copyright holder.
---
September
---
Spinners at the Garden State Sheep Breeders Show
Saturday, 8 September 2018
---
There are sheep at the show, also vendors and crafters. What is fascinating is the number of spinners. No, not the bicycle kind. I mean the kind that spins fleece into yarn. It's like this -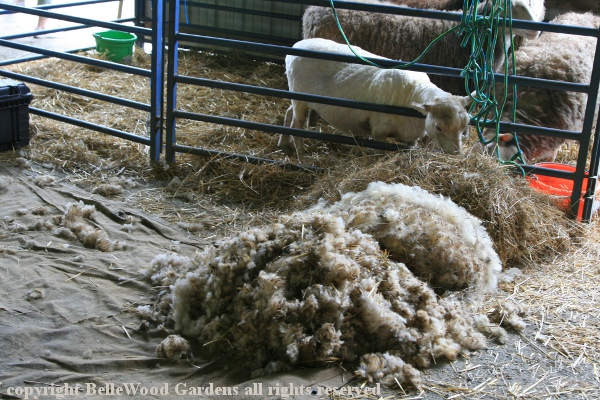 First, the fleece is shorn of the sheep. You have a pile of stuff that is of uneven quality - some parts longer staple, some not. Likely, it's dirty. And for sure it is greasy with lanolin. It needs to be sorted, cleaned, and prepared for spinning. Starting with fleece fresh off the sheep has multiple steps.
First, remove all the very mucky (embedded with poop) pieces, and second cuts where the shearer had to go back over as they sheared (too short to be worth the effort), any naturally felted pieces, any bits of straw, hay, weeds, etc. Next step, maybe teasing the fleece to fluff it up a bit before washing it. Wash the fleece, which will take multiple repeats until it is clean. Letting the now clean fleece dry. Maybe tease it again.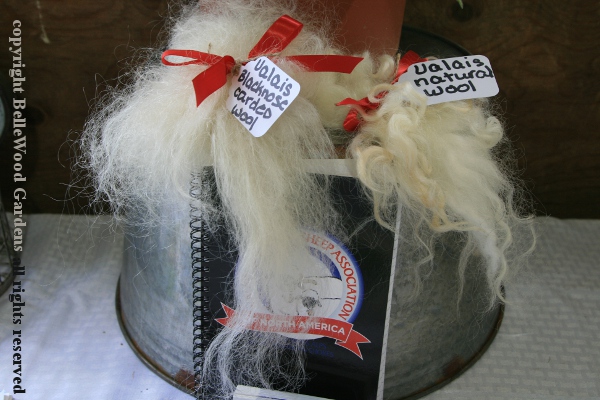 Only then is it is possible to card or comb the fleece.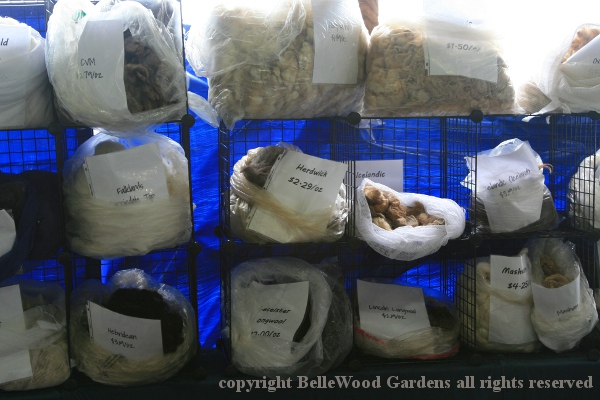 Which is why many spinners prefer to purchase already prepared, cleaned fleece. Which still needs to be carded or combed before spinning. This vendor's booth had an incredible array of fleece, from coarse Hardwick, good for rugs (or a hair shirt) to luxurious merino and cloud-soft Icelandic.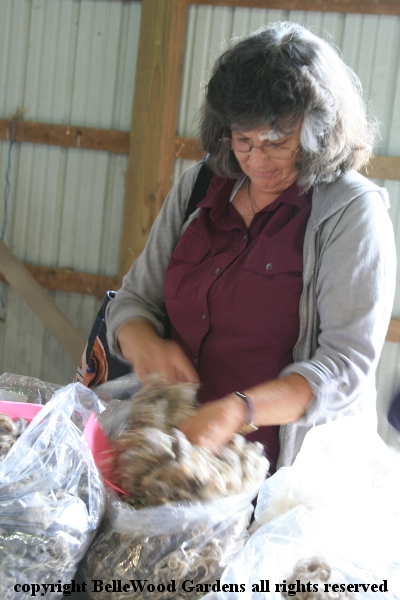 Even when there is a big bag of one kind of cleaned fleece
it is necessary to plunge your hand in, feel the woolly locks
then choose the ones to purchase and bring home with you.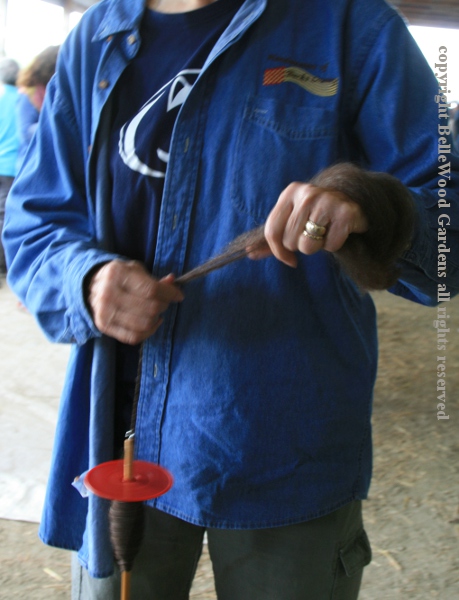 A very pleasant woman was spinning thread on a drop spindle. We had a lovely conversation about spinning, how shepherds to bring the very portable drop spindle with them while tending their flocks. And that this may have been the first way of turning fleece into fiber.
A spinning wheel may be more efficient, with several caveats. It is not portable. It is a more intricate, more costly piece of equipment than a drop spindle which is basically a small rod with a weight at top or bottom, or middle. This woman was sitting at her vendor booth, spinning between customers.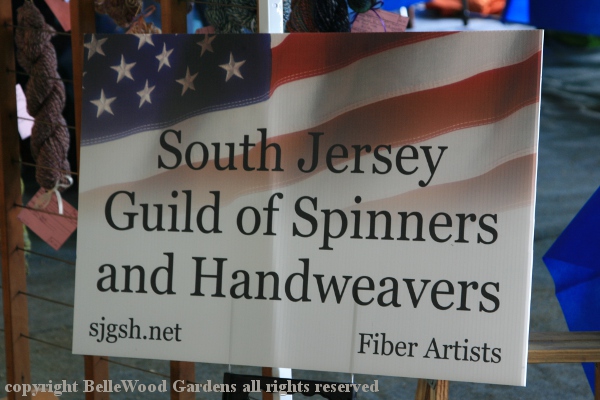 There was a group from the South Jersey spinning and weaving guild.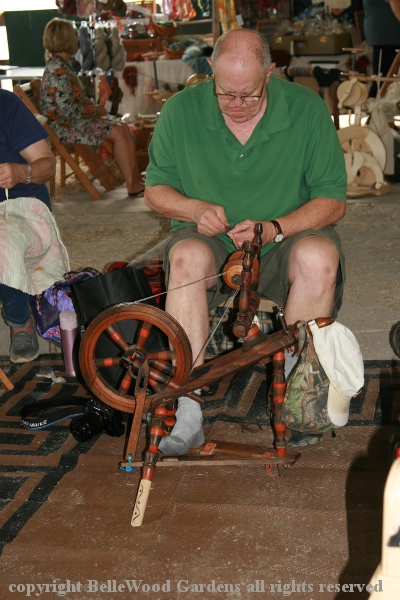 Interesting how many different types of spinning wheels,
how many spinners were happily turning fleece into fiber.
(But none a la Rumpelstiltskin spinning straw into gold.)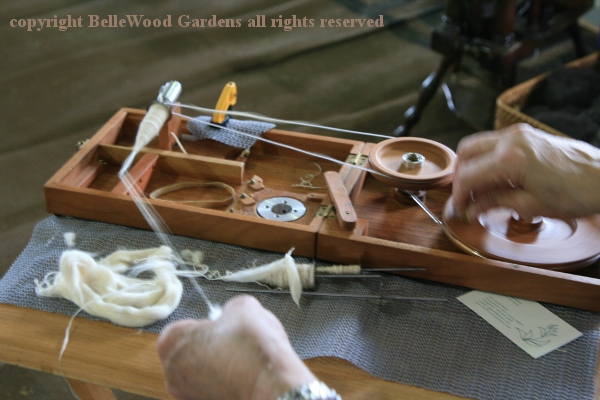 This was the most fascinating. I had never seen the like. It is a charkha. This, the result of a contest held by Gandhi, replaced the bulky, difficult to move traditional charkha with something portable, compact, and less expensive. While it may be used for other fibers, a charkha is ideal for spinning cotton and other short staple fibers. There are two sizes, one the size of a hardbound book, the other, larger one about the size of a briefcase.
Easy to understand why some knitters prefer to acquire their yarn ready made.
---
Back to Top
---
Back to September 2018
---
Back to the main Diary Page