.
Garden Diary - July 2018
---
If you have any comments, observations, or questions about what you read here, remember you can always Contact Me
All content included on this site such as text, graphics and images is protected by U.S and international copyright law.
The compilation of all content on this site is the exclusive property of the site copyright holder.
---
July
---
Fungus Foray at Horseshoe Bend Park
Sunday, 22 July 2018
---
Periodically throughout the season the New Jersey Mycological Association schedules a mushroom hunting foray. Open to the public, these approximately 2 hour expeditions are a romp through field and forest to see what fungi might be found. Not pot hunting for deliciously edible mushrooms, these are serious and enjoyable searches with a purpose. Once collected - and there are foray guidelines - notes taken, specimens are identified, and records kept for reference.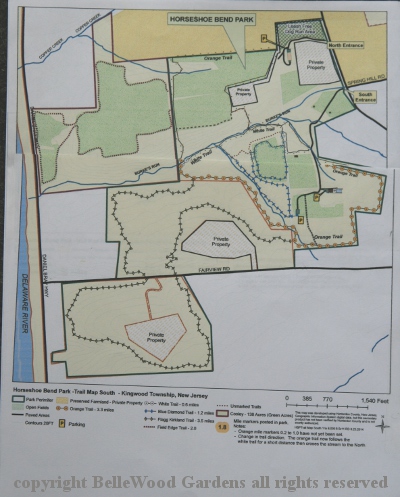 Horseshoe Bend Park in Kingwood Township, New Jersey.
Green areas are open field, yellow indicates woodland while
blue lines are water courses. White areas are private property.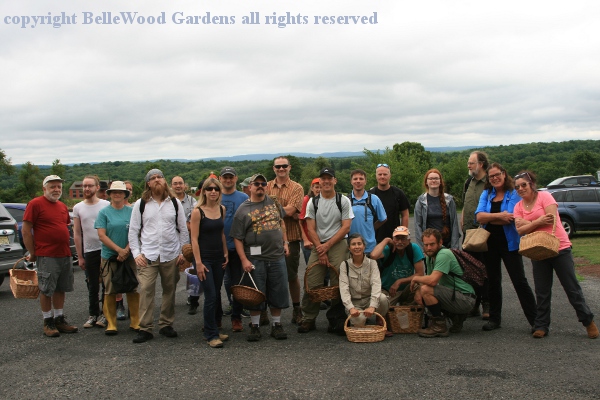 Foray participants - both members and public - arrive at 10:00 a.m.
I offer some information about the mushroom group, about the park.
A little advice on collection. Group heads off, to return about noon.
Some people have baskets, most suitable for collecting fungi. Also
paper or wax paper bags for individual specimens. Plastic is poor.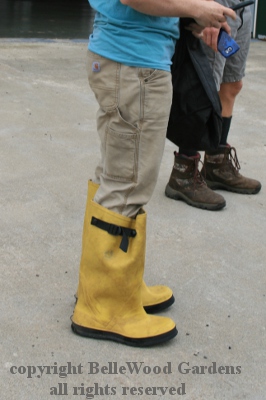 And some are well attired in boots to cope with mud from
last night's heavy rain. Also good for tick protection.
The hours pass . . . and the mushroom hunters return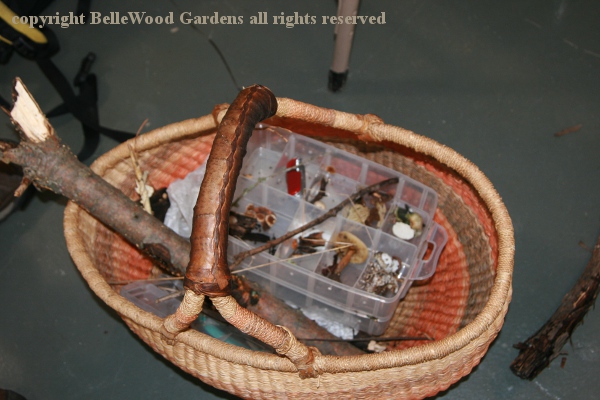 with a wide diversity: mushrooms with gills; boletes with pores instead of gills; tough dry woody polypores; thin crust fungi found flat against wood, with pores; mostly fan shaped steroid fungi; puffballs, earthstars, earthballs, stinkhorns, bird's nest fungi; jelly fungi; cup fungi, earth-tongues, and pyrenomycete allies (Ascomycetes); Myxomycetes; a couple of tooth fungi - fleshy or woody with spines or teeth on fertile surface; even one club, coral, or fan-shaped fungi for an impressive 70 total number of taxa
which now need to be identified.
Horseshoe Bend Park has an amenity that that not all foray sites possess. There is a very large Morton building community center which our group is allowed to use. Right next to the parking area, it means that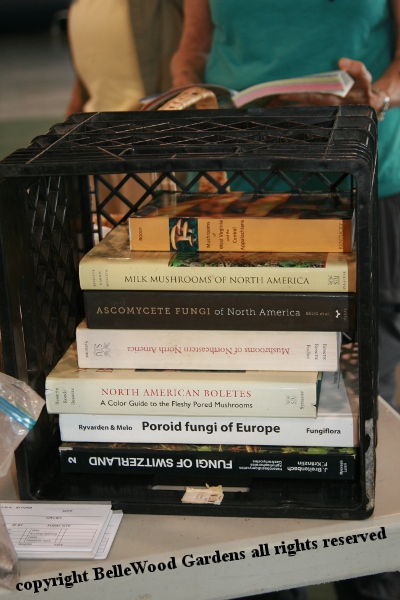 reference books can be brought along to assist in identification.
And help they do.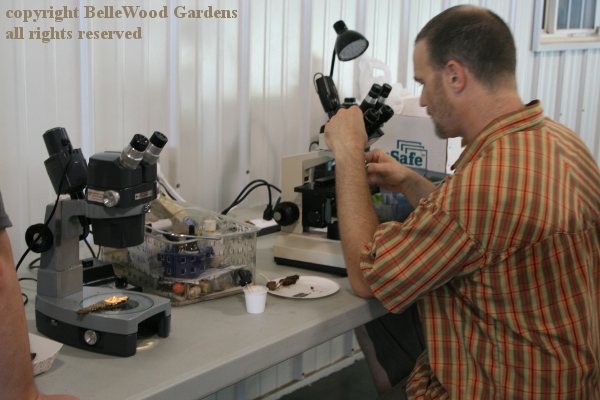 The building means that microscopes are also brought along, then
set up for precise examination of exacting details in certain specimens.
Just a few examples of what was found.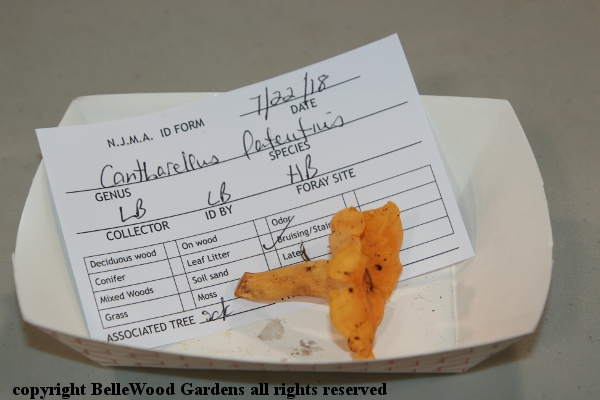 Cantharellus cibarius, chanterelles. A deliciously edible mushroom.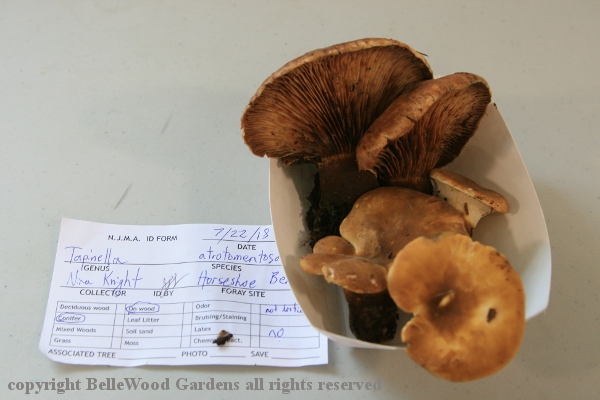 Tapinella atrotomentosa, velvet rolled rim, a Basidiomycete,
found on conifer stumps and decaying conifer logs.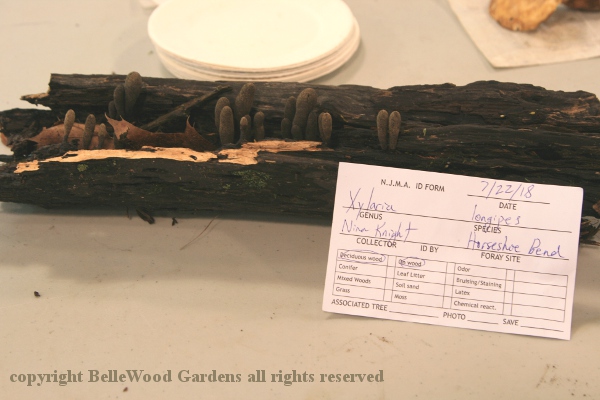 I find this array of Xylaria longipes, dead moll's fingers, very attractive.
Interestingly enough it apparently has an excellent effect on wood
that is then used to make violins
The fat structure on the right is a grub. Dark portion is (was) its head
It has been parasitized by Ophiocordyceps cf. melolonthe, a fungus
that lives on parasitized insects (grubs). Collected by Maricel.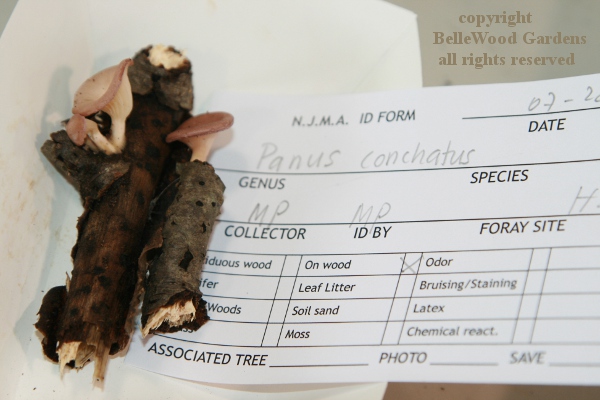 Saprophytic Panus conchatus, lilac oysterling, is long-lived fungus
on decomposing wood of a variety of deciduous and coniferous trees.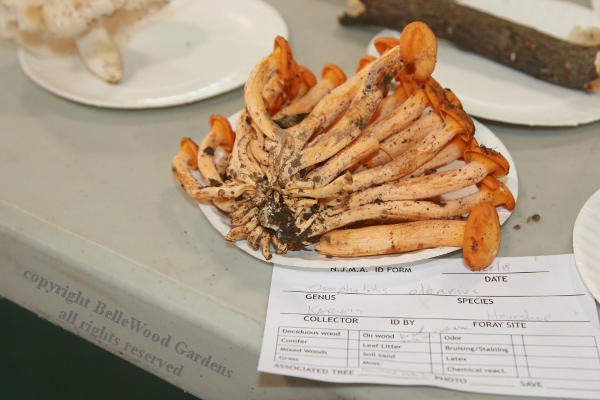 Omphalotus illudens, jack-o'lantern mushroom, has this common name
because its gills often exhibit a weak green bioluminescence when fresh.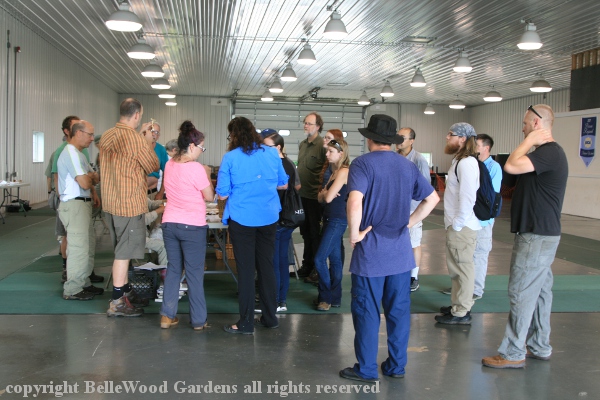 After foray show and learn. People gather around as Luke holds up
an amanita, a death cap mushroom, describing its particular characteristics.
Next foray, 5 August, at
The New Weiss Center for Art, Education, & Recreation,
150 Snake Den Road, Ringwood, New Jersey 07456
Meet at 10:00am for a mushroom walk on the Weis property with the New Jersey and New York Mycological Associations. The foray is open to both NJMA/NYMA members and the general public. The group will foray in the woods for approximately 2 hours, and then gather at the picnic tables for an identification session. Rain or shine. Meet at the main brick building. No registration required. Free, but donations are gratefully appreciated!
---
Back to Top
---
Back to July 2018
---
Back to the main Diary Page