.
Garden Diary - September 2018
---
If you have any comments, observations, or questions about what you read here, remember you can always Contact Me
All content included on this site such as text, graphics and images is protected by U.S and international copyright law.
The compilation of all content on this site is the exclusive property of the site copyright holder.
---
September
---
Fungus Fest
Sunday, 23 September 2018
---
Do you like mushrooms? Perhaps you like them sauteed. Maybe you expand your horizons from the supermarket's white button mushrooms by purchasing portobella, or shiitake. Let me tell you there is so much more, both culinary and for crafts and ecologically important. Don't believe me?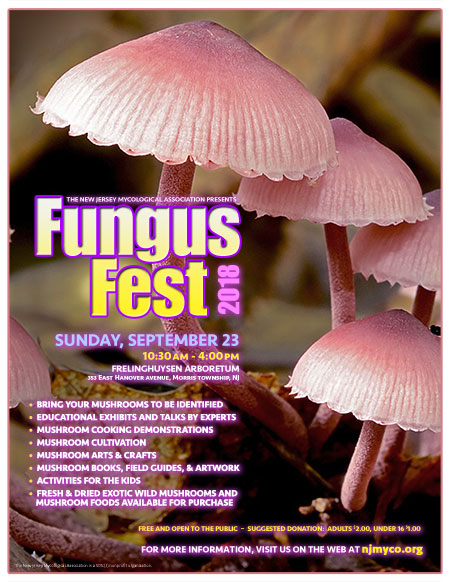 Then you should have come to this year's annual Fungus Fest,
at the Frelinghuysen Arboretum in Morristown, New Jersey.
The event sprawls over two floors of the visitors center. A very popular area
is the bring-your-fungi, get-them-identified area. Amazing what comes in.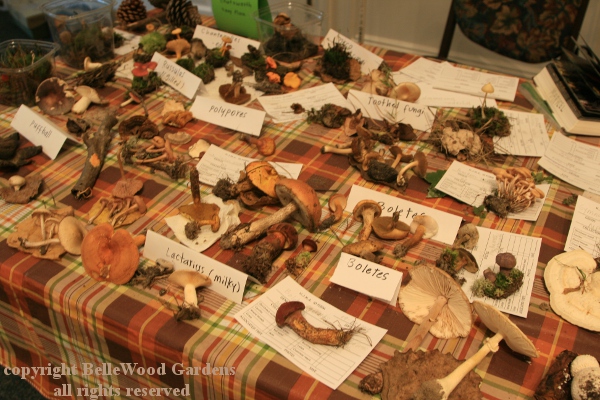 Another educational display presents the diversity of fungi that are
found in the Pine Barrens. Mushrooms are the fruiting bodies of
the underground mycelium, so vital for the health of the forest.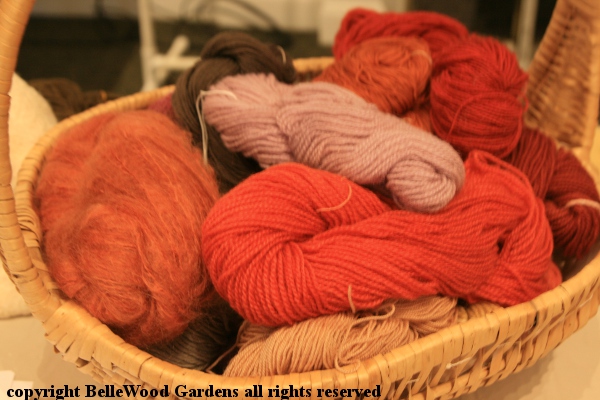 Another area that always fascinates me are the dyes that may be drawn
from fungi, creating wonderful colors ranging from warm orange and reds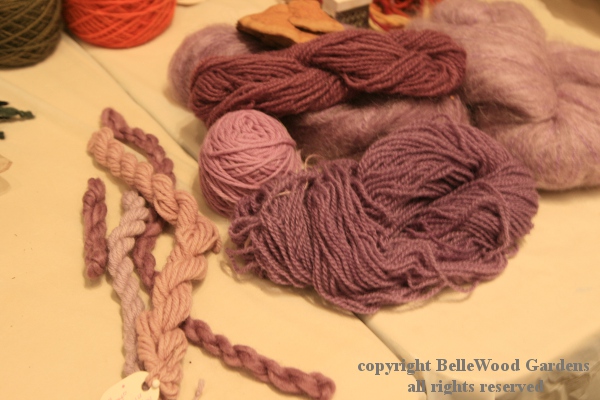 to beautiful lavenders and purples. Ursula and her group answer questions.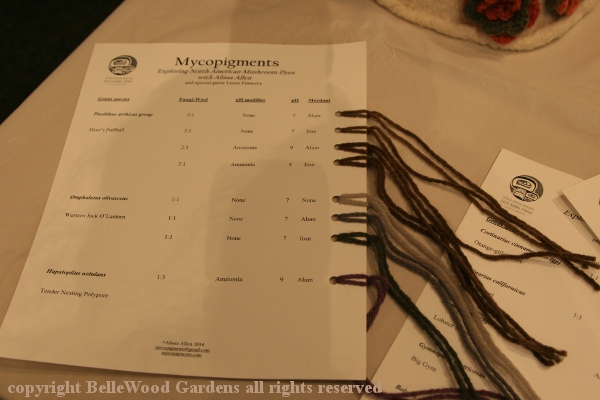 They keep meticulous records - proportions of fungi to wool, did the dye bath
have modification to pH, which mordant, if any, was used. And a yarn sample.
There's much more upstairs: a children's craft corner, a microscopy setup, grow-your-own display, books for sale for both mushroom identification and culinary, membership booth, and more. You could be excused for thinking that this is all there is. But wait, there's more!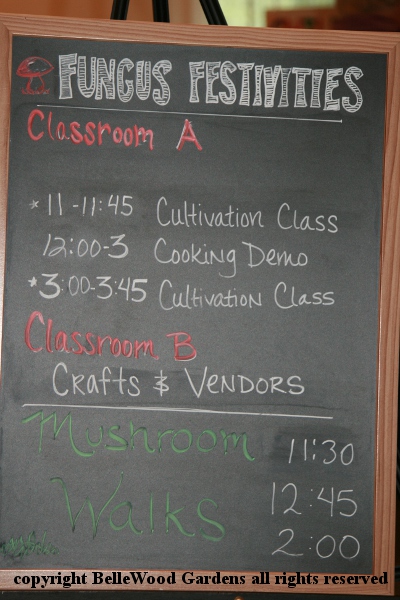 A list of fungus festivities downstairs, and reminder of the mushroom walks.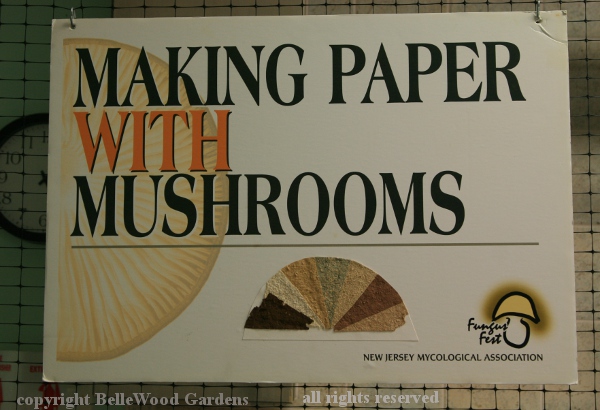 Did you know you can make paper from mushrooms? Indeed, yes.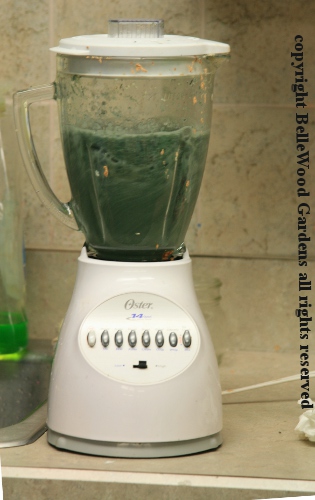 First, make a slurry from the appropriate mushrooms.
Just like any other paper making, dip some out with a mold and deckle. Let extra water drain, use sections of newspaper to dry some more, then use an iron to heat and press. Popular with children and adults both, who get to take the sample of mushroom paper they have just created away with them.
But the really popular event is the culinary area, where Luke Smithson, NJMA president and professional chef, is putting his talents to work.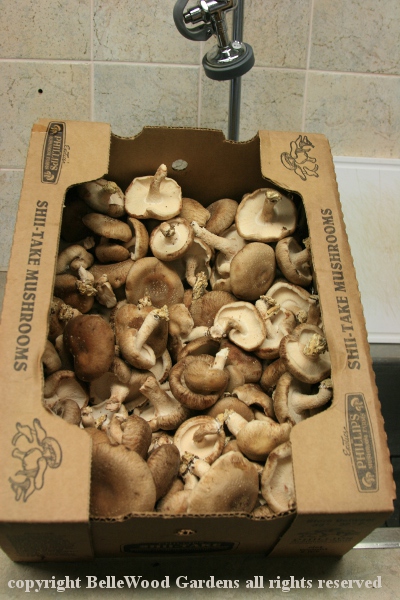 Phillips Mushroom Farm in Kennett Square, Pennsylvania,
generously provides mushrooms for the event. Such as this
box of shiitakes. Also less familiar but let's stay with these.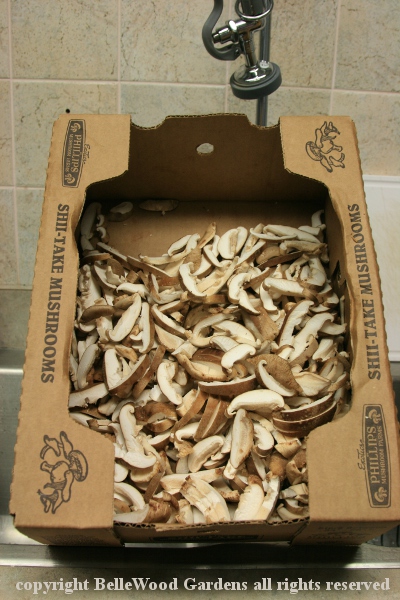 Luke has helpers who prep the mushrooms.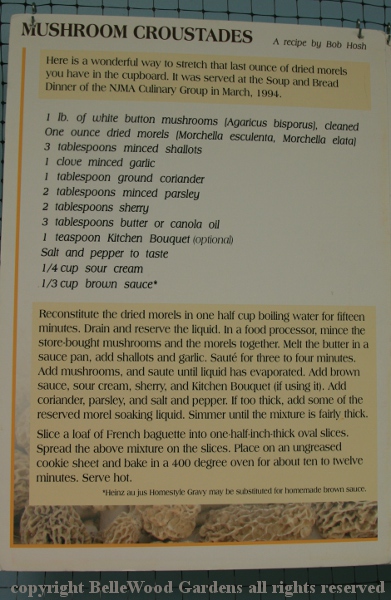 Recipes are displayed off to the side, for interested visitors to copy.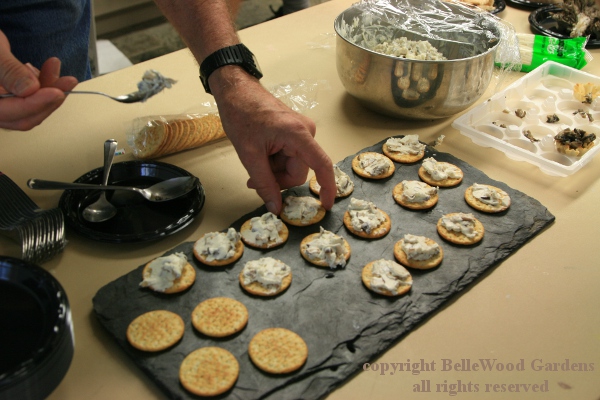 Better yet, there are tasting samples, like these amuse bouche.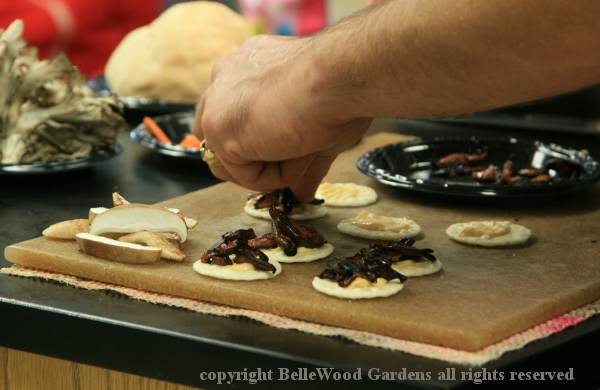 Luke makes it seem effortless as he prepares mini sized shiitake bahn mi from marinated sliced shiitake, using a George Foreman style indoor grill. Rice cracker, a quick spread of mayonnaise with sriracha sauce, a few pieces of shiitake, and garnish with carrot, for color and crunch.
It's easy for the audience to follow along, watching in the mirror that's
arranged over Luke's work surface. Then, best part, sample the results.
There's another room, where Mainly Mushrooms is selling an incredible range of fresh and dried mushrooms. Jim has a table of vintage gardening / horticulture books and mushroom prints. Jewelry made from mushrooms. And more.
An incredible diversity of events and happenings, under the connecting umbrella of fungi.
---
Back to Top
---
Back to September 2018
---
Back to the main Diary Page